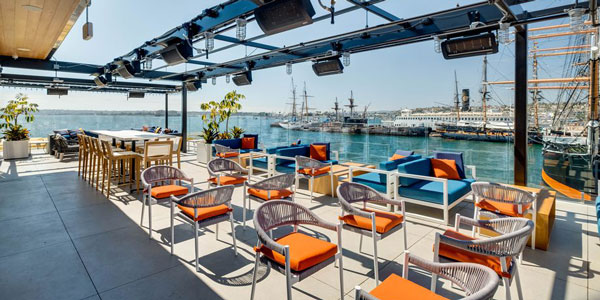 Now more than ever, it is crucial for the tourism industry to work together to support one another in a common goal—showcasing the beauty and diversity of San Diego to economically benefit our region. The San Diego Tourism Authority (SDTA) is committed to not only helping lead the industry's recovery but also assisting our Members as they retool and rebuild by providing valuable marketing and sales opportunities as well as the ability to collaborate with other industry and community partners.
Please help us welcome four new Members who have joined the SDTA family. These local businesses represent the growing variety of San Diego's diverse dining scene. Be sure to reach out and say hello or welcome them at an upcoming SDTA event. Despite these economically challenging times, they chose to invest in our organization and in our tourism and hospitality community.
A mid-century modern dining paradise awaits you at the new ARLO at the newly renovated Town & Country Resort. Indulge in delicious and innovative eats and drinks crafted with fresh local ingredients that draw inspiration from both sides of the border. From Spanish octopus to Baja shrimp and avocado to the fresh and flavorful Carlsbad strawberry and tomato salad to inventive cocktails and craft beer, ARLO provides guests with a uniquely San Diego culinary experience.
While you're checking out the new digs at the Town & Country, be sure to stop by The MRKT for salads, sandwiches, wood-fired pizza and desserts. On-the-go bites are the name of the game for this trendy one-stop shop designed for vacationers looking for quick and delicious eats. Stop by MRKT before you lounge by the pool or grab some snacks to indulge in on the run. Don't forget to fuel your adventure with a caffeine fix of fresh, locally roasted coffee.
Brigantine Seafood & Oyster Bar
The long-awaited Portside Pier docked on the San Diego Embarcadero this summer with an abundance of exciting culinary offerings, including a San Diego institution—the Brigantine Seafood & Oyster Bar. Shoot some oysters (grilled or on the half shell) while overlooking the San Diego Bay, or nosh on the classic Brig Shrimp Cocktail. If you're visiting with a big appetite, chow down on the macadamia crusted fresh mahi mahi or the daily fresh catch.
One of San Diego's favorite artisan taco spots recently touched down in Mission Valley, bringing their famous guacamole, imaginative tacos and undeniably awesome margarita flights to the central locale. With three locations around town, each eatery is equipped with a slightly different menu, so check out the newest edition to the already-exciting lineup of Puesto restaurants. Eat outdoors on the patio or grab a delicious dinner to go. A plant-based menu is also available for vegans and others looking healthier fare.