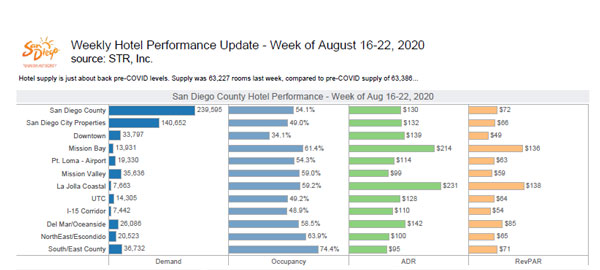 Hotel Performance – week of August 16-22, 2020
Source: STR, Inc.
The hotel supply is back to 63,227 rooms, almost 100% of pre-COVID levels (63,897).
Again, last week's demand outperformed the previous week reaching a high of 239,595 hotel room nights sold in the County.
Occupancy averaged 54%, 2nd highest among top 25 markets behind Norfolk, VA and highest in the western region competitive set.
The County ADR was $132, 3rd highest among the top 25 markets, behind Oahu at $154 and Anaheim at $134.
The highest occupancies for the week remain in the surrounding areas of South, East and North County while the highest ADRs were again in coastal areas of Mission Bay and La Jolla, both of which averaged more than $200.
Saturday, Aug. 22 marked the highest summer occupancy so far at 76% with a $151 average daily rate.
Both Mission Bay and La Jolla Coastal areas reached 89% occupancy on Saturday night.