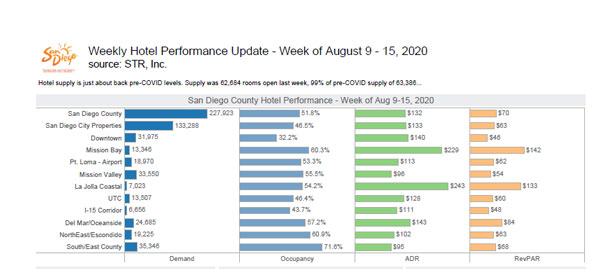 Hotel Performance – week of August 9-15, 2020
Source: STR, Inc.
The hotel supply is back to 62,864 rooms, almost 100% of pre-COVID levels of 63,897.
Every week demand has increased, and last week was no exception, reaching a high of 227,923 hotel room nights sold in the County.
Occupancy averaged 52%, 3rd highest among top 25 markets and highest in the western region competitive set.
The County ADR was $135, tied with Anaheim for 2nd highest among the top 25 markets, only below Oahu at $166.
The highest ADRs in the region were in the coastal areas of Mission Bay and La Jolla, both of which averaged more than $225.
Saturday, Aug. 15 marked the highest occupancy of the summer so far at 72% with an average daily rate of $151. This was just behind the Fourth of July weekend's Saturday night ADR of $156.
Mission Bay outperformed all the other regions achieving 80% occupancy on Friday night and 88% on Saturday night.