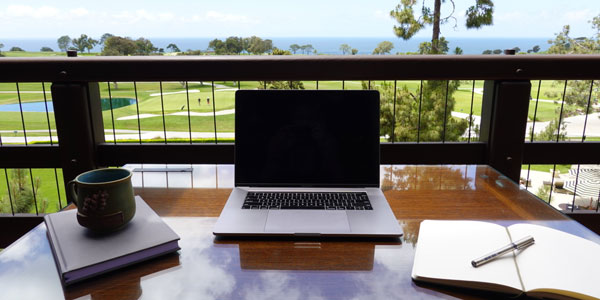 With our homes being our offices, classrooms and everything in-between, some of San Diego's finest hotel properties are offering up their beautiful spaces for more than just a relaxing staycation. Take a break from the monotony of your same four walls and enjoy a beautiful escape away that can also serve as your new office space.
Office by the Ocean
La Valencia Hotel
Gain a fresh perspective and set up your office for the day in one of La Valencia Hotel's newly renovated vintage guest rooms. With Wi-Fi, a desk and all the added amenities that this lux property is known for, it's time to treat yourself to some peace and quiet with an unbeatable office view. Upgrade your workspace with rates starting $75 and take comfort in knowing each room has been deep cleaned with this property's standard hospital-grade disinfectant.
Work Sanctuary
Embassy Suites by Hilton San Diego La Jolla
Put your many hats away and let Embassy Suites by Hilton San Diego La Jolla take care of you. Enjoy a cushy overnight stay with complimentary "To-Go" hot breakfast, unlimited coffee and tea and start your workday in your very own sanctuary—high-speed Wi-Fi included. With affordable rates starting at $125 a night, there is no reason not to switch up your office space in style.
Business with a View
The Lodge Torrey Pines
Working remotely has some advantages, especially when it means being able to work from a beautiful balcony with stunning views or from a plush cabana at The Lodge Torrey Pines. Your new workplace retreat awaits you with stunning scenery, a relaxing home-away-from-home atmosphere and all the amenities that will leave you you rested and ready for work—not to mention offering up a sweet Zoom background. Upgrade your stay and mix business with pleasure and receive preferred tee time through the "Business to a Tee" package. Check out this property's many offers and book your workcation today.