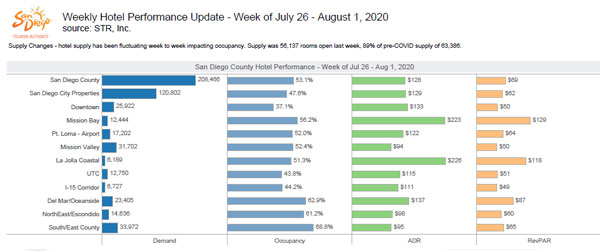 Weekly Hotel Performance – July 26 – August 1, 2020
Source: STR, Inc
Weekly room demand continues to climb, reaching 208,466 this week, a new high during the pandemic.
Room supply remained at 56,137 available rooms, or 89% of the pre-COVID supply of nearly 64,000.
Occupancy increased to 53.1% throughout the county, ranking third among top 25 markets and first in the western competitive set.
Properties located South/East County continue to have the highest occupancy, at 68.8% this week, followed by Del Mar/Oceanside at 62.9%, and North East/Escondido at 61.2%.
Average daily rates remained steady at $130, ranking San Diego third among top 25 markets and second in the western comp set, behind Anaheim/Santa Ana ($135).
Properties in La Jolla Coastal lead in ADR at $226 this week, followed by properties in Mission Bay at $223, and Del Mar/Oceanside at $137.
Across the region, Friday and Saturday nights have most demand with Sunday and Thursday shoulder nights in coastal areas and Downtown. Outer regions and Mission Valley are seeing flatter occupancy across the week.