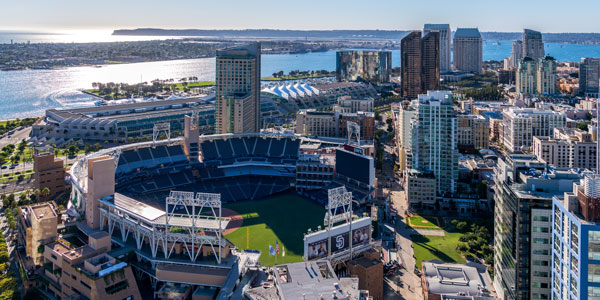 Name: Jaclyn Lash
Company Name: San Diego Padres/Petco Park
Founded: Petco Park in 2004

How have you changed your business in response to COVID-19?
Obviously, the nature of events is that of a social gathering, so we've had to figure out how to come up with events that are fun but that are socially distanced and safe. We are fortunate to be a large event venue and to have a creative staff, so we've been able to pivot. We've done drive-through graduations, drive-in movie nights and drive-in concerts in our Lexus Premier Parking Lot. One of my favorite events were the graduations. It was such a tough time, but we were able to give some joy to the graduates and their families. With the drive-in movies, we did two showings of Anchorman and sold out quickly both times. We gave out gift bags with water, snacks and Padres gear. We used high-quality LED boards, so the viewing experience was phenomenal. For the concerts, we had one that featured local bands and another one where Switchfoot was the headliner. We are excited to keep coming up with ways to use our event space for safe and fun events.
What keeps you hopeful?

We've been happy to see the reaction from the community to these events. People are thirsty for events, and when events can return, I think there will be a renewed love for them and an increased interest in attending them.

What is your advice to other companies?

Try and stay creative. Put safety first but think about what sort of things you'd like to do, what you would enjoy. Be patient and be safe for each other because the safer we are, the sooner we can get together again.

What is the one thing you are looking forward to doing when things return to normal-ish?

Definitely looking forward to baseball being played in Petco Park because it is just not the same without the fans. I also can't wait for people to be able to gather again. No matter what people want to see and be with other people, and I can't wait to think up creative new events to meet that need. We will be doing more drive-in events in the future and if you are interested in hosting an event at Petco Park, please contact events@padres.com.