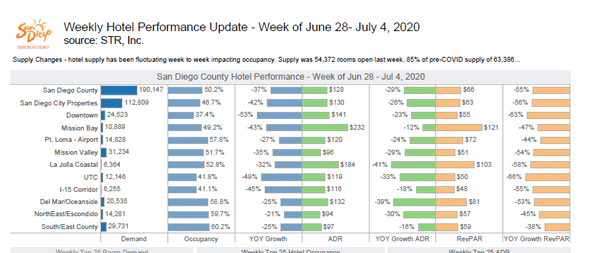 Hotel Performance – Week of June 28- July 4, 2020
Hotel room supply inched up by approximately 800 rooms last week, climbing to 54,372 available rooms, about 85% of pre-COVID supply (63,896).
Demand in the region again improved from previous week of 177,000 to over 190,000 room nights sold this past week.
While historically low, San Diego continues to outperform other top cities in the U.S. on occupancy and ADR.

San Diego County occupancy averaged 50%, 4th highest in U.S., and highest on West Coast.
San Diego County ADR was $132, 3rd highest in U.S., and just under Anaheim/OC at $144 on West Coast.
Among upper upscale chains, San Diego's transient occupancy was 38%, well ahead of all other West Coast competitors last week.
As group occupancy is only for essential workers, San Diego ran 0.9% down from 3.4% a few weeks ago, and lowest among comp set. Seattle and San Francisco group is mainly homeless and COVID related.

The Fourth of July holiday generated decent demand, especially along the coast.

Friday and Saturday nights posted highest demand numbers post COVID shutdown at over 37,000 room nights sold per night in the County.
Pt.Loma/Airport, La Jolla Coastal, and Del Mar/Oceanside areas all averaged above 80% occupancy on Saturday and 75-80% on Friday. Mission Bay fell just below these areas in low 70s.
An encouraging sign was the strong ADRs over the weekend, with Mission Bay leading at $305 on Saturday and $295 on Friday, followed by La Jolla Coastal at $229 on both nights.
Downtown properties yielded $174 on Saturday and $163 on Friday night at about 60% occupancy.
Sunday and Thursday nights performed better than Monday through Wednesday and appear to be leisure shoulder nights.

With no group, Monday, Tuesday and Wednesday are worst performing as occupancies average 25% in Downtown, 30-50% occupancy in other areas.