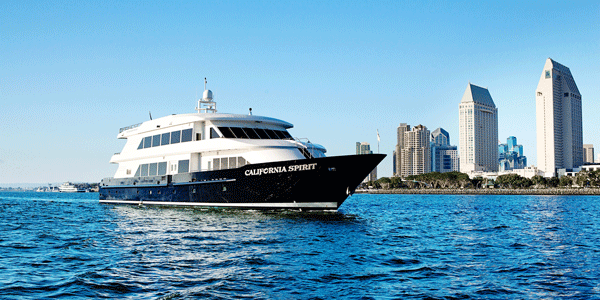 What better way to experience the beauty of San Diego than on the water? These SDTA Members are offering tons of watery summer fun in the sun at a discount. Whether you're looking to cruise on a luxury liner with a glass of wine in hand or get your adrenaline pumping while shark diving, there's something for everyone.
Luxury Jet Ski Rentals
In need of an adventure? Luxury Jet Ski Rentals is ready to provide it. The company is offering $80 rentals for jet skis, $99 for boats, and $20 for SUPs & kayaks. Get some social distance-friendly outdoor action and soak up the San Diego sun.

Halcyon Seas
For a seabound outing with some extra flair, the luxury experts at Halcon Seas are offering a 20% discount during the month of July on all charter packages. Visit the company's website to book your fancy ocean exploration.

Shark Diver
If you're looking for a seaward activity and surfing and kayaking just doesn't get the adrenaline pumping, shark diving may be more your speed. Head off the San Diego Coast with Shark Diver and get $300 off each person's dive cost throughout the rest of 2020.
Flagship Cruises & Events
Flagship Cruises is currently operating harbor tours and Patriot Jet Boat Thrill Ride seven days a week. For a taste of the finer things, step on board a dinner cruise on Friday, Saturday and Sunday nights, or a midday outing on a Sunday brunch cruise. Visit this page for promotion codes to get a discount on your cruise.
Hydrobikes San Diego
Beat the mid-week slump by going for a ride on the water. Head to Hydrobikes San Diego on Tuesdays to take advantage of the popular Twofer Tuesdays promotion. Participants get two hydrobike rentals for the price of a single bike or half off a tandem bike. There is also a 10% discount for military and kids who can't reach the pedals always ride for free. The company is dog friendly (complete with pup life jackets), so man's best friend can ride for free, too.
The Gondola Company
Although trips to Italy are temporarily on hold, you can get a taste of a Venice gondola ride thanks to this local company. If you buy a bottle of wine with your gondola trip, you will receive a complimentary box of decadent chocolate truffles. The promotion is running through the end of July. When booking, use the code Sweet2020.

Aolani Catamaran Sailing
Set sail with your friends and family (small groups of less than 30) aboard a catamaran yacht on the San Diego Bay. Each rental comes with a complimentary large water raft for even more fun in the sun. Enjoy a private cruise or go whale watching to witness nature's gentle giants up-close and personal.
Cheap Rentals
You can choose your own adventure by borrowing the top-tier gear from Cheap Rentals. Have your rental of choice—surfboards, kayaks, bikes, stand-up paddleboards and more ⁠—delivered to your desired launch pad. All rentals 24 hours or longer qualify for free delivery and pickup within 10 miles of the Mission Beach shop location.
Hornblower Cruises & Events
Enjoy the beauty of San Diego Bay in style aboard a Hornblower Cruise. Participants can receive $10 off all cruises, including sightseeing, whale watching, cocktail, brunch and dinner cruises. Hornblower is also modifying each cruise to provide outdoor space to ensure the health and safety of customers.