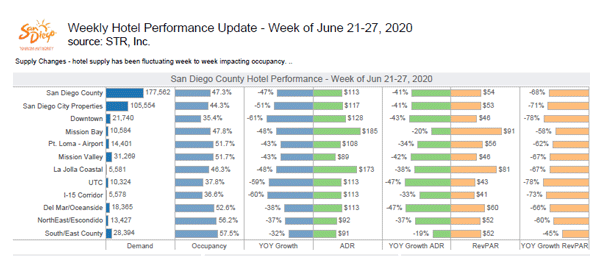 Weekly Hotel Performance – June 21-70, 2020 – STR
Last week, STR reported 53,609 rooms available, or 84% of the 63,896 hotel rooms prior to COVID. Each week, slightly more rooms become available.
Hotel room demand grew by 8% over the previous week to 177,562 room nights sold, with weekend nights once again showing peak demand.
Average occupancy for the week was 47.3%, which ranked 6th among top 25 markets, 2nd in western competitive set (behind Phoenix).
Saturday night occupancy averaged 70% and Friday around 60% in all of the coastal areas from Pt. Loma/Airport, to Mission Bay, La Jolla and north to Oceanside.
ADR rose to $115, $4 more than last week, and ranked 7th among the top 25 markets, and 4th in the western comp set.
Properties in Mission Bay had the highest ADR at $185, followed by properties in La Jolla at $173 and Downtown at $128.
In the City of San Diego, room demand grew by 10% over the previous week to 105,554 rooms sold at an average rate of $117.