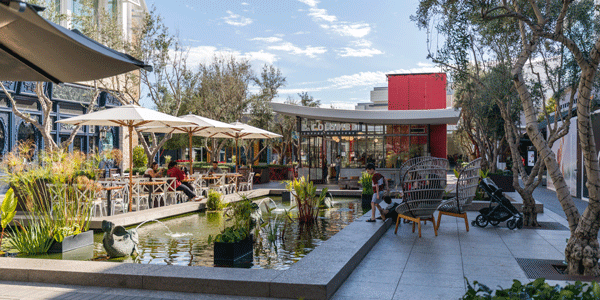 Name: Ryan Perry, Senior General Manager
Company Name: Westfield UTC
Founded: 1977
How have you changed your business in response to COVID-19? 
The health and safety of our customers, tenants and employees is our primary concern—always. We are implementing the various necessary health and safety protocols such as increased frequency and heightened attention on cleaning, controlling traffic flow and crowds, and other measures to keep our community and individuals safe. We are investing in various amenities and programs, such as enhancing the capacity for curbside pick-up for customers and the sale of protective face masks and no-touch keys at the center supporting No Kid Hungry.
Westfield is also planning to roll out additional digital services in the coming months. The new digital services are a part of the company's efforts to address customer and community concerns as well as the needs of its retailers and restaurants in response to the crisis; while continuing to embrace omnichannel commerce and its commitment to delivering a best-in-class customer experience. These services will include:
Shopping by appointment with technology integrated into the Westfield app that allows guests to schedule appointments with participating retailers based on available time slots or join a virtual waitlist and be called back when they can enter an individual retail store.
The ability to view real-time shopper activity on center websites so shoppers can plan their trip when they are most comfortable given current traffic patterns and crowds. Westfield teams will also use the technology to monitor capacity in accordance with local reopening guidelines.
Answers on the Spot, which provides a real-time response via text or webchat during business hours to answer questions about store and center hours, promotions as well as health and safety practices.
What keeps you hopeful?
The support from our community—tourism, retail partners and customers alike—keeps us strong during these tough times. The feedback and support everyone has had for our restaurants and retailers keeps us inspired to develop creative solutions that will allow us to continue engaging with our shoppers. As part of our national #WestfieldCares program, Westfield San Diego centers have banded together to support vulnerable populations in need during COVID-19. We've had an opportunity to contribute by providing monetary and in-kind donations to local organizations that serve groups such as those experiencing homelessness, economically disadvantaged families, seniors, and children, and participate in meaningful activities thanking local first responders and medical professionals. Our restaurants and retailers continue to inspire our #WestfieldCares efforts with their meal donations locally and globally. Din Tia Fung, a UTC favorite, for instance, has donated more than 750 meals to medical professionals at Scripps Hospital. 
What is your advice to other companies?
Be adaptable. See how demands for your product or services may have changed and search for creative ways to adapt to the new need.
What is the one thing you are looking forward to doing when things return to normal-ish?

We cannot wait to be able to gather once again in our lush outdoor venues at Westfield UTC and are hopeful for the resurgence of safe tourism and activity in the county, and La Jolla specifically. In the meantime, we are looking forward to providing an outdoor resort-style daycation for our local community.