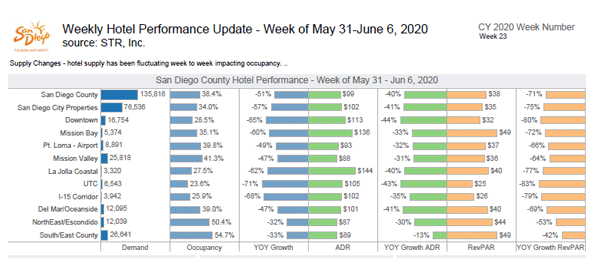 Hotel room demand remained steady at around 136,000 with occupancy falling slightly to 38% in the County, with a base supply of 50,489 hotel rooms.
San Diego's occupancy ranked 10th among top 25 markets and 3rd in western comp set, behind Phoenix and Los Angeles.
ADR was flat this week at $99 in the County. The weekend nights of June 5 & 6 were the highest of the week, averaging at $109.55.
Friday and Saturday nights continue to report peak demand and ADR.
Properties in South/East County continued to see the highest occupancy at 54.7%, followed by Northeast/Escondido at 50.4%, and Mission Valley at 41.3%.
ADR was highest in La Jolla Coastal at $144, followed by Mission Bay at $136 and Downtown at $113.