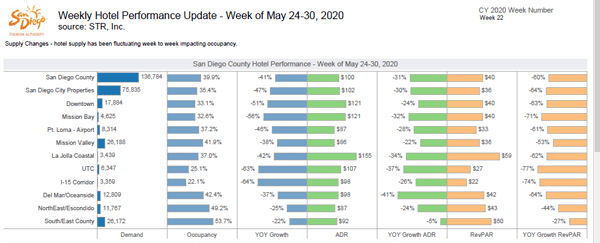 Hotel room demand rose to nearly 137,000 room nights bringing occupancy to 40% in the County, with a base supply of 48,959 hotel rooms.
San Diego's occupancy ranked 7th among top 25 markets and 2nd in western comp set, behind Phoenix. Demand is starting to grow in other areas where markets have opened.
ADR increased $3 over the previous week, reaching $100 in the County. Saturday, May 30 reached $107, the highest average in the week.
Properties in South/East County continued to see the highest occupancy at 54%, followed by Northeast/Escondido at 49%, and Del Mar/Oceanside at 42%.
ADR was highest in La Jolla Coastal at $155, followed by Downtown and Mission Valley both at $121.