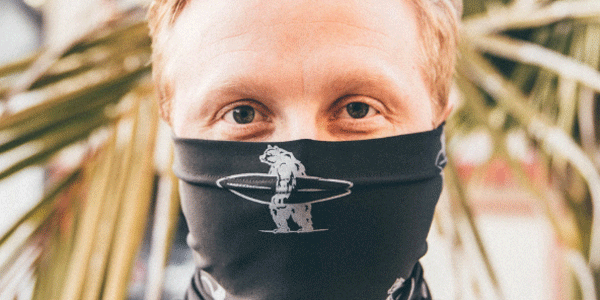 As face masks become the new normal, as well as this summer's must-have accessory, San Diego companies are designing their own versions of personal protective gear with California's Beach City flair. A variety of San Diego Tourism Authority Members are creating looks from personalized and custom designs to works of art that represent the unique organizations behind the design. Take a look and support a local company by purchasing personal protective gear from a local company.
Local Companies Offering Personal Protective Equipment
Get wild while supporting wildlife with a mask created by the San Diego Zoo. Share your love for chubby unicorns (also known as rhinoceros) or proudly display your support for the world-famous San Diego Zoo by purchasing a mask from Shop Zoo.
Style Gifts Ltd. is adding the option to create custom reusable masks, face mask lanyards, hand sanitizer and protective barriers for desktops. You can create customized gear for your organization that showcases your creativity and unique company culture. Order quantities start at 250.
Initial Impression specializes in customized promotional products and is now offering customers the option to create custom imprint or logo masks. They also make custom no-touch thermometers and hand sanitizer. So far, the company has shipped more than 15,000 custom logo masks as well as thousands of disposable masks.
It doesn't get more Golden State than poppies and a bear carrying a surfboard—show your San Diego and California pride by representing these designs on face masks created by the fun experts at Everyday California. The shop is currently offering 20 percent off all products.
Support local artists while keeping yourself and others safe by purchasing wearable art created by artisans at the San Diego Art Institute. The Regional Artists Market was recently launched to give local contemporary artists a platform to create and sell functional art.
Need disposable gear? Any Budget Printing & Mailing has you covered. The local business is selling disposable face masks that can be ordered directly from the website.
The event and meeting promotional items professionals at the RED Company are hard at work creating a variety of personal protective gear, including an assortment of masks (cloth, 3-ply disposable, N95 and KN95), hand sanitizer, sanitizing wipes, gloves, shoe covers and a new hot item—a copper-plated, hands-free door opener and a button pusher with a stylus.
JR Resources, a San Diego-based promotional products company, recently received recognition from Governor Gavin Newsom for supplying the State of California with top-notch personal protective equipment. The company is currently providing full-color polyester face mask covers, touch tools to reduce exposure to germs, disposable face masks, face mask ear savers, no-contact thermometers and sanitizer gel packets, all of which are produced in the United States.