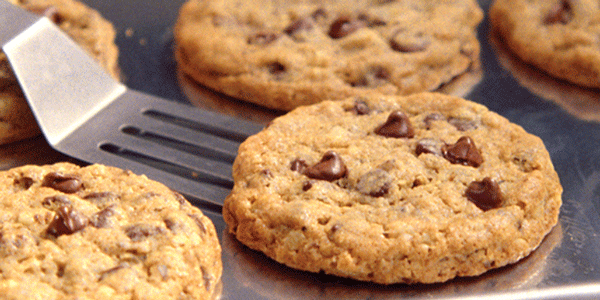 A Taste of San Diego
Nothing evokes the warm and fuzzies much like the aroma of homemade chocolate chip cookies baking in the oven or the decadence of a pound cake. This week you will get the recipe for those oh-so-famous chocolate chip cookies from Doubletree by Hilton and a delicious twist on French Toast from the local breakfast experts at Breakfast Republic.
Ingredients
½ pound butter, softened (2 sticks)
¾ cup + 1 tbs. granulated sugar
¾ cup packed light brown sugar
2 large eggs
1 ¼ tsp. vanilla extract
¼ tsp. freshly squeezed lemon juice
2 ¼ cups flour
1/2 cup rolled oats
1 tsp. baking soda
1 tsp. salt
Pinch cinnamon
2 ₂/₃ cups Nestle Tollhouse semi-sweet chocolate chips
1 ₃/₄ cups chopped walnuts
Directions
Cream butter, sugar and brown sugar in the bowl of a stand mixer on medium speed for about 2 minutes.
Add eggs, vanilla and lemon juice, blending with mixer on low speed for 30 seconds, then medium speed for about 2 minutes, or until light and fluffy, scraping down bowl.
With mixer on low speed, add flour, oats, baking soda, salt and cinnamon, blending for about 45 seconds. Don't overmix.
Remove bowl from mixer and stir in chocolate chips and walnuts.
Portion dough with a scoop (about 3 tablespoons) onto a baking sheet lined with parchment paper about 2 inches apart.
Preheat oven to 300°F. Bake for 20 to 23 minutes, or until edges are golden brown and center is still soft.
Remove from oven and cool on baking sheet for about 1 hour.
Cook's note: You can freeze the unbaked cookies, and there's no need to thaw. Preheat oven to 300°F and place frozen cookies on parchment paper-lined baking sheet about 2 inches apart. Bake until edges are golden brown and center is still soft.
Ingredients:
French Toast
8 1-inch thick slices brioche bread
1 qt. heavy cream
6 egg yolks
1 cup brown sugar
¾ cup vanilla extract
¾ cup spiced rum
S'mores
½ cup graham crackers
30 small marshmallows
Topping:
Drizzle Ghirardelli chocolate sauce
Directions:
In a mixing bowl add heavy cream, egg yolks, brown sugar, vanilla extract, spiced rum and graham crackers.
Mix until all ingredients are well combined.
Soak brioche bread in mix and place on medium heat.
Griddle for approximately 3 minutes each side.
Top with marshmallows and use a torch to achieve a light burn.
Drizzle with chocolate sauce and top with powder sugar.