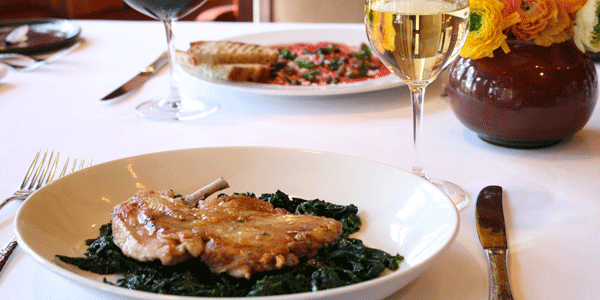 It's time to hone in your mixologist and chef skills and put them to the test as you try your hand at making some of your favorite recipes from the comfort of your home. This week's menu includes a slice of sunshine with a zesty tropical quarantini and a decadent, rustic chicken dish that will have the whole family wanting more.
Ingredients
2 oz. Titos vodka
1 oz. Orange juice
1 oz. Grenadine
1 tsp. Freshly squeezed lemon juice
Thinly sliced orange wheels
Directions
Add Vodka, Orange Juice, Grenadine, Lemon Juice and a handful of ice to a cocktail shaker.
Shake for 30 seconds or until very cold
Strain into a chilled martini glass.
Top with thinly sliced orange
Ingredients:
(2) Half chickens, skin on, thigh de-boned and with only the first wing section left.
(2) Bunches-Cavolo Nero (Or any other type of braising green-Black Russian Kale or Dino)
(1) Clove Garlic, sliced
Fresh Lemon Juice (to taste)
Butter (to taste)
Chili Flakes (to taste)
Salt Pepper (to taste)
Vegetable oil (for cooking the chicken) (to taste)
Olive oil (to taste)
Chopped parsley (to taste)
Brick wrapped in foil
Directions:
Preheat oven to 400 degrees.
Remove tough stems from the cavolo nero or braising greens.
Bring a pot of salted water to a boil and set up a bowl with ice water.
Cook the greens in the salted water for about a minute, remove from water and transfer them to the ice water to stop the cooking. Squeeze out excess water from the greens and set them aside.
Heat up a sauté pan large enough to accommodate the chicken. When the pan is hot add about a tablespoon of vegetable oil and place the chicken skin side down, cook until the skin turns golden. Weigh the chicken down by placing a sauté pan with the brick on it and transfer to the preheated oven. Cook for 10 to 15 minutes (time will vary depending on the oven and the size of the chicken).
Heat up another sauté pan and cook the sliced garlic with some olive oil being careful not to brown it. Add the cavolo nero and season with salt, pepper, and chili flakes to taste. Cook gently until greens are hot.
When the chicken is ready remove from pan and pour out excess oil from the pan. Heat the pan the chicken was cooked in with a little butter and some lemon juice. Cook until the butter and juice becomes thick and emulsified. Add chopped parsley (this is the pan sauce for the chicken).
Place greens on the bottom of the plate, add chicken and top off with pan sauce. Serve immediately.