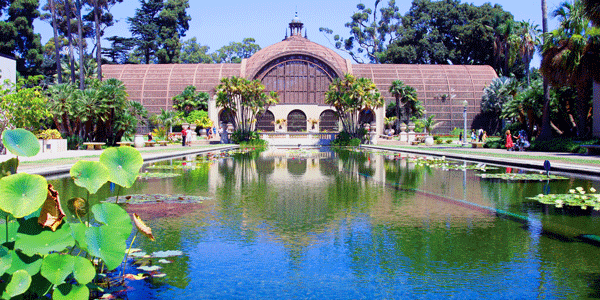 Creativity has hardly missed a beat in San Diego as arts and cultural institutions throughout the community have reimagined how to keep people engaged and entertained. Here are how some of Balboa Park's cultural institutions are delivering on their missions during the current crisis.
Old Globe
Looking for a meta masterpiece of theater? The Old Globe in Balboa Park is bringing the stage to your home with In-Zoom, a mini-play that is very of the moment. Renowned theater artist Bill Irwin developed a play that focuses on a Zoom conversation taking place during the current pandemic. Irwin, a two-time Tony award-winning artist, up with three-time Tony Award nominee Christopher Fitzgerald for a premiere of the work on Thursday, May 14 at 6:30 p.m.
San Diego History Center
The San Diego History Center is spearheading a project aimed at collecting and showcasing stories of the COVID-19 pandemic. As the world grapples with a historic and unprecedented pandemic, the History Center is committed to preserving the stories of San Diegans and how they dealt with and overcame the trials and tribulations presented by the COVID-19 crisis. Submissions will cover a range of topics, including how individuals have relied on their social circles throughout the crisis, how the pandemic has changed an individual's daily life and how COVID-19 has changed his or her perspective of living in San Diego.
Virtual Butterfly Week
Spring has sprung in California's Beach City and the butterflies are flocking to our city's cultural hub—Balboa Park. Although visits to the park are currently limited, Friends of Balboa Park will be hosting Virtual Butterfly Week. Throughout the week of May 18, different institutions across the park will celebrate the importance and impact of these beautiful creatures with curated content, at-home activities and more.
Suds & Science
The Fleet Center has longed hosted "spirited" discussions whereby participants would sip an adult beverage or two while listening to some of San Diego's most impressive scientists discuss a heady host of topics. That conversation virtually continues in the COVID-19 era, but now is squarely focused on local efforts to battle the virus. On May 26, for instance, the Fleet will have scientists from the Sanford Burnham Prebys Medical Discovery Institute discuss their work to find treatments for COVID-19. On June 22, Dr. Erica Ollmann Saphire from the La Jolla Institute for Immunology will talk about her work with antibodies and how the best ones can potentially provide protection for healthcare workers and patients. Find out more here.
Virtual Zen
The Japanese Friendship Garden has a whole slate of soothing virtual classes to help you find calm amid the COVID-19 crisis. From calligraphy to yoga to tai chi and more, there is no shortage of ways to relax and recharge with the help of one of Balboa Park's most tranquil-minded institutions. Find out more here.