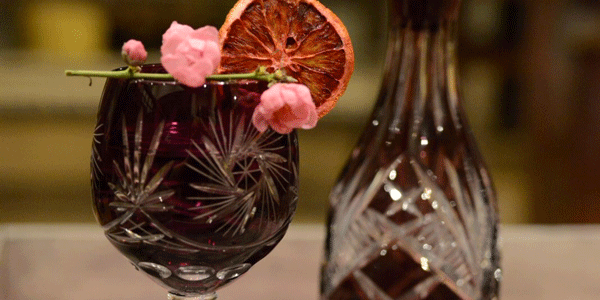 Spice up your next meal with a famous San Diego dish or drink! Some of the region's finest eating and drinking establishments have provided their top recipes to make mealtime a bit more delicious.
Ingredients
8-12 chicken wings
1 tbsp. kosher salt
2 tbsp. sugar
½ tbsp. cayenne powder
2 tsp. fennel seed powder
1 tsp. szechuan peppercorn
½ tsp. ground star anise
1 tsp. ground coriander
4 tsp. cumin
½ tsp. clove
Directions
Cook 8-12 chicken wings, fried or baked, to an internal temperature of 165 degrees.
Once wings are cooked, place them in a bowl and generously sprinkle the Hard Rock Hotel SD Wing Magic on the wings and toss.
Apply another light coating of Wing Magic on the wings and toss again. Enjoy with your dipping sauce of choice.
Cafe 21: Blood Orange Peach Blossom Sangria
Ingredients for Peach Blossom Syrup
¼ cup peach blossoms (purchase on our online shop by visiting Nature's Kitchen and Market)
½ cup of water
½ cup of granulated white sugar
Directions for Peach Blossom Syrup
First you will need to make the peach blossom syrup. Combine the water and sugar in a shallow pan. Heat over medium until sugar has melted.
Add the peach blossoms and bring syrup to a gentle simmer.
Cook for about 30 minutes.
Let syrup come to room temperature before pouring into a jar. Syrup can be stored 2-4 weeks in the fridge.
Ingredients for Blood Orange Peach Blossom Sangria
1 bottle of dry rosé wine
peach blossom syrup
2 blood oranges
dehydrated citrus garnish
Directions for Blood Orange Peach Blossom Sangria
Pour the rosé into the pitcher and add in the peach blossom syrup and mix well.
Add in the slices of fresh blood orange slices.
Let mixture sit for at least 30 minutes before serving.
Serve cold with dehydrated orange slices for garnish.