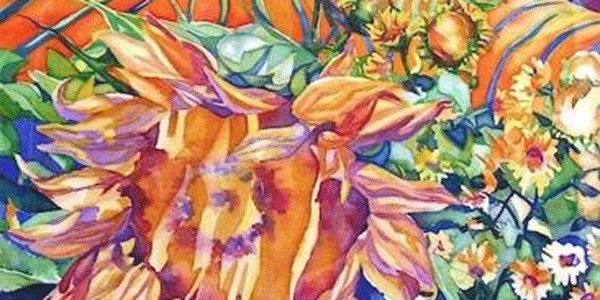 During the COVID-19 crisis, the San Diego tourism community is coming together and developing creative offerings to help support each other and benefit our region. Each week, the SDTA will share some of the cool things our Members and community partners are doing. Be sure to share your own story here or on social media using #WithLoveSanDiego.
A colorful display
The San Diego Watercolor Society proudly presents "Beyond the Pale, a Virtual Art Exhibition," which runs through May 30. The paintings on virtual display are the work of the society's talented members and you can view them on the website's slideshow, as well as in its online gallery. If you like what you see, you have the option of purchasing the paintings in the collection, with the Society shipping the unframed artwork directly to your door. Be sure to continue to check back on the Society's website for new shows on display each month.
Interact with art
Looking for fun creative arts and crafts experiences for all ages? The California Center for the Arts, Escondido is hosting a variety of activities, workshops and virtual events to engage patrons of the arts. If your kids are hankering to get their creative juices flowing, the organization is offering up craft ideas for the younger set on its Facebook page on the first and third Tuesday of the month at 3 p.m. Need a little crafting inspiration of your own? The Center has teamed up with Westfield to offer Craft + SIP—a virtual crafting happy hour on the second and fourth Tuesday of the month at 5 p.m. on the Center's Facebook page. Each session has a whole host of how-to crafting including macramé plant hangers, candle making, recycled plastic flowers and more. The Center makes sure to post the "SIP" signature craft cocktail ingredients prior to the event so you can create a cocktail to go along with your crafting.
ArtWalk goes online
Although public gatherings are currently on hold, you still have the chance to engage with works of art created by locals, thanks to the art enthusiasts behind the Mission Fed ArtWalk. Take a look at the online gallery of participating artists with works of art on display and for sale. These online purchases support amazing creators as festival cancellations have eliminated a key art sales channel for many artists.