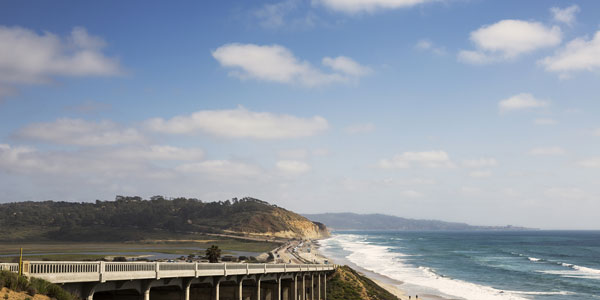 As our region prepares to responsibly reopen our economy, the San Diego Tourism Authority (SDTA) is working closely with elected officials and business leaders to develop a comprehensive recovery plan that also supports the local tourism industry.
Last week Mayor Kevin L. Faulconer and Supervisor Greg Cox created the Responsible COVID-19 Economic Reopening (RECOVER) Advisory Group charged with preparing recommendations for the region's economic reactivation and recovery with the SDTA playing a key role in this effort.

The key issues the RECOVER Advisory Group will tackle include:

• How to reopen industries affected by COVID-19
• Leveraging and delivering stimulus funding effectively
• New programs and regulatory relief at the state and federal level
• Opportunities for partnerships to deliver economic relief initiatives
• Complementing and accelerating regional priorities including climate resiliency, infrastructure and housing

Mayor Kevin L. Faulconer described the Advisory Group's work this way: "The San Diego region is going to be prepared to reopen when the time is right–orderly, strategically, and safely. This group is bipartisan and binational, representing our regional economy–north, south, east and even across the border."
To provide the tourism industry's input on how to safely and successfully reopen the San Diego economy, the SDTA sent out a survey to its members with almost 300 businesses providing feedback in just over 24 hours. Respondents were from the following industry sectors:
| | | |
| --- | --- | --- |
| Type | Number of Respondents | Percentage of Respondents |
| Hotels/Motels | 87 | 29.29% |
| Hostels, Timeshares, Vacation Rentals, RV Campgrounds, and other paid overnight | 8 | 2.69% |
| Attractions | 5 | 1.68% |
| Event Venues | 17 | 5.72% |
| Meetings Services (DMCs/AV/Entertainment/Printing, etc.) | 19 | 6.40% |
| Food and Drink (Restaurants, Bars, Breweries, Wineries, etc.) | 63 | 21.21% |
| Shopping | 2 | 0.67% |
| Arts and Culture (Museums, Galleries, Performance Arts, etc.) | 25 | 8.42% |
| Tours and Activities | 27 | 9.09% |
| Transportation (Taxis, Buses, Shuttles, etc.) | 7 | 2.36% |
| Other | 37 | 12.46% |
On April 22, the SDTA also held a virtual roundtable with key industry stakeholders who discussed how they are approaching social distancing efforts, including reducing capacity at the various attractions and at meeting facilities, personal protective equipment needs for employees and guests, cleaning and sanitation efforts, and operational refinements to limit staff and guest contact. Some of the key takeaways included:
Operators need advance notice to reopen—ideally a two-week notice—in order to call back employees, train employees, change physical spaces, refine operations and plan for expenses.
There is deep concern that California will overregulate its response and doesn't fully understand how different businesses operate with regards to the tourism industry.
Financial aid is needed from the government, everything from the deferral of tax payments to reducing costs for permits and public safety fees related to events.
The need to work through issues with regards to "mass gatherings" and capacity directives—lack of clarity can cripple the tourism businesses.
Clear requirements by the business sector are also imperative.
The RECOVER Advisory Group's work is ongoing with another meeting scheduled for today (April 24) and with additional assignments designed to capture specific industry insights and needs.

In addition, the SDTA is partnering with the San Diego Regional Chamber of Commerce and the San Diego Regional Economic Development Corporation on the "Back in Business San Diego" initiative to develop an economic framework of best practices for the region. While the focus of the Advisory Group will be on the region's immediate economic needs, the Back in Business efforts will target a long-term strategy for the region centered around three key pillars: SURVIVE, RECOVER (workforce issues, policies and economic development strategies) and RESTART.

The input from our members will be invaluable to this project, and the SDTA will keep you posted on how to get involved.

In addition to these efforts, Governor Gavin Newsom recently announced the full roster of his task force for the State of California's economic recovery efforts.

The SDTA will continue to seek industry input and feedback and will keep you informed on all recovery efforts.