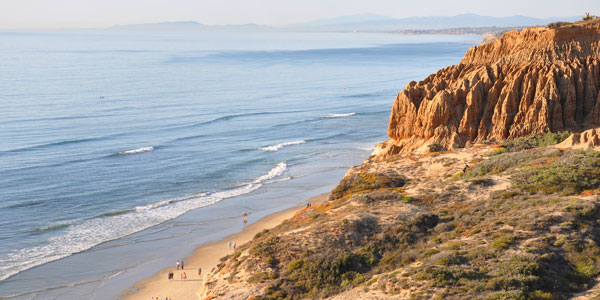 The San Diego tourism community is coming together to support our region as it grapples with the ongoing COVID-19 crisis. Each week, the SDTA will share how our Members and community partners are getting creative to support each other and the larger community. Be sure to share your own story here or on social media using #WithLoveSanDiego
That's the spirit
San Diego is a hotbed for innovation, and distilleries are no exception. Local distilleries such as Cutwater Spirits are leveraging its production efforts to make hand sanitizer, which is in short supply across the nation. Cutwater is donating 100 percent of sanitizer produced to local non-profits in San Diego County including The San Diego Food Bank and first responders including police and fire departments. Cutwater also donated the equivalent of 50,000 meals to the Food Bank and is hosting a virtual food drive, matching every dollar donated via the link posted to its Instagram account @cutwaterspirits.
Hot meals for hungry healthcare workers
Del Frisco's Double Eagle Steakhouse is known for their delicious, extravagant meals and excellent location adjacent to the San Diego Bay. Although dining in-house is temporarily unavailable, the restaurant is offering a $14 box lunch special with five different popular items from which to choose. For every two box lunches purchased, the steakhouse will donate one to a first responder or essential worker.
The art of compassion
We need art now more than ever, and the Timken Art Museum in Balboa Park is ensuring vulnerable communities have access to artistic and instructional outreach programs. The museum has designed online art classes to support active military receiving treatment at the Naval Medical Center and youth at the Kearny Mesa Juvenile Detention Facility. This innovative program combines the curations held at the museum with hands-on activities that inspire participants to problem-solve, think creatively and express themselves.
Gathering virtually for great food
Who doesn't love a good taco? Puesto, a popular Mexican food spot with locations throughout the county, hosted a Zoom Industry Support Dinner on Thursday, April 16. Participants were able to pick up care packages at Puesto headquarters that included ingredients for chicken tacos and a cocktail. Later that evening, Puesto hosted a Zoom dinner party, serving some 1,500 meals and offering a cooking tutorial along with some surprise guests from the Padres. The virtual celebration was designed to show support and solidarity with fellow restaurant industry members.