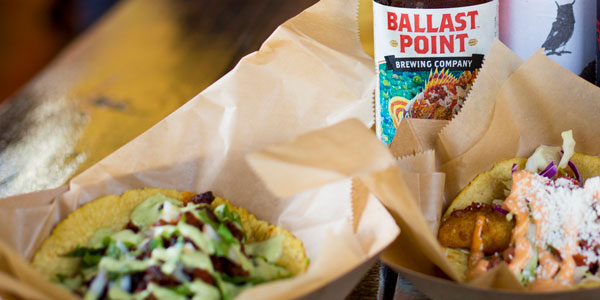 Spice up your next meal with a famous San Diego dish or drink! Some of the region's finest eating and drinking establishments have provided their top recipes to make mealtime a bit more delicious.
Ingredients
2 oz. Titos Vodka (BTS Fresh)
3/4 oz. Cointreau or Triple Sec
1 oz. Fresh Squeezed Lemon Juice (Juice from ½ large lemon BTS Fresh)
3/4 oz. Simple Syrup
Ice
Lemon Sugar Glass Rim:
1/2 cup Granulated Sugar
Zest from 1 Lemon (BTS Fresh)
Directions
Add Vodka, Cointreau (or Triple Sec), lemon juice, simple syrup and a handful of ice to a cocktail shaker.
Shake for 30 seconds or until very cold, strain into the prepared sugar rimmed martini glass and serve immediately.
Ingredients
2 racks baby back pork ribs
2 cups brown sugar
2 tbsp. salt
2 tbsp. fresh ground pepper
2 tbsp. ancho chili powder (optional)
1 lb. bacon fat, cold or at room temperature
Barbecue sauce (optional)
Directions
If your butcher has not already done so, remove the thin membrane from the back of each rack of ribs.
In a small bowl, mix brown sugar, salt and pepper. Generously rub mixture into both sides of ribs, then coat with bacon fat.
Place two racks of ribs side by side in two to three layers of heavy-duty aluminum foil, making sure there are no holes or tears. Wrap securely and crimp edges of foil to seal. Repeat process with remaining ribs.
Place packets on a grill over low heat and cook at least 30 to 40 minutes or until ribs are fall-off-the-bone tender, turning every 5 minutes.
Remove packets from grill. Carefully open the packets, remove ribs and discard rendered fat and foil. Return ribs to grill to char.
Serve dry or with your favorite barbecue sauce.
Ingredients
2 lbs. of ImpossibleTM Meat
1 yellow onion diced
1.5 cups small diced carrots
1 tbsp. minced garlic
8 oz. frozen peas
1/2 cup ketchup
1 tsp. black pepper
2 tbsp. vegan Worcestershire Sauce
Directions
Sautee onions, carrots and garlic until soft-not brown.
Add in peas and cook for two more minutes.
Remove from heat and cool mix.
Place all ingredients in a large mixing bowl and mix until well incorporated.
Place mix in a loaf pan and top with enough ketchup to cover loaf in oven at 350 degrees and cook for 90 minutes or until internal temp reaches 165 degrees.
Ballast Point: Swingin' Friar Ale Chipotle Chicken and Loaded Baked Potatoes
Ingredients for Chicken
2 lbs. chicken breast or thighs
1/2 cup apple cider vinegar
5 tbsp. canned chipotle peppers
3 tbsp. paprika
2 tbsp. cumin
1/2 white onion, diced
6 cloves garlic
1 cup Worcestershire Sauce
1/2 cup lemon juice
12 oz. Swingin' Friar Ale
Pinch of salt and black pepper
Directions for Chicken
Put garlic, onion, chipotle peppers and vinegar into a blender and puree until smooth.
Add Swingin' Friar Ale, lemon juice, cumin, paprika, salt and black pepper. Blend until incorporated.
Add Worcestershire Sauce and blend.
Place chicken in a large bowl, pour marinade over the top and toss to coat.
Cover and marinate in the refrigerator for a minimum of 6 hours up to overnight.
Pre-heat the grill for 10 minutes. Grill chicken on one side until it has a nice, charred color. Flip and cook until it reaches 165 degrees.
Ingredients for Potatoes
6 medium sized Idaho potatoes
1 cup butter
2 cups cheddar cheese
1 cup chopped bacon (optional)
Pinch of salt and black pepper
Olive oil
Directions for Potatoes
Heat the oven to 300 degrees.
Scrub the potatoes and pierce the skin several times with a fork.
Rub the potato skins with olive oil, then salt.
Place the potatoes in an oven safe dish and bake for 50 minutes or until slightly soft and golden brown. Potatoes can be wrapped in aluminum foil for even baking and easy clean up.
Slice the potatoes down the center and serve with butter and black pepper.
Sprinkle shredded cheddar and bacon over the top, if desired.
Don't forget to enjoy a Swingin' Friar Ale while you cook.
Ingredients
2-1/4 cups whipping cream
¾ cup sugar plus 1 teaspoon for zest
3 tbsp. fresh lemon juice
2 tbsp. fresh lime juice
1 tsp. grated lemon peel
1 tsp. grated lime peel
Directions
Bring cream and sugar to a boil stirring constantly.
Continue to boil for 3 minutes.
Remove from heat and stir in the lemon and lime juice.
Cool for 10 minutes. Stir and divide mixture into 6 cups around ½ cup each.
Cover and cool the posset.
Mix 1 tsp. of sugar with the citrus zest.
Sprinkle the sugared zest as garnish on each posset and serve.