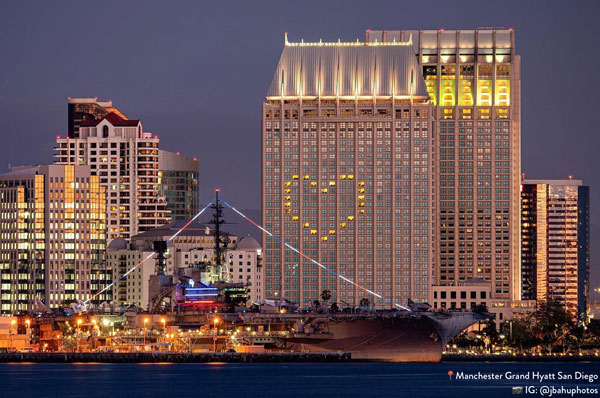 From food drives to restaurants providing meals to first responders, San Diegans in the hospitality and tourism communities are banding together to show the warmth, compassion and strength that makes California's Beach City so special.
Lighting up downtown
Downtown San Diego hotels are showing their support by lighting up the bustling neighborhoods with love. This act inspired other institutions and individuals around the region to show solidarity through expressive and creative ways.
Luxurious accommodations for first responders
As a way to show gratitude for first responders, the InterContinental San Diego hotel is offering highly discounted rates for those on the front lines who need to self-isolate from their families. From added perks like free Starbucks and discounted laundry services, the luxury hotel is providing a safe haven for those working to flatten the curve.
San Diego experiences at home
Local attractions are eager to share the uniquely San Diego experiences they have to offer with thrillseekers, art lovers and cultural enthusiasts from the comfort of their own homes. Take a trip through the Australian Outback, teleport back in time to California's beginnings and listen to the sounds of a world-class orchestra with these virtual San Diego experiences.
Restaurants showing the love
Local restaurants, such as Karina's Seafood, are donating food to first responders on the front lines of the COVID-19 crisis. So far, Karina's Seafood has donated more than 650 burritos to hungry, hardworking San Diegans.
Feeding San Diego
Feeding San Diego is upping its efforts to assist San Diegans in need. From increasing the number of distribution centers to launching fundraisers to support San Diegans, Feeding San Diego is actively working to help relieve hunger throughout the region.
The sound of music
Although concerts are cancelled across the region, the Spreckles Organ Pavilion in Balboa Park is bringing the magic of music to you. Music-lovers can tune into a live concert every Sunday at 2 p.m. to listen to an array of classic and contemporary tunes performed by acclaimed organists.
Hotel support
Evans Hotels, a San Diego hospitality group, is providing care bags for employees, loaded with food and other home necessities. Hotels downtown are showing support to the community by lighting up downtown.
Share your #WithLoveSanDiego story
Share the love and share a story that showcases how San Diegans in the hospitality and tourism communities are coming together to support each other. You can also use the hashtag #WithLoveSanDiego on social media.