Below are the January 2020 sales and marketing highlights from various San Diego Tourism Authority departments.
BRAND MARKETING
During the month of January, SDTA invested over $1.8 million in advertising, delivering more than 270.8 million gross impressions. Key advertising initiatives for the month included:
Domestic Leisure Advertising

Brand

The second flight of the brand digital video program launched in January and is running nationally on Hulu, ABC, CBS, NBC Sports, YouTube, Facebook and Amobee through April. Seven spot markets (Phoenix, Sacramento, San Francisco, Seattle, Chicago, Dallas and New York) will each also receive an eight-week heavy up of digital video during the media flight. The spring flight is expected to deliver 81.2 million impressions with $2.2 million in media spend.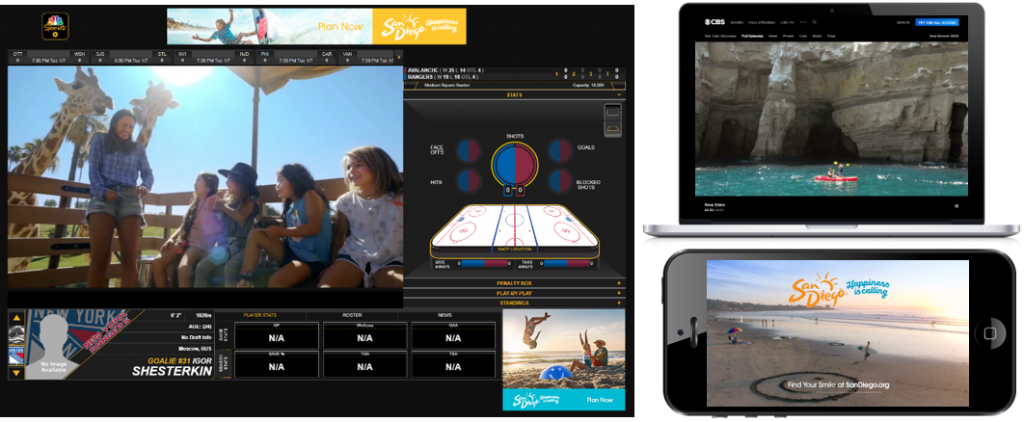 The year-round "Always-on" content program, designed to drive awareness of specific San Diego offerings while increasing engagement with content and reaching new audiences, continues through the end of the fiscal year with national and Los Angeles and Phoenix spot market distribution through Facebook, Google Display Network, YouTube Trueview, Pinterest and StackAdapt. More than 30 new videos will launch during the time period across the Outdoor, Culinary, Neighborhood and Attractions/Entertainment passion pillars.
EDC Partnership
SDTA partnered with EDC on the "Just Say No to Winter" campaign running in cold weather markets January 19 – February 15. The campaign reminds people that they don't have to experience harsh winter living conditions to grow their career and encourages them to visit San Diego to see what it's like to work and live here. In addition to digital ads on Google, LinkedIn, Facebook, Instagram and YouTube; transit advertising will run for four weeks in Boston and Chicago subways. An experiential activation with "Surfer Sam" will hit New York City during the first week of the campaign to generate buzz with a "Win-A-Trip" sweepstakes opportunity to visit San Diego.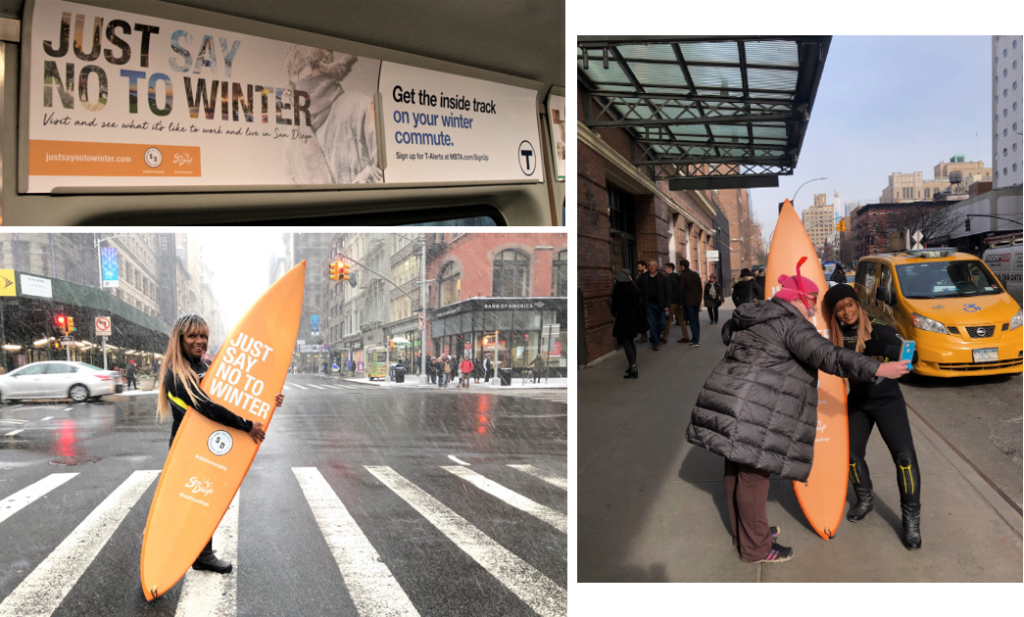 International Leisure Advertising
United Kingdom
SDTA's consumer direct advertising program in the United Kingdom launched in January and will run through the end of March. Digital advertising continued to serve as the foundational layer in the United Kingdom. Digital video, display, native, social, content and search marketing ran on YouTube Trueview, Google Display Network, Exponential, LastMinute, TripAdvisor and Facebook. Complementing the digital program was out-of-home advertising including digital boards and video screens in high traffic underground stations such as Waterloo, King's Cross, Victoria and London Bridge. The out-of-home units ran for four weeks at the beginning of the flight, January 13 – February 13.
Spend in the United Kingdom for the month of January totaled just over $700,560, of which 31% was contributed by Brand USA and affinity partners, delivering 105.1 million impressions.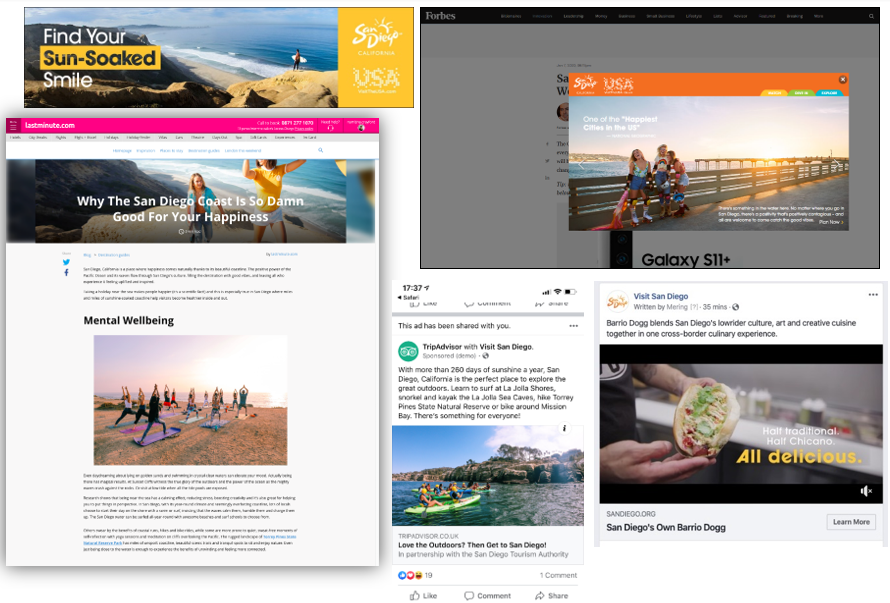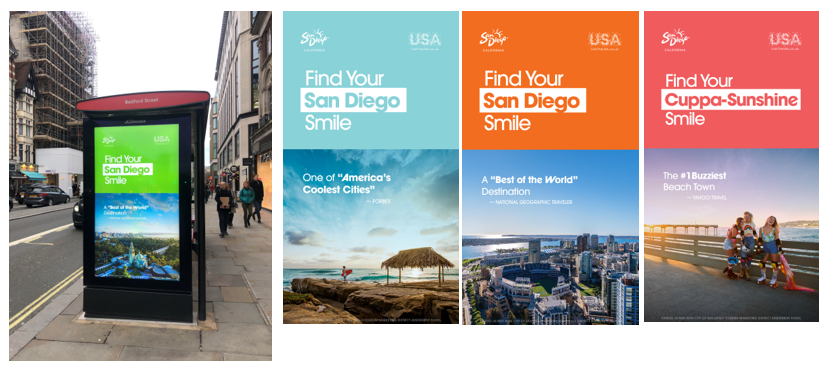 Canada
In January, SDTA wrapped up the first flight of the consumer direct advertising in Canada for FY2020. The November – January campaign combined Television with Digital. National cable ran for six weeks on key networks such as Discovery, E!, BRAVO, HGTV, Sportsnet National, Comedy, TSN, etc. And a multi-layered digital program ran with digital video with CTV, Global TV and YouTube Trueview; digital display with Google Display Network; digital display and native with Expedia, native display and video with StackAdapt; paid social with Facebook and Instagram; and search marketing with Google.
Total Canada spend for January totaled, $429,600 with 22% contributed by Brand USA and affinity partners and a total of 59 million impressions.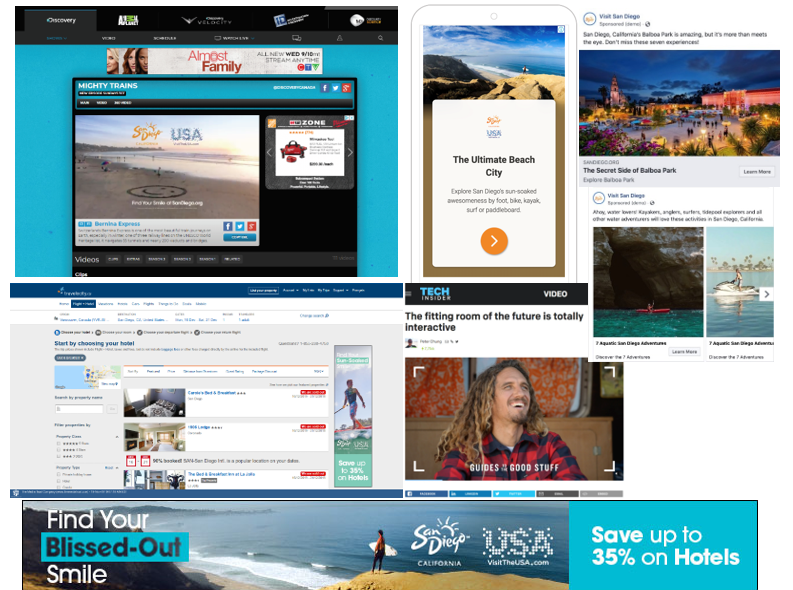 China
The seasonal push to inspire holiday visitation to San Diego launched in October and wrapped up in January leading up to the Chinese New Year travel period. The digital program included digital video, display, programmatic, paid social and keyword and display search engine marketing tactics with iQiyi, iPinYou, Ctrip, WeChat, Weibo, and Baidu.
In January, total spend in the China market totaled delivered $94,204 with 63% contributed by Brand USA and affinity partners and a total of 26.9 million impressions.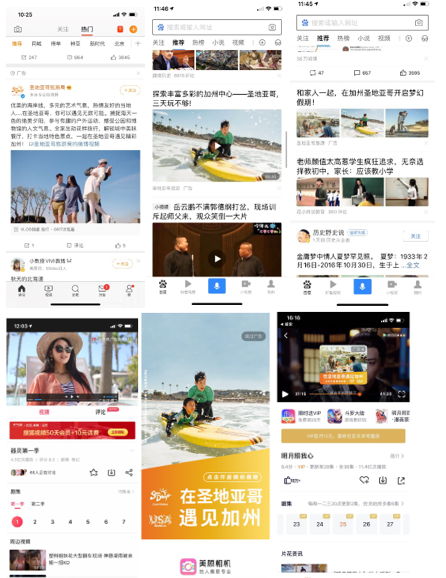 CITYWIDE SALES

CULTURAL TOURISM
National and International Marketing Plan
The Sunset Magazine team visited Balboa Park this month to experience the park for the editorial potion of the partnership. All digital assets have been approved and were placed for trafficking. The official launch of the campaign will take place at the end of February.
The domestic Google PPC program of work continues to perform well— being very close to the projected goal in both performance and spend.
Local Marketing Plan
The initial layouts for the special section were presented with the first round of feedback returned. Final files for the special section will be presented end of February.
Additional components of the local marketing plan, including PSAs with Cox Communication, which are in development and will launch in alignment with the multifaceted San Diego Magazine campaign.
The team continues to work collaboratively with the Balboa Park Cultural Partnership to ensure that both the SDTA's efforts and that of the Balboa Park Cultural Partnership are coordinated and comprehensive.
Ms. Davies has secured $75,000 from the Legler Benbough Foundation along with a $30,000 package from Cox Media which includes $15,000 in cash and $15,000 in-kind, $10,000 from the City of San Diego and an expected $5,000 from Hilton to execute the local marketing plan.
Cultural Tourism
As part of expanding the Cultural Tourism team's role, new cultural district videos are being created—highlighting the various council districts and the various cultural elements in each. Included are the best places to eat, shop as well as authentic cultural experiences. The videos are now all in post-production with the hope that all will be finished in the next month.
Additionally, the Cultural Tourism team has committed to cataloging San Diego's cultural assets to use in developing content and programming to highlight the city's unique artistic and cultural offerings. The initial step in the cataloging process is to inventory all of San Diego's murals. To assist with this effort, the team has reached out to all of the business improvement districts. The initial archive is complete, allowing time to add and revise if need be. The plan is to develop curated mural playlists for various neighborhoods as well as an interactive map. The first three articles are complete with continued development of programming and promotion beginning in January of 2020.
Balboa Park Outreach
The team has made a concerted effort to stay engaged with the institutions in the park in various ways. Ms. Davies continues to meet regularly with park stakeholders offering assistance and collaboration. Along with various stakeholders, Ms. Davies and team continue to partner with the Balboa Park Cultural Partnership as well as the Balboa Park Online Collaborative on various projects such as the local marketing plan for Balboa Park, surveying efforts and data collection.
Additionally, the Cultural Tourism team continues to manage the event/exhibit collection process. Since instituting the program there is a substantial increase in event/exhibition submissions for the sandiego.org website. However, participation has shown a slight decline so the team, in collaboration with BPCP and BPOC, plans to reevaluate the system and find ways to better incentivize the institutions to participate in the submission process next month.
DIGITAL MARKETING
Special events in January focused on Farmers Insurance Open, San Diego Restaurant Week, San Diego Museum Month, Valentine's Day and more.
Web traffic for January included 981,714 user sessions between the desktop and mobile websites (excluding Travel Blog). The team posted a total of 85 Tweets, 72 Facebook newsfeed and story posts, 90 Instagram newsfeed and story posts, and 31 Pinterest posts through our social channels. There were 7 blogs and 12 consumer emails published this month.
Most Engaged Content
| | |
| --- | --- |
| Facebook | Instagram |
| | |
| Twitter | Pinterest |
| | |
| Blog | |
| | |
International Consumer Marketing
China
Overall sessions to the China website (sandiego.com.cn) was 41,328. The social media team, in partnership with Hylink, published a total of 23 Weibo posts and 4 WeChat posts.
Most Engaged China Content
| | |
| --- | --- |
| Weibo | WeChat |
| | |
| Happy Chinese New Year | USS Midway Coop |
Mexico
Overall traffic to the Mexico page was 1,336 unique users. The social media team, in partnership with PR Central, published a total of 11 Facebook newsfeed and story posts, and 9 Instagram posts and stories posts.
Most Engaged Mexico Content
| | |
| --- | --- |
| Facebook | Instagram |
| | |
| GoCars | Mission Bay |
Japan
Overall traffic to the Japan page was 2,471 unique users. The social media team, in partnership with aviaREPs, published a total of 13 Facebook posts.
Most Engaged Japan Content
Facebook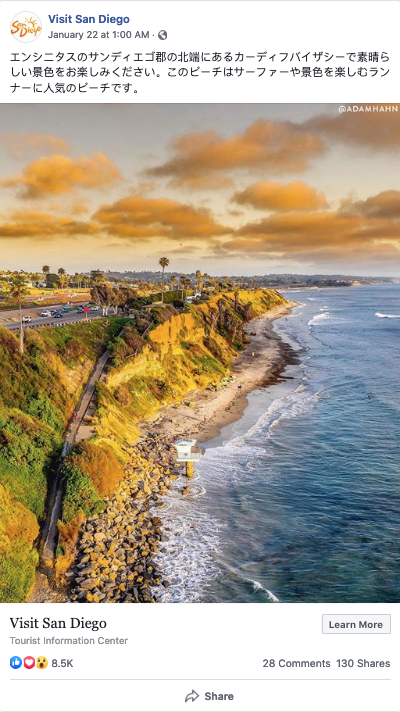 HOTEL SALES
Hotel Meetings Sales and Events
The Hotel Meetings Sales team kicked off the calendar year booking 43 meetings, representing 22,483 room nights in the month of January. Fiscal year to date, the team has converted 479 bookings and 245,326 total room nights for the destination.
January was another active month with our sales team attending one of the largest tradeshows in the industry, PCMA Convening Leaders in San Francisco. Over 3,000 meeting planners and decision-makers were in attendance. In addition, Ernie Rossow, National Sales Director, attended IPEC in St. Petersburg, FL, meeting one on one with 60 independent planners. The sales team also connected with key clients with events and sales calls in Richmond, VA, Orange County, Los Angeles, and Kansas City.
On January 14th, we conducted another successful focus group and customer event in Houston, Texas with 20 clients in attendance. The purpose of the focus group is to educate meeting planners on San Diego, while learning about perceptions and obstacles the planners may have when considering San Diego as a meetings destination. Next, we'll be conducting meeting planner focus groups in Toronto (February), Columbus, OH (March), and Portland, OR (May).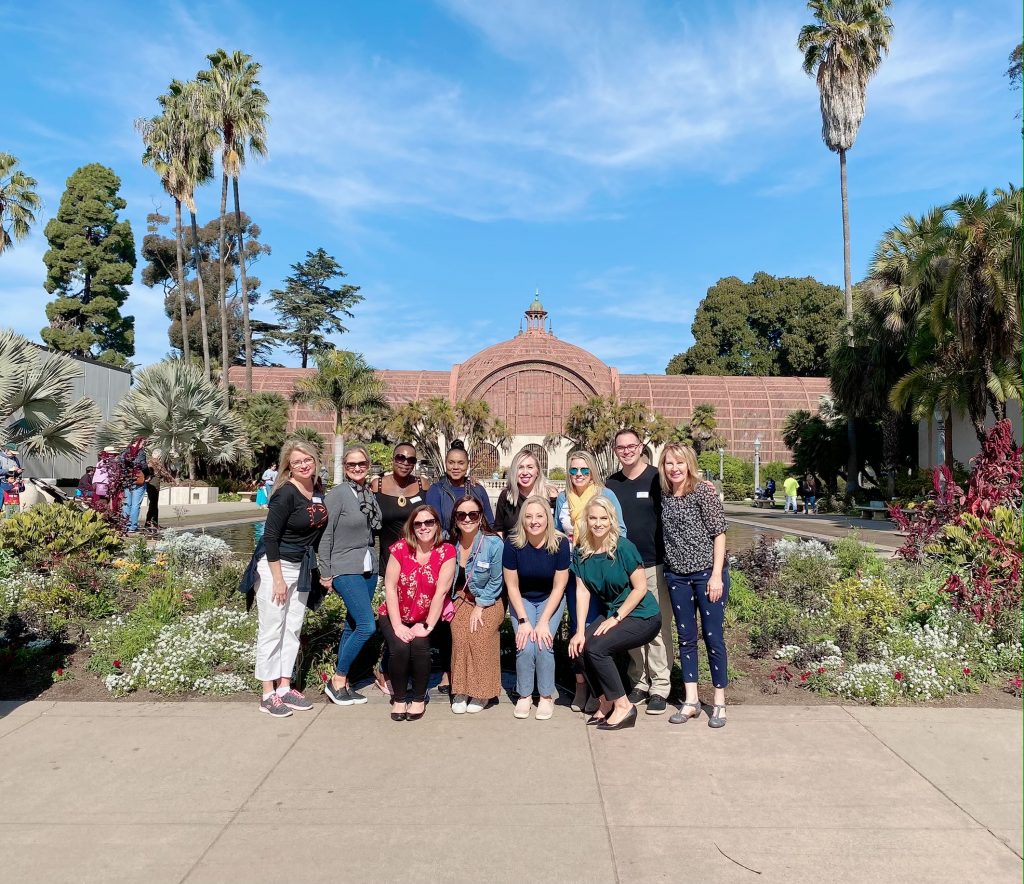 In partnership with Connect Meetings, we conducted a successful fam trip bringing 11 meeting planners that represent high-end corporate and association meetings. These planners were exposed to 29 hotels and 3 venues, with many experiencing San Diego for the first time.
Site Experience Highlights
The Site Experience team had a busy month, with 21 client site experiences, creating exposure to 63 hotels. This is the highest number of sites in a month since August.
MEMBERSHIP
Membership
11 New Members joined earning $6,815 in annual dues revenue.
16 Members attended the Open Office Hours to learn how to best maximize benefits.
26 New and existing Members attended the New Member Inspiration session to onboard new members and new employees.
Ad Sales
$275,620 was earned in new ad contracts.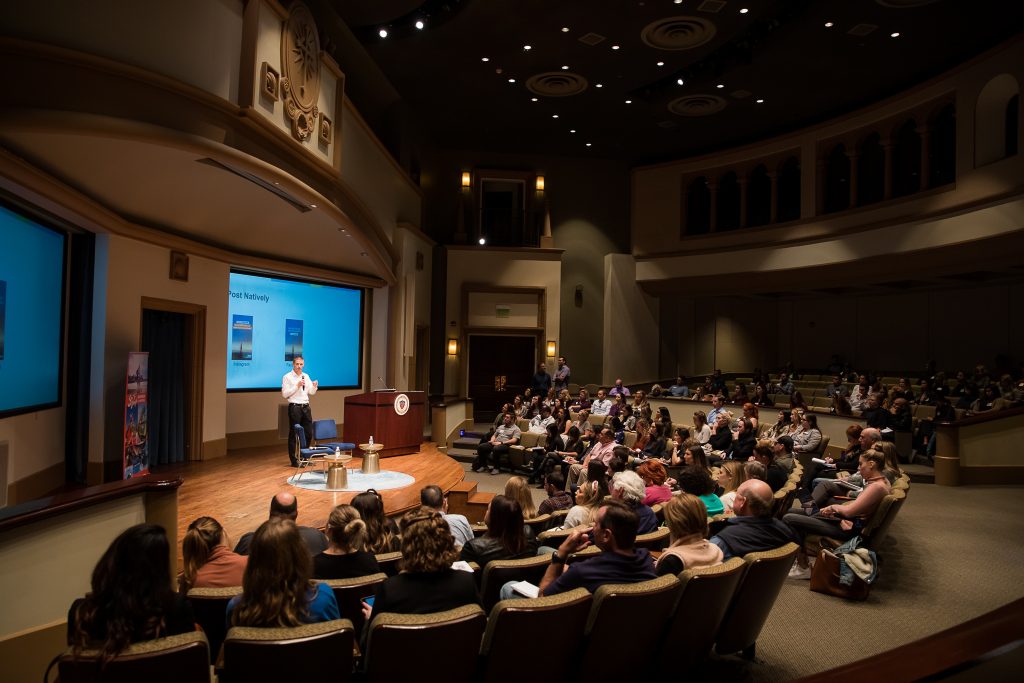 Member events
January 15 marked the first Social Media Workshop of 2020. 136 Members heard important updates from SDTA Social Media Manager Brent Bernasconi and expert Mike Stelzner at USD.
Member outreach
This team the team met with or attended events with these Members:
Maritime Museum
Flagship Cruises & Events
So Diego Tours
PUBLIC RELATIONS
In January, Public Relations Manager Robert Arends attended the International Media Marketplace (IMM) in New York City, meeting with dozens of freelance travel journalists to pitch San Diego story ideas. While in New York, Mr. Arends also attended a Visit California Media Mission, meeting with editors from Meredith Publishing including Food & Wine, Real Simple, Parents Latina, Martha Stewart Living, Rachael Ray Every Day and PEOPLE. Additionally, Mr. Arends held deskside meetings with several prominent media outlets in New York: Wine Spectator, Conde Nast Traveler, Travel + Leisure, Parents Magazine, American Spa and Epoch Times.
International PR Manager Joe Timko hosted four leading German media outlets for a three-night fam tour highlighting San Diego's colorful neighborhoods, delicious foods and craft beers, dynamic nightlife, outdoor recreation, family attractions and dynamic arts and culture.
Director of Communications Candice Eley helped facilitate a photo shoot at the Torrey Pines Golf Course with Air Canada's enRoute in-flight magazine. The photo shoot is part of a 10-page feature planned for the magazine's March issue, which is intended to be a cover story.
Key coverage received in January included feature stories in Escape Magazine (Australia), the Sydney Morning Herald, Manchester Evening News, Portland Monthly, AAA World, the Austin-American Statesman and others.
Press Releases Sent
What's New in San Diego sent to 2,661 media contacts in the United States and Canada.
Media Alert: Tourism Authority & EDC unveil new campaign sent to 123 local media contacts
Total Press Coverage:
Average Article Quality Score: 81 (out of 100)
Media Value: $4,076,155
Impressions: 202,596,032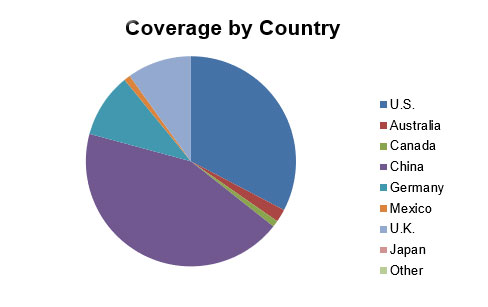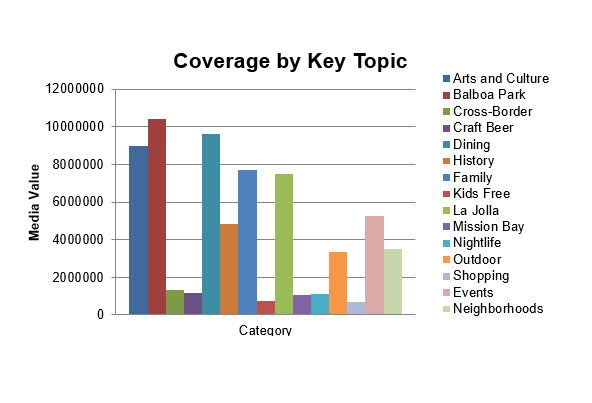 TOURISM DEVELOPMENT
The Tourism Development team referred 116 partners to 14 organizations. The team certified 30 new San Diego Specialists agents from USA, Canada, Japan, Australia and UK who account for approximately 367 visitors to San Diego generating approximately 448 annual room nights.
On January 14th and 15th, Jacky Zhu, Travel Trade Representative in Shanghai office participated in the Club California Shenzhen session attended by 35 people from major local wholesalers, traditional outbound agencies and OTAs. SDTA made a 15-minute presentation to highlight the destination's iconic attractions, events and world-class sightseeing places. On the 2nd day of the event, Jacky had one-on-one meetings with 9 key tour operators, wholesalers and OTAs from the region.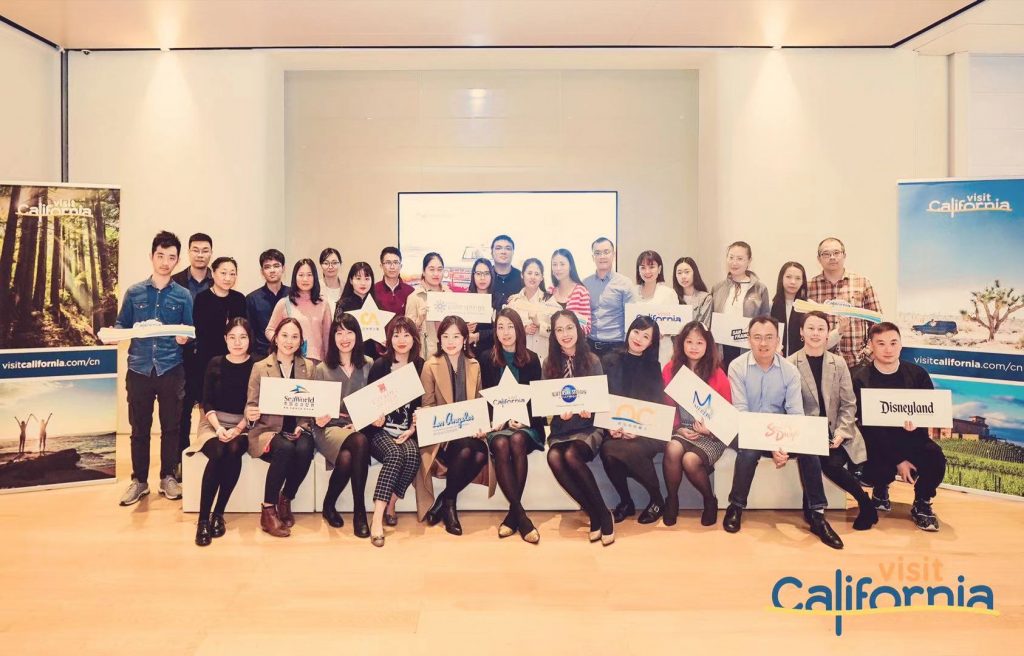 From January 11-19, the Germany Representation Office attended the CMT Stuttgart consumer tradeshow on behalf of San Diego where over 300,000 consumers came to learn about potential vacation destinations. Most visitors to the California stand had already booked their flights into the state and were looking for help narrowing down which cities they should visit and for how long.
On January 19th, Simran Mediratta, Travel Trade Representative at SDTA Sydney office attended Hunter Travel Group's travel EXPO where over 10,000 consumers attended. SDTA shared a booth with Qantas Airways. Simran promoted 3 exclusive San Diego products with Hunter travel, along with Qantas' expo exclusive round trip deal for Australia – California.
Few days prior to the EXPO, Simran also participated in Pre-expo training with all the agents that were at the expo so they could be familiarized with the destination and the properties that we had exclusive deals for. 60 agents were trained over 2 days.
On January 28th, Riki Suzuki, Tourism Development Manager, attended Tour America's Chinese New Year event in Monterey Park, CA where Riki networked with over 70 travel professionals who attended the event.
Tomoe Matsunaga, Travel Trade Representative in Tokyo, participated in the Club California Nagoya event on January 31st. The event welcomed over 35 travel trade professionals, where Tomoe gave a presentation to promote San Diego and network with the attendees.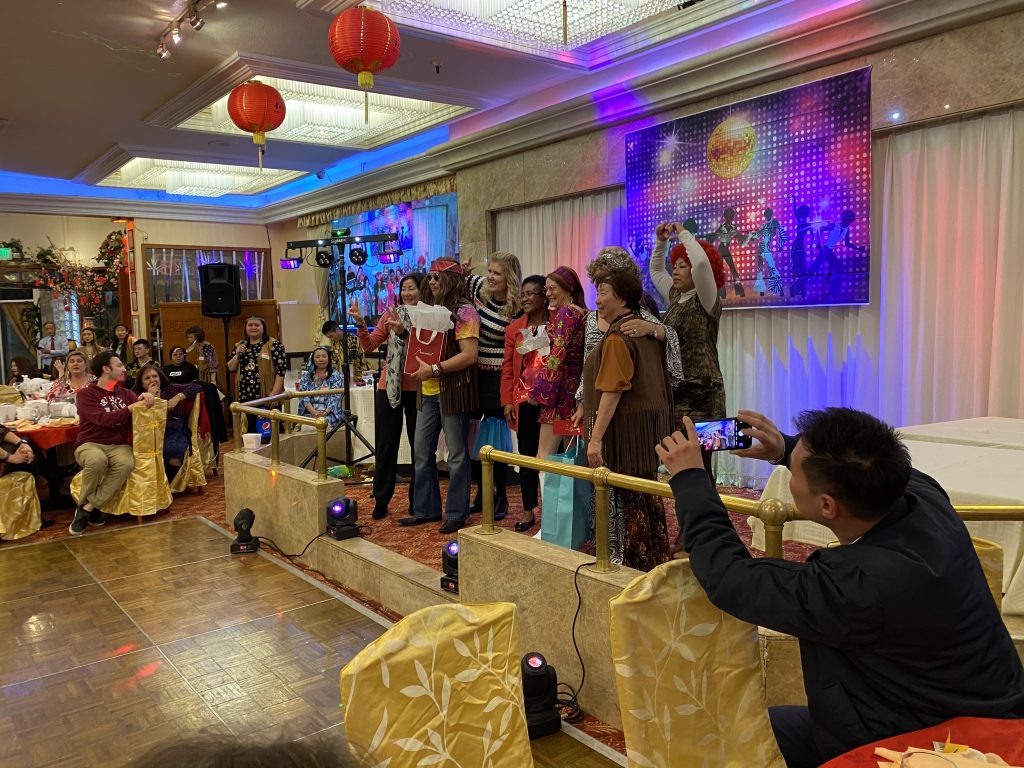 During the month of January the Tourism Department hosted 33 product buyers in 2 FAM groups including Get Away Today out of UT, one of our top producing domestic agencies and America Express Centurion out of Mexico. Two sites were coordinated for Grueninger Music Tours active in SYTA and Destination America, a receptive Tour Operator based out of Anaheim.