Below are the November 2019 sales and marketing highlights from various San Diego Tourism Authority departments.
BRAND MARKETING
During the month of November, SDTA invested over $1.24 million in advertising, delivering more than 193.5 million gross impressions. Advertising initiatives for the month included:
Domestic Leisure Advertising

Promotional

The fall promotional campaign "Activate Smile Mode" completed in November, featuring signature San Diego events, Kids Free San Diego and San Diego for the Holiday hotel rates. The $2 million campaign delivered 435.8 million impressions in Los Angeles, Phoenix, San Francisco and New York.
International Leisure Advertising
China
November marked the seasonal advertising push in China to inspire holiday visitation to San Diego. The campaign includes the following tactics and partners: OTA, digital video, programmatic display, paid social, keyword and display search engine marketing with Ctrip, iQiyi, iPinYou, WeChat, Weibo, and Baidu. The foundational Always-On paid search and organic social campaigns also continued throughout the month.
Total November spend in China totaled $404,121 with 58% contributed by Brand USA and affinity partners, delivering 58.6 million impressions.
Canada
November marked the launch of SDTA's consumer-direct advertising program in Canada for digital and TV. The two-flight campaign will run from November to February and May to June with a total media investment of an estimated $1.78 million (including 17% in partner contribution from Brand USA) is expected to deliver nearly 236.8 million impressions.
During November, $334,890 in media ran, 18% contributed by Brand USA and affinity partners, delivering 39.5 million impressions. The multi-layered program includes digital video with CTV, Global TV and YouTube Trueview; digital display with Google Display Network; digital display and native with Expedia, native display and video with StackAdapt; paid with Facebook and Instagram; and search marketing with Google.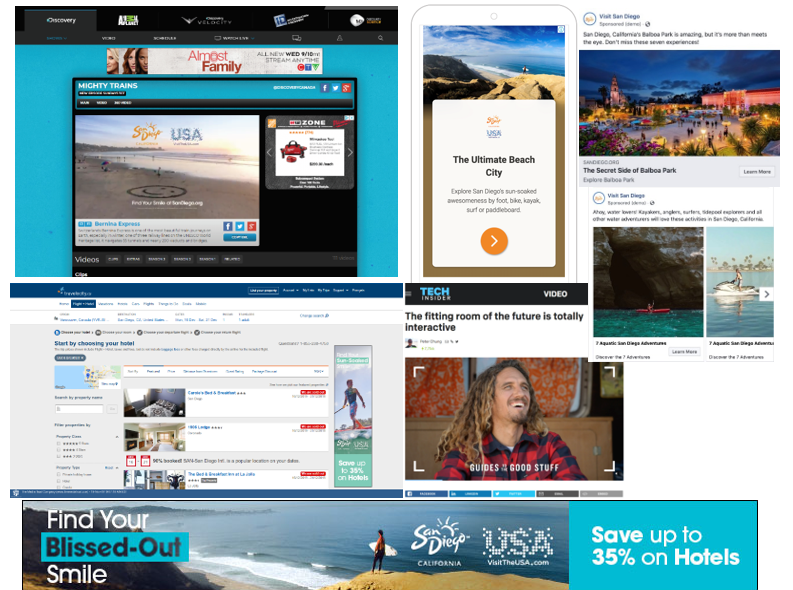 Multi-Market
In November, the Canada layer of the TripAdvisor program launched. The robust layered digital media program continues to use co-branded creative including video content promoted on TripAdvisor social channels, display units with reviews from the TripAdvisor community and custom content hubs built by passion pillar. November spend for the TripAdvisor program in the Canada market totaled $68,145 with 50% contributed by Brand USA and affinity partners, delivering over 3.6 million impressions.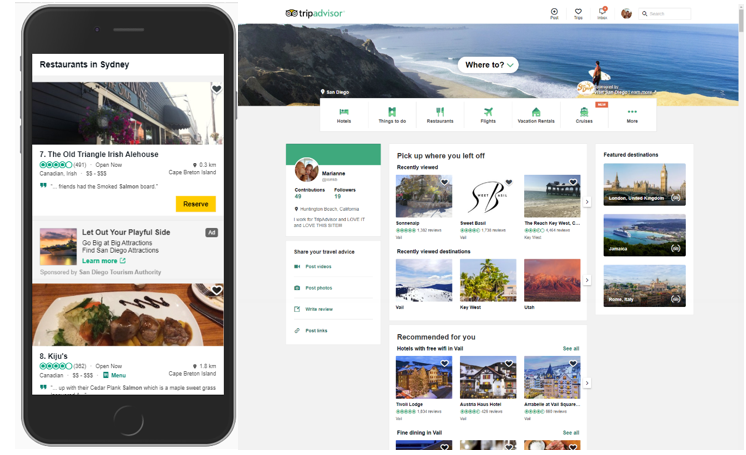 CITYWIDE SALES

CULTURAL TOURISM
National and International Marketing Plan
The kickoff of the Sunset Magazine partnership officially took place this month, with the bulk of the approval process taking place in December. The Sunset Magazine partnership will include a robust multimedia plan with a highly engaged audience, yielding great promise for a strong and successful performance using the already proven successful digital Balboa Park Experience.
Local Marketing Plan
The launch of the local marketing plan took place this month with the kickoff of the San Diego Magazine partnership. The plan includes a multifaceted approach including digital, social and print components. The campaign will go live, including the sixteen-page Visitor Profile Guide tip-in, in April 2020.
Additional components of the local marketing plan, including PSAs with Cox Communication, are being developed and will launch in alignment with the multifaceted San Diego Magazine campaign.
The team is working collaboratively with the Balboa Park Cultural Partnership to ensure that both the SDTA's efforts and that of the Balboa Park Cultural Partnership are coordinated and comprehensive.
Ms. Davies has secured $75,000 from the Legler Benbough Foundation along with a $30,000 package from Cox Media which includes $15,000 in cash and $15,000 in-kind, $10,000 from the City of San Diego and an expected $5,000 from Hilton to execute the local marketing plan.
Cultural Tourism
As part of expanding the Cultural Tourism team's role, new cultural district videos are being created—highlighting the various council districts and the various cultural elements in each. Included are the best places to eat, shop as well as authentic cultural experiences. The videos are now all in post-production with the exception of District 7 which will be filmed by mid-December.
Additionally, the Cultural Tourism team has committed to cataloging San Diego's cultural assets to use in developing content and programming to highlight the city's unique artistic and cultural offerings. The initial step in the cataloging process is to inventory all of San Diego's murals. To assist with this effort, the team has reached out to all of the business improvement districts. The initial archive is complete, allowing time to add and revise if need be. The plan is to develop curated mural playlists for various neighborhoods as well as an interactive map. The first four articles on the mural/neighborhood playlists will be complete by mid-December and promotion beginning in January of 2020.
Balboa Park Outreach
The team has made a concerted effort to stay engaged with the institutions in the park in various ways. Ms. Davies continues to meet regularly with park stakeholders offering assistance and collaboration. Along with various stakeholders, Ms. Davies and team continue to partner with the Balboa Park Cultural Partnership as well as the Balboa Park Online Collaborative on various projects such as the local marketing plan for Balboa Park, surveying efforts and data collection.
With the support of the SDTA's Planning and Research team, a social media survey was put together to distribute to the institutions in the park to better understand how the SDTA can provide assistance and resources to the institutions and park as a whole. The results have been evaluated with a majority consensus requesting training, resources and a best-practices workshop. The Cultural Tourism team with the support of the Marketing Team, BPCP and BPOC, organized and provided requested resources to the Balboa Park institutions via a social media workshop on November 13, 2019. The workshop reviewed the survey results along with providing the institutions with high-level social media training proving to be very successful in attendance, participation and satisfaction.
Additionally, the Cultural Tourism team continues to manage the event/exhibit collection process. Since instituting the program there is a considerable increase in event/exhibition submissions for the sandiego.org website. However, participation has shown a slight decline so the team, in collaboration with BPCP and BPOC, plans to reevaluate the system and find ways to better incentivize the institutions to participate in the submission process in January 2020.
DIGITAL MARKETING
Special events in November focused on San Diego Brewers Guild Fest, San Diego Bay Wine & Food Festival, Wonderfront Music & Fall Festival, San Diego Wonderfront Sweepstakes, Fall, holidays and more.
Web traffic for September included 795,000 user sessions between the desktop and mobile websites (excluding Travel Blog). The team posted a total of 57 Tweets, 70 Facebook newsfeed and story posts, 94 Instagram newsfeed and story posts, and 24 Pinterest posts through our social channels. There were 14 blogs and 9 consumer emails published this month.
Most Engaged Content
| | |
| --- | --- |
| Facebook | Instagram |
| | |
| Twitter | Pinterest |
| | |
| Blog | |
| | |
International Consumer Marketing
China
Overall sessions to the China website (sandiego.com.cn) was 211,620. The social media team, in partnership with Hylink, published a total of 25 Weibo posts and 4 WeChat posts.
Most Engaged China Content
| | |
| --- | --- |
| Weibo | WeChat |
| | |
| Warm Winter Engagement Question | Kid-Approved Vacation |
Mexico
Overall traffic to the Mexico page was 3,199 unique users. The social media team, in partnership with PR Central, published a total of 12 Facebook newsfeed and story posts, and 12 Instagram posts and stories posts.
Most Engaged Mexico Content
| | |
| --- | --- |
| Facebook | Instagram |
| | |
| Azucar | December Nights |
Japan
Overall traffic to the Japan page was 2,463 unique users. The social media team, in partnership with aviaREPs, published a total of 16 Facebook posts.
Most Engaged Japan Content
Facebook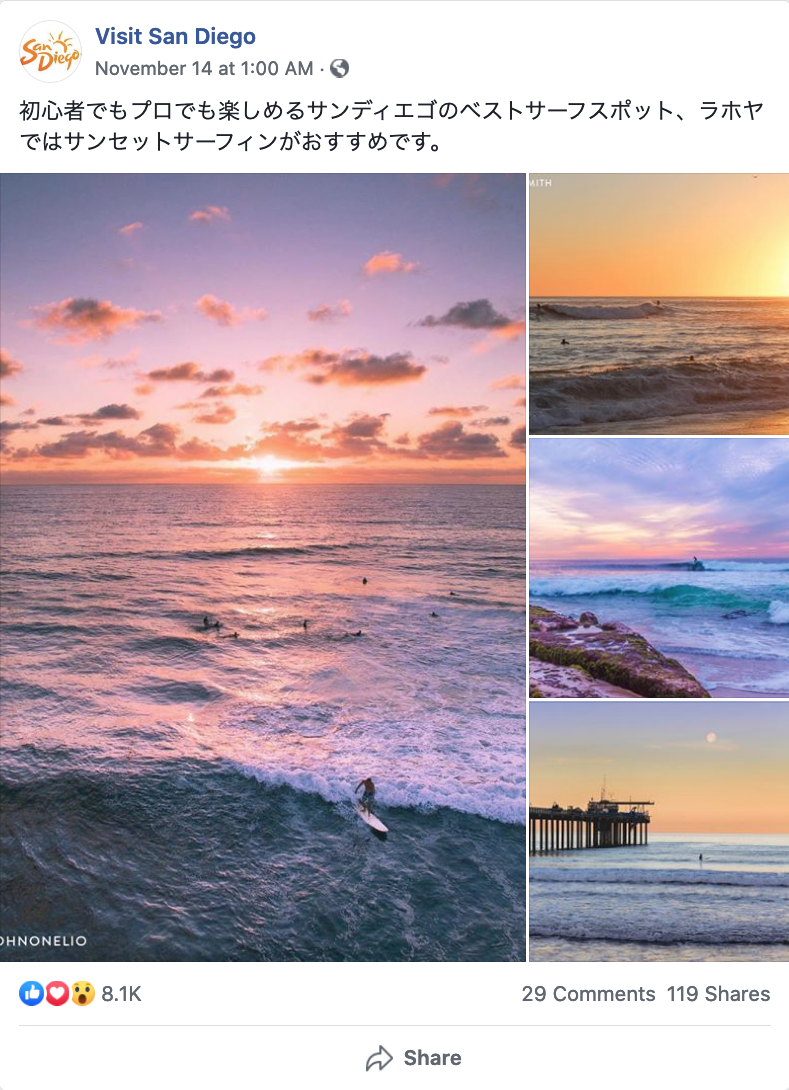 HOTEL SALES
Hotel Meetings Sales and Events
The Hotel Meetings Sales team finished November strong, booking 79 meetings, representing 34,075 room nights. Fiscal year to date, the team has converted 339 bookings, a new FYTD record, and 155,240 total room nights for the destination.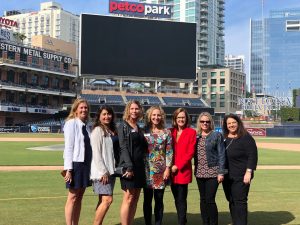 In November, the Customer Acquisition program was in full swing. Partnering with Connect Meetings and hotel partners, we conducted a focus group and customer event in Charlotte, NC with 12 clients in attendance. The purpose of the focus group is to educate meeting planners on San Diego while learning about perceptions and obstacles the planners may have when considering San Diego as a meetings destination. The program was an immediate success with new group leads being generated, as well as new relationships with planners that have not sourced San Diego in the past. Moving forward, we'll be conducting meeting planner focus groups in Austin (December), Houston (January), Toronto (February), Columbus, OH (March), and Portland, OR (May).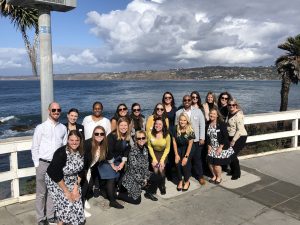 In addition, this month, we hosted 2 Fam trips, the first being with the HelmsBriscoe Southeast team, the second with SmithBucklin's Chicago and Washington D.C. teams, both major group players within the intermediary business segment. Combined, we hosted 20 meetings planners, many who experienced San Diego for the first time, that represent over 120 high end corporate and association group business opportunities.
Our sales and events team attended 3 tradeshows and conducted our annual Washington D.C. client event in the month of November, exposing San Diego to different market segments, including financial and insurance (FICP), affinity segment (National Coalition of Black Meeting Planners), corporate (MPI South Coast EdCon), and National Association (Washington D.C. client event).
Site Experience Highlights
The Site Experience team was on the move in November, with 15 client site experiences, creating exposure to 49 hotels and 18 venues.
MEMBERSHIP
Membership
7 New Members joined earning $3,850 in annual dues revenue.
22 Members attended the Open Office Hours to learn how to best maximize benefits.
8 New and existing Members attended the New Member Inspiration session to onboard new members and new employees.
Ad Sales
$194,070 was earned in new ad contracts, driven primarily by Meeting Planner Guide sales.
Member outreach
The team met with or attended events with these Members:
Fleet Science Center
Hello! California
The Magnolia venue
Adventure RIB Rides
Tijuana Estuary and toured Border Field State Park
San Diego International Film Festival
Gaslamp Quarter Association
KAABOO
LYFT
J Public Relations
BBB
CA Restaurant Association
Holiday Bowl
GES
Tahona
PUBLIC RELATIONS
In November, Public Relations Manager Robert Arends joined Visit California's Atlanta Media Boot Camp. The trip included a visit to Meredith's publishing campus in Birmingham, Alabama, where Mr. Arends met with and pitched editors from Food & Wine, Southern Living, Atlanta Journal-Constitution, CNN, Atlanta Magazine, Lonely Planet, AFAR, Travel Channel and USA Today.
International PR Manager Joe Timko hosted four leading German media outlets for a three-night fam tour highlighting San Diego's colorful neighborhoods, delicious foods and craft beers, dynamic nightlife, outdoor recreation, family attractions and dynamic arts and culture.
Key coverage received in November included feature stories in Yahoo Australia, Lonely Planet (UK), the Chicago Tribune, KNBC Los Angeles, AFAR, Calgary Herald, Westways, and more.
Press Releases Sent
What's New in San Diego, Fall & Winter [international version]sent to 418 non-US media contacts
9 Uniquely San Diego Events sent to 3,199 international media contacts
Total Press Coverage:
Average Article Quality Score: 72 (out of 100)
Media Value: $6,103,574
Impressions: 156,661,136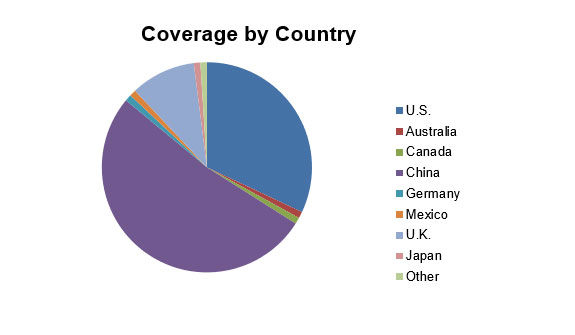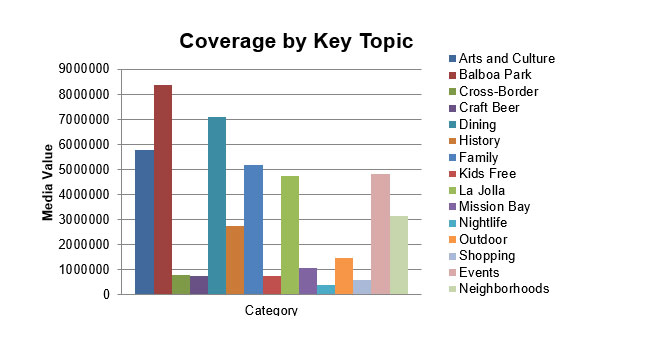 TOURISM DEVELOPMENT
The Tourism Development team referred 53 partners to 4 organizations. The team certified 71 new San Diego Specialists agents from USA, Mexico, Canada, Japan, Germany & Korea who account for approximately 1492 visitors to San Diego generating approximately 1673 annual room nights.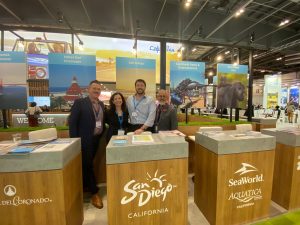 Benjamin Eastman, Tourism Development Director, attended the annual World Travel Market tradeshow in London in early November where he was able to meet 1-on-1 with over 20 UK clients. The market still shows uncertainty due to the continuing debate over Brexit and UK leadership. Clients report mixed results for 2019 sales with optimism for 2020 (especially if Brexit is finally settled).
The Mexico Representation Office conducted training workshops for Best Day Travel training over 100 sales agents who manage the shopping center travel kiosks throughout Mexico City.
November 15-16, Angel Lee, Travel Trade Representative in Beijing, participated in Club California Product Development Series Wuhan / Changsha. 13 key tour operators, wholesalers and OTAs in the region joined the session where Angel delivered the destination presentation and met with each of them on One-on-one meetings.
Angel Lee presented San Diego tour resources to over 20 key tour operators in Shenzhen at the Seminar on November 19th. The seminar was a part of a co-op program with Dista to promote the agent's new South California in-depth tour products for 2020 Chinese New Year. The event was co-hosted with SeaWorld San Diego and Orange County Visitors Association. The presentation and the Q&A session helped to enhance operators' knowledge of San Diego and the event expanded our network with Shenzhen tour operators.
On November 21st, Riki Suzuki, Tourism Development Manager, joined Best Western's annual Asian Client appreciation dinner in Rosemead, CA. There were over 100 Asian receptive operators based in the LA area who attended the event. Riki participated on tabletop tradeshow to promote the destination and San Diego provided door prizes sponsored by the San Diego attractions.
Denise Heredia, Travel Trade Representative for SDTA in Mexico participated in Connecta in Guadalajara. The event was a trade show with over 140 travel professionals attending including MICE travel agents with one-on-one meetings to learn about San Diego.
Phil Hannes, Sr. Director of Tourism Development traveled to Guadalajara to meet with MagniCharter airlines executives to discuss strategies and support for the new flight with 4 weekly frequencies from Guadalajara to Tijuana starting December 20th. During the visit conducted a scheduled training breakfast for the 19 Best Day Travel kiosk agents in Guadalajara, hosted a lunch training event for 50 IMACOP agents and visited several of the top producing agencies.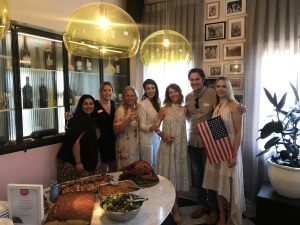 On November 28th, SDTA Australia office co-sponsored annual industry appreciation Thanksgiving lunch with other USA destinations. 75 guests including top-level industry partners in sales, marketing and product across wholesale, retail, airlines and OTAs attended the event such as Helloworld/Viva Holidays, Flight Centre/Infinity Holidays, Expedia, Luxury Escapes, Air New Zealand, Delta Air Lines, American Airlines.
Tomoe Matsunaga, Travel Trade Representative in Tokyo, participated in the Club California Osaka event on November 28th. The event welcomed over 65 travel trade professionals, where Tomoe gave a presentation to promote San Diego and network with the attendees.
The UK Representation Office trained 101 agents at Flight Centre, Travel Counsellors and Gold Medal during the month of November.
The Germany Representation Office participated in the Reiselust tradeshow in Bremen in cooperation with America Unlimited. The 3-day event allowed our rep, Steffi Ahler, the opportunity to speak one-on-one with both travel agents and consumers as well as have daily presentations to attendees on San Diego. The team also attended the MESO Reisen event in Berlin where they had presentations with 100+ affluent consumers and travel agents.
During the month of November, the Tourism Department hosted over 52 product buyers in 7 FAM groups such as Travel Masters and Visit California Canada groups, the VCA China Advisory Board and China/Japan Airlines groups, VCA France Euram group, the ITC UK Luxury group and Dream Destinations from Mexico.