Below are the September 2019 sales and marketing highlights from various San Diego Tourism Authority departments.
BRAND MARKETING
During the month of September, SDTA invested over $1.5 million in advertising, delivering more than 224.2 million gross impressions. Advertising initiatives for the month included:
Domestic Leisure Advertising 

Domestic Leisure Advertising
The first flight of the national digital video program launched at the end of August and will continue through October, expanding consumer affinity and desire to visit San Diego. The "Something to Smile About" :30 brand and family spots will run nationally in premium non-skippable full episode placements with Hulu, ABC, CBS and NBC Sports and will achieve mass-reach with YouTube Trueview, Amobee and Facebook. The fall flight is expected to deliver 28.6 million impressions with $792,000 in media spend.
In September, an additional layer of national advertising launched, engaging active travel intenders (researchers, planners and in-market shoppers) with San Diego messaging in order to move consumers from research and consideration to booking. The $1.1 million campaign, which continues through May, is estimated to deliver 107.1 million impressions. Digital display and native units are running with Google Display Network, Adara, Sojern, AdRoll, Kayak, Priceline and Expedia, and paid social is running on Facebook and Pinterest.
During September, the program delivered 6.6 million impressions with just over $55,601 in media spend.

SDTA's "Always-on" digital content program will continue throughout FY20. Leveraging media and creative learnings from the FY19 strategy, the $3.04 million program is designed to drive awareness of specific San Diego offerings while increasing engagement and reaching new audiences. Video and written content series including Guides to the Good Stuff, One Bright Idea, Sunny 7 listicles and inspirational articles will be distributed nationally along with heavy-up layers in the Los Angeles and Phoenix markets. This year new Outdoor, Culinary and Neighborhood content will be developed for the program. In total, the content program is expected to deliver 408.9 million impressions on Facebook, Google Display Network, YouTube Trueview, Pinterest, and InPowered.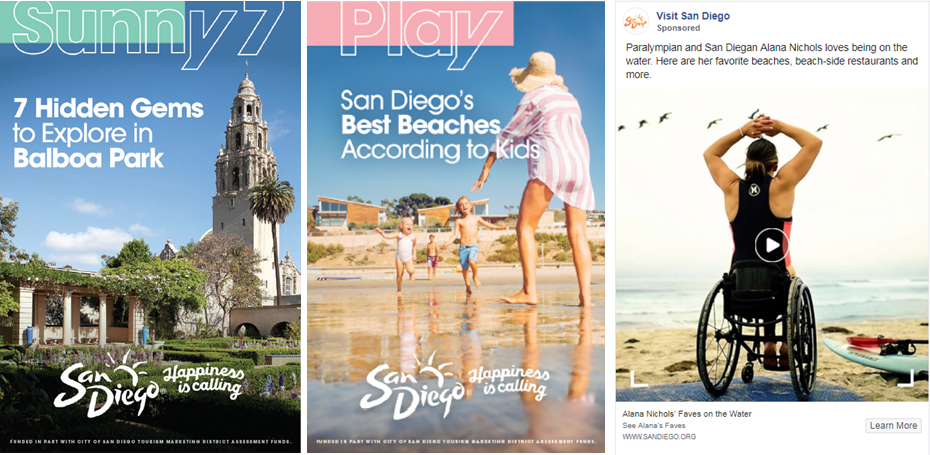 Multi-Market
Complementing the brand program is the launch of SDTA's year-two multi-market media partnership with TripAdvisor. The $1.1 million program is designed to raise the profile of San Diego among TripAdvisor users. The robust layered digital media program continues to use co-branded creative including video content promoted on TripAdvisor social channels, display units with reviews from the TripAdvisor community and custom content hubs built by passion pillar. In total, the TripAdvisor program is estimated to deliver 75.6 million impressions across the United Stations, United Kingdom and Canada.
During September, the domestic layered launched, delivering 1.7 million impressions with $37,065 media spend.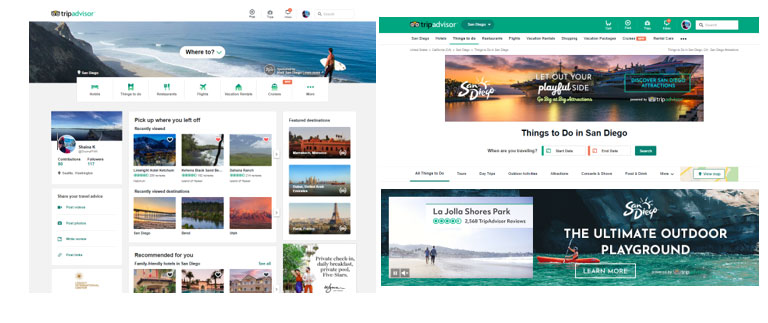 International Leisure Advertising
CHINA
September marked the launch of SDTA's foundational search marketing program with Baidu, which will continue throughout FY 2020 with keyword search and video feed display. Seasonal Baidu campaigns will layer in during key planning windows.
SDTA's strategic partnership with Brand USA and Alibaba Group continued into FY 2020 with the September launch of a digital advertising campaign promoting San Diego on iPinYou, Fliggy and within the Alipay app. Complementing the advertising efforts was a partnership with a high-profile Chinese travel influencer. Social content created during the 4-night itinerary in San Diego launched in September. The $1 million campaign, funded by Brand USA and Alibaba Group, will deliver an estimated 116 million impressions during Q1 and Q2.
September media spend in China totaled $148,646 with 78% contributed by Brand USA and co-op partners, delivering over 22.8 million impressions.

CITYWIDE SALES

CULTURAL TOURISM
National and International Marketing Plan
The Cultural Tourism team continues to work with Mering to craft the next media partnership to continue elevating Balboa Park's brand. The next phase of marketing will include driving traffic to the well-performing Balboa Park Experience along with partnering with a high-profile media company on a story-telling initiative. The launch is anticipated to take place in spring 2020, pending alignment with the print/digital media partnership.  Mering presented possible partnerships with the contenders being Travel & Leisure and Sunset with presented recommendations taking place beginning of October.
Local Marketing Plan
The Cultural Tourism team has focused on creating a local marketing plan that better aligns local marketing with the SDTA's national and international marketing efforts. This program of work will leverage SDTA's relationships and assets and will support the cultural institutions in Balboa Park as well as the Explorer Pass program. The plan includes multiple media partners to help share Balboa Park's story across various mediums such as print, digital marketing, podcasts, radio and broadcast media and include San Diego Magazine and KPBS.
The team is also working collaboratively with the Balboa Park Cultural Partnership to ensure that both the SDTA's efforts and that of the Balboa Park Cultural Partnership are coordinated and comprehensive.
The next steps for this effort include securing a broadcast media partner and raising funds to execute the plan. Ms. Davies has secured $75,000 from the Legler Benbough Foundation along with a $30,000 package from Cox Media which includes $15,000 in cash and $15,000 in-kind.
Cultural Tourism
As part of expanding the Cultural Tourism team's role, new cultural district videos are being created—highlighting the various council districts and the various cultural elements in each. Included are the best places to eat, shop as well as authentic cultural experiences. The first four videos are in post-production and cover cultural offerings in council districts 2, 4, 8 and 9. To ensure authentic representation, the Cultural Tourism team met with representatives from the City Councilmember's staff and selected residents from each of the council districts to serve as hosts. Ms. Davies has met with representatives from City Councilmember's offices in districts 1,3, 5, 6 and 7 to establish what to highlight and who to feature as host. District 6 was filmed in September with district 5 and 3 filmed in early October and 1 and 7 by the end of October. The hope is to have all the videos completed and ready for distribution by November.
Additionally, the Cultural Tourism team has committed to cataloging San Diego's cultural assets to use in developing content and programming to highlight the City's unique artistic and cultural offerings. The initial step in the cataloging process is to inventory all of San Diego's murals. To assist with this effort, the team has reached out to all of the business improvement districts. The initial archive is expected to be complete by the end of October.
Balboa Park Outreach
The team has made a concerted effort to stay engaged with the institutions in the park in various ways. Ms. Davies continues to meet regularly with park stakeholders offering assistance and collaboration. Along with various stakeholders, Ms. Davies and team continue to partner with the Balboa Park Cultural Partnership as well as the Balboa Park Online Collaborative on various projects such as the local marketing plan for Balboa Park, surveying efforts and data collection.
With the support of the SDTA's Planning and Research team, a social media survey was put together to distribute to the institutions in the park to better understand how the SDTA can provide assistance and resources to the institutions and park as a whole. The results have been evaluated with a majority consensus requesting training, resources and a best-practices workshop.  The Cultural Tourism team is work with the Marketing Team as well as BPCP and BPOC to organize and provide requested resources to the Balboa Park institutions.
Additionally, the Cultural Tourism team continues to manage the event/exhibit collection process. Since instituting the program there has been a huge increase in event/exhibition submissions for the Sandiego.org website. However, participation has shown a slight decline so the team, in collaboration with BPCP and BPOC, plans to reevaluate the system and find ways to better incentivize the institutions to participate in the submission process.
DIGITAL MARKETING
Special events in September focused on 250 Anniversary Celebration, KAABOO Del Mar, Bayfair, Kids Free San Diego, San Diego Brewers Guild Fest, Fall and more.
Web traffic for September included 795,000 user sessions between the desktop and mobile websites (excluding Travel Blog). The team posted a total of 37 Tweets, 73 Facebook newsfeed and story posts, and 78 Instagram newsfeed and story posts through our social channels. There were 10 blogs and 9 consumer emails published this month.
Most Engaged Content
| | |
| --- | --- |
| Facebook | Instagram |
| | |
| Twitter | Pinterest |
| | |
| Blog | |
| | |
International Consumer Marketing
China
Overall sessions to the China website (sandiego.com.cn) was 14,265. The social media team, in partnership with Hylink, published a total of 29 Weibo posts, 4 WeChat posts, and 1 Yizhibo livestream at the San Diego Zoo.
Most Engaged China Content
| | |
| --- | --- |
| Weibo | WeChat |
| | |
| Historic Highway 101 | 10 Museums |
Mexico
Overall traffic to the Mexico page was 1,061 unique users. The social media team, in partnership with PR Central, published a total of 11 Facebook posts and 4 Instagram posts and stories posts.
Most Engaged Mexico Content
| | |
| --- | --- |
| Facebook | Instagram |
| | |
| San Diego Zoo | SeaWorld San Diego |
Japan
Overall traffic to the Japan page was 2,174 unique users. The social media team, in partnership with aviaREPs, published a total of 14 Facebook posts.
Most Engaged Japan Content
Facebook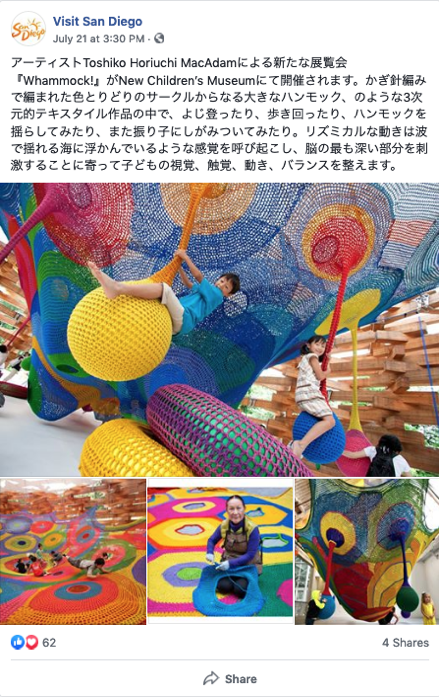 HOTEL SALES
Hotel Meetings Sales and Events
The Hotel Meetings Sales team finished September strong with 86 booked groups representing 35,954 new room nights for the destination.
As part of our Customer Acquisition program to bring new meeting planners to San Diego, we conducted a successful Fam trip with 7 corporate planners from SHW, an industry leading Seattle based meeting management company, and Moss Adams, one of the largest public accounting firms in the world.  These planners represent high-end corporate and incentive group business opportunities with many experiencing San Diego for the first time. Group leads have been generated with more on the way!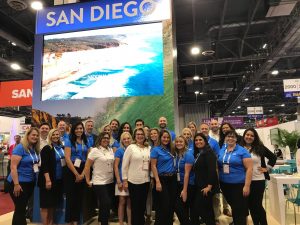 From an events perspective, September brings us one of the more successful trade shows in IMEX America in Las Vegas.  Over 6,300 meeting planners and influencers attend from 63 countries around the world.  This year, 18 hotel partners and members joined within our San Diego booth conducting 425 one on one appointments with clients over the course of 3 days.  In addition, we conducted 8 group presentations to 85 meeting planners for added San Diego exposure.
Also in September, Ernie Rossow, National Sales Director, was joined by 13 hotel partners to host 4 successful client events in Denver.  65 clients were in attendance at the events with key clients from 21st Century Group, Global Cynergies, Unbridled Solutions amongst a multitude of other high-end corporate clients.
In Washington D.C., our National Sales Directors Debbie Jordan and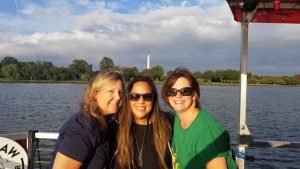 Michelle Coombs conducted a customer event on the Potomac River with 12 meeting planners, discussing updates on San Diego.  From this client event, Michelle has already booked a 550 room night group for January of 2021 in San Diego.
Site Experience Highlights
The Site Experience team had a good September, with 17 client site experiences, creating exposure to 55 hotels and 12 venues.
MEMBERSHIP
Membership
5 New Members joined earning $1,650 in annual dues revenue.
8 Members attended the Open Office Hours to learn how to best maximize benefits.
4 New and existing Members attended the New Member Inspiration session to onboard new members and new employees.
Ad Sales
$4,525 was earned in new ad contracts.
Member outreach
The team visited, met or attended events with these Members:
Del Mar Village Association
Harbor House Restaurant
Hilton Regional
Balboa Park Cultural Partnership
NetWork Volunteers
Old Town Lodging Assn
Children's Nature Retreat
Theatre Box
SeaWorld
PUBLIC RELATIONS
In September, the SDTA Communications hosted a media fam tour for Australian journalists on story assignment for seven top media outlets including Woman's Day, Better Homes & Garden, OK! Magazine and the Australian Associated Press. The four-night visit highlighted San Diego's unique neighborhoods, food, arts and culture, nightlife, outdoor recreation and spectator sports.
PR Manager Robert Arends traveled to Toronto to hold deskside meetings with top media, including the Toronto Sun, ELLE Canada, Canadian Geographic, Today's Parent Magazine, CAA (Canadian Automobile Assn.) Magazine, TravelWeek and "The Morning Show."
As incoming Vice Chair of Visit California's Public Relations Committee, Director of Communications Candice Eley traveled to Sacramento for a leadership summit with the Visit California staff and other committee leaders.
The Communications team worked with contractor Darren Pudgil to host a local media press conference announcing the launch of Kids Free San Diego. The event which included City Councilmember Chris Cate received coverage on KUSI, NBC 7, Fox 5, KGTV 10 and KOGO AM radio, resulting in more than 460,000 impressions.
Key coverage received in September included feature stories in the Minneapolis Star-Tribune, USA Today's Go Escape travel edition, Phoenix magazine and more.
Press Releases Sent
Media Alert: Councilmember Ward, tourism officials kick off "Kids Free" sent to 122 local media contacts
San Diego's aerial and aquatic thrills to check off the bucket list sent to 2,448 media contacts worldwide
Total Press Coverage
Average Article Quality Score: 66 (out of 100)
Media Value: $ 1,911,879
Impressions: 69,825,193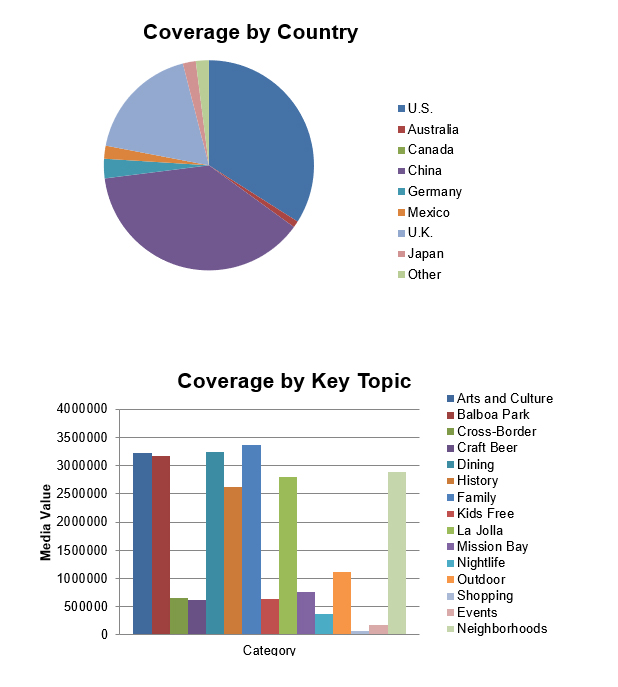 TOURISM DEVELOPMENT
The Tourism Development team referred 34 partners to 9 organizations.  The team certified 236 new San Diego Specialists agents from USA, Mexico, Australia, Canada and UK who account for approximately 5964 visitors to San Diego generating approximately 7906 annual room nights.   Hosted a Visit California FAM for 2 product buyers from South Korea (Travel & Map 9/14/19) and a Team Leader from Flight Centre New Zealand (9/13/19).
Phil Hannes, Sr. Director of Tourism Development participated in La Cita de Las Americas the first week of September with 30 appointments in Orlando, FL meeting with several South America wholesalers to work on San Diego itineraries to be included in their product catalogs.
Denise Heredia, Travel Trade Representative in Mexico participated in the AlMundo agent training where she presented what's new in San Diego and instructions on how to access the Specialist Program to over 20 travel agents in Mexico City.  Ms. Heredia also presented in a one-hour webinar (9/12/19) to the agents of Dream Destinations what's new and details on the Kid's Free offers for October  (9/27/19)for last minute bookings.
Jacky Zhu, Travel Trade Representative in Shanghai joined Brand USA China for the Suzhou & Nanjing Training Program on the week of September 2nd. During the course of 5-day program, Jacky trained about 300 travel professionals from tour operators and OTAs in the region through presentations and seminars.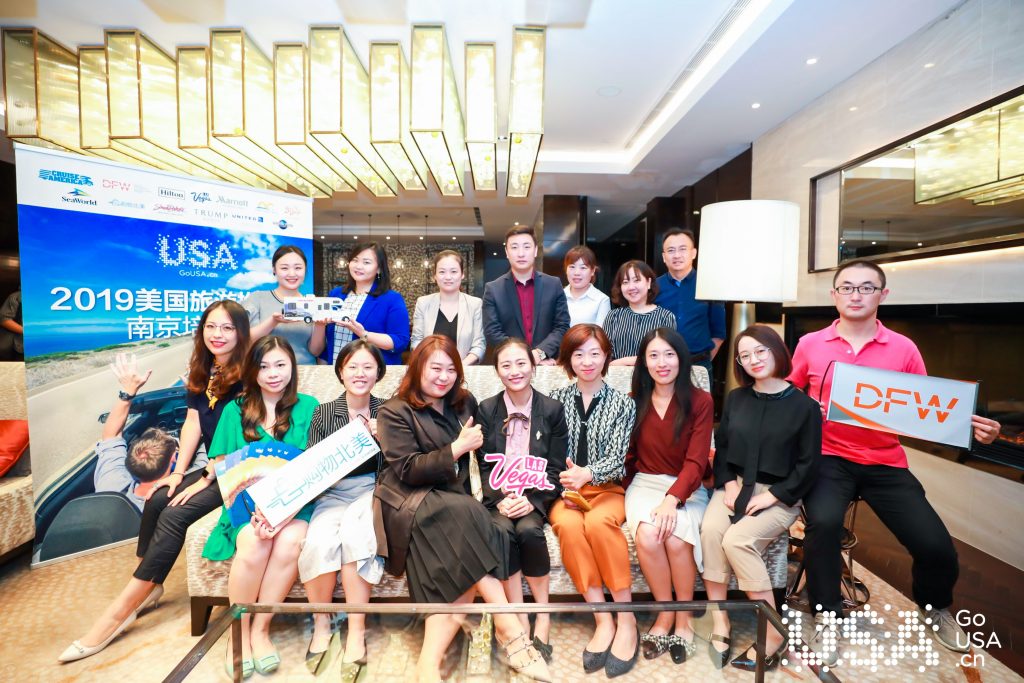 Riki Suzuki, Tourism Development Manager participated in Active America China Receptive Edition on September 17th & 18th in San Gabriel, California where Riki had one-on-one meetings with 30 key Chinese receptive operators based in Los Angeles area.
In late September, Jacky Zhu, Travel Trade Representative in Shanghai office participated in the Club California Guangzhou session attended by 40 people from major local wholesalers, traditional outbound agencies and OTAs. SDTA made a 10-minute presentation to highlight the destination's iconic attractions, events and world-class sightseeing places followed by a workshop to talk to the participants individually. On the 2nd day of the event, Jacky had one-on-one meetings with 10 key tour operators, wholesalers and OTAs from the region.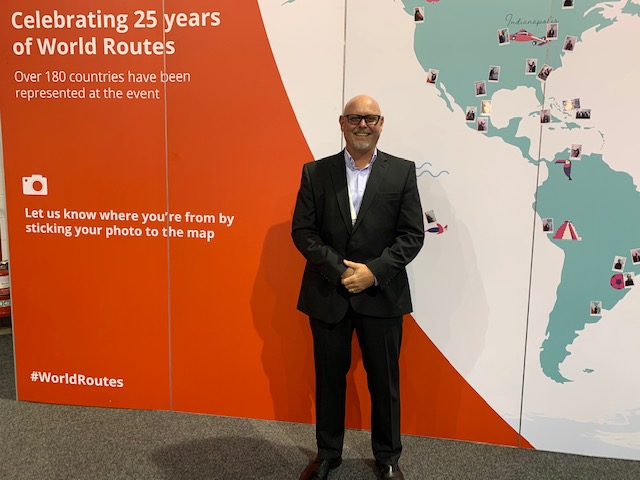 Phil Hannes Sr. Director of Tourism Development participated in the World Routes Conference in Adelaide from the 21st to the 24th of September accompanying the San Diego International Airport team to meet with key airline industry representatives in the development of new flights into the region.  They were there to promote San Diego, make new contacts, meet existing clients and update their knowledge of industry trends and developments.
Tourism Development Director Benjamin Eastman attended the Visit California Canada Sales Mission at the end of September providing him the opportunity to network and update several hundred travel agents about the region in Toronto, Montreal and Vancouver. Additionally, he took part in the 1-day luxury track with high-end Canadian tour operators based in the Toronto region.  Benjamin also participated in the Vancouver International Travel Expo where he was able to position San Diego in front of many Vancouver area travel agents and thousands of Canadian consumers.
The Germany Representation Office participated in the Visit USA Roadshow in early September where they trained 175 agents and 145 consumers at events in Hamburg, Berlin, Bielefeld and Dusseldorf. The Germany office also participated in the Visit USA Switzerland Roadshow in late September where they trained 255 agents at events in St. Gallen, Zurich, Luzern, Bern, Fribourg & Lausanne.
The UK Representation Office trained 7 agents at upscale travel agency Scott Dunn in September.