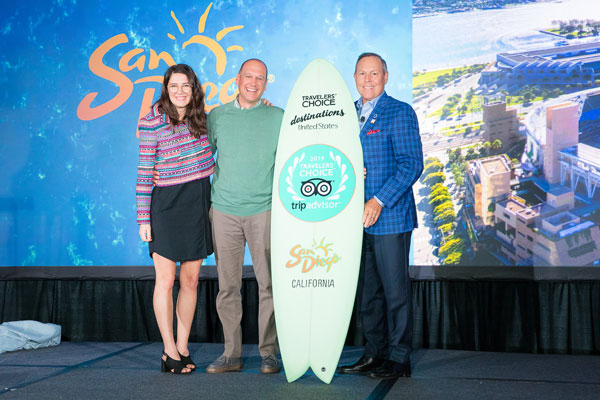 It's been a banner year for the San Diego Tourism Authority, and we're not even finished with October! Over the last few months, SDTA has received several awards, accolades and recognition from leading organizations in travel and advertising for creative campaigns, compelling content and high-ranking reviews from visitors.
Here's a list of some of the big wins the SDTA and San Diego have received recently:
Condé Nast Traveler — The Best Large Cities in the U.S.: 2019 Readers' Choice Awards
As a leading publication for intrepid travelers, Condé Nast readers are well-versed in what makes destinations worth visiting. The outlet recently published its annual list of the top large city destinations in the United States as chosen by their readers, and San Diego ranked 6th — up one spot from last year and two spots from 2017. Respondents noted that there's more to San Diego than beautiful beaches. With posh boutique hotels popping up across the city, ideal year-round weather and a booming culinary scene, it's no wonder San Diego continues to rise up the ranks.
TripAdvisor — Traveler's Choice Awards
Reviews mean everything in the digital age, and restaurants, attractions and hotels rely on positive patron experiences to bring in more business. When it comes to reviews, San Diego has five-star status. TripAdvisor recently recognized San Diego as the top reviewed region in California and 6th in the United States. The Traveler's Choice Awards compile review data from spots around the region, and top-ranked attractions and spaces include Balboa Park, Torrey Pines State Natural Reserve and the USS Midway Museum.
U.S. Travel — ESTO Destiny Awards
SDTA teamed up with the San Francisco Travel Association to create a co-op campaign in China highlighting the links between the two cities and showcasing the unique outdoor, culinary and cultural experiences offered in each of the iconic destinations. In addition to delivering more than 54 million advertising impressions and 260,863 clicks, the campaign won first place in International Marketing at the 2019 U.S. Travel ESTO Destiny Awards.  The "Best of California" Campaign boosted awareness of the two destinations by targeting the interests Chinese travelers identified as most important.
Telly Award — Branded Content
Balboa Park is beloved by both residents and arts and culture connoisseurs across the globe, but a recent partnership between the park and National Geographic shined an international spotlight on San Diego and its crown jewel. Through an innovative media partnership, SDTA worked with National Geographic to create a four-part series and social media campaign highlighting the unique attributes and assets of San Diego and the always iconic Balboa Park. The partnership earned a prestigious Bronze Telly Award — the world's most prestigious honor for video and television content across all screens, in the branded content general travel category.
City Nation Place — Best Communication Strategy 
Balboa Park is a finalist in the City Nation Place Awards – an international recognition focused on innovation and place marketing with a focus on how destinations use design, communication, social media and engagement to tell the stories of places, cities, regions and nations around the world. Balboa Park finds itself alongside some of the world's top destinations, including Denmark and Finland. SDTA's unique use of media partnerships (including the National Geographic initiative), communications strategies and creative digital storytelling propelled the park forward in the competition. The winners will be announced in early November.