Below are the August 2019 sales and marketing highlights from various San Diego Tourism Authority departments.
BRAND MARKETING
SDTA invested over $744,278 in advertising during the month of August, delivering more than 119.2 million gross impressions. Advertising initiatives for the month included:

Domestic Leisure Advertising 

Promotional 
The fall promotional campaign "Activate Smile Mode" launched in August featuring signature San Diego events, Kids Free San Diego and San Diego for the Holidays, promoting hotel rates starting at $99. The $2 million campaign will run through November, delivering an estimated 371.1 million impressions in Los Angeles, Phoenix, San Francisco and New York. Flighting and media tactics vary by market to closely align with travel planning windows.
Campaign highlights include:
Digital Out-of-Home (Los Angeles and Phoenix)
Digital Audio with Pandora
Digital Display with Google Display Network, Meredith and Nativo
Custom content with Nativo
Social with Facebook, Pinterest and Snapchat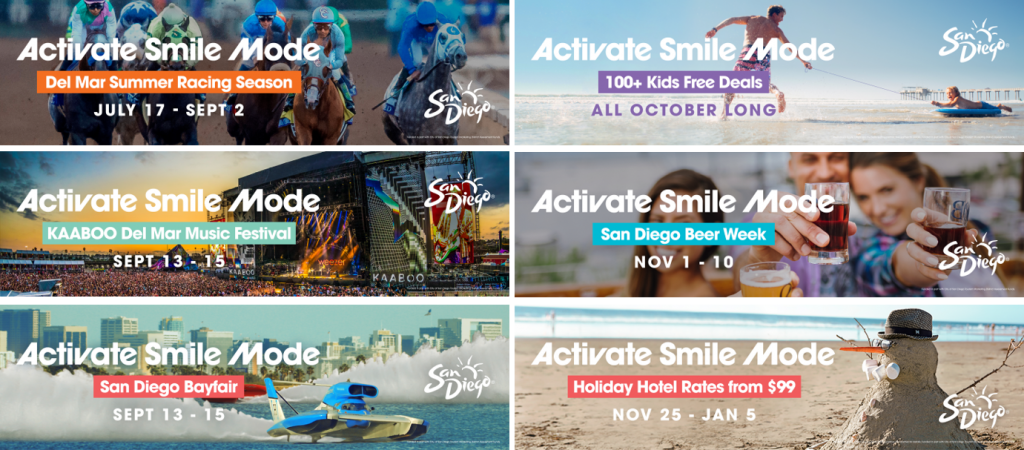 CULTURAL TOURISM
National and International Marketing Plan
The Cultural Tourism team has been working with MeringCarson to craft the next media partnership to continue elevating Balboa Park's brand. The next phase of marketing will include driving traffic to the well-performing Balboa Park Experience along with partnering with a high-profile media company on a story-telling initiative. The launch is anticipated to take place in spring 2020, pending alignment with the print/digital media partnership.  MeringCarson will be presenting the plan at the end of September.
Local Marketing Plan
The Cultural Tourism team has focused on creating a local marketing plan that better aligns local marketing with the SDTA's national and international marketing efforts. This program of work will leverage SDTA's relationships and assets and will support the cultural institutions in Balboa Park as well as the Explorer Pass program. The plan includes multiple media partners to help share Balboa Park's story across various mediums such as print, digital marketing, podcasts, radio and broadcast media and include San Diego Magazine and KPBS.
The team is also working collaboratively with the Balboa Park Cultural Partnership to ensure that both the SDTA's efforts and that of the Balboa Park Cultural Partnership are coordinated and comprehensive.
The next steps for this effort include securing a broadcast media partner and raising funds to execute the plan. Ms. Davies has secured $75,000 from the Legler Benbough Foundation and is working to match those funds.
Cultural Tourism
As part of expanding the Cultural Tourism team's role, new cultural district videos are being created—highlighting the various council districts and the various cultural elements in each. Included are the best places to eat, shop as well as authentic cultural experiences. The first four videos are in post-production and cover cultural offerings in council districts 2, 4, 8 and 9. To ensure authentic representation, the Cultural Tourism team met with representatives from the City Councilmember's staff and selected residents from each of the council districts to serve as hosts. Ms. Davies has met with representatives from City Councilmember's offices in districts 1,3, 5, 6 and 7 to establish what to highlight and whom to feature as host. District 6 will be filmed in September with districts 5, 3 and 1 scheduled to be filmed in October. The goal is to finish all the cultural district videos by the end of 2019.
Additionally, the Cultural Tourism team has committed to cataloging San Diego's cultural assets to use in developing content and programming to highlight the City's unique artistic and cultural offerings. The initial step in the cataloging process is to inventory all of San Diego's murals. The initial archive is expected to be completed by the end of September.
Balboa Park Outreach
The team has made a concerted effort to stay engaged with the institutions in the park in various ways. Ms. Davies continues to meet regularly with park stakeholders offering assistance and collaboration. Along with various stakeholders, Ms. Davies and team continue to partner with the Balboa Park Cultural Partnership as well as the Balboa Park Online Collaborative on various projects such as the local marketing plan for Balboa Park, surveying efforts and data collection.
With the support of the SDTA's Planning and Research team, a social media survey was put together to distribute to the institutions in the park to better understand how the SDTA can provide assistance and resources to the institutions and park as a whole. The results have been evaluated with a majority consensus requesting training, resources and a best-practices workshop.  The Cultural Tourism team is working with the Marketing Team as well as BPCP and BPOC to organize and provide requested resources to the Balboa Park institutions.
Additionally, the Cultural Tourism team continues to manage the event/exhibit collection process with continued growth in institution participation since the program was instituted.
DIGITAL MARKETING
Special events in August focused on Summer, 250 Anniversary Celebration, KAABOO Del Mar, Kids Free San Diego, San Diego Brewers Guild Fest, Fall and more.
Web traffic for June included 1.9 million user sessions between the desktop and mobile websites (excluding Travel Blog). The team posted a total of 40 Tweets, 20 Facebook posts, and 48 Instagram posts and Stories posts through our social channels. There were 6 blogs and 11 consumer emails published this month.
Most Engaged Content
| | |
| --- | --- |
| Facebook | Instagram |
| | |
| Twitter | Pinterest |
| | |
| Blog | |
| | |
International Consumer Marketing
China
Overall sessions to the China website (sandiego.com.cn) was 1,253. The social media team, in partnership with Hylink, published a total of 27 Weibo posts and 4 WeChat posts.
Most Engaged China Content
| | |
| --- | --- |
| Weibo | WeChat |
| | |
| Historic Highway 101 | 10 Museums |
Mexico
Overall traffic to the Mexico page was 1,049 unique users. The social media team, in partnership with PR Central, published a total of 6 Facebook posts and 4 Instagram posts and stories posts.
Most Engaged Mexico Content
| | |
| --- | --- |
| Facebook | Instagram |
| | |
| San Diego Zoo | SeaWorld San Diego |
Japan
Overall traffic to the Japan page was 2,581 unique users. The social media team, in partnership with aviaREPs, published a total of 16 Facebook posts.
Most Engaged Japan Content
Facebook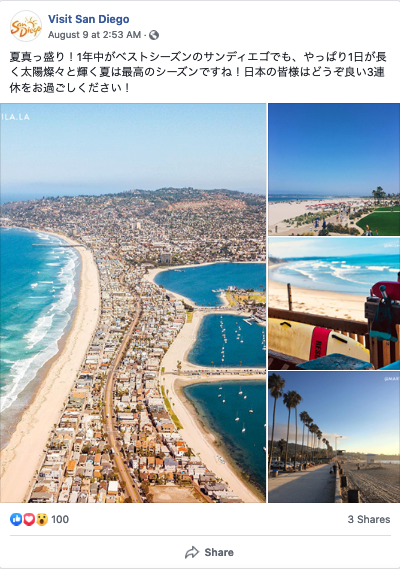 HOTEL SALES
Hotel Meetings Sales and Events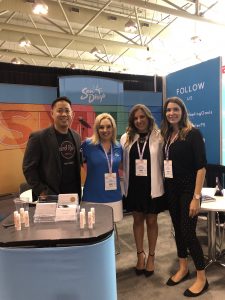 The Hotel Meetings Sales team turned it up in August, with 65 booked groups representing 26,294 new room nights for the destination.  In addition, the team attended 3 tradeshows and conducted 6 client events in key markets around the country.
Lori Alstrom, National Sales Director, along 3 hotel partners, attended Canadian Meetings + Events Expo in Toronto.  This meetings and events tradeshow drew 2,000 event professionals with scheduled networking and business development opportunities in the Canadian market.
In Los Angeles and Orange County, Veronica Rivera, National Sales Director, conducted a successful week of sales calls and 4 client events.  Along with 10 hotel partners, Veronica presented updates on San Diego to more than 50 meeting planners, generating 6,300 potential room nights thus far.
Connect Marketplace continues to be a key tradeshow for San Diego, being held in Louisville, KY on August 26-28.  Three National Sales Directors attended – Rajeev Brown, Andrea O'Hara and Brianne Mouton, conducting 150 one on one appointments in the Association, Corporate and Specialty market tracks.  These appointments resulted in 35 potential future leads equating to 15,720 total room nights. Connect Marketplace hosted a total of 4,000 attendees and included 30 education sessions in addition to the marketplace appointments.
While on the road, Rajeev and Brianne also conducted a successful client event in Indianapolis, with 15 clients in attendance.  Pictured with Rajeev are the Owner and Founders of Bottom Line Travel Solutions, LLC, Cathy Garver and Anita De Cecco.
Site Experience Highlights
In addition to the outbound activity, locally in San Diego, the Site Experience team had a busy August, with 25 client site experiences, creating exposure to 87 hotels and 21 venues.
MEMBERSHIP
Membership
11 New Members joined earning $4,400 in annual dues revenue.
16 Members attended the Open Office Hours to learn how to best maximize benefits.
11 New and existing Members attended the New Member Inspiration session to onboard new members and new employees.
Ad Sales
$38,947 was earned in new ad contracts.
Member Events
The team played an important role in organizing a successful Hospitality Industry Cruise in partnership with other professional associations in San Diego, and Hornblower Cruises and Events. Over 1,200 professionals from every aspect of the tourism industry attended this annual event.
Alipay Program
In August the promotional and paid media elements of the Alipay-Brand USA program launched. The $1 million advertising program spans several online platforms and will deliver an estimated 116 million impressions, driving visitors to trip-planning, booking and merchant pages within Alipay and Fliggy through December 31, 2019.
https://www.youtube.com/watch?v=8yuQD-BbaF4
Member outreach
The team visited, met or attended events with these Members: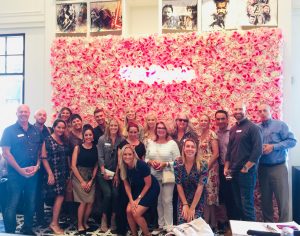 Sitterwise
Hello! California
Industry Cruise
Del Frisco's Double Eagle Steakhouse
Pure Project
Social Tap
Univision Radio
Theatre Box
Old Town Chamber of Commerce
Morton's Steakhouse
PUBLIC RELATIONS
In August, the SDTA Communications team began plans for international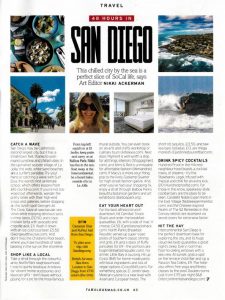 media fam tours, including an Australia fam in September and fams from the UK and Germany in November. Media hosted during August included the UK's National Geographic Traveller magazine, which is planning an 8-10 page feature on San Diego in spring 2020.
Key coverage received in August included the Scottish Sun, Fabulous magazine (UK), OK! Magazine (Australia), National Geographic Traveler (China), Canadian Geographic Travel, and more.
Press Releases Sent
Explore the Unique Flavors of San Diego's Multicultural Chefs sent to 3,395 domestic and international media contacts
Discover San Diego's Top Hidden Beaches this Fall sent to 3,349 domestic and international media contacts
What's New in San Diego international version sent to 423 international travel media contacts
Total Press Coverage
Average Article Quality Score: 69 (out of 100)
Media Value: $3,054,927
Impressions: 98,672,607
TOURISM DEVELOPMENT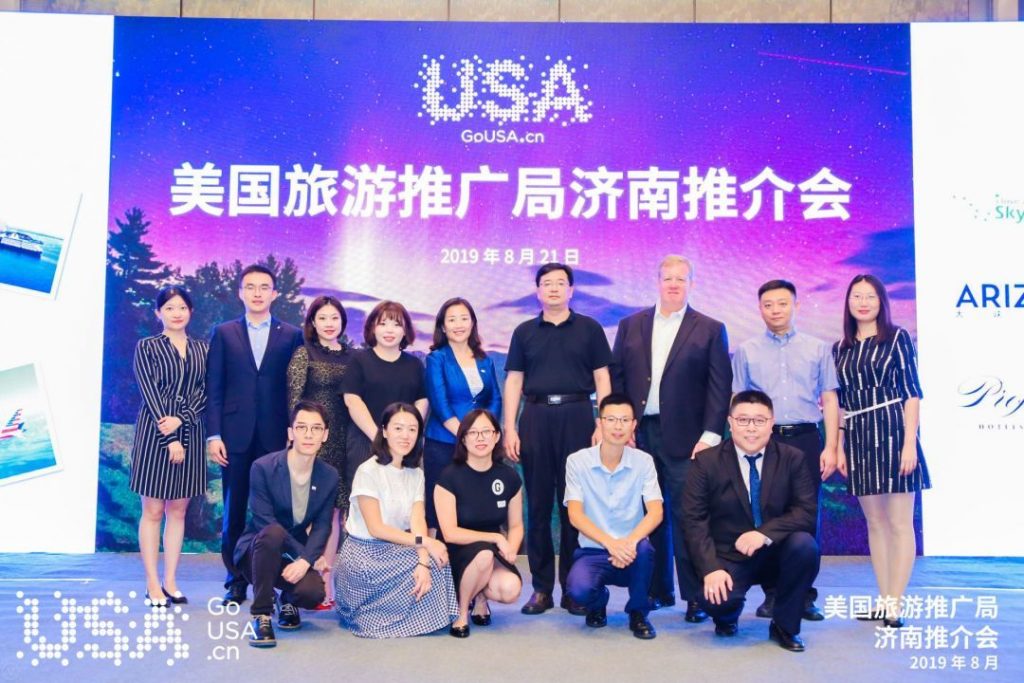 The Tourism Development team referred 59 partners to 8 organizations.  The team certified 98 new San Diego Specialists agents from USA, Mexico, Japan, Australia and NZ who account for approximately 3872 visitors to San Diego generating approximately 3902 annual room nights.   3 individual FAM's were coordinated with product buyers from New Zealand, Mexico and China.
Denise Heredia, Travel Trade Representative in Mexico participated in the Travel Impressions agent training where she presented what's new in San Diego and instructions on how to access the Specialist Program to over 40 travel agents in Mexico City.
SDTA's Germany Representation team held a breakfast seminar for client Flamingo Fernreisen where they were able to train 7 sales staff on August 15th.
The UK Representation team trained 64 agents in August during their visits to American Holidays, American Sky and Virgin Holidays.
In late August, the SDTA conducted an Australian Sales Mission. Four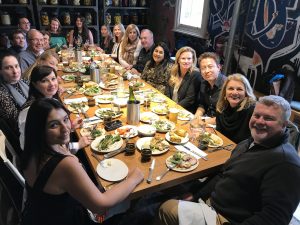 member organizations joined Riki Suzuki, Tourism Development Manager, visiting Sydney, Melbourne and Brisbane for trainings, meetings, client events and media interviews. Throughout the weeklong mission, delegates met and trained about 200 agents. The SDTA also launched an incentive program, sponsored by SDTA Members and Delta Airlines to promote the San Diego Specialist Training Program. Within a week from the launch, completions of the specialist program are up to 90 and expected to grow more as the incentive runs until the end of September.
On August 20th and 21st, Angel Lee, Travel Trade Representative in China participated in Brand USA Roadshow in Jinan. Angel gave a destination presentation to over 60 travel professionals in the region followed by the one-on-one discussions with some of them.