Below are the July 2019 sales and marketing highlights from various San Diego Tourism Authority departments.
BRAND MARKETING
SDTA invested over $179,326 in advertising during the month of July, delivering more than 37.8 million gross impressions. Advertising initiatives for the month included:
Domestic Leisure Advertising

The always-on layers of the foundational digital media program continued in July with paid social amplification and search marketing media tactics. The social program continues to amplify organic content in order to grow engagement with fans/followers while expanding reach to new audiences. During July, the social amplification program delivered more than 470,000 impressions, while Google pay-per-click search marketing delivered more than 92,000 impressions. Just over $7,980 was spent on these foundational layers.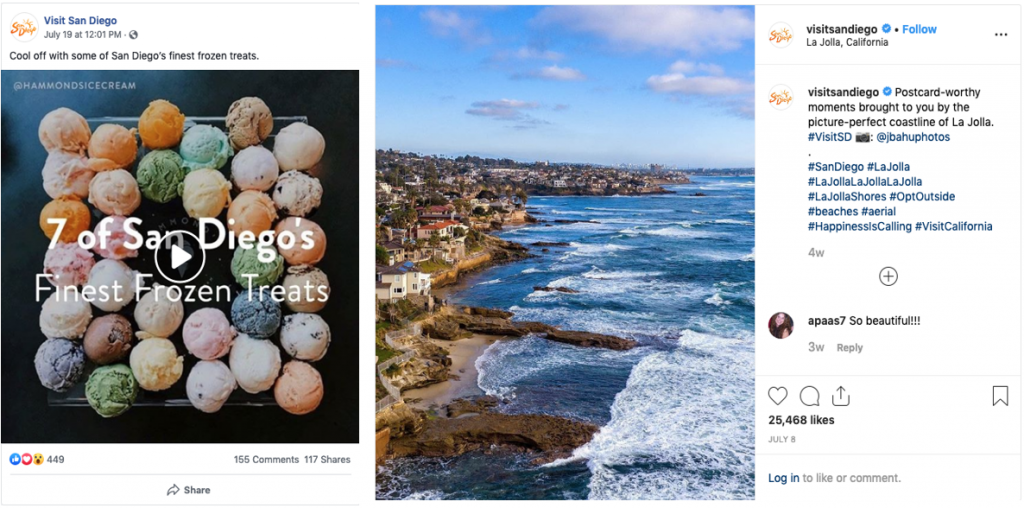 International Leisure Advertising 
Canada
SDTA's summer media flight designed to drive travel during the August through October opportunity window wrapped up during July. The following digital media tactics and partners delivered over 37.2 million impressions for the month: digital video with CTV, Global TV and YouTube Trueview; digital display with TripAdvisor and Google Display Network; native display and video with Sharethrough; paid social video and slideshow units with Facebook and Instagram; and search marketing with Google. July media spend in Canada totaled $205,622 with 16% contributed by Brand USA.
Advertising in Canada will resume in November through January.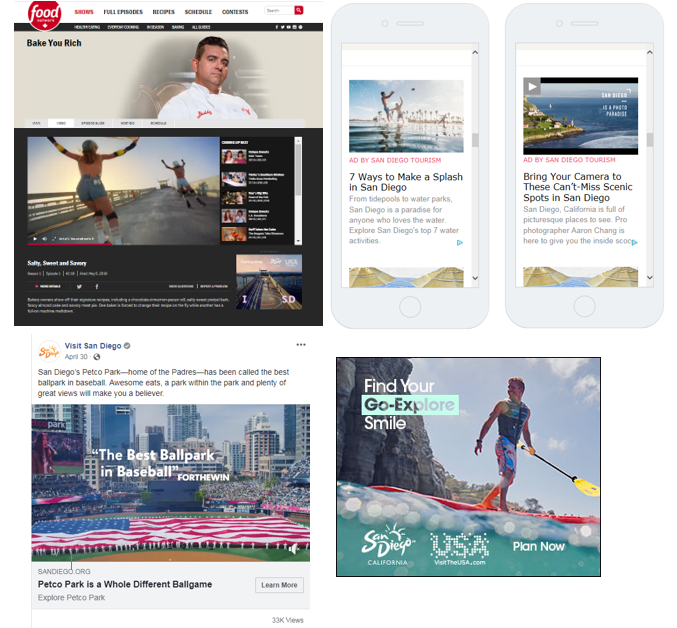 CITYWIDE SALES
The Citywide team was in town to conduct the review of the 2020 groups with the Hotel Community.  2020 has 756,000 roomnights booked with 54 conventions, including the American Society of Hematology, American Association of Cancer Research, Heart Rhythm Society, and the Society for Human Resource Management.
CULTURAL TOURISM
Balboa Park Digital Experience
To capitalize on the momentum generated from the National Geographic Partnership and maximize its budget, the Cultural Tourism team decided to employ an engaging digital storytelling strategy that detailed Balboa Park's unique attributes while coupling it with a high-profile print component, including a two-page spread in The New York Times Magazine Travel Edition on May 19.
The digital Balboa Park Experience allows users to spin or click through 20 different experiences to highlight the breadth and depth of the park's offerings. The development of the Experience took place throughout March and April, with the digital campaign— through such partners as Google Display Network, Sharethrough and The New York Times—officially launching on May 16.
The digital Balboa Park Experience was wildly successful, garnering almost 95 million impressions through its six-week digital native campaign. Over the course of the campaign, the Balboa Park Experience constituted almost 18 percent of all the traffic to sandiego.org. The average time spent on the Balboa Park Experience was 5 minutes and 14 seconds, which was much higher than sandiego.org's average time on page of 2 minutes and 44 seconds. In addition, traffic to Balboa Park content was more than 1,100 times higher than the same time last year, driven in large part by the Balboa Park Experience.
National and International Marketing Plan
As the first flight of promoting the Balboa Park Experience has come to an end, the Cultural Tourism team has been working with MeringCarson to craft the next media partnership to continue elevating Balboa Park's brand. The next phase of marketing will include driving traffic to the well-performing Balboa Park Experience along with partnering with a strategic publication. The launch is anticipated to take place in March with possible publications to include Sunset Magazine and Travel & Leisure.
Local Marketing Plan
The Cultural Tourism team has focused on creating a local marketing plan that better aligns local marketing with the SDTA's national and international marketing efforts. This program of work leverages the SDTA's relationships and assets and supports the cultural institutions in Balboa Park as well as the Explorer Pass program. The plan includes multiple partners to help share Balboa Park's story across various mediums such as print, digital marketing, podcasts, radio and broadcast media with partners being San Diego Magazine and KPBS.
The team is also working collaboratively with the Balboa Park Cultural Partnership to ensure that both the SDTA's efforts and that of the Balboa Park Cultural Partnership harmonize.
The next steps for this effort include securing a broadcast media partner and raising funds to execute the plan. Ms. Davies is currently working to secure sponsorship dollars for this project.
Cultural Tourism
As part of expanding the Cultural Tourism team's role, new cultural district videos are being created—highlighting the various council districts and the various cultural elements in each. Included are the best places to eat, shop as well as authentic cultural experiences. The first four videos are in post-production and cover cultural offerings in council districts 2, 4, 8 and 9. To ensure authentic representation, the Cultural Tourism team met with representatives from the City Councilmember's staff and selected residents from each of the council districts to serve as hosts. Ms. Davies has met with representatives from City Councilmember's offices in districts 1,3, 5, 6 and 7 to establish what to highlight and whom to feature as host. The goal is to finish all the cultural district videos by the end of 2019.
Simultaneously, The City of San Diego's Arts & Culture Commission contracted with the SDTA Cultural Tourism team to provide a digital marketing campaign to highlight San Diego's three cultural districts, featuring Balboa Park alongside Oceanside and Barrio Logan. The SDTA created all content in-house to maximize digital marketing efforts and use the full $20,000 to promote the cultural districts through boosted social media campaign and a native campaign using the Google Display Network. The campaign resulted in more than 4.7 million impressions, which was 58 percent higher than the goal, as well as 44,000 website visits.
Ms. Davies presented the Balboa Park scope of work to the Arts and Culture Commission which also included the successes of the contracted work done for the Commission highlighting San Diego's three cultural districts. Ms. Davies continues to partner with the Arts and Culture Commission assisting the commission with implementing a panel discussion in partnership with UC San Diego.
Balboa Park Outreach
The team has made a concerted effort to stay engaged with the institutions in the park in various ways. Ms. Davies continues to meet regularly with park stakeholders offering assistance and collaboration. Along with various stakeholders, Ms. Davies and the team continue to partner with the Balboa Park Cultural Partnership as well as the Balboa Park Online Collaborative on various projects such as the local marketing plan for Balboa Park, surveying efforts and data collection.
With the support of the SDTA's Planning and Research team, a social media survey was put together to distribute to the institutions in the park to better understand how the SDTA can provide assistance and resources to the institutions and park as a whole.
Additionally, the Cultural Tourism team continues to manage the event/exhibit collection process with continued growth in institution participation since the program was instituted.
DIGITAL MARKETING
Special events in July focused on the Fourth of July, Summer, San Diego County Fair, Del Mar Racing Season, 250 Anniversary Celebration, Comic-Con and more.
Web traffic for June included 1.9 million user sessions between the desktop and mobile websites (excluding Travel Blog). The team posted a total of 47 Tweets, 17 Facebook posts and 39 Instagram posts and Stories posts through our social channels. There were 12 blogs and 11 consumer emails published this month.
Most Engaged Content
| | |
| --- | --- |
| Facebook | Instagram |
| | |
| Twitter | Pinterest |
| | |
| Blog | |
| | |
International Consumer Marketing
China
Overall sessions to the China website (sandiego.com.cn) was 1,365. The social media team, in partnership with Hylink, published a total of 28 Weibo posts and 4 WeChat posts.
Most Engaged China Content
| | |
| --- | --- |
| Weibo | WeChat |
| | |
| Palomar Observatory | Car Free San Diego |
Mexico
Overall traffic to the Mexico page was 1,061 unique users. The social media team, in partnership with PR Central, published a total of 11 Facebook posts and 4 Instagram posts and stories posts.
Most Engaged Mexico Content
| | |
| --- | --- |
| Facebook | Instagram |
| | |
| Balboa Park | Comic-Con |
Japan
Overall traffic to the Japan page was 2,174 unique users. The social media team, in partnership with aviaREPs, published a total of 14 Facebook posts.
Most Engaged Japan Content
Facebook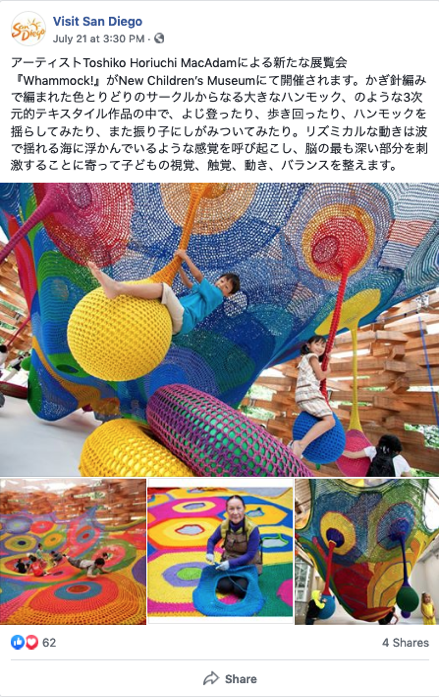 HOTEL SALES
Hotel Meetings Sales and Events
The Hotel Meetings Sales team kicked off the fiscal year booking 41 meetings, representing 21,587 room nights in the month of July.  These booked business opportunities represent meetings that have never been to San Diego or have not been to San Diego in the past 5 years.
In addition, July was a productive month for our Customer Acquisition program.  Through our proactive efforts, in July alone, the hotel sales team generated 15 group leads (17,141 room nights).  The Customer Acquisition program is our proactive sales efforts designed to bring clients with targeted group business opportunities to San Diego "Fam Trips" or conducting in-market events in key cities around the country.
From an events perspective, Andrea O'Hara, National Sales Director, conducted a roadshow with 4 events and multiple sales calls in both Minneapolis and Kansas City.  Along with 8 hotel partners, the team conducted sales calls with H&R Block, Bishop-McCann, Cerner and Ecolab to name a few, while hosting 4 successful client events with 62 customers in attendance.  From these events and sales calls, 8 group leads have been generated thus far, representing 5,132 room night potential for San Diego.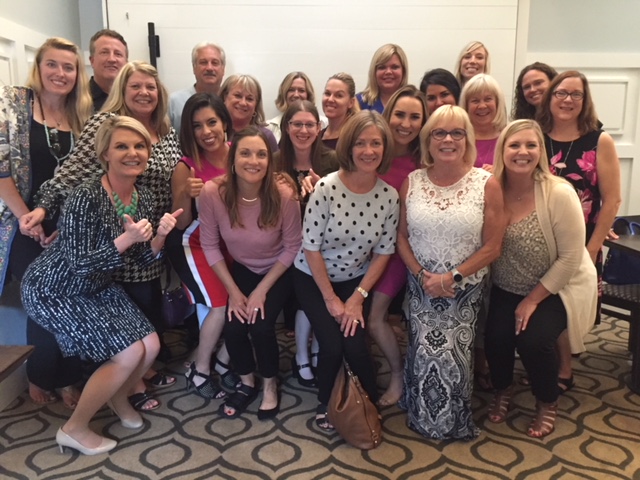 Site Experience Highlights
The Site Experience team had a busy July, with 16 client site experiences, creating exposure to 48 hotels and 10 venues.
MEMBERSHIP
Membership
4 New Members joined earning $3,600 in annual dues revenue.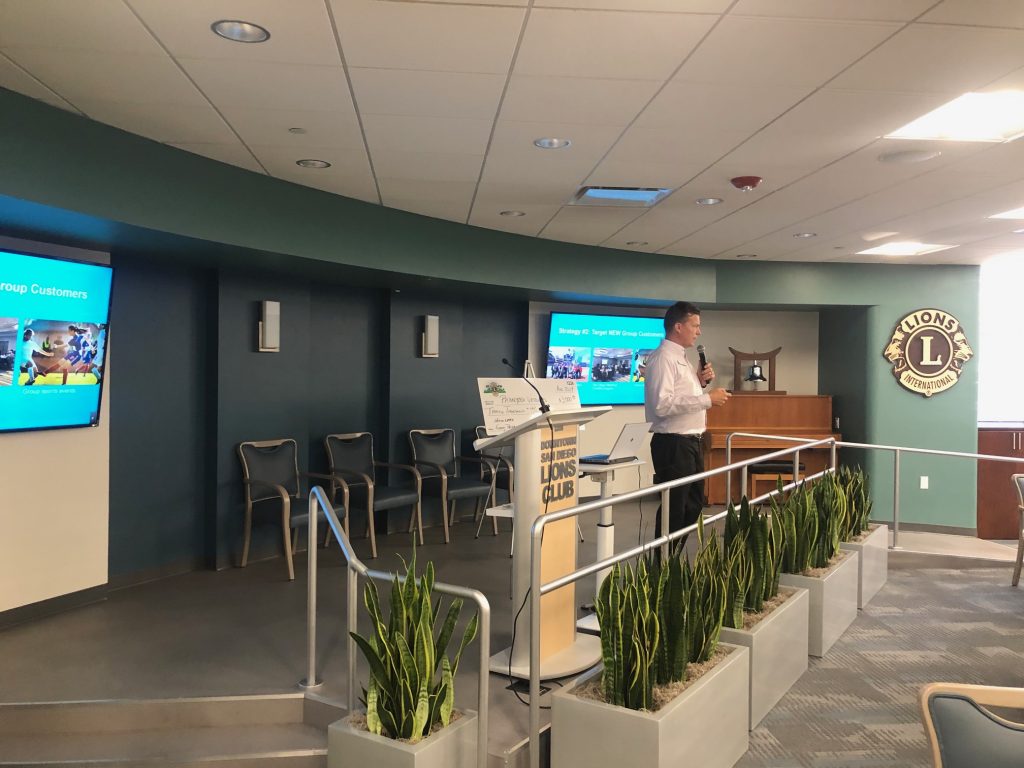 13 Members attended the Open Office Hours to learn how to best maximize benefits.
15 New and existing Members attended the New Member Inspiration session to onboard new members and new employees.
Ad Sales
$43,550 was earned in new ad contracts.
Member outreach 
The team visited, met or attended events with these Members:
Pali Wine Co
Eddie V's
International Smoke
The Conrad
Marriot Del Mar
Pure Project Brewing
Hyatt Regency Mission Bay
PUBLIC RELATIONS
In July, the SDTA Communications held review meetings with each international office to discuss PR coverage results from FY19 and finalize media hosting plans and pitching strategy for FY20.
Working Sr. Director of Planning and Research Susan Bruinzeel, Director of Communications Candice Eley rolled out a new PR measurement system to evaluate the effectiveness of press coverage in FY20. Every article generated through earned media outreach will be scored on several qualitative features, including key message pull-through, audience demographics and use of SDTA assets. An average Article Quality Score will serve as the KPI for the PR Department in FY20. This measurement system is based on the Barcelona Principles established by the Public Relations Society of America for best practices in measuring PR.
Key coverage received in July included Lonely Planet (China), the Sydney Morning Herald (Australia), The Guardian (UK), Calgary's Child Magazine and more.
Press Releases Sent
Michelin stars, theater fests and boutique hotels debut this fall in San Diego sent to 3,133 U.S. and Canadian media contacts
"Kids Free" returns this October sent to 2,400 media contacts worldwide.
Press Coverage
Average Article Quality Score: 74 (out of 100)
Media Value: $2,316,969
Impressions: 142,099,092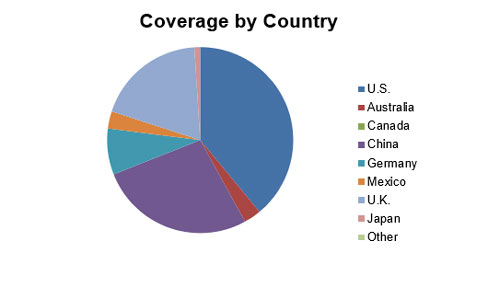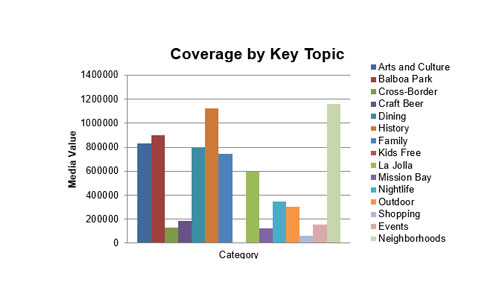 TOURISM DEVELOPMENT
The Tourism Development team referred 108 partners to 27 organizations.  The team certified 24 new San Diego Specialists agents from USA, Mexico, Canada, Australia and UK who account for approximately 148 visitors to San Diego generating approximately 263 annual room nights.  2 FAM's were coordinated in July with product buyers from UK and China.
Denise Heredia, Travel Trade Representative in Mexico participated in the GTM Wholesaler training where she presented what's new in San Diego and instructions on how to access the Specialist Program to over 80 travel agents in Aguascalientes.
Benjamin Eastman, Director of Tourism Development, attended the Visit California UK Sales Mission in mid-July where he met with travel agents and Product Managers in Dublin, Glasgow and London.  Throughout the week of events, Benjamin met with nearly 400 clients to promote the destination, the SDTA Specialist Program and the latest updates on the region. Ireland and the UK continue to be strong markets for San Diego and clients are excited to hear about the continuing developments here.
The UK office conducted 1 training in July at the offices of Holiday Architect – where they trained 2 agents.