Below are the May 2019 sales & marketing highlights from various departments from the San Diego Tourism Authority.
BRAND MARKETING
SDTA invested over $1.4 million in advertising during the month of May, delivering more than 311.8 million gross impressions. Key advertising initiatives for the month included:
DOMESTIC LEISURE ADVERTISING
SDTA's "Always-On" digital content program and the family content co-op with SeaWorld San Diego continue to run through the end of the fiscal year to drive peak season travel. During May, $360,638 was spent and 8.03 million impressions were delivered.
The digital pull-through program wrapped this month and targeted active travel intenders (researchers, planners and in-market shoppers) with San Diego messaging with the goal of moving consumers from the consideration phase to the booking phase. Digital display and native units ran on Google Display Network, Adara, Expedia Brand Portfolio (including Expedia.com, Hotels.com, Orbitz, Cheaptickets, Travelocity and Hotwire) and Priceline. The campaign delivered 130.8 million impressions with just over $1.04 million in media spend.
MULTI-MARKET
Complementing the brand program, the TripAdvisor partnership that ran in the United States and the United Kingdom completed in May. The robust layered digital media program used co-branded creative to reach travel intenders through the consumer decision journey. The program included a variety of placements such as custom blog posts, custom videos promoted on TripAdvisor social, co-branded video units with reviews from the TripAdvisor community and custom content hubs built by passion pillars designed to educate on destination offerings. In total, the custom TripAdvisor media partnership delivered over 87 million impressions across the United States and United Kingdom.
May marked the launch of the TripAdvisor partnership in Canada, designed to complement SDTA's second flight in the Canada market and will continue through July. Media and creative for the Canada TripAdvisor program mirrored the US and UK strategy with a layered, full-funnel approach to target travel intenders. In May, paid advertising for the TripAdvisor partnership program in Canada totaled $58,337 with 14% contributed by Brand USA and affinity partners, delivering 7.69 million impressions.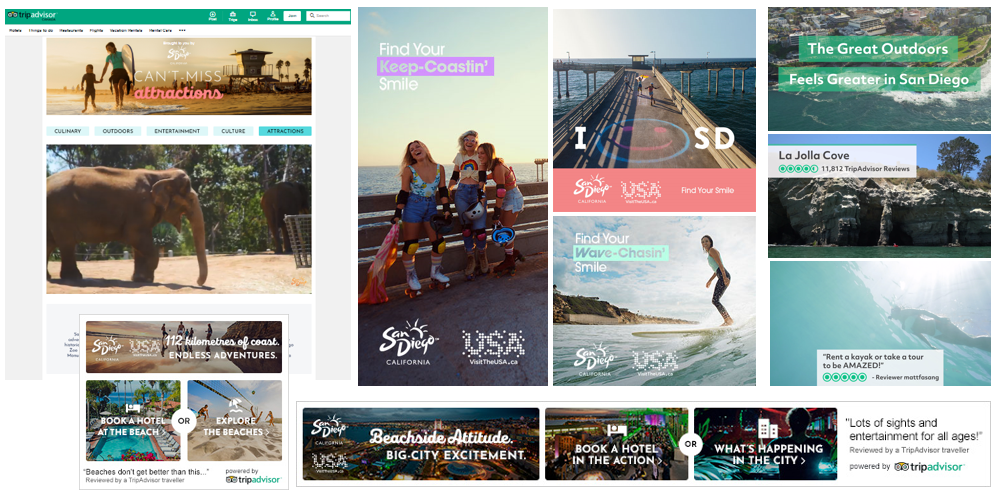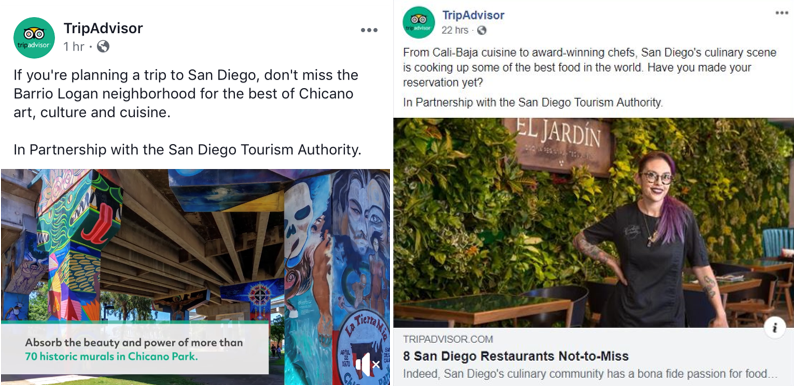 INTERNATIONAL LEISURE ADVERTISING
CANADA
May marked the launch of flight two of SDTA's consumer direct advertising program in Canada for both digital and TV. The following tactics and partners were deployed: digital video with CTV, Global TV and YouTube Trueview; digital display with TripAdvisor with Google Display Network; native display and video with Sharethrough; paid social video and slideshow units with Facebook and Instagram; and search marketing with Google. May media spend totaled $175,973 with 16% contributed by Brand USA and affinity partners, delivering 18.8 million impressions.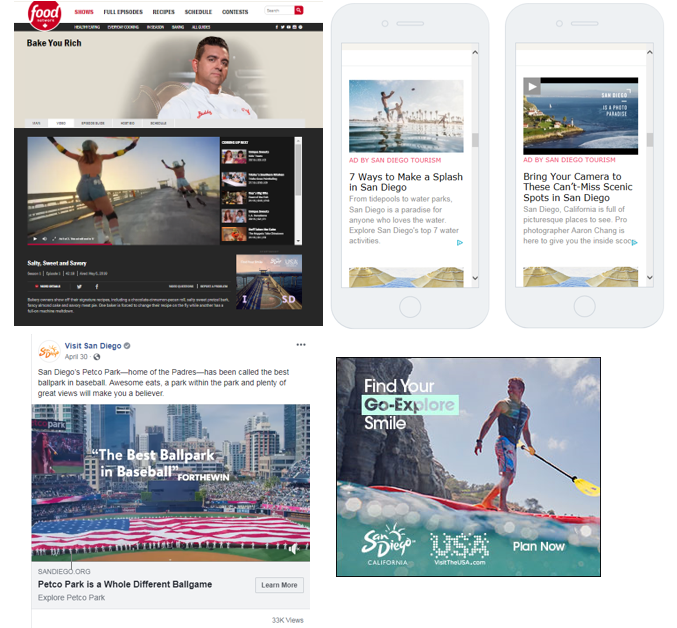 CHINA
The bulk of San Diego's campaign leading into summer travel season wrapped up during May with Mafengwo, iQiyi, WeChat and Weibo, while media campaigns with Baidu and iPinYou will continue through June.
May also marked the start of the final phase of the summer "Best of California" co-op campaign with San Francisco on Ctrip. During this phase, joint destination advertising executions were replaced with San Diego specific promotion.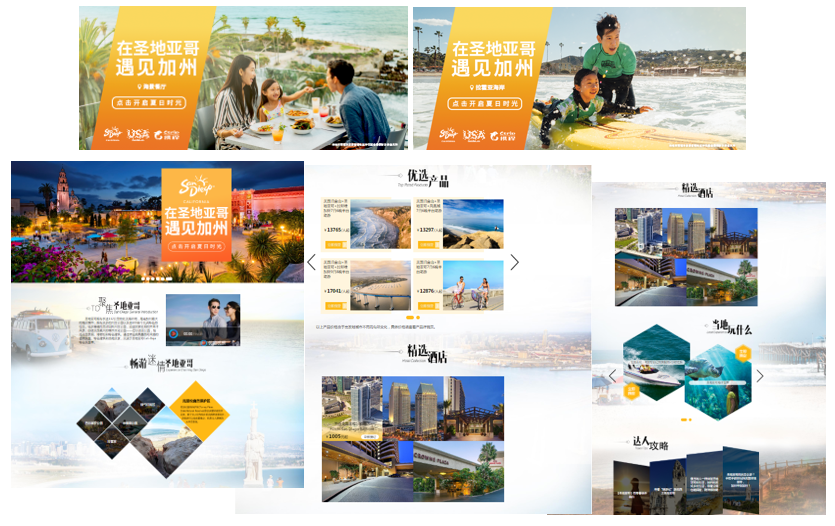 This month's livestream featured the San Diego Zoo Safari Park and was posted organically on Weibo and garnered 221,000 views and more than 207,400 social engagements.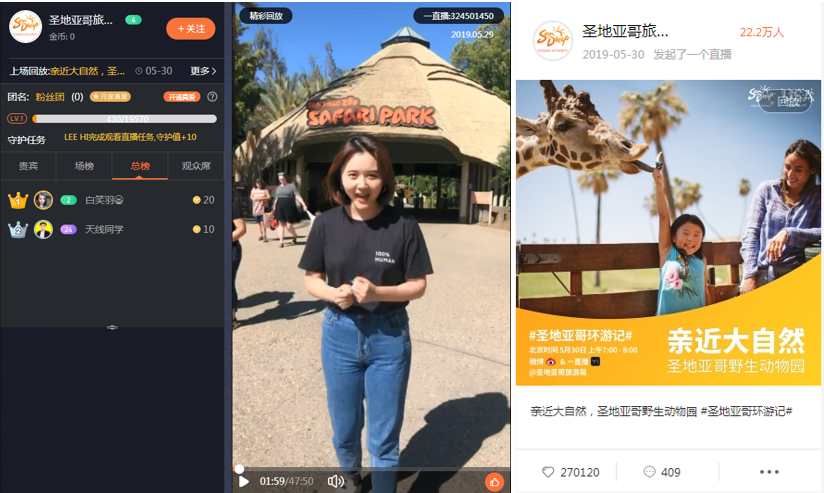 Total May spend in the China market totaled $194,062 with 55% contributed by Brand USA and co-op partners, delivering more than 75 million impressions.
LOCAL COMMUNICATION
In recognition of National Travel & Tourism Week and SDTA's Annual Meeting, local advertising celebrated San Diego tourism milestone anniversaries and the contribution of tourism on jobs, regional prosperity and quality of life. Digital and print ran with the San Diego Union-Tribune and the Voice of San Diego.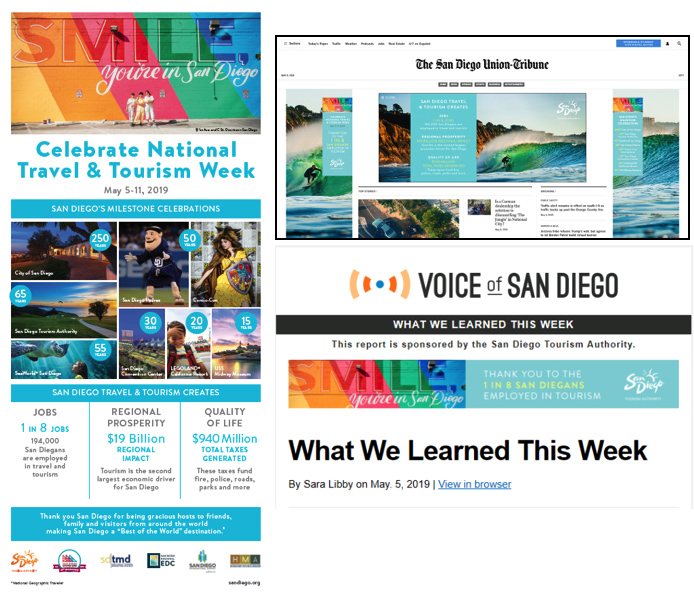 CULTURAL TOURISM
National Geographic Partnership
Although the National Geographic program of work completed its run in March, the series recently won a bronze Telly Award—the world's largest honor for video and television content across all screens, in the branded content general travel category.
Balboa Park Experience
To capitalize on the momentum generated from the National Geographic Partnership and maximize its budget, the San Diego Tourism Authority decided to employ an engaging digital storytelling strategy that detailed Balboa Park's unique attributes while coupling it with a high-profile print component, including a two-page spread in The New York Times Magazine Travel Edition on May 19. The digital Balboa Park Experience allows users to spin or click through 20 different experiences to highlight the breadth and depth of the park's offerings. The development of the Experience took place throughout March and April, with the digital campaign—through such partners as Google Display Network, Sharethrough and The New York Times—officially launching on May 16. The San Diego Tourism Authority and its ad agency, MeringCarson, are tracking the Balboa Park Experience to ensure that it is delivering engagement. In the two weeks since launching, the Balboa Park Experience garnered more than 100,000 views with users spending an average of six minutes with the content—nearly triple the average time of engagement on the site.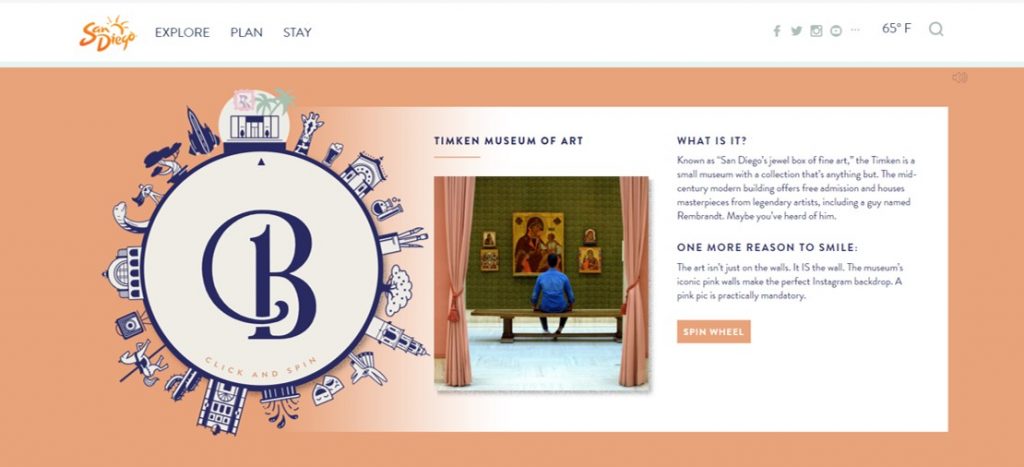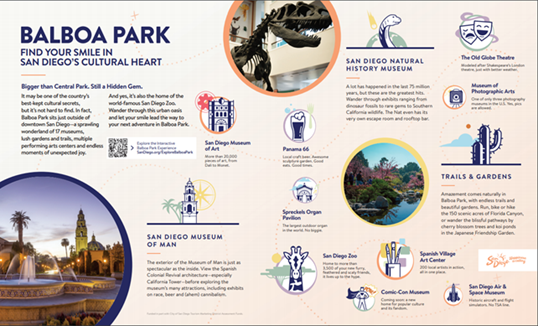 California Cultural Districts Promotion
The City of San Diego's Arts & Culture Commission contracted with the SDTA to provide a digital marketing campaign to highlight San Diego's three cultural districts, featuring Balboa Park alongside Oceanside and Barrio Logan. The SDTA created all content in-house to maximize digital marketing efforts and use the full $20,000 to promote the cultural districts through a boosted social media campaign and a native campaign using media partners Sharethrough and Google Display Network.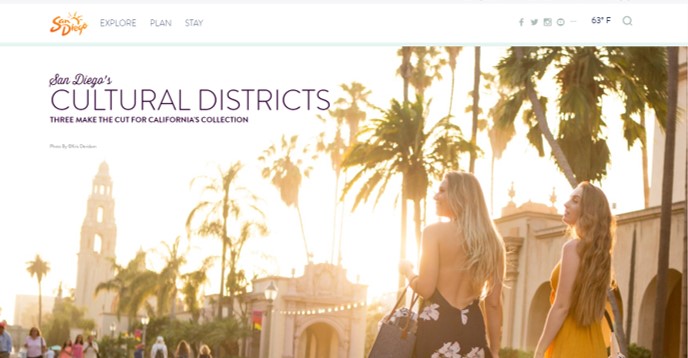 Balboa Park Summer 2019
In collaboration with the Balboa Park Cultural Partnership (BPCP) and the Balboa Park Online collaborative (BPOC), the SDTA's in-house team developed the theme and imagery for the 2019 Balboa Park Summer Campaign: The Art of Summer.
The BPCP and the BPOC are in the process of creating a dedicated summer page using these graphic assets and are looking into developing a digital campaign to drive people to the information. In addition, the SDTA has updated its summer programming page and will use its website to help drive traffic to the dedicated summer page on balboapark.org.
The campaign is expected to launch by June 10 and the SDTA will support the efforts by creating additional web and blog content.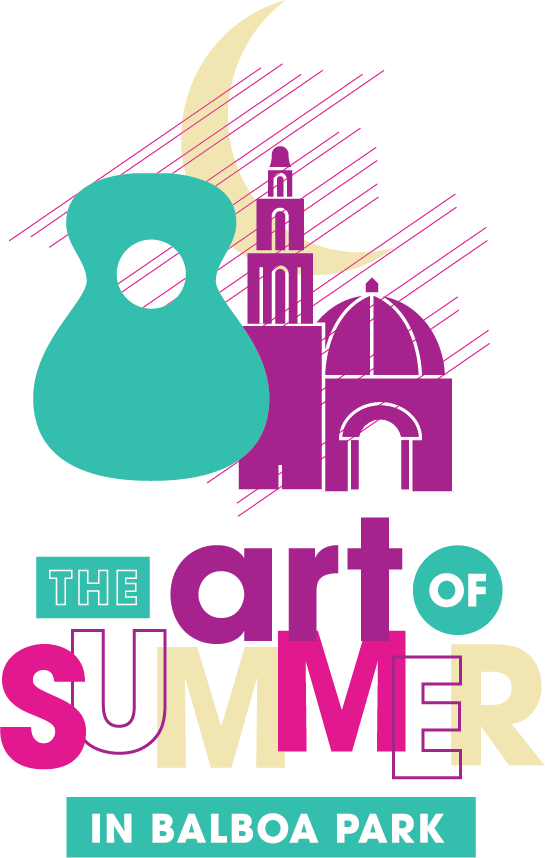 Cultural Tourism
To highlight and expand on San Diego's various arts and cultural districts, the Cultural Tourism team is working to produce new cultural district videos that will highlight local favorites in San Diego's nine council districts. The videos will feature local constituents as hosts and participants to ensure the videos give viewers an authentic insider's view on the best places to eat, drink, shop and explore in San Diego's different and distinct cultural districts. The team has begun filming the cultural district videos and the first four videos will be complete by the end of the fiscal year.
Improved Information Sharing of Event, Exhibits and Offers
The San Diego Tourism Authority, in collaboration with the BPCP, BPOC and the Balboa Park Visitors Center, developed and implemented a streamlined process for submitting and sharing event and exhibit information.
Since instituting this new process in October 2018, there's a considerable difference in institute participation on the SDTA site, which is key to marketing the park as the SDTA website garners about 9 million views a year with 20 percent of those views being from locals. The chart below also displays a visible difference in institution participation since the establishment of the Cultural Tourism team at the SDTA.

DIGITAL MARKETING
Special events in May focused on San Diego Padres, Cinco de Mayo, Fourth of July, and Summer.
Web traffic for May included 1.25 million user sessions between the desktop and mobile websites (excluding Travel Blog). The team posted a total of 51 Tweets, 21 Facebook posts, and 39 Instagram posts and Stories posts through our social channels. There were 7 blogs and 11 consumer emails published this month.
LEISURE DIGITAL
Most Engaged Facebook Post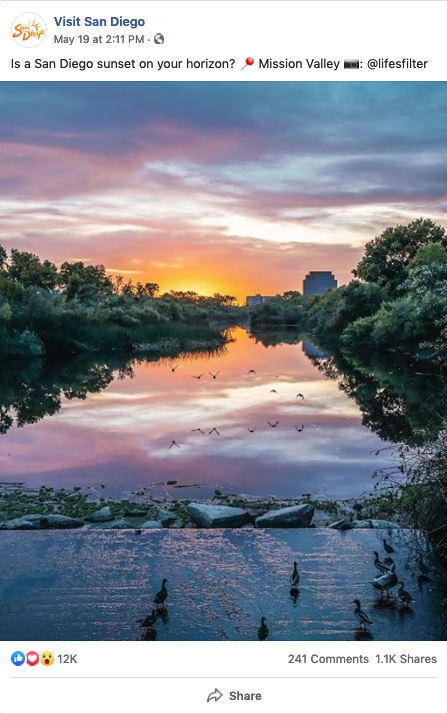 Most Engaged Twitter Post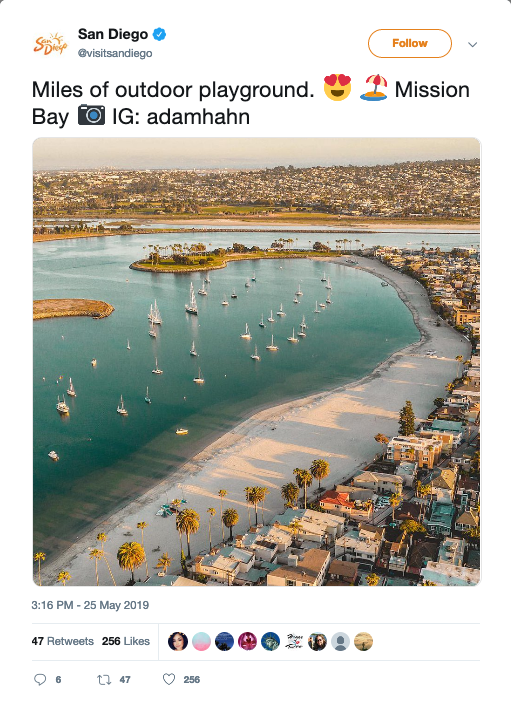 Most Engaged Instagram Post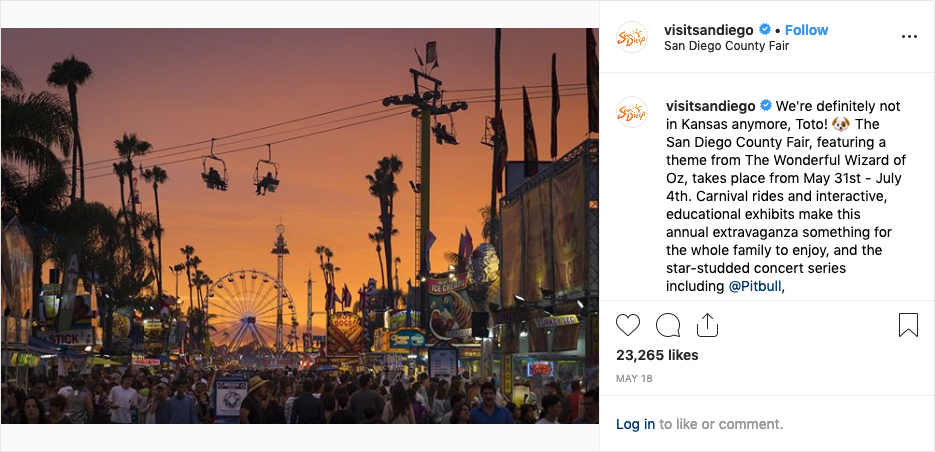 Most Engaged Blog Post

INTERNATIONAL CONSUMER DIGITAL MARKETING
China
Overall sessions to the China website (sandiego.com.cn) was 474,661. The social media team, in partnership with Hylink, published a total of 28 Weibo posts, and 4 WeChat posts.
Mexico
Overall traffic to the Mexico page was 1,130 unique users. The social media team, in partnership with PR Central, published a total of 15 Facebook posts and 14 Instagram posts and stories posts.
Japan
Overall traffic to the Japan page was 2,967 unique users. The social media team, in partnership with aviaREPs, published a total of 18 Facebook posts.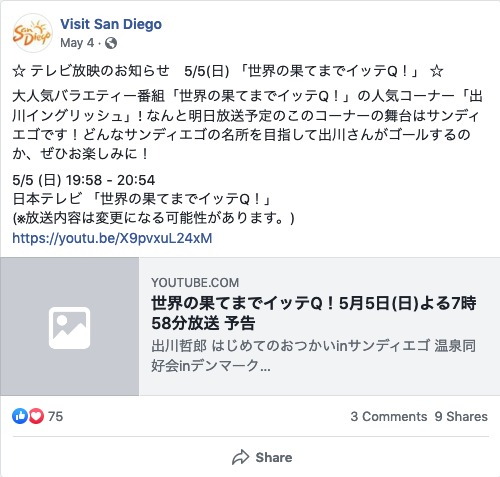 B2B DIGITAL
EMAIL:
The May B2B Postcard was delivered to 8,533 meeting planners as part of an ongoing content series. Each month highlights inspirational opportunities for meeting and event planners in the destination. The open rate for the May B2B email was 22.6%, which represents 1,924 unique meeting planners. The May email highlighted reasons to add on extra days to a business trip.
LINKEDIN:
There were 5 unique posts during May, which garnered 17,203 impressions and included:
SDTA Hiring Conference Services Coordinator
SDTA Hiring Event Coordinator
San Diego consistently ranks in the top 5 travel destinations for Americans.
2019 is a year of milestone celebrations in San Diego!
1 in 8 jobs in San Diego are related to the tourism/hospitality industry and cannot be outsourced.
For May LinkedIn grew by 2.2% from last month to 7,946 followers. Year-over-Year the LinkedIn Audience grew by 21%.
Where We Stand
LinkedIn followers compared to similar organizations: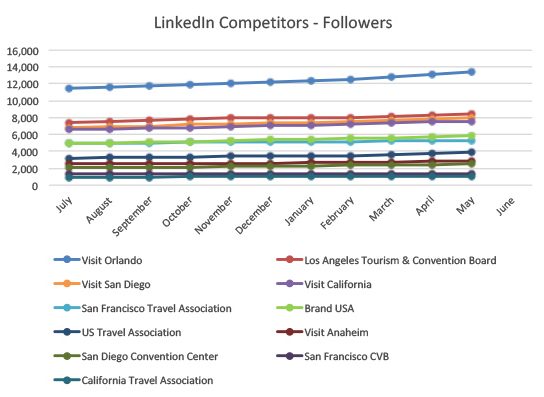 TWITTER:
@SDTAConnect Twitter base grew by 6.6% YoY to 4,027 followers. There were 52 tweets during the month.
For May, the tweet with the most exposure was on the County Administration Building during National Travel & Tourism Week.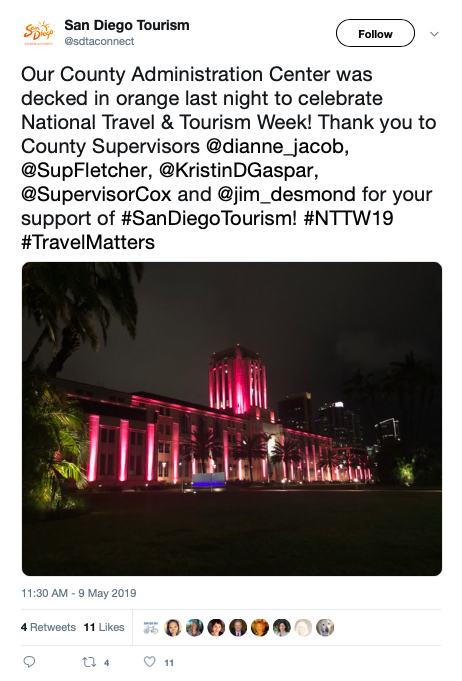 The May tweet with the most engagement was on San Diego's 2019 milestone celebrations.
The B2B Account earned 57,327 impressions during the month of May.
MEMBERSHIP
4 New Members joined in May earning $2,200 in annual dues revenue.
13 Members attended the Open Office Hours to learn how to best maximize benefits.
8 New and existing Members attended the New Member Inspiration session to learn how to maximize benefits.
Ad Sales
$ 33,350 was earned in new ad contracts.
Member Events
On May 9th over 800 Members packed SeaWorld to celebrate National Travel and Tourism Week at the Annual Meeting and 65th Anniversary Celebration. The team generated a record number of sponsors including presenting sponsor SDG&E and Celebration presenting sponsors booking.com and the Airport Authority.
Members heard from industry leaders and elected officials looking at where we've come as a destination, and more importantly our plans to grow visitation moving forward.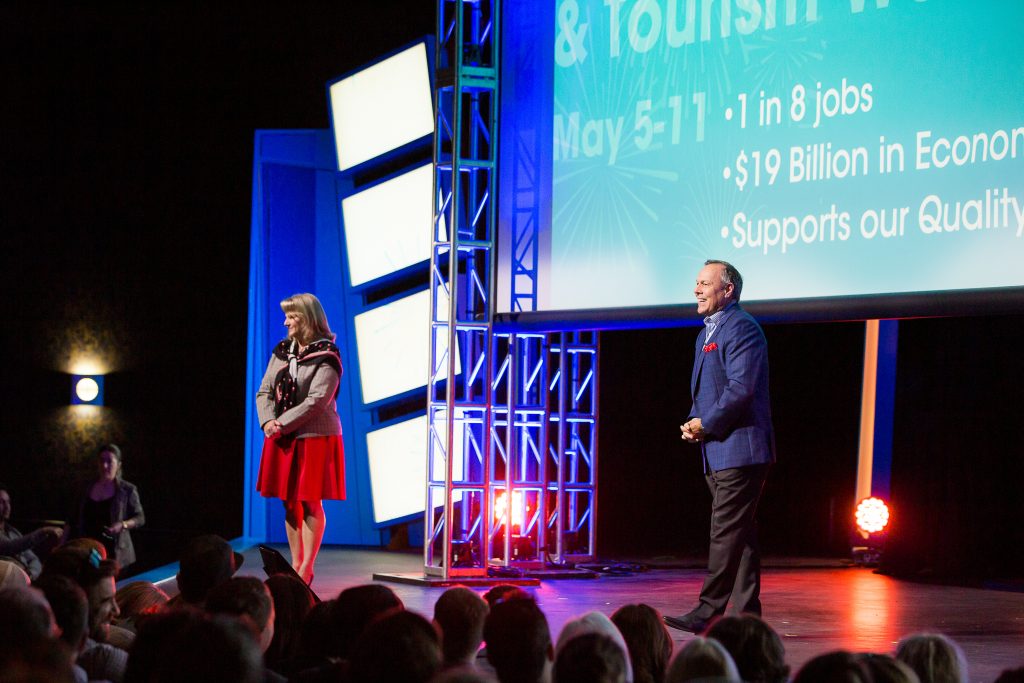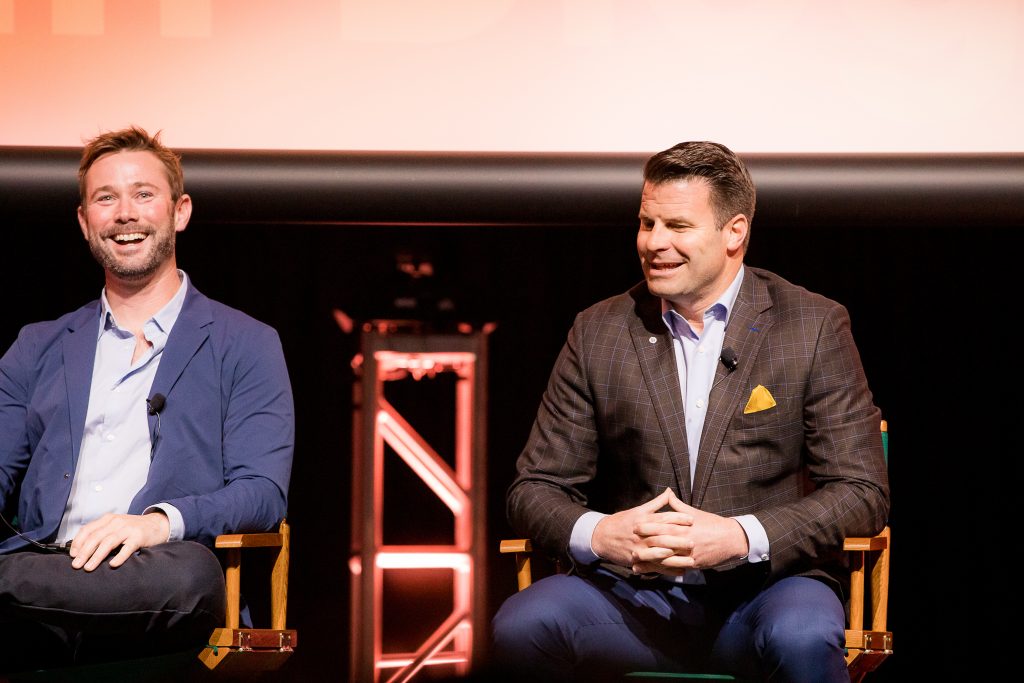 Alipay-Brand USA Partnership
The team continued to lead the charge engaging Members with our exciting program to attract Chinese visitors by partnering with Alipay and Brand USA.
The USS Midway went live with their new Alipay terminals and immediately processed sales to Chinese visitors that day.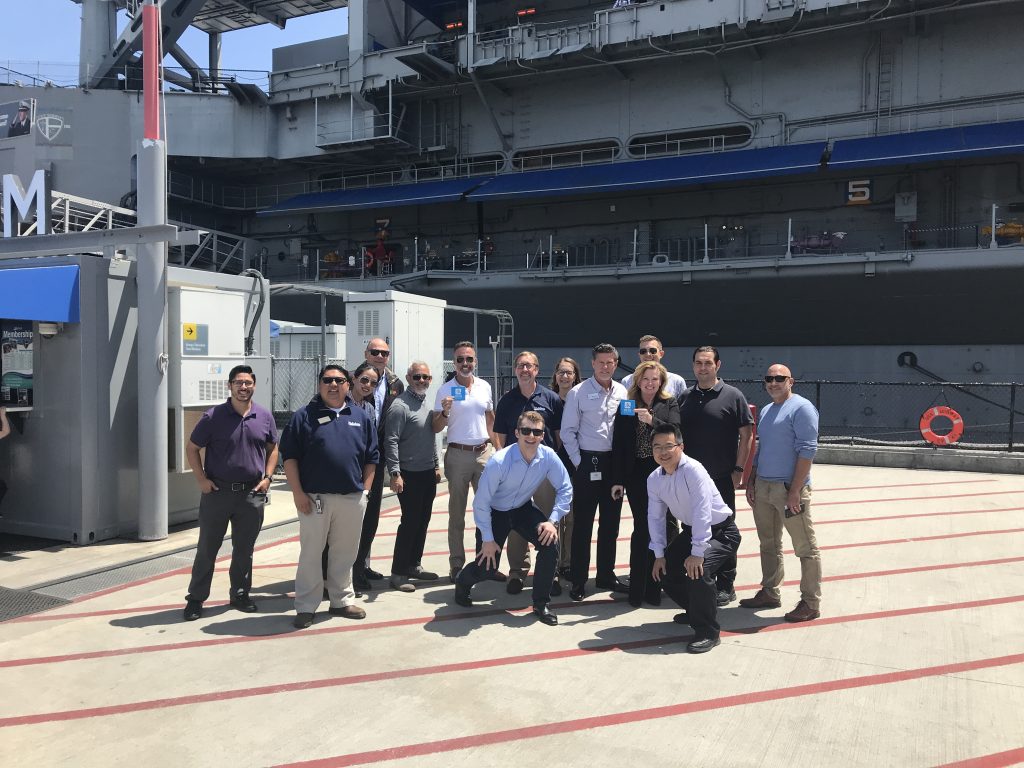 Member Outreach
In May the team visited, met or attended events with these Members:
RAR Hospitality Marketing team
Hydrobikes San Diego and Aqua Adventures
Comic-Con Museum
SpringHill Suites Mission Valley
Hornblower
La Jolla Kayak
Park N Fly
The Pannikin Building – prospect member
theNAT
HOTEL SALES
The Hotel Meetings Sales team had a strong May, booking 69 meetings, representing 39,496 room nights. Fiscal year to date, the team has converted 663 bookings and 354,604 total room nights for the destination.
Through our on-going Customer Acquisition program, the hotel sales team generated 10 group leads in May, representing 6,467 room nights. These leads were generated from our Connect, NHS Global, and Egencia FAM's this past year. In total, the team has generated 231 leads, booking 81 programs (43,843 RN's) within the Customer Acquisition program. This program is our proactive sales efforts designed to bring clients with targeted group business opportunities to San Diego or conducting in-market events in key cities around the country.
May was an active month for the sales and events team conducting roadshows in both Dallas and Atlanta. In Dallas, Chirine Arbadji, National Sales Director, along with 6 hotel partners, conducted 5 sales calls with Lamont Associates, BrightSpot, GlobauxSource, Infinix Global, and Fusion. Chirine capped off the roadshow with a client event with 28 customers in attendance, generating 4 business opportunities (4,934 room nights). In Atlanta, Jennifer Hicks, National Sales Director along with 7 hotel partners, conducted 2 client events with 42 meeting planners in attendance, while visiting 5 key accounts including Home Depot and the Kellen Company, the 2nd largest Association Management Company in the country.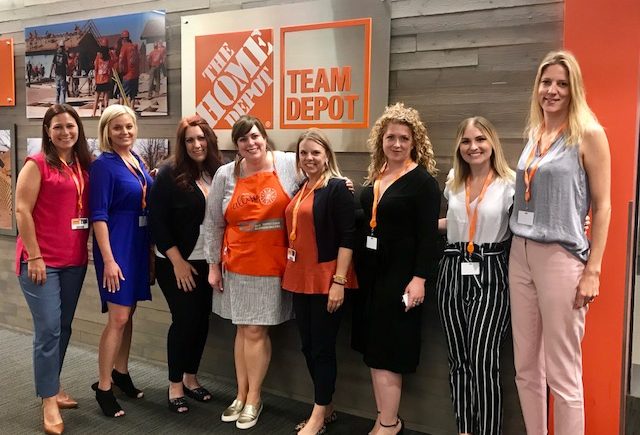 In addition to the roadshows, the sales team attended FEA's Annual Meeting in Las Vegas and HelmsBriscoe's Annual Business Conference in Houston. During HelmsBriscoe's ABC, the SDTA hotel meetings and citywide sales teams were thrilled to have been awarded the "Destination Partner of the Year". With HelmsBriscoe being a global leader in meeting procurement and site selection, it is quite an honor considering the many great destinations around the country that were up for the award.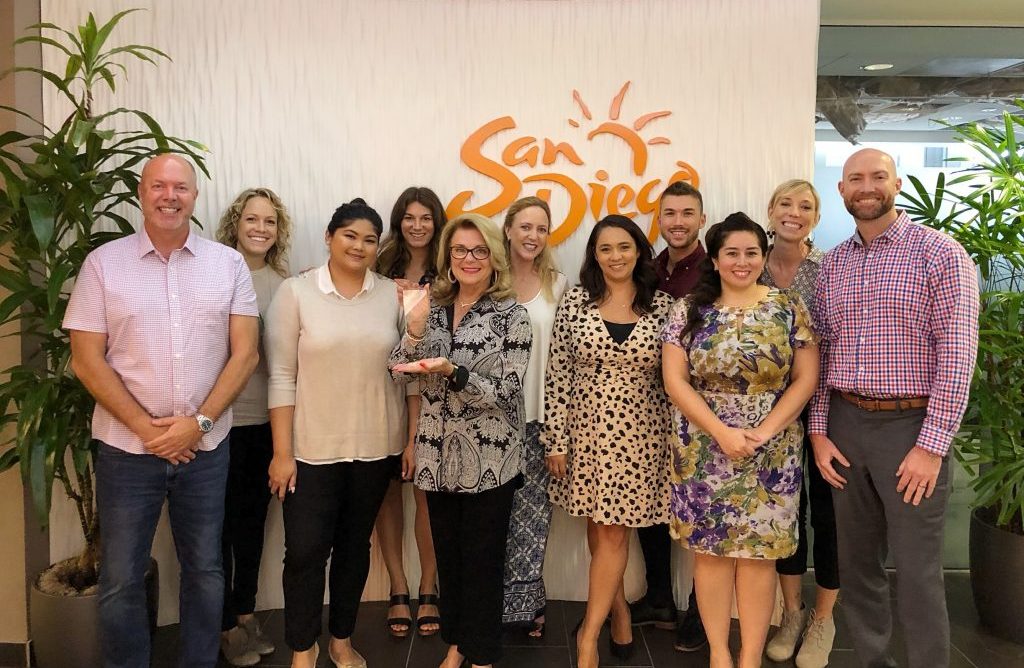 Site Experience Highlights
The Site Experience team had one of the busier months of the year, with 22 client site experiences, creating exposure to 70 hotels and 18 venues.
CITYWIDE SALES
FY19:
Definite Bookings: 8
Attendance: 51,000
Total Room Nights: 83,098
Fiscal Year 19-To-Date: 391,576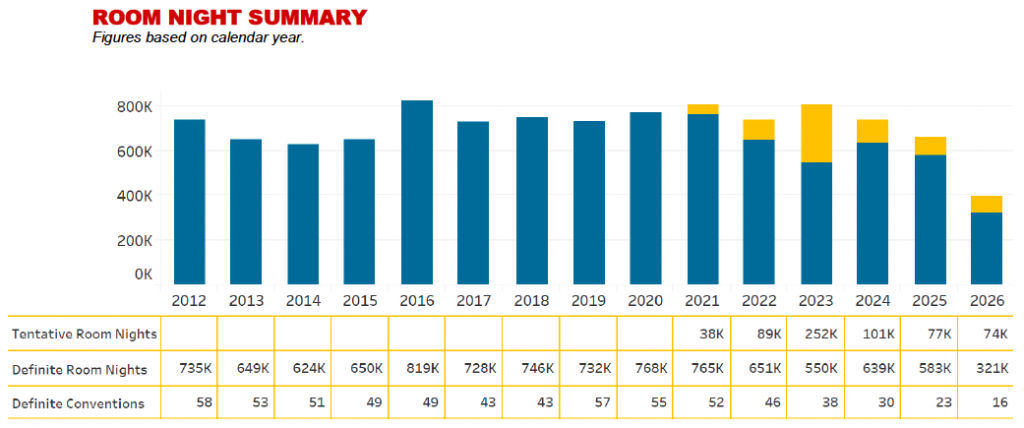 PUBLIC RELATIONS
In May, the Communications team hosted a pre-IPW media fam for leading journalists from the SDTA's priority international markets, including China, Mexico, Australia, Germany and the UK. The group of 12 media representing top tier international outlets enjoyed an itinerary based on San Diego's 250 years of history along with the destination's newest world-class offerings.
PR Manager Joe Timko hosted a crew from the Australian TV show "Weekend Sunrise." The program included 6 segments broadcasted live from Balboa Park to a national audience in Australia.
Key coverage received in May included Apex Manual magazine (China), Der Tagesspiegel (Germany), Escape magazine (Aus.), Diablo magazine (US), Vancouver Sun, Conde Nast Traveler, Smart Meetings, Budget Travel and more.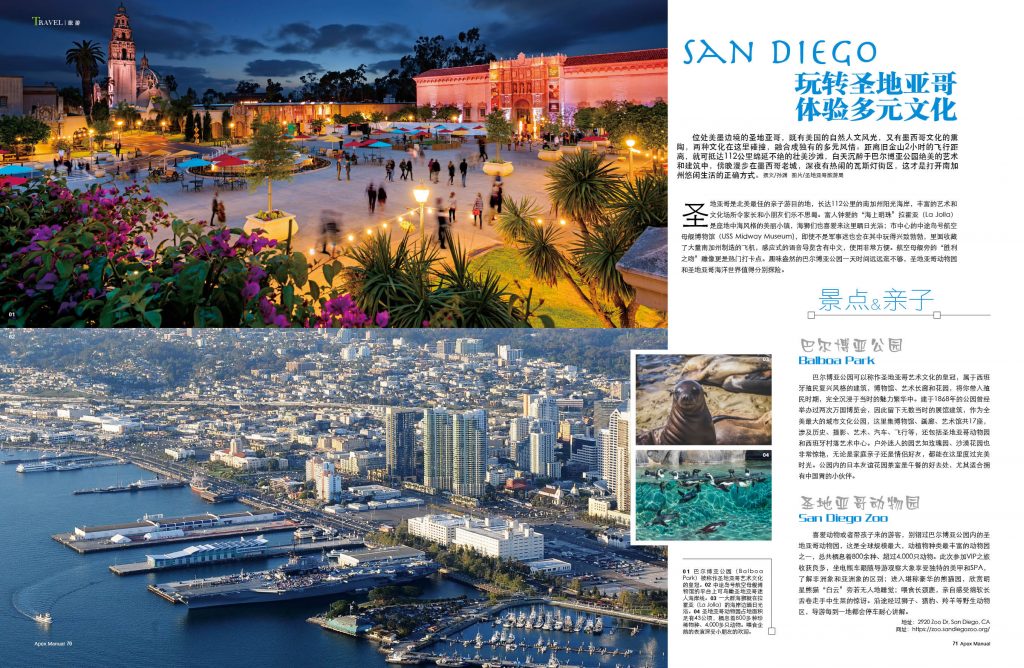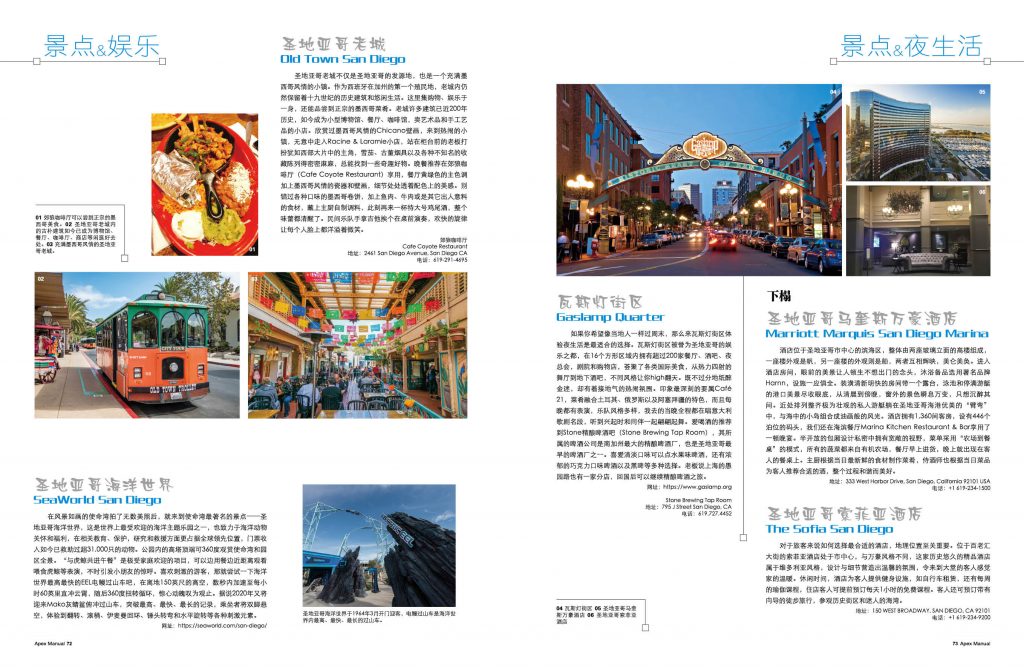 Press Releases Sent
MEDIA ALERT: Annual tourism meeting on May 9 honors 65th anniversary of San Diego Tourism Authority sent to 119 local media.
Uncover San Diego's Top 5 Immersive Art Experiences sent to 2,374 media contacts worldwide.
San Diego, California Celebrates 50 Years of Comic-Con and More (International edition of What's New) sent to 438 international media contacts.
Total Press Coverage:
Media Value: $2,981,395
Impressions: 158,548,704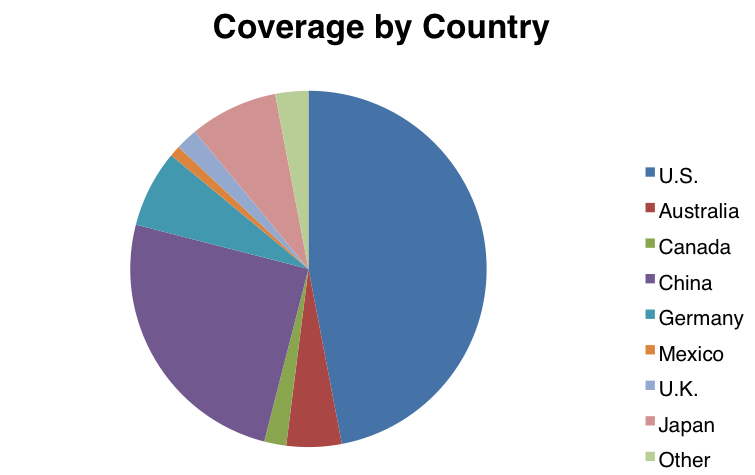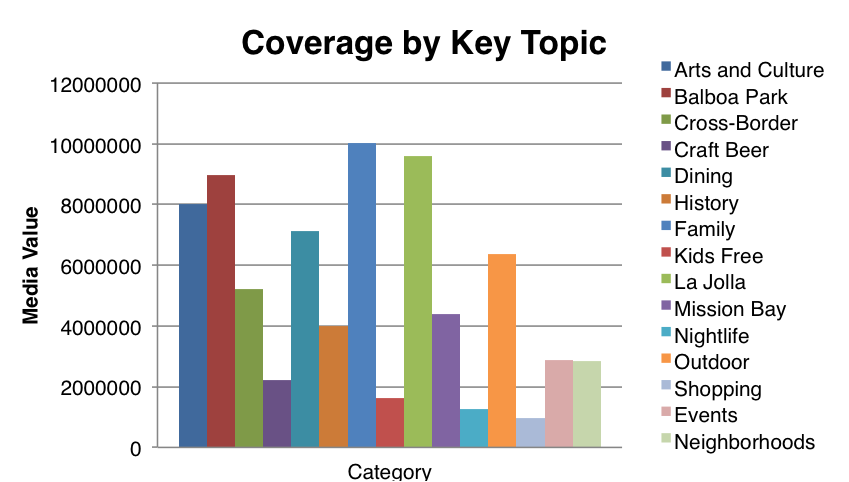 TOURISM DEVELOPMENT
The Tourism Development team referred 2 partners to 2 organizations and 3 leads to member businesses from travel trade clients for 116 room nights. The team certified 27 new San Diego Specialists agents from USA, Mexico, Canada, India and United Arab Emirates who account for approximately 2428 visitors to San Diego generating approximately 1509 annual room nights. Five sites were coordinated in May with representatives from Germany, Austria, France, Mexico, China, Italy, Portugal, Sweden and Argentina.
On May 3rd, Phil Hannes, Sr. Director of Tourism Development conducted 8 presentation sessions at Best Day Travel headquarters call center in Mexico training over 110 agents on how to properly sell San Diego.
SDTA was a bronze sponsor for the HotelBeds MarketHub Americas which took place in Cancun, Mexico, the second week of May where Phil Hannes, Sr. Director of Tourism Development, participated in the conference and met with over 35 top wholesalers.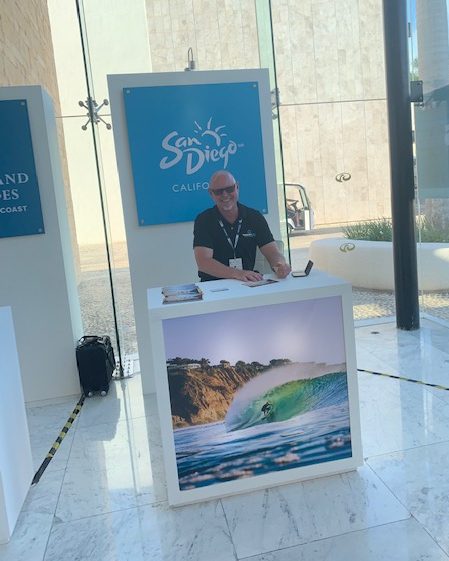 Phil Hannes, Sr. Director of Tourism Development, visited the annual Vuela y Viaja Outlet in Mexico City at the World Trade Center the second weekend of May. This is an annual travel sales event where over 80,000 consumers attend to buy specially priced packages. San Diego was featured in Aero Mexico and Mega Travel packages.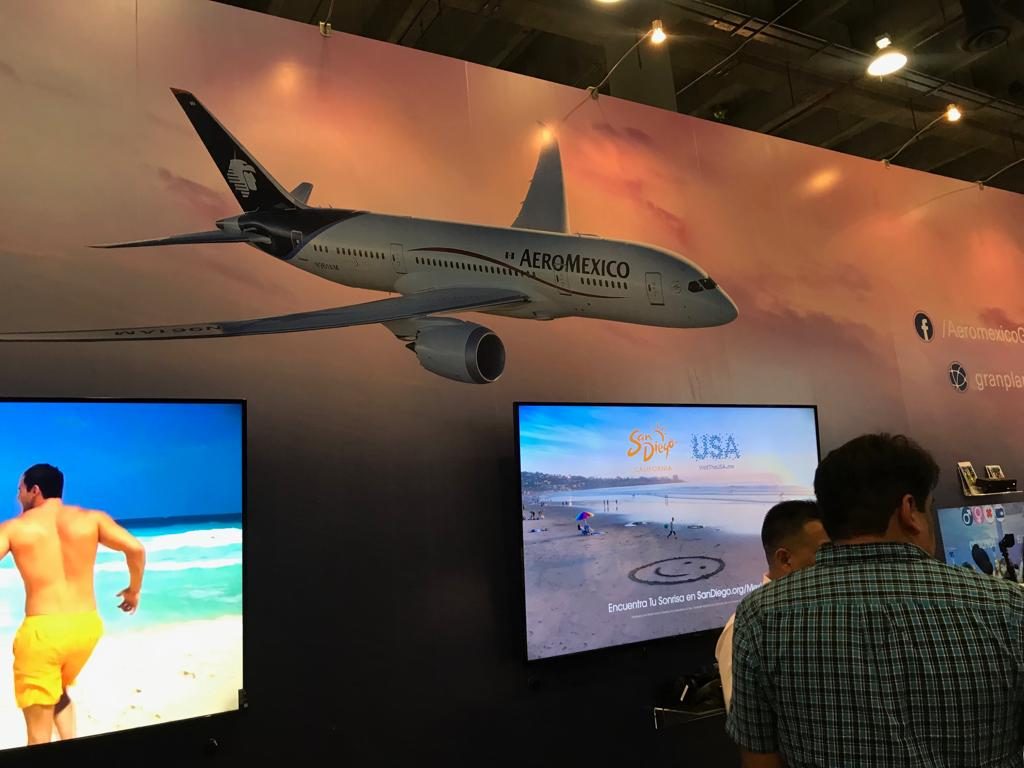 In mid-May, San Diego became the first Californian city to host the DER Campus Live conference that brought 170 German and Austrian travel agents to the region for 3 nights. The conference's host, DER Touristik, is the largest German tour operator and produces these events all around the world. San Diego was able to shine as agents experienced how easy it was to get around the city as they participated in one of six different sightseeing tours, as well as at the opening night event at SeaWorld and the closing night California Beach Party. A large majority of the agents attending had not been to San Diego previously, so we count the conference coming to our region as a huge opportunity for us!
Jacky Zhu, Travel Trade Representative, attended ITB China on May 15th-17th in Shanghai. ITB China is the largest B2B-exclusive travel trade show in China where SDTA had a booth within California Pavilion. During the one-on-one onsite meeting session, Jacky had 36 appointments with nationwide OTAs and tour operators to introduce San Diego's tourism resources and discuss the package development.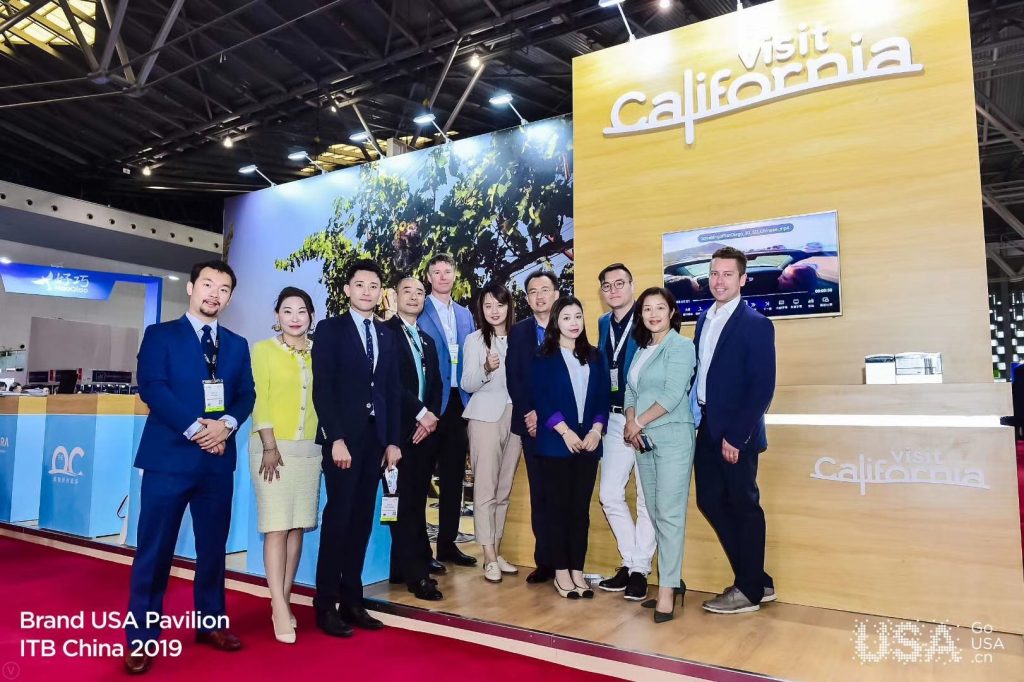 On May 15th, Steffi Ahlers, Travel Trade Representative in Germany, trained 6 agents at tour operator client Trans America Reisen. New agents were given an overview of the destination, while more experienced agents were updated on "What's New" in the destination.
From May 18th to 19th, Tomoe Matsunaga, Travel Trade Representative in Tokyo, attended the KIX Tabihaku in Osaka. KIX Tabihaku is the second largest travel show in Japan and the event welcomed about 43,000 consumers in two days. Tomoe promoted San Diego as the prime destination at the designated booth. Also, about 100 people signed up to attend a San Diego Seminar where Tomoe gave a presentation to introduce the destination.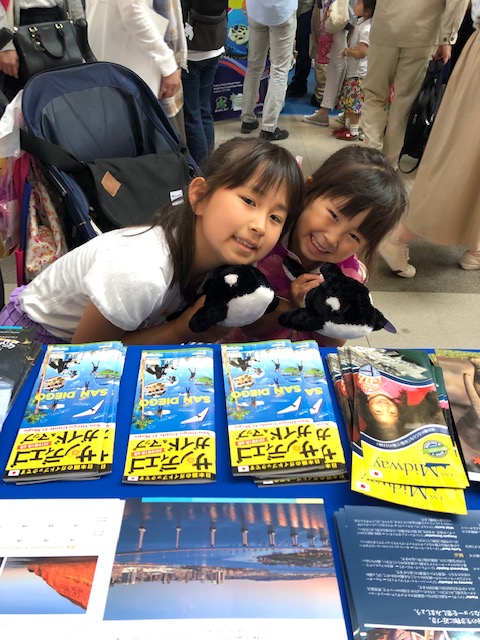 On May 22nd, Jacky Zhu, Travel Trade Representative in Shanghai, participated in Club California Product Development Series in Wuhan, China. Nine key tour operators, wholesalers and OTAs from the central China market joined the session where Jacky delivered the destination presentation and met with each of them in one-on-one meetings.