Below are the April 2019 sales & marketing highlights from various departments from the San Diego Tourism Authority.
BRAND MARKETING
SDTA invested over $2.9 million in advertising during the month of April, delivering more than 183.9 million gross impressions. Key initiatives for the month included:
BRAND CAMPAIGN
The "Something to Smile About" spot market television, national video on demand and digital video programs completed in April. The spring media flight, which has been running since January delivered 231.7 million impressions with $6.4 million in media spend.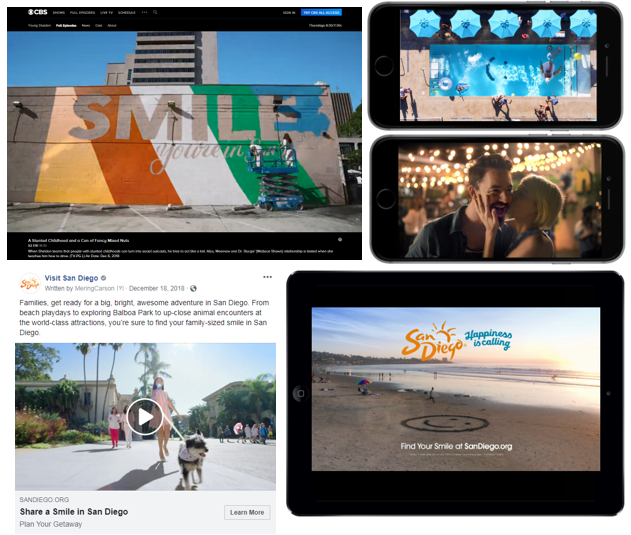 INTERNATIONAL LEISURE ADVERTISING
MEXICO
SDTA's national digital campaign in Mexico wrapped up in April with a total of 5.1 million impressions across Facebook, Instagram, YouTube and TripAdvisor. April media spend totaled $70,082 with 17% contributed by Brand USA and affinity partners.
CHINA
During April SDTA launched its seasonal advertising push in China to inspire summer visitation. The $1.34 million summer campaign includes digital video, programmatic display, paid social, keyword and display search engine marketing with iQiyi, iPinYou, WeChat, Weibo, and Baidu as well as the continuation of the campaign with Mafengwo.
Running on iQiyi is San Diego's first 30-second commercial produced for the China market. Shot vlog style, as if created by a family to remember their trip, the story, told through a daughter's eyes, unveils the family fun and excitement San Diego has to offer.
The foundational always-on paid search and organic social campaigns also continued throughout the month.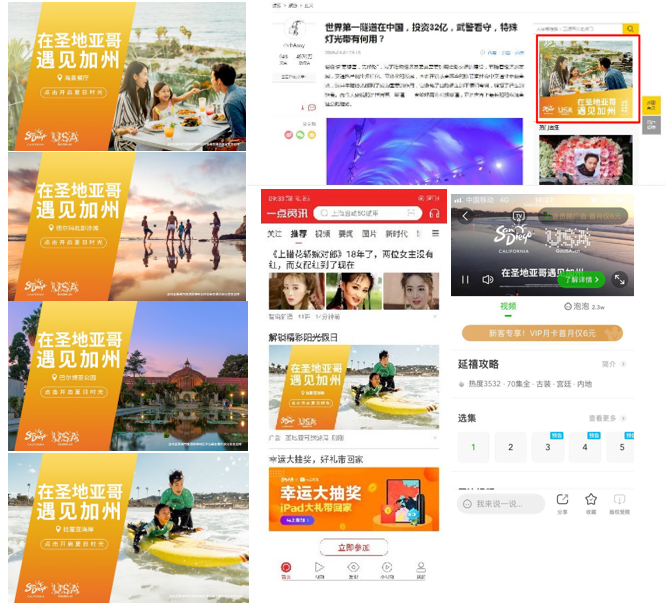 April also marked the start of the second phase of the summer "Best of California" co-op campaign with San Francisco on Ctrip. Building on the success of the fall campaign, the co-op program leverages San Francisco as the gateway city to the USA and promotes direct flights to San Diego from San Francisco. The current phase is a co-op partnership with Hilton and exclusively features Hilton product and packaging in San Francisco and San Diego.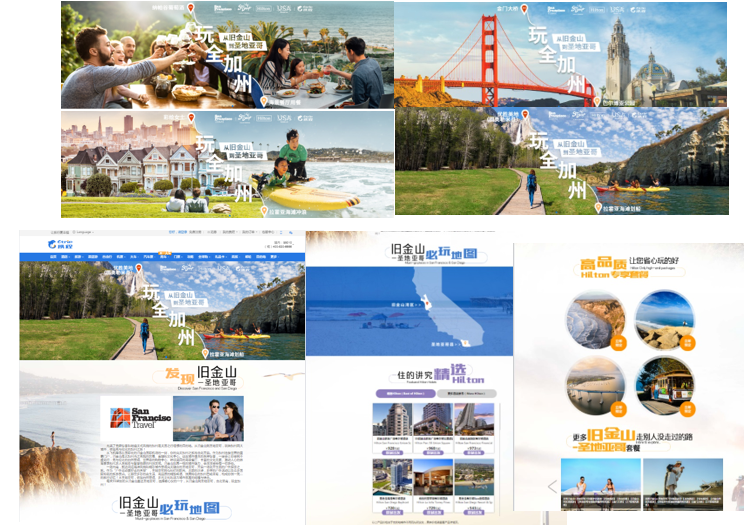 April media spend in China totaled $729,014 with 79% contributed by Brand USA and co-op partners, delivering 94.6 million impressions.
CULTURAL TOURISM
National Geographic Partnership
The National Geographic program of work is designed to:
Produce almost 120 million gross impressions.
Reach 105 million households through the four-part broadcast series.
Access an audience of 11 million through the print editions of National Geographic Traveler in North America and the United Kingdom.
Leverage National Geographic's social media audiences, which include 4.7 million Facebook followers, 22.3 million Instagram followers, and 6.6 million Twitter followers, to drive tune-in to the broadcast series and digital content.
The National Geographic digital campaign final results:
The campaign over-delivered on total impressions by 31%, delivering a total of 150.8M impressions.
Promotional on-air elements: Total impressions 4.4M.
Article performance: Total impressions 216K, unique visitors 88.5K and average time spent with content 1:31 minutes.
Media highlights with added value newsletter: 2.5M delivered with 53.11% open rate.
Overall the social campaign has received over 74.3M impressions, which includes organic and paid posts on all platforms with a total of 1.3M engagements and 2.7M video views.
Arts & Craft
The Cultural Tourism team successfully executed the fundraiser for the Spanish Village Arts Center—Arts & Craft—with a total of $14,000 net raised. The event took place on April 26, 2019 from 6:30-9:30 p.m. offering attendees samples of various craft brews from an array of breweries, bites from The Prado, lessons in art from some of the 200+ artists in the village and live music. More than 250 attendees were present to support the Spanish Village's 501 3(c) nonprofit—The Village Arts and Education Foundation—which offers education programs for underserved youth as well as bolster its efforts to enhance its space with new, inventive experiences. The team secured over $30,000 in both in-kind and cash sponsorship for the event with over $7,000 in ticket sales, netting $14,000 for Spanish Village Art Center.
Cultural Tourism
To highlight and expand on San Diego's various arts and cultural districts, the Cultural Tourism team will be producing new cultural district videos that will highlight local favorites in San Diego's City Council districts. The videos will feature local constituents as hosts and participants to ensure the videos give viewers an authentic insider's view on the best places to eat, drink, shop and explore in San Diego's different cultural districts. The team has begun filming the cultural district videos with the hope of all four being complete by the end of the fiscal year.
Balboa Park Marketing Promotion
As the National Geographic campaign comes to an end, the next phase of marketing for Balboa Park is in the making—a predominately interactive digital experience. The campaign will also transcend into a print sponsored advertorial that will be found in the NYT. The campaign is expected to launch early to mid May.
Balboa Park Summer Programming
The SDTA is working collaboratively with the Balboa Park Cultural Partnership and Balboa Park Online Collaborative to create assets and a package for summer programming in the park. Currently, programming submissions are being collected from the institutions and assets being created. The hope is to have everything live come end of May.
DIGITAL MARKETING
Special events in April focused on San Diego Padres, SeaWorld Seven Sea's Craft Beer & Food Festival, San Diego Zoo Safari Park Butterfly Jungle, and the San Diego Brewers Guild Rhythm & Brews Festival.
Web traffic for April included 1.25 million user sessions between the desktop and mobile websites (excluding Travel Blog). The team posted a total of 110 Tweets, 19 Facebook posts, and 45 Instagram posts and Stories posts through our social channels. There were 9 blogs and 11 consumer emails published this month.
LEISURE DIGITAL
Most Engaged Facebook Post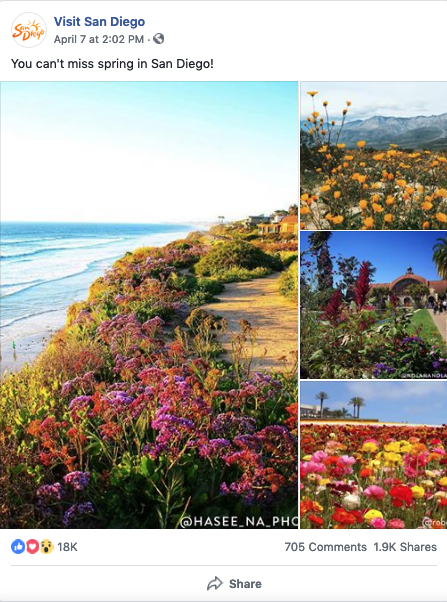 Most Engaged Twitter Post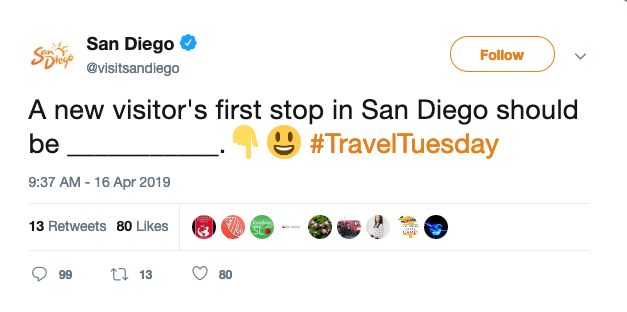 Most Engaged Instagram Post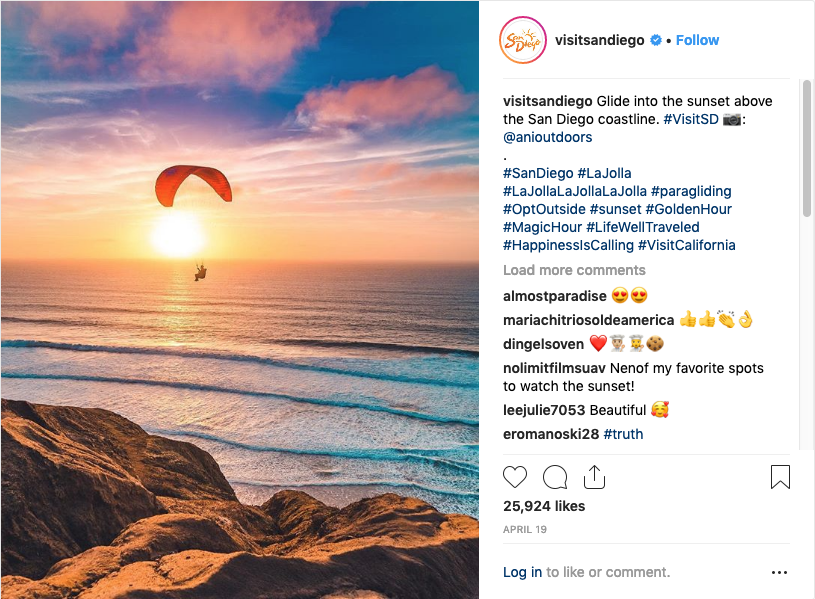 Most Engaged Blog Post

INTERNATIONAL CONSUMER DIGITAL MARKETING
China
Overall sessions to the China website (sandiego.com.cn) was 124,384. The social media team, in partnership with Hylink, published a total of 23 Weibo posts, and 4 WeChat posts.
Mexico
Overall traffic to the Mexico page was 8,606 unique users. The social media team, in partnership with PR Central, published a total of 12 Facebook posts and 14 Instagram posts and stories posts.
Japan
Overall traffic to the Japan page was 2,032 unique users. The social media team, in partnership with aviaREPs, published a total of 18 Facebook posts.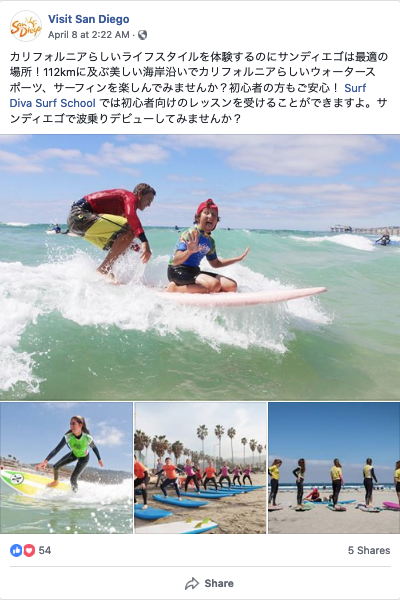 B2B DIGITAL
EMAIL:
The April B2B Postcard was delivered to 8,755 meeting planners as part of an ongoing content series. Each month highlights inspirational opportunities for meeting and event planners in the destination. The open rate for the April B2B email was 20.01%, which represents over 1,724 unique meeting planners. The April email highlighted unique ways to experience San Diego on foot.
LINKEDIN:
4 unique posts during April garnered 12,554 impressions and included:
SDTA Hiring Events Coordinator
SDTA Hiring Marketing Communications Manager
SDTA New Members
SDTA Wins at Los Angeles Addy's for C Trip Campaign
For April LinkedIn grew by 1.4% from last month to 7,775 followers, earning 12,554 impressions. Year-over-Year the LinkedIn Audience grew by 21%.
Where We Stand
LinkedIn followers compared to similar organizations: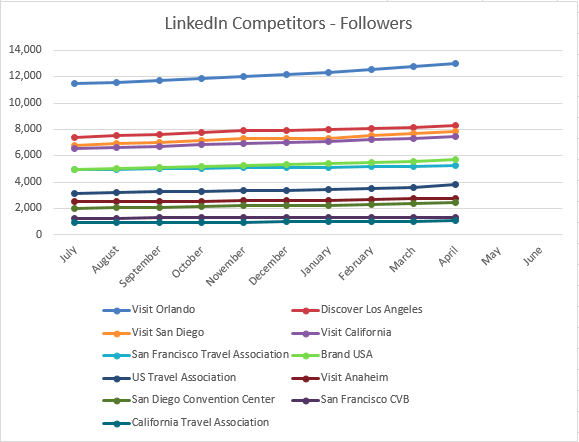 TWITTER:
@SDTAConnect Twitter base grew by 8% YoY to 4,000 followers. There were 16 tweets during the month.
For April, the tweet with the most exposure was on tips from the SDTA's Social Media Workshop.
The April tweet with the most engagement was an announcement that SDTA is looking to hire a Marketing Communications Manager.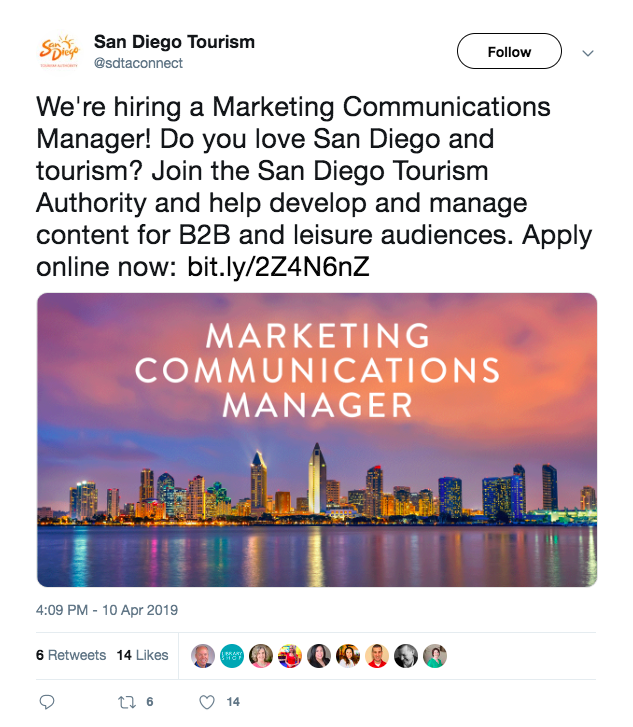 The B2B Account earned 24,158 impressions during the month of April.
MEMBERSHIP
6 New Members joined in April, $3,025 in annual dues revenue.
12 Members attended the Open Office Hours to hear from our research team and develop an engagement strategy for their Membership.
8 New and existing Members attended New Member Inspiration session to learn how to maximize benefits.
Ad Sales
$ 41,395 was earned in new ad contracts. The team has booked over $1 million in advertising contracts, and is 91% to a year-end goal of $1.1M.
Member Events
The team produced another successful Hospitality Open Golf Tournament on April 17 at Maderas Golf Club. This year's event sold out in record time, and saw a number of new and first-time participants. GES has been this event's presenting sponsor for 6 years. Also thanks to our major sponsors Sycuan, Freeman, MeringCarson, Pendry, Revolve Laundry and Cox Business.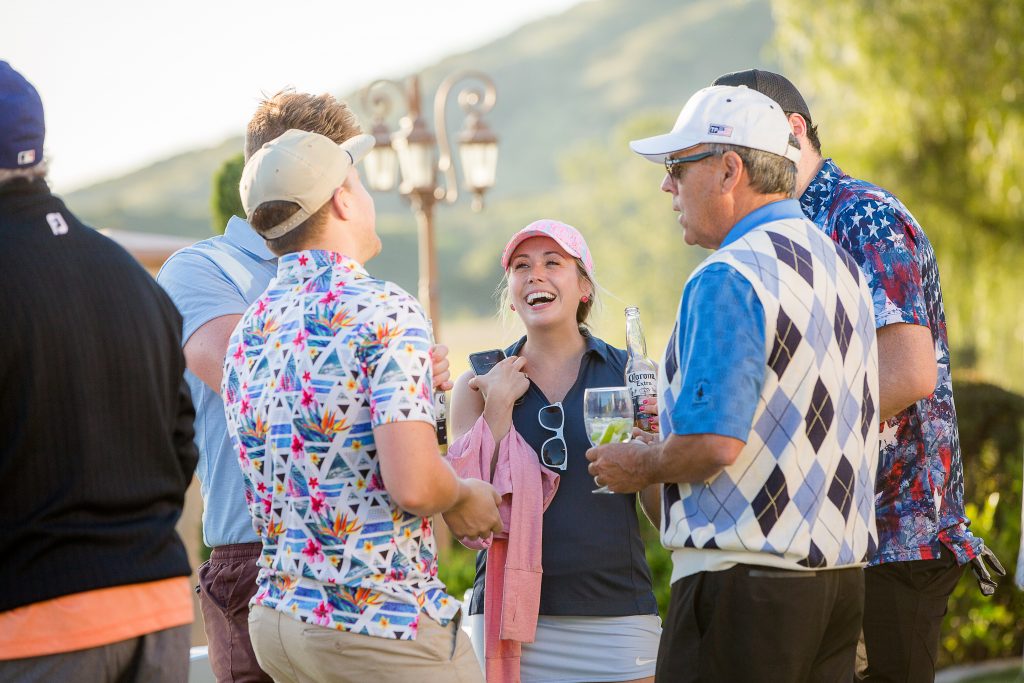 In conjunction with Marketing Services, the team produced another in our series of Social Media Workshops, presented by USD's Professional & Continuing Education school. Over 100 Members were presented with dual learning tracks on how to structure a social strategy from the ground-up and an in-depth look at influencer marketing.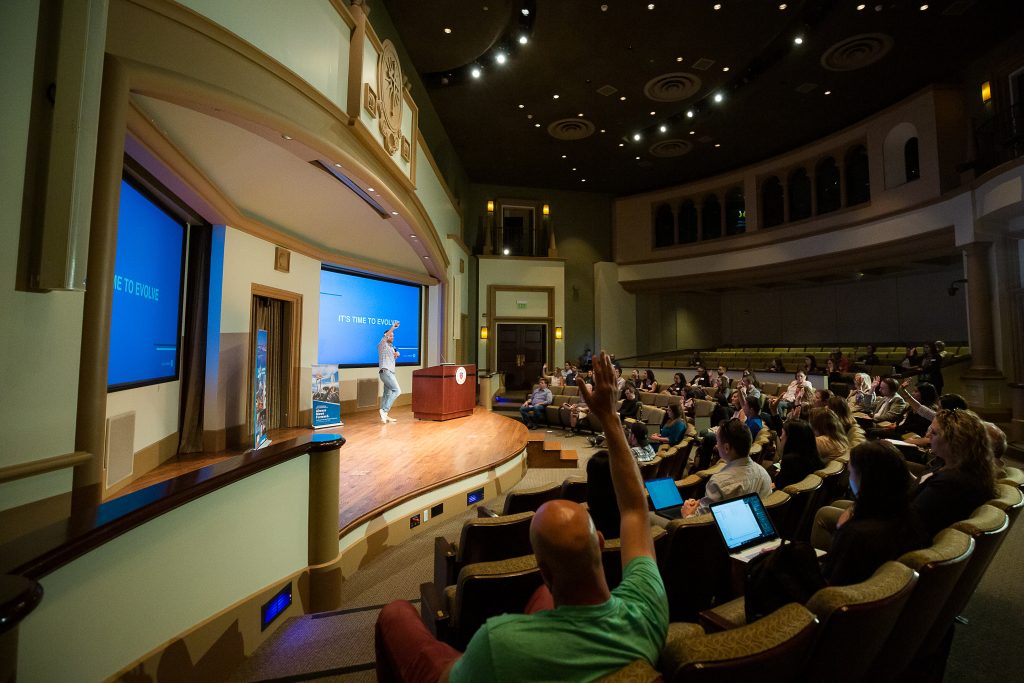 Member Outreach
In April the team visited, met or attended events with these Members:
San Diego Sailing Tours
Encore Event Entertainment
San Diego Symphony
Social Tap
3D Art Expo – Sand Sculpting Challenge & Dimensional Art Event
Spanish Village Arts Center
Rock N Roll Marathon
Kairoa Brewing
Balboa Park Tour with WHERE Magazine
Pannikin Building
Concierge Association
HOTEL SALES
In April, the Hotel Meetings Sales team had a strong month, booking 68 meetings, representing 40,283 room nights. Fiscal year to date, the team has converted 585 bookings and 310,615 total room nights for the destination. These booked business opportunities represent meetings that have never been to San Diego or have not been to San Diego in the past 5 years.
In addition, April was a productive month for our Customer Acquisition program. Through our proactive efforts, in April alone, the hotel sales team generated 10 group leads, representing 11,272 room nights, while booking 5 definite programs (3,322 room nights). The Customer Acquisition program is our proactive sales efforts designed to bring clients with targeted group business opportunities to San Diego or conducting in market events in key cities around the country.
Our sales and events teams were on the move, conducting 9 client events to include the annual Chicago Cubs client event, events in Boston, New Jersey, New York City, Washington D.C., Vancouver, and 2 events in Dallas. From these 9 events, 272 clients were in attendance with great discussions around San Diego as a meetings destination. In addition to our client events, the sales team attended 4 tradeshows: Destination California (Los Angeles), MPI SSN (Sacramento), CalSAE Elevate (Rancho Mirage, CA), and CMCA (Greenville, South Carolina).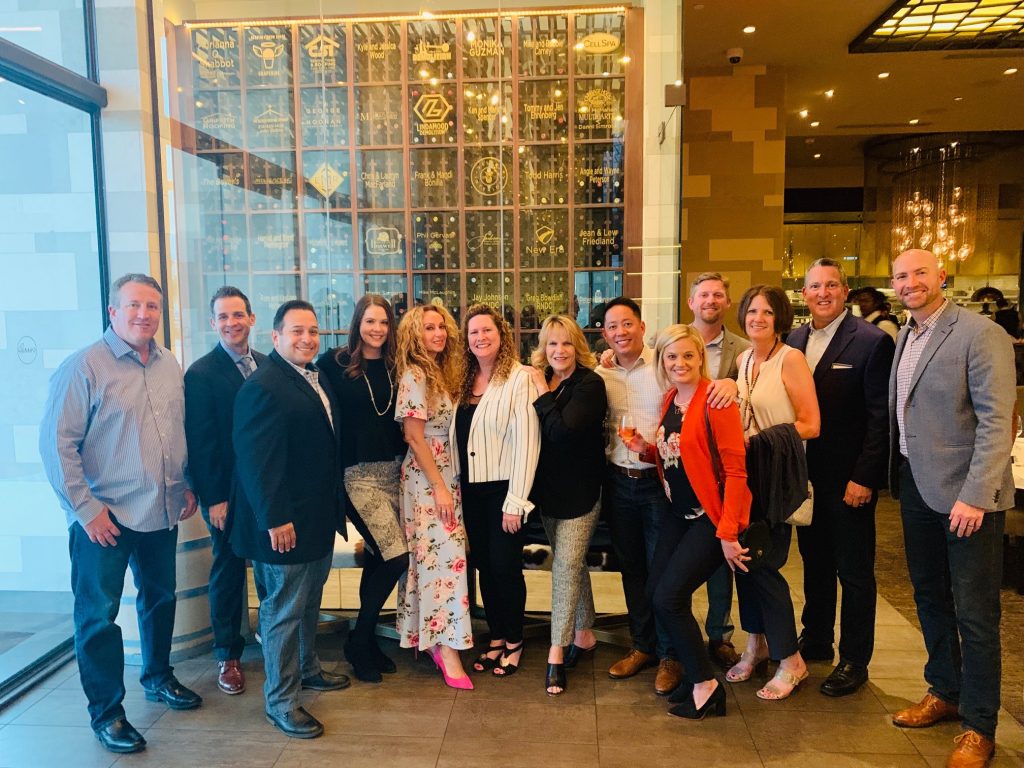 Site Experience Highlights
The Site Experience team had a steady month, with 11 client site experiences, creating exposure to 44 hotels and 9 venues.
CITYWIDE SALES
FY19:
Definite Bookings: 4
Attendance: 29,500
Total Room Nights: 56,258
Fiscal Year 19-To-Date: 308,478

PUBLIC RELATIONS
In April, Director of Communications Candice Eley traveled to Washington, DC to attend PR News' Measurement Conference and Crisis Workshop in order to inform and update the Communications Department's KPI metrics and crisis communications plans.
PR Manager Robert Arends hosted a crew from the TV show Arizona Midday to produce a series of broadcast segments. Individual media outlets hosted included Delta Sky (Delta in-flight magazine), DestinAsia (Hong Kong), Asahi Digital & Travel (Japan) and more.
Key coverage received in April included Lonely Planet, Outside magazine, the Vancouver Sun, Artful Living, Alaska Beyond magazine (Alaska Airlines' in-flight), the Minneapolis Star-Tribune, Bleu & Blanc (Mexico), The Scottish Sun and more.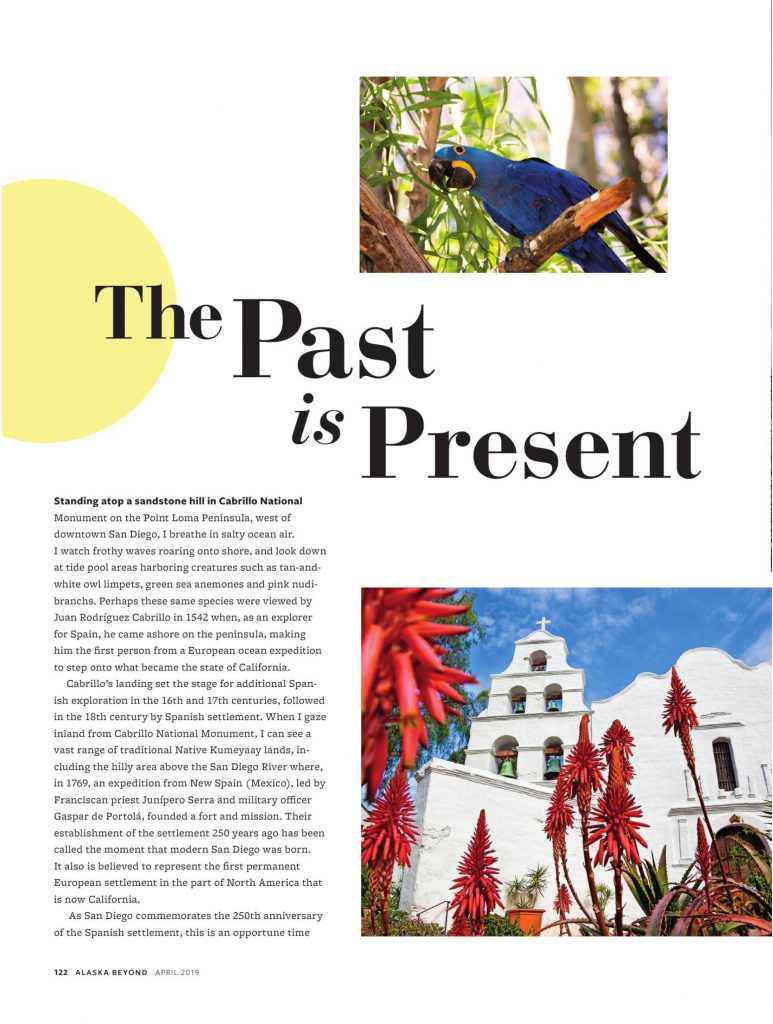 Press Releases Sent
What's New in San Diego, Summer 2019 sent to 2,656 U.S. and Canadian media contacts
10 Ways to Step Up Your San Diego Summer Vacay sent to 2,415 media contacts worldwide
Major expansion of the San Diego Convention Center to go before voters in March sent to 183 industry and meetings media contacts
Epic Summer Road Trips in San Diego sent to 2,442 media contacts worldwide
Total Press Coverage:
Media Value: $4,635,768
Impressions: 107,767,980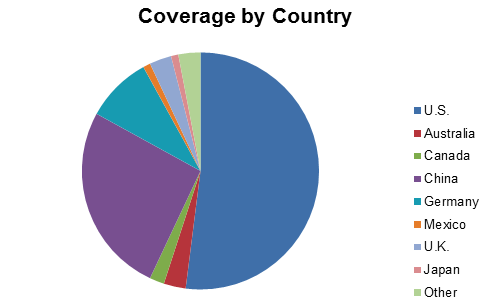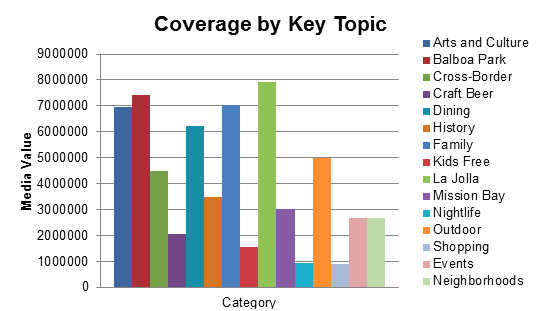 TOURISM DEVELOPMENT
The Tourism Development team referred 64 partners to 13 organizations and 1 lead to member businesses from travel trade clients for 30 room nights. The team certified 56 new San Diego Specialists agents from Mexico, Canada, UK, India, Netherlands, Australia and Germany who account for approximately 1,577 visitors to San Diego generating approximately 1,958 annual room nights. Five sites were coordinated in April with representatives from Mexico, Canada, Scandinavia, New Zealand and Australia.
Early April, Riki Suzuki, Tourism Development Manager, participated in Visit California's Asia Sales Mission. During the mission, Riki visited Seoul, Tokyo and Chengdu to promote San Diego as an ideal destination in United States. In the course of one-on-one meetings, presentations and networking / team building activities, Riki had opportunities to interact with over 350 travel professionals and medias.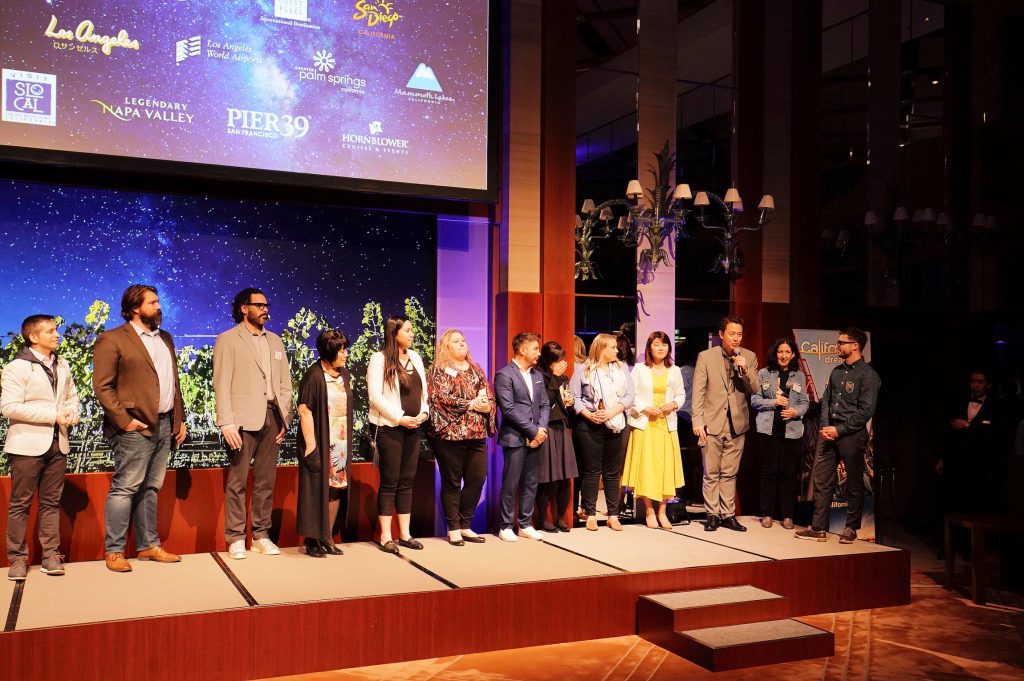 Following VCA Asia Mission, Riki traveled to Beijing and Tokyo for add-on meetings and a San Diego Event. In Beijing, Riki and Angel, Travel Trade Representative in Beijing, visited Hainan Airlines and few key tour operators and OTA for meetings. He also joined San Francisco delegates for a client dinner. In Tokyo, SDTA co-hosted "San Diego Seminar & Beer Night" with Qualita, HIS's luxury brand, inviting their top spending club members to introduce San Diego's attractions appeals to the luxury segment.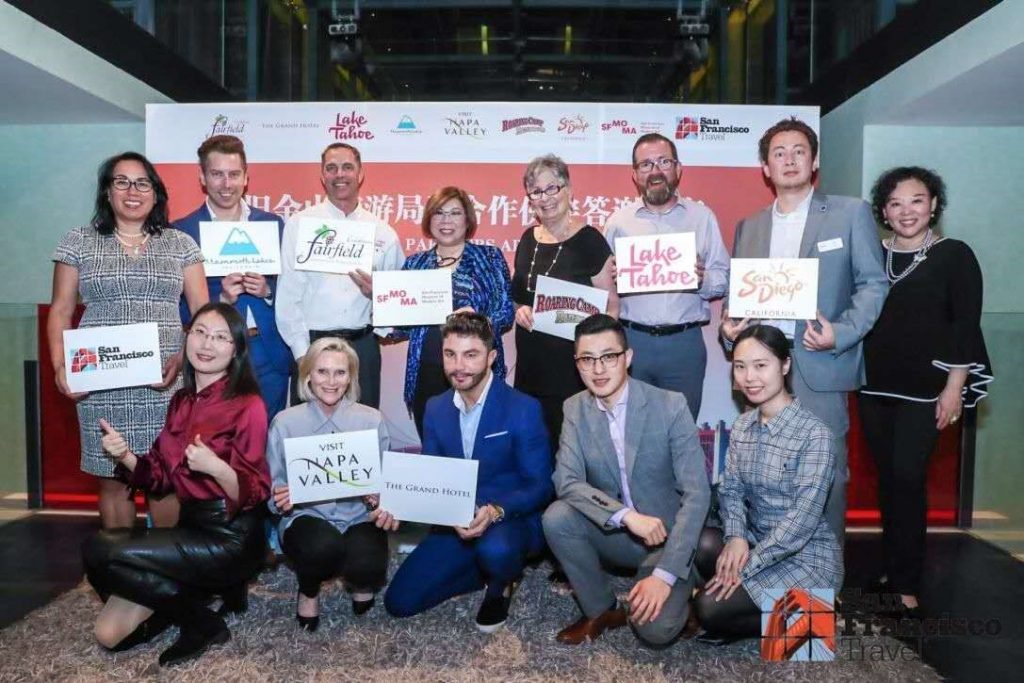 In mid-April, Benjamin Eastman, Tourism Development Director, attended the TravelBrands Travel Agent Roadshow events in Edmonton & Vancouver, Canada. Seeing in total about 400 agents, Benjamin received great feedback from the agents that interest in San Diego is still strong from these regions. With snow flurries still happening in the Edmonton region in April, residents are excited to visit a sunny destination! 
Late April, Riki Suzuki, Tourism Development Manager, participated in the California Cup Palm Springs where Riki had networking opportunities with over 40 clients from all over the world.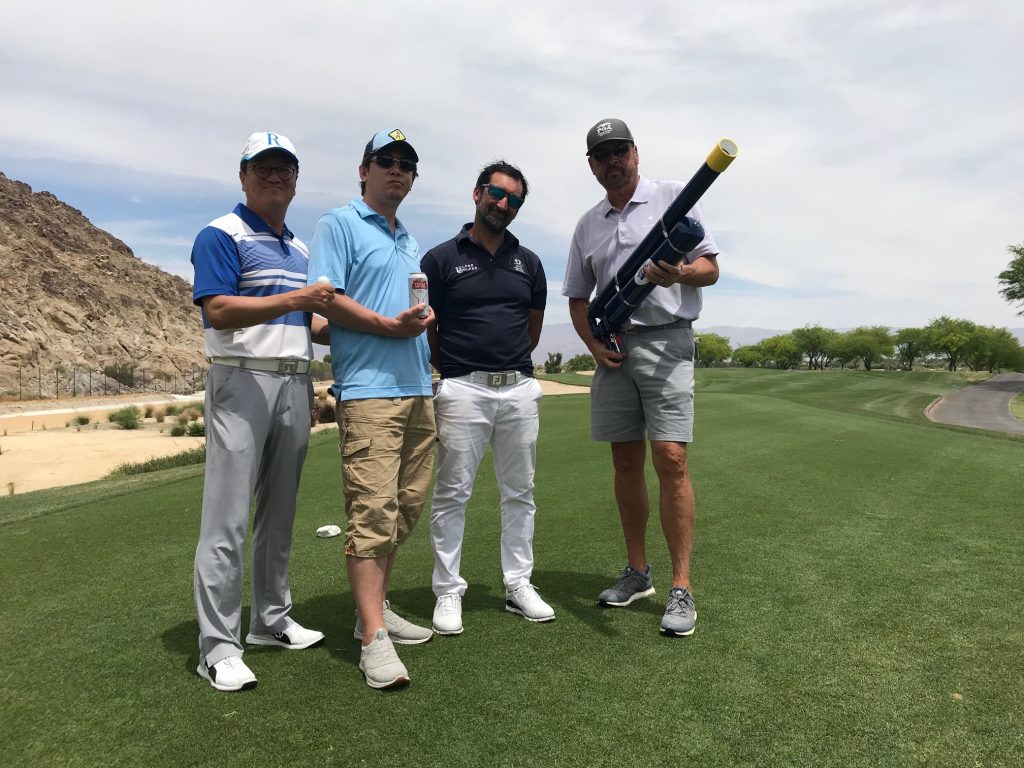 Phil Hannes, Sr. Director of Tourism Development represented SDTA at the annual Tijuana Tourism Expo to promote the Cali-Baja Experience and collaboration with the Mega Region. Key city and tourism office representatives from the Baja area were present and had the opportunity to address all during a welcome ceremony.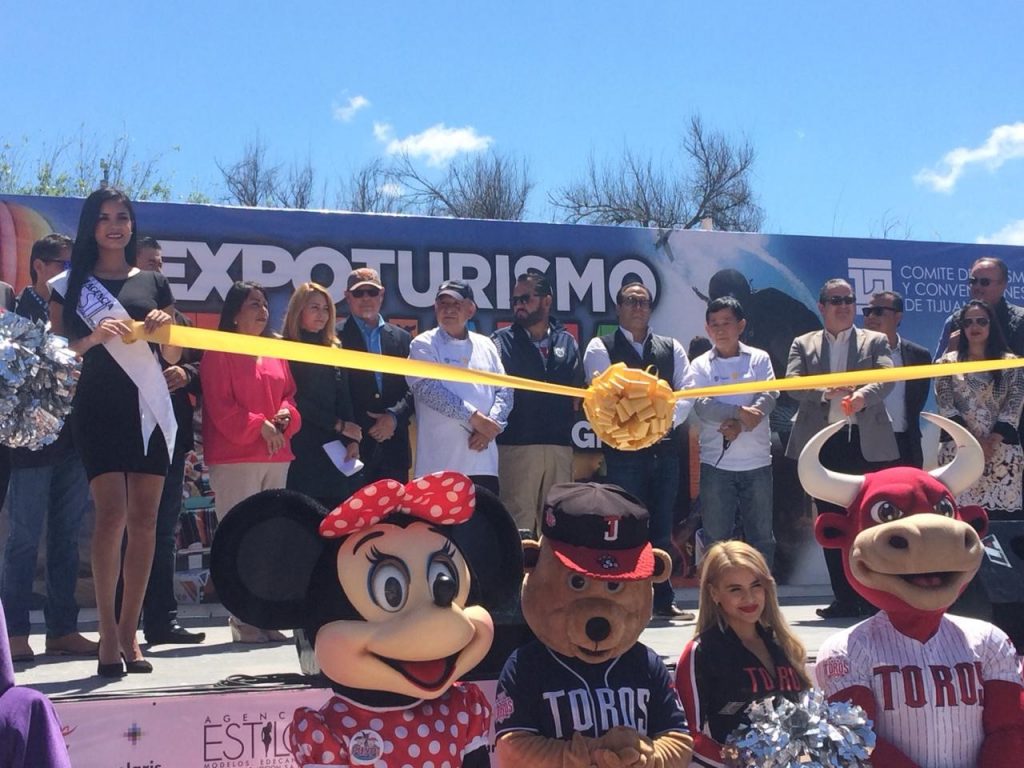 In April the SDTA's UK Representation Office, Black Diamond, trained 4 agents at tour operator Abercrombie & Kent and attended Flight Centre UK's USA Training Day where they were able to train 35 new retail store agents.