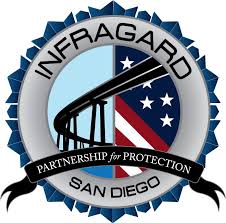 DATE: May 15, 2019
TIME: 7:30 a.m. – 4 p.m. Meet and greet with special units, demos and vehicle exhibits from FBI San Diego and the San Diego Police Dept. during the registration period from 7:30 – 8:30 a.m.
LOCATION: Qualcomm's Irwin Jacobs Hall, 5775 Morehouse Dr., San Diego, CA 92121
COST: $15 for InfraGard members and current law enforcement, fire and military. $25 for non-members. Ticket price covers the cost of lunch, which is included.
InfraGard San Diego's Active Shooter and Workplace Violence Prevention Summit is a first-of-its-kind event that aims to inform, educate and prepare security stakeholders on two of the most critical threats in modern society. Comprehensive in scope, the Summit will leverage preeminent subject matter experts from law enforcement and private industry to provide a wide variety of perspectives, considerations and takeaways.
The Active Shooter Threat: Then and Now – Joseph Ramos, Chief of Police, San Diego Community College District and retired Captain and SWAT Commander, San Diego Police Dept.
First-Person Perspective: Inside the San Ysidro McDonald's Massacre – Retired Lieutenant Ray Shay, San Diego Police Dept.
Inside the 2017 Las Vegas Mass Shooting: An Officer's Firsthand Account – Officer Tom McGrath, San Diego Police Dept.
Warning Behaviors and Threat Assessment of the Targeted Attacker – Dr. Reid Meloy, Forensic Psychologist; Clinical Professor of Psychiatry, UC San Diego School of Medicine
Social Media Exploitation – SOS Emily Ta, FBI San Diego
Workplace Violence Prevention – Jeff McKinney, Senior Manager, Global Security, Qualcomm
Run, Hide, Fight – SSA Brady Finta, FBI San Diego and Jeff McKinney, Qualcomm
What To Expect: The Police Response – Sergeant Josh DaFoe, Mass Threat Unit, San Diego Police Dept.
Stop the Bleed – Brad Woods, SWAT Team Leader, FBI San Diego
The First 24 Hours: Considerations Immediately Following an Active Shooter – Lamine Secka, Director, Office of Emergency Preparedness, San Diego State University
Legal Considerations for Businesses – Mhairi Marsh, Attorney, Qualcomm
Government and Community Resources – SD-LECC, PERT, Family Justice Center, Anthem.
WHO SHOULD ATTEND: InfraGard members; security and emergency preparedness stakeholders; any organizations and critical infrastructure facilities interested in active shooter preparedness and workplace violence prevention; law enforcement, fire and military.
QUESTIONS: sandy.moul@infragardsd.org or apscott@fbi.gov