Below are the March 2019 sales & marketing highlights from various departments from the San Diego Tourism Authority.
BRAND MARKETING
SDTA invested over $6.1 million in advertising during the month of March, delivering more than 219 million gross impressions. Key initiatives for the month included:
BRAND CAMPAIGN
The "Something to Smile About" television and digital video program continue to be the foundation of the brand awareness advertising layer. The spring media flight, which has been running since January continued in March and included the addition of spot market television launched in San Francisco and Sacramento. In total, the brand awareness program delivered 101.1 million impressions during March with $3.7 million in media spend.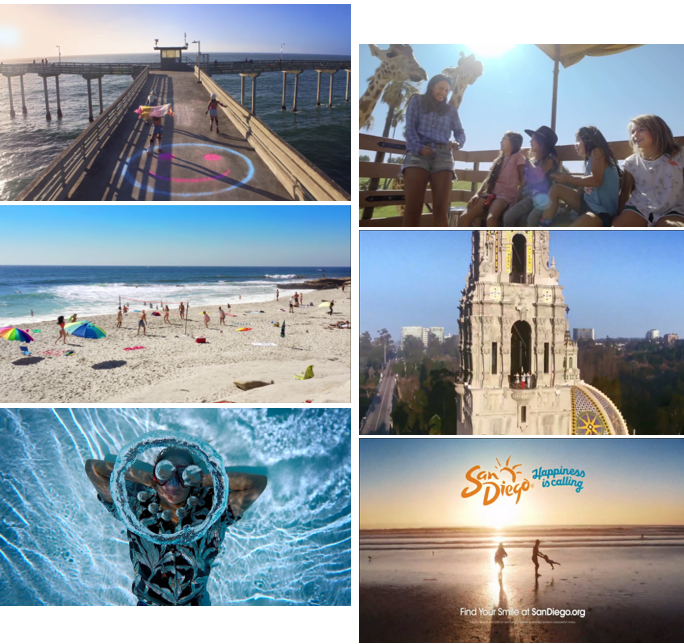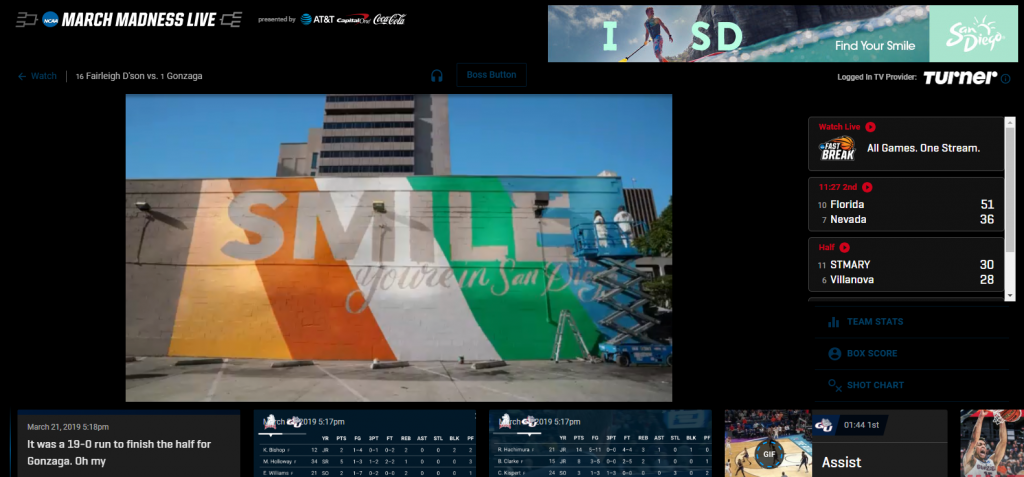 INTERNATIONAL LEISURE ADVERTISING
UNITED KINGDOM
March marked the end of SDTA's FY 2019 digital media flight in the United Kingdom. Digital video, display, native, social and search marketing ran with the following partners: YouTube Trueview, Google Display Network, AVID, TripAdvisor and Facebook. Total spend for the month of March was $270,527 with 14% contributed by Brand USA and affinity partners, delivering 8.9 million impressions.
CHINA
During March, as part of SDTA's summer travel marketing push in China, SDTA launched its first marketing program with Mafengwo, China's leading online social travel platform, which includes over one million user-generated travel guides. The digital platform provides travelers with an insider's look into a destination and offers travel services such as local tours, hotel reservations and event information. A custom San Diego itinerary was developed and will be promoted through May with digital advertising on the platform. In total, the Mafengwo program is estimated to deliver 13.9 million impressions.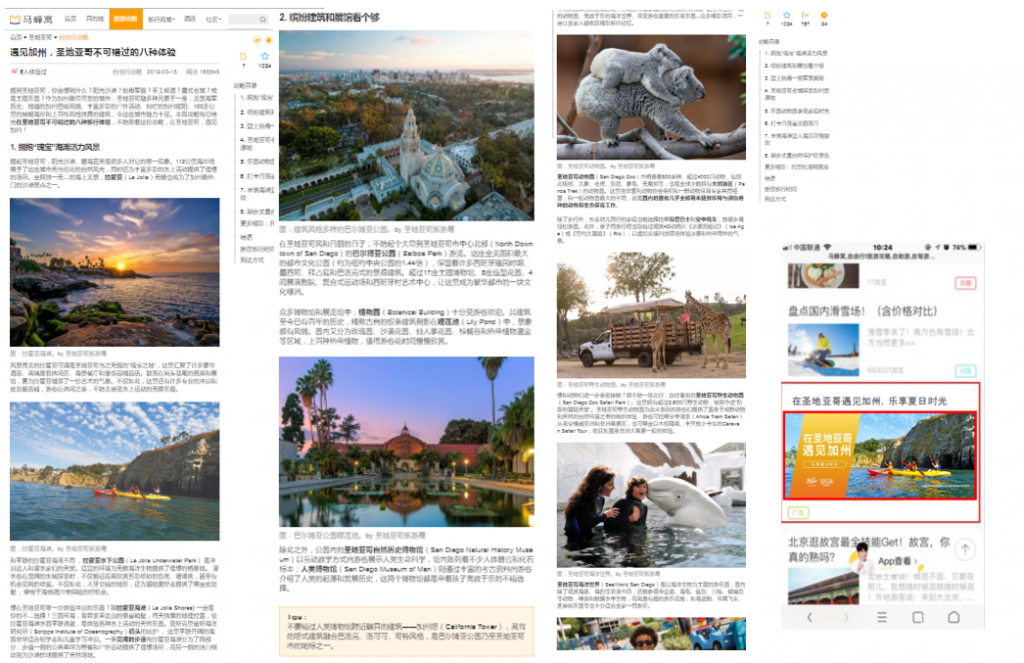 March also marked the launch of the second San Diego-San Francisco-Hilton "Best of California" co-op with Ctrip. Building on the success of the fall campaign, the co-op program leverages San Francisco as the gateway city to the USA and promotes direct flights to San Diego from San Francisco. Total media co-op spend for March was just over $50,000, delivering an estimated 3.46 million impressions.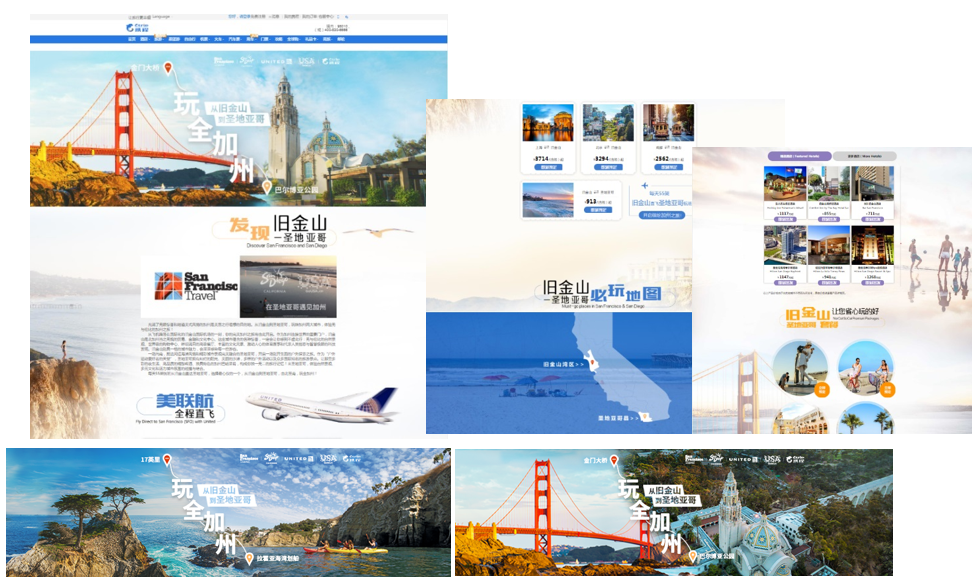 CULTURAL TOURISM
National Geographic Partnership
The National Geographic initiative continued with the four-part miniseries on Balboa Park and San Diego completing its airing in both Canada and the United Kingdom. The SDTA Cultural Tourism team continued to work with National Geographic on finalizing the broadcast campaign, miniseries and collecting reporting for the entirety of the campaign.
The National Geographic program of work is designed to:
Produce almost 120 million gross impressions.
Reach 105 million households through the four-part broadcast series.
Access an audience of 11 million through the print editions of National Geographic Traveler in North America and the United Kingdom.
Leverage National Geographic's social media audiences, which include 4.7 million Facebook followers, 22.3 million Instagram followers, and 6.6 million Twitter followers, to drive tune-in to the broadcast series and digital content.
The National Geographic digital campaign results thus far:
The B2B Account earned over 33,700 impressions during the month of March. Digital articles have received 178K pageviews as of March.
More than 21M recipients have received the added value newsletters over the first three sends as of March.
Overall the social campaign has received over 71.6M impressions, which includes organic and boosted posts on all platforms as of March.
Arts & Craft
The Cultural Tourism team worked with the Spanish Village Art Center to hold an April fundraiser to benefit the village and activate the space. The event, called Arts & Craft, featured tastings of some of San Diego's best craft brews, delicious bites from local eateries, music, and, of course, the chance to check out the work of the village's more than 200 resident artists. Attendees even got the chance to make some art of their own to take home with lessons in painting, mosaics and more. The event attracted more than 250 attendees and netted $14,000 for the Spanish Village Art Center's nonprofit. In terms of sponsorships, both in-kind and cash, we secured almost $25,000 in value and ticket sales were $7,000.
Cultural Tourism
To highlight and expand on San Diego's various arts and cultural districts, the Cultural Tourism team will be producing new cultural district videos that will highlight local favorites in San Diego's City Council districts. The videos will feature local constituents as hosts and participants to ensure the videos give viewers an authentic insider's view on the best places to eat, drink, shop and explore in San Diego's different cultural districts. The team has been diligent in securing talent and working with the production company to begin shooting and assembly of the videos.
Balboa Park Marketing Promotion
As the National Geographic campaign comes to an end, the next phase of marketing for Balboa Park is in the making—a predominately interactive digital experience. The campaign will also transcend into a print sponsored advertorial that will be found in NYT.
Balboa Park Summer Programming
The SDTA is working collaboratively with the Balboa Park Cultural Partnership and Balboa Park Online Collaborative to create assets and a package for summer programming in the park. Currently programming submissions are being collected from the institutions and assets being created. The hope is to have everything live come May.
DIGITAL MARKETING
Special events in March focused on San Diego Padres, SeaWorld Seven Sea's Craft Beer & Food Festival, San Diego Zoo Safari Park Butterfly Jungle, Crew Classic, and KAABOO Del Mar.
Web traffic for March included 1.25 million user sessions between the desktop and mobile websites (excluding Travel Blog). The team posted a total of 146 Tweets, 23 Facebook posts, and 17 Instagram posts, and 4 Instagram Stories through our social channels. There were 9 blogs and 11 consumer emails published this month.
LEISURE DIGITAL
Most Engaged Facebook Post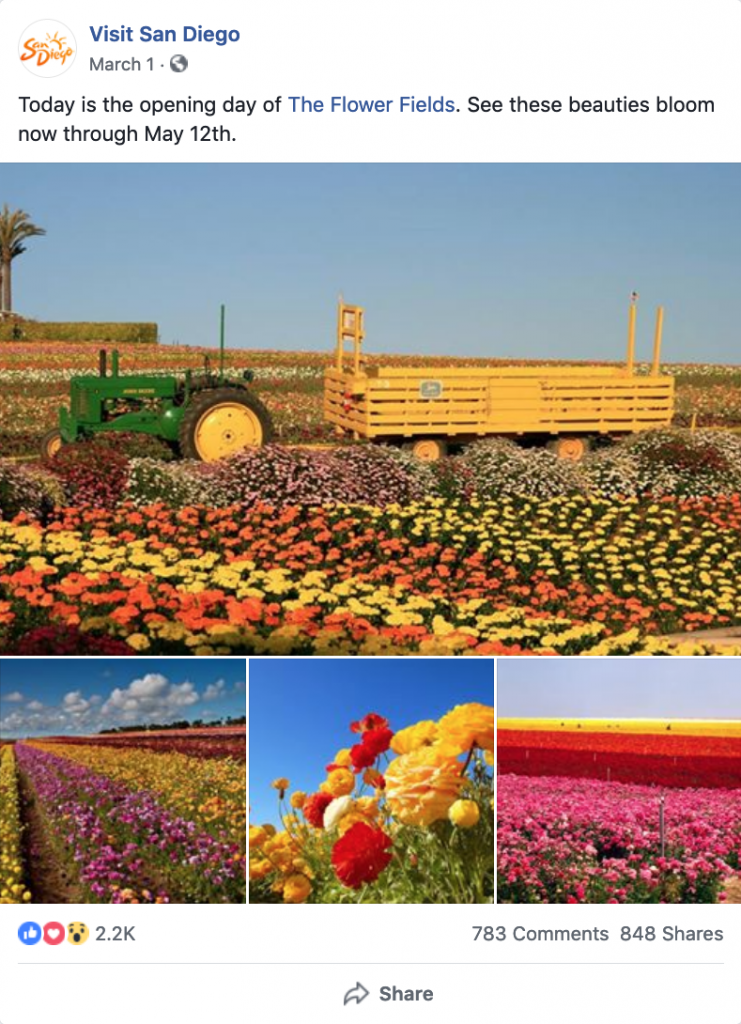 Most Engaged Twitter Post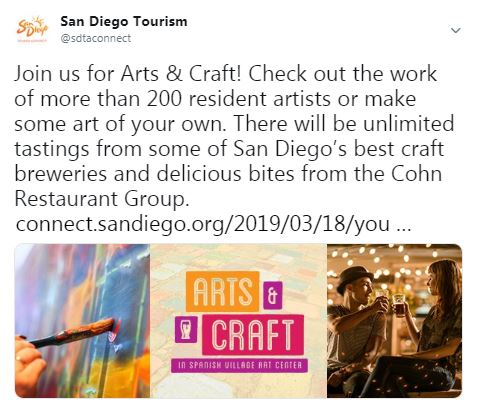 Most Engaged Instagram Post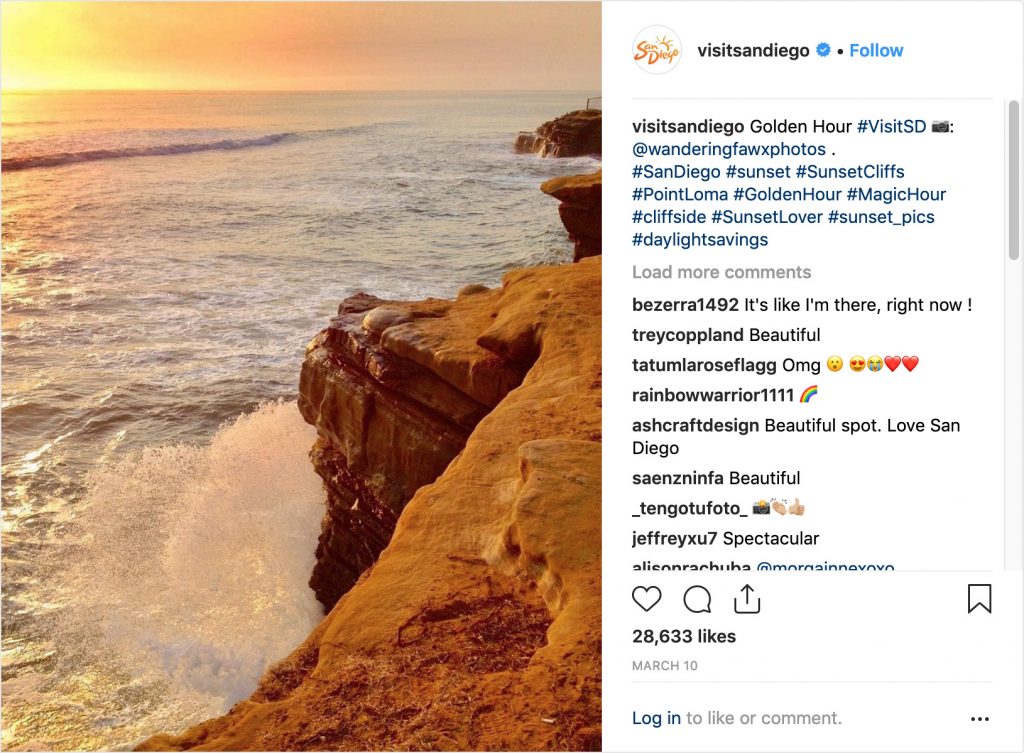 Most Engaged Blog Post

INTERNATIONAL CONSUMER DIGITAL MARKETING
China
Overall sessions to the China website (sandiego.com.cn) was 60,951. The social media team, in partnership with Hylink, published a total of 22 Weibo posts, and 4 WeChat posts.
Mexico
Overall traffic to the Mexico page was 45,158 unique users. The social media team, in partnership with PR Central, published a total of 13 Facebook posts and 10 Instagram posts.
Japan
Overall traffic to the Japan page was 2,124 unique users. The social media team, in partnership with aviaREPs, published a total of 17 Facebook posts.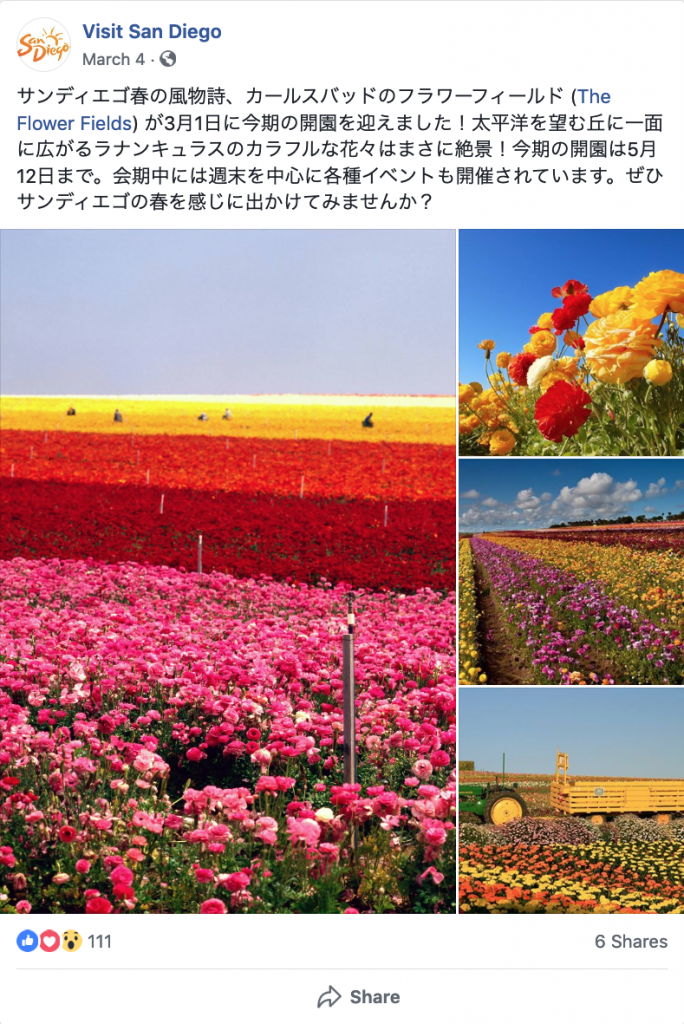 B2B DIGITAL
EMAIL:
The March B2B Postcard was delivered to 8,615 meeting planners as part of an ongoing content series. Each month highlights inspirational opportunities for meeting and event planners in the destination. The open rate for the March B2B email was 19.6%, which represents over 1,657 unique meeting planners. The March email told the story of San Diego being a "smart city" where planners can take advantage of the region's proliferation of medical and scientific industry speakers and businesses.
LINKEDIN:
6 unique posts during March garnered 12,807 impressions and included:
Travelers' Choice Awards
LEGOLAND 20th Anniversary
SeaWorld's 55th Anniversary
Arts & Craft SDTA Event Invitation
Global Meetings Industry Day Celebration
San Diego 250 Website Launch Announcement
LinkedIn grew by 1.5% from last month to 7,668 followers, earning more than 12,807 impressions. Year-over-Year the LinkedIn Audience grew by 21%.
Where We Stand
LinkedIn followers compared to similar organizations: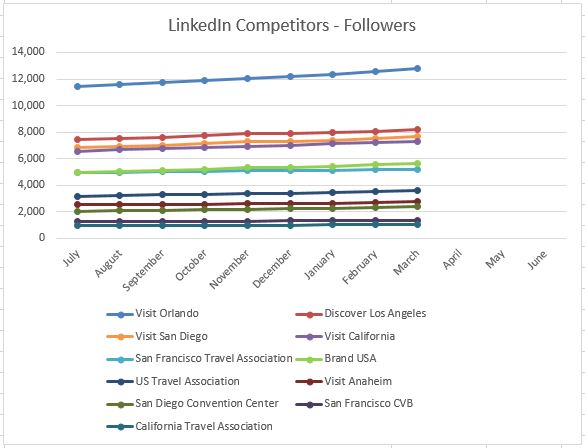 TWITTER:
@SDTAConnect Twitter base grew by 9.1% YoY to 3,978 followers. There were 13 tweets during the month.
This month, the tweet with the most exposure (2,101 impressions) was an announcement that San Diego reached No. 6 on the TripAdvisor Top Destinations list for 2019.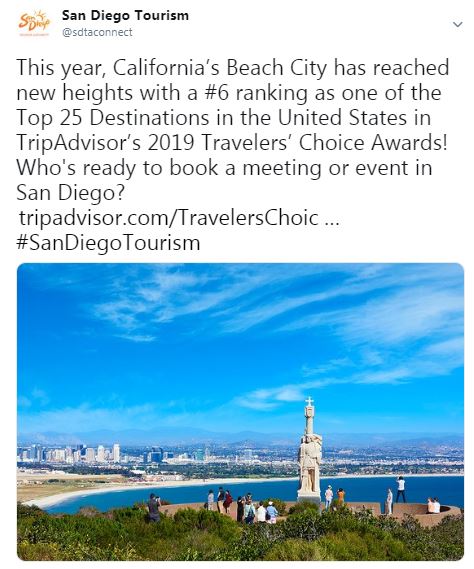 The March tweet with the most engagement was a promotion of the Arts & Craft event held at Balboa Park promoting Spanish Village and its businesses.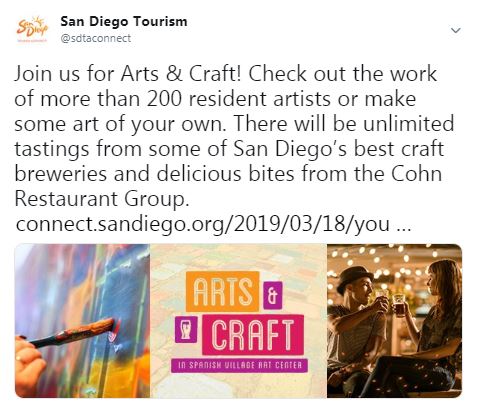 The B2B Account earned over 33,700 impressions during the month of March.
MEMBERSHIP
6 New Members joined in March earning $4,400 in annual dues revenue.
8 Members attended the Open Office Hours to learn how to best maximize benefits.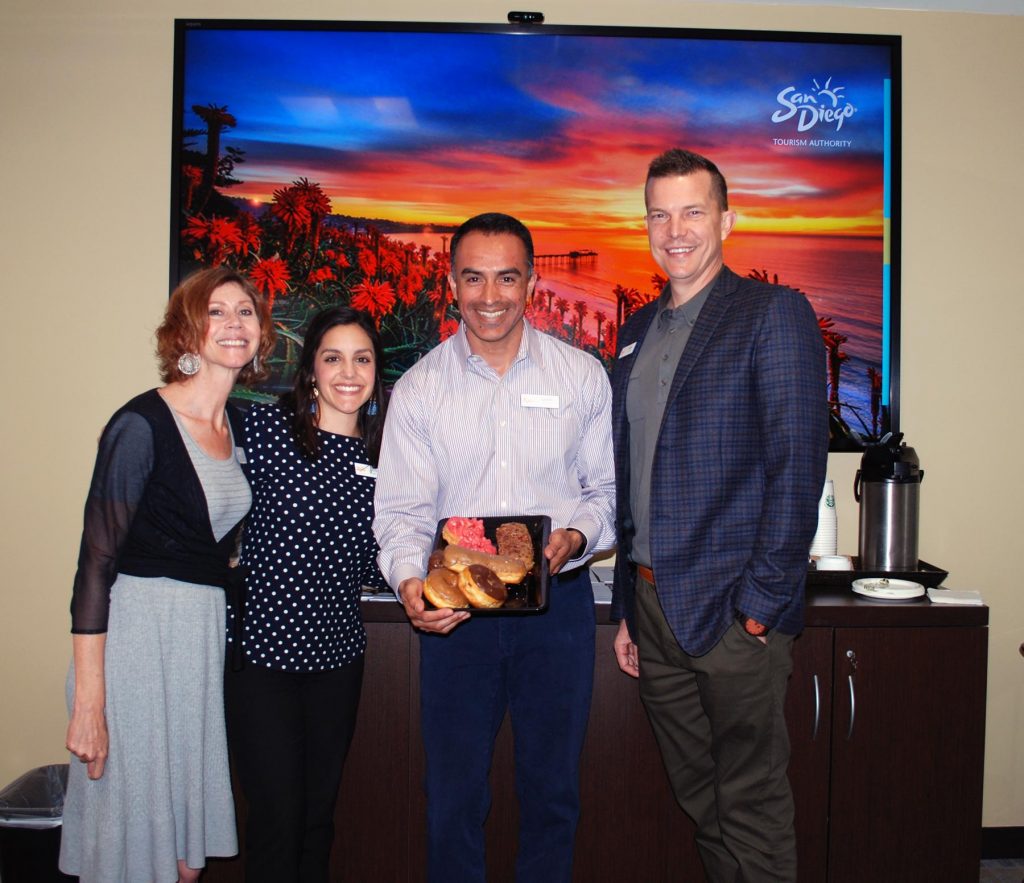 12 New and existing Members attended the New Member Inspiration session to be onboarded and learn about benefits and opportunities.
Partnership
The team finalized 2019 partnerships with Expedia Group Media, booking.com, the San Diego Regional Airport Authority, MeringCarson, Cox Business and Univision Radio.
Ad Sales
$ 23,075 was earned in new ad contracts.
Member Outreach
In March the team visited, met or attended events with these Members:
San Diego Architectural Foundation
San Diego Legion
Sheraton Marina
House of Blues
Theatre Box
Cali Life Co.
Embassy Suites La Jolla
Oceanaire
Tahona Bar
Paint & Palette
HOTEL SALES
The Hotel Meetings Sales team booked 58 meetings, representing 28,279 room nights in the month of March. Fiscal year to date, the team has converted 517 bookings and 270,332 total room nights for the destination. These booked business opportunities represent meetings that have never been to San Diego or have not been to San Diego in the past 5 years.
In March, our sales and events team attended 6 tradeshows and conducted 2 client events. Tradeshows attended include ConferenceDirect's Annual Partner Meeting in Atlanta, MPI Cascadia in Tacoma, WA, MIC Colorado in Denver, Experient Envision in Las Vegas, Connect Diversity in Birmingham, AL, and Meet NY in New York City.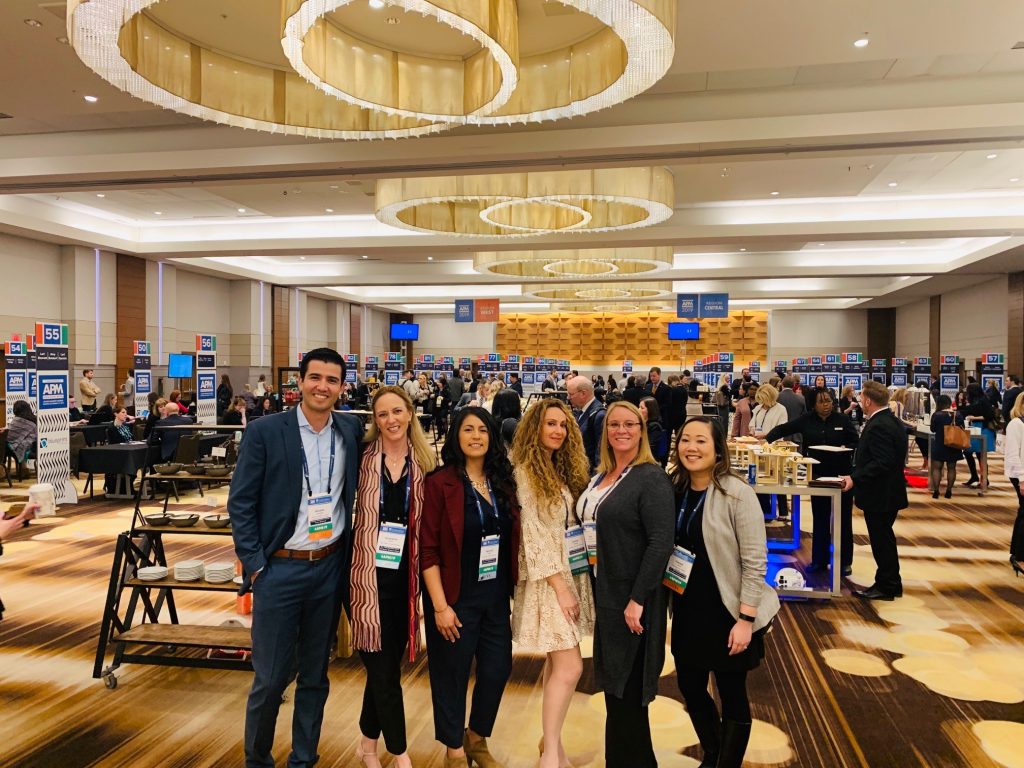 National Sales Director, Jennifer Hicks, based in Atlanta, attended the Spring Retreats Resources events in 4 cities in the Southeast, connecting with 127 clients over a 4-day period.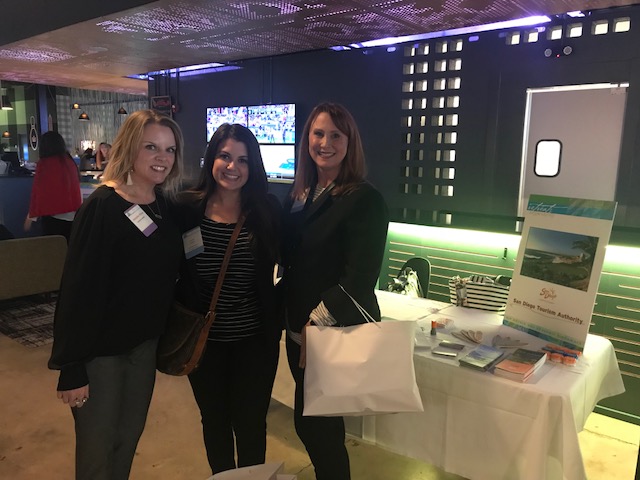 Michelle Coombs, National Sales Director in Virginia, hosted 8 meeting planners from HelmsBriscoe, one of the largest 3rd party meeting management companies in the world, for an evening event to network and discuss meeting opportunities for San Diego.
From these tradeshows and events, the sales team generated 27 leads representing 20,185 room nights.
In addition to our tradeshows and events, in partnership with Connect Meetings, we conducted a successful fam trip in March bringing 13 meeting planners who represent high-end corporate and association meetings.  These planners were exposed to 30 hotels and 3 venues, with many experiencing San Diego for the first time.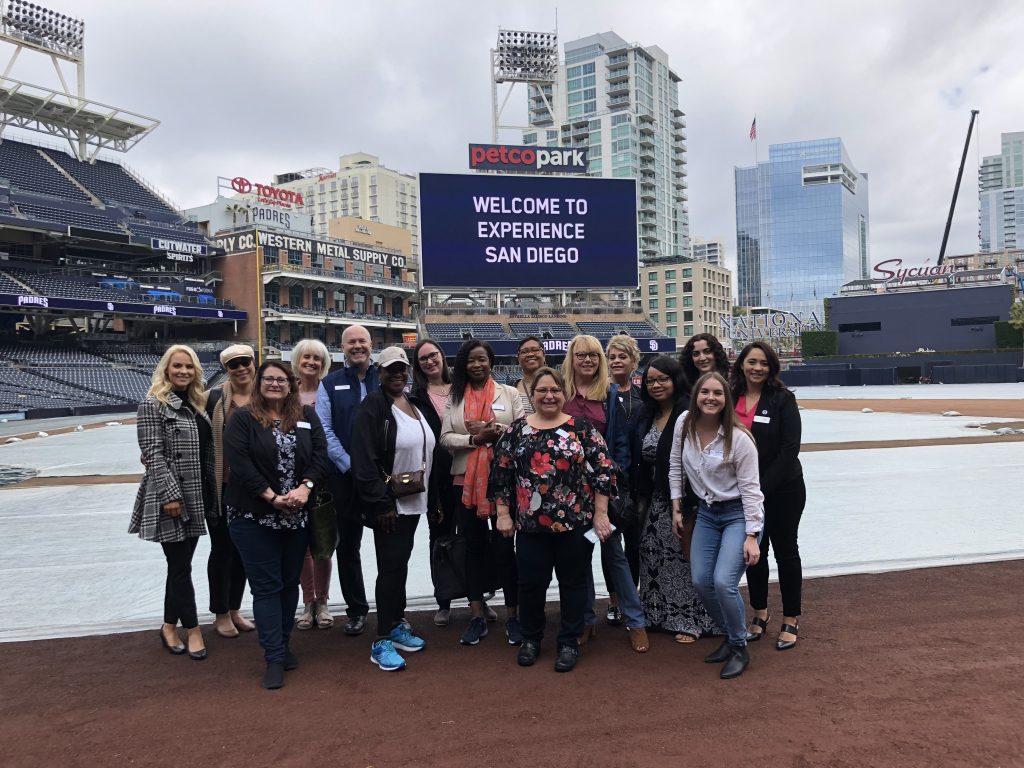 Site Experience Highlights
The volume of Site Experiences has increased with March being our busiest site month of the fiscal year thus far.  The site team conducted 24 client site experiences, creating exposure to 85 hotels.
CITYWIDE SALES
FY19:
Definite Bookings: 2
Attendance: 27,800
Total Room Nights: 32,806
Fiscal Year 19-To-Date: 252,220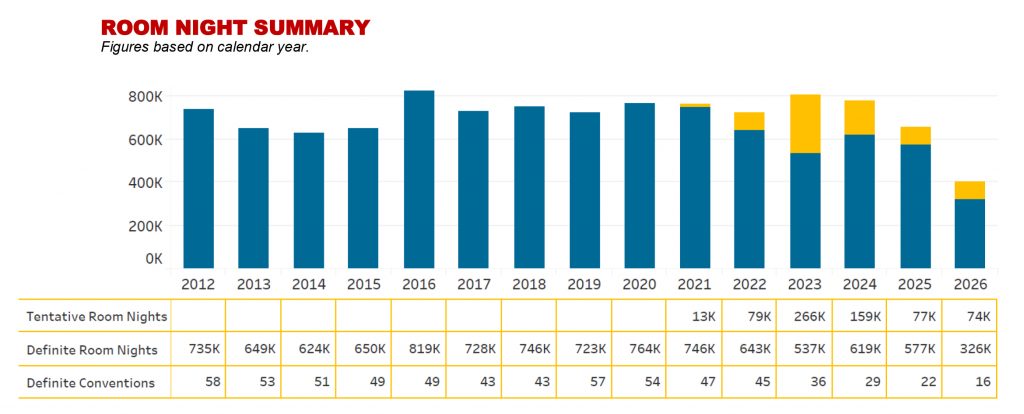 SPORTS SALES
The Sports Sales team booked 9,250 room nights considered new business for San Diego for FY 2019 Q3. Sports Sales is at 68% of the YTD goal.
Sports events booked include:
The Barcelona Legends will be kicking off their 2019 tour at SDCCU stadium on June 6th against the Chivas USA. This will be the first stop on a six-country tour including Mexico, El Salvador, Argentina, and Ecuador. Due to the global brand recognition of "Barca" and active soccer community in the Cali-Baja region, we are expecting this game to draw well, including out of market travel resulting in hotel room nights.
For the second consecutive year, Boys Elite Clubs National League (Boys ECNL) selected San Diego as the destination to host their Boys Showcase (April 26-28). This event further cements San Diego as a top player in the youth soccer travel market, and projects to deliver 4,000 hotel room nights to the North County region.
USA Weightlifting will be hosting the IWF Masters World Cup at the Town and Country Resort over October 3-6, 2019. This event will be a Bronze-level qualifier for the Tokyo 2020 Olympic Games and will be open to both elite-level American and international athletes. This event was a direct result of the Connect Sports Focus Group hosted by the Sports Sales Department in October 2018, when Pedro Meloni from USA Weightlifting toured the Town and Country Resort.
Women's rugby national teams from New Zealand, England, Canada, France, and USA will travel to San Diego over June 28 – July 14 to take part in the Women's Rugby Super Series. Rounds 1-4 of this round-robin tournament will take place at the Elite Athlete Training Center in Chula Vista, while the championship will be hosted at University of San Diego's Torero Stadium. This is another great event for the growing rugby community in Southern California and bolsters San Diego's chances to host other major rugby tournaments.
PUBLIC RELATIONS
In March, Director of Communications Candice Eley worked with Black Diamond to host a group of top media outlets from the UK, including The Daily Mirror, British Airways' High Life magazine, Sainsbury's Magazine, Bella and Fabulous. The fam tour featured top food, drink and cultural activities as recommended by influential locals. PR Manager Joe Timko worked with MSI in Germany to partner with Palm Springs on a "Best of California" media tour. Outlets in attendance included Nurnberger Nachrichten Zeitung, Connoisseur Circle and Die Presse Austria.
Ms. Eley also joined Visit California in Sacramento to announce the launch of the California edition of the Michelin Guide.
Individual media outlets hosted included Canadian Geographic, the Calgary Herald, Forbes, Newport Beach magazine and more.
Key coverage received in March included the Los Angeles Times, Smart Meetings, Alaska Beyond (Alaska Airlines' in-flight), the London Free Press, the Irish Daily Star and more.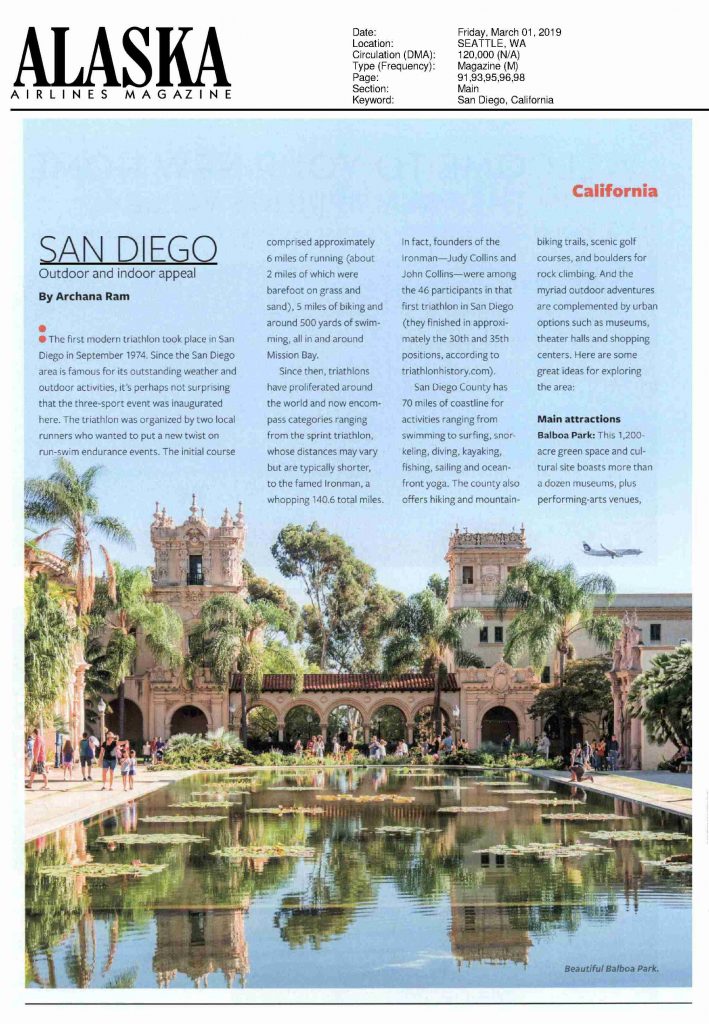 Press Releases Sent
Surf's Always Up in San Diego sent to 2,448 media contacts worldwide.
Total Press Coverage:
Media Value: $2,480,189
Impressions: 128,329,501

TOURISM DEVELOPMENT
The Tourism Development team referred 46 partners to 12 organizations and 2 leads to member businesses from travel trade clients for 570 room nights. The team certified 57 new San Diego Specialists agents from Mexico, Canada, UK and Germany who account for approximately 1,397 visitors to San Diego – generating approximately 2,530 annual room nights.
In early March, Tourism Development Director Benjamin Eastman attended the ITB Tradeshow in Berlin, Germany. During the 3-day show, Benjamin met with top tour operators from Germany & Switzerland, as well as with teams from Lufthansa and Edelweiss Airlines. Many of our regional promotions are starting to wrap up and discussions have begun for next year's opportunities.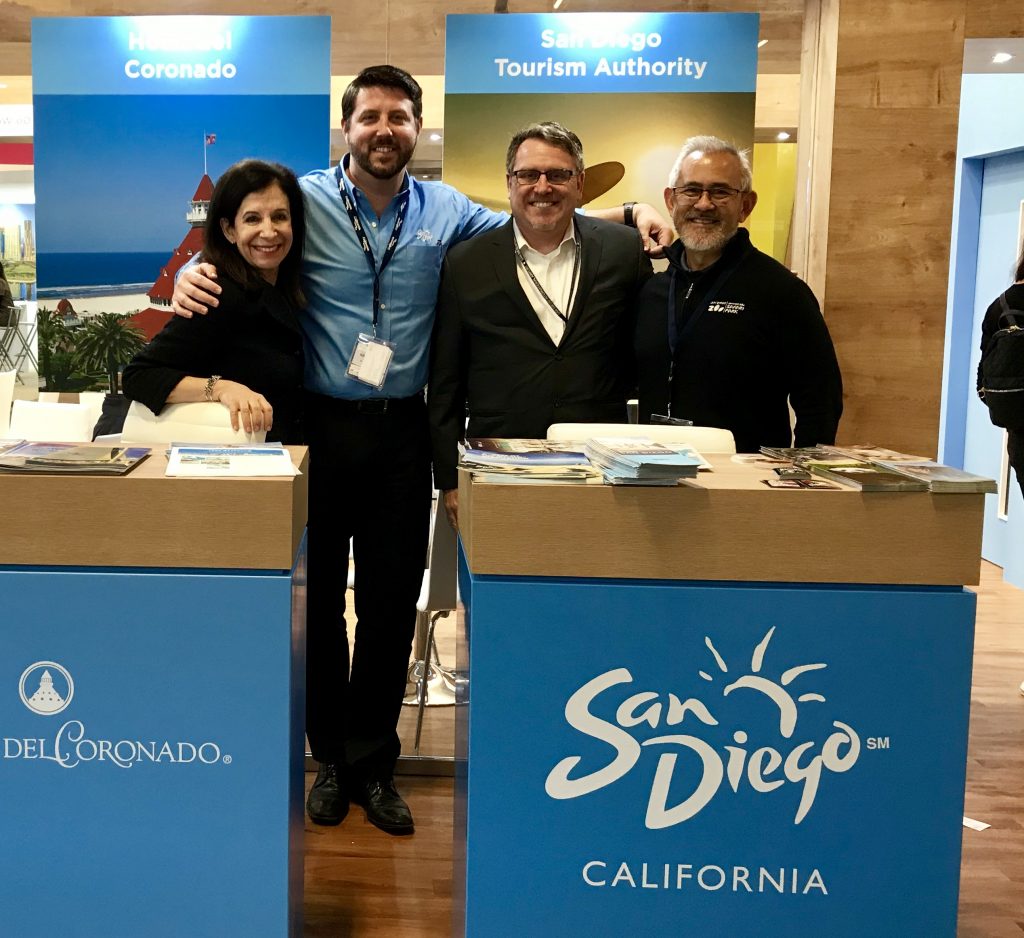 Phil Hannes, Sr. Director of International Marketing, attended the Routes Asia Conference in Cebu, Philippines, from the 9th to the 12th of March, accompanying the San Diego International Airport team to meet with key airline industry representatives in the development of new flights into our region. We were there to promote San Diego, make new contacts, meet existing clients and update our knowledge of industry trends and developments.
On March 6th, Tomoe Matsunaga, Travel Trade Representation in Tokyo, attended Club California "Girl's Night" hosted by Visit California. A total of 78 women in the travel industry attended the event, mainly from operations/planning sections of the major tour operators and some retail agency branches. Tomoe had the opportunity to train the attending agents at the workshop table, then all the agents competed on the smart phone enable quiz later for what they learned.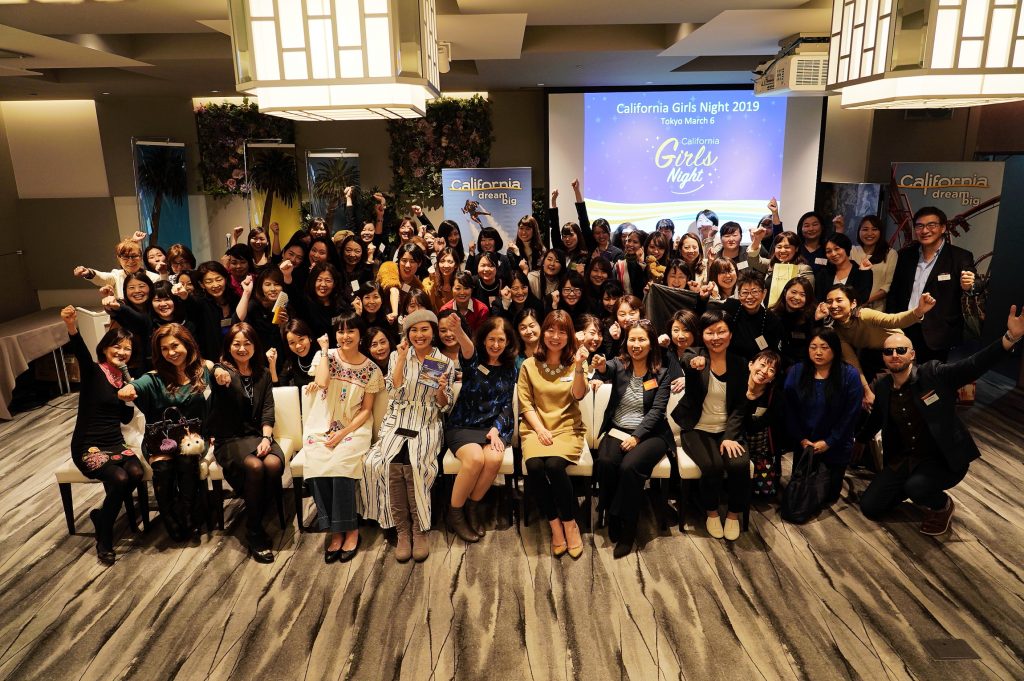 In late March, Riki Suzuki, Tourism Development Manager, participated in Active America China Summit in Anchorage, Alaska. Riki had interactions with over 70 top buyers from China during the summit and had one-on-one meetings with over 20 accounts. Also, Riki had an opportunity to go on stage and announce exciting news that San Diego would be the host city of Active America China Summit in 2020.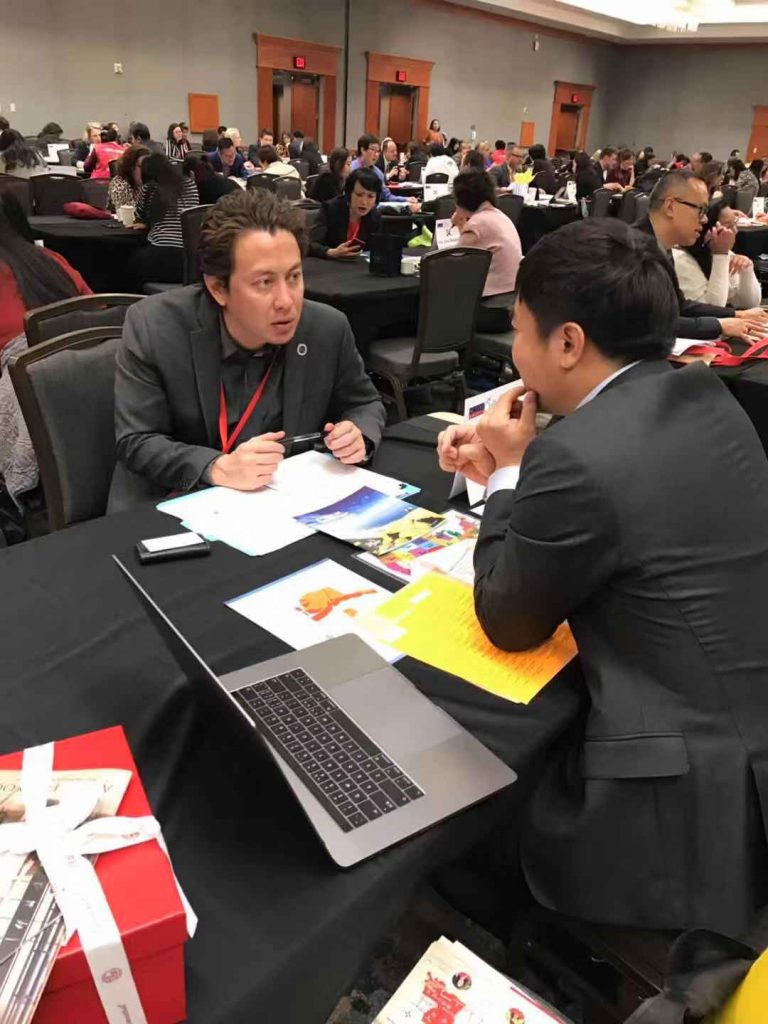 Denise Heredia, Travel Trade Representative in Mexico, hosted 10 wholesalers at the Padres vs. Diablos Rojos baseball inaugural game on March 23rd and 24th at the new stadium in Mexico City. On March 20th, Ms. Heredia conducted a San Diego destination webinar training event hosted by Brand USA for 50 agents of TravelInn, one of the largest agencies in Mexico.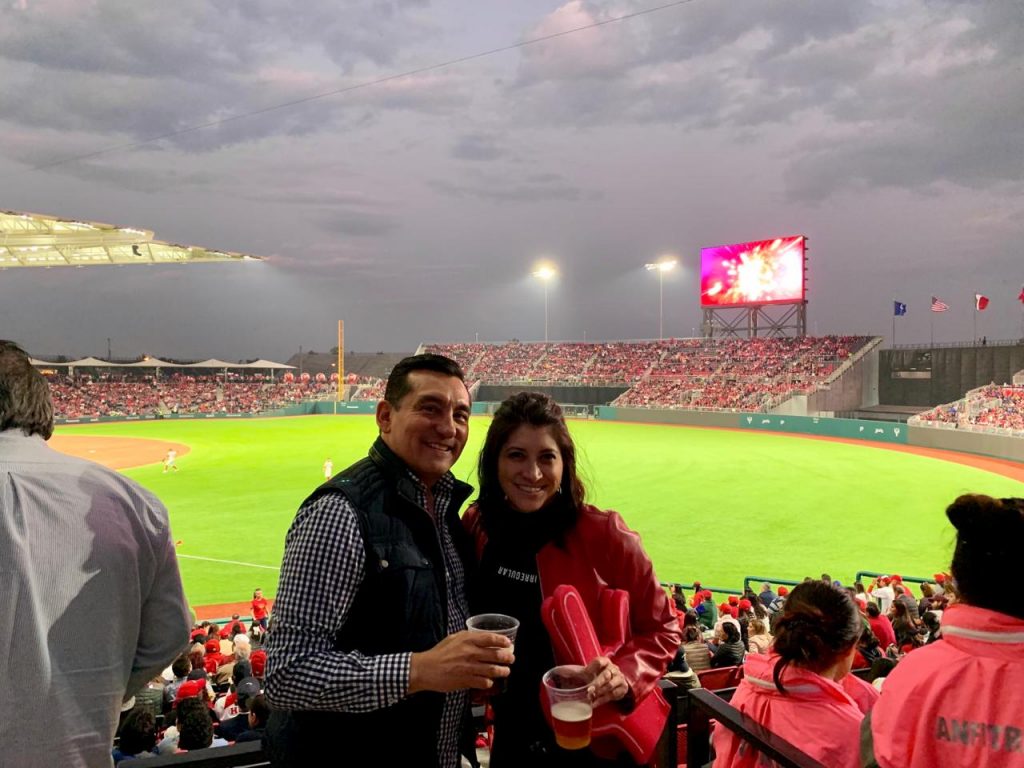 Sheri Crusberg, SDTA's FAM Coordinator, participated in the semi-annual Walt Disney Travel agent training in Anaheim on March 14th, bringing 65 agents up to date on what's new in San Diego and upcoming activities.
FAMS
During the month of March, SDTA hosted 6 groups from Australia, New Zealand, China, Brazil and United Kingdom. Schultz Fam from Brazil brought in 14 agents that specialize in student educational travel. Choose a Destination group was in for sites to host an event of 200 people in October 2019.