Below are the January 2019 sales & marketing highlights from various departments from the San Diego Tourism Authority.
BRAND MARKETING
January marked the launch of the SDTA's winter/spring advertising program and the new, refreshed brand campaign called, "Something to Smile About". The campaign includes a range of visual treatments showcasing positivity—and smiles—in the environment as well as a variety of copy constructs including "I 😊 SD" and "Find Your (insert adjective) Smile" executions that provide flexibility across high-level brand communications and deeper experiential storytelling. Three new television commercials were produced:
:30-second general brand spot that has replaced "Summer Feeling"
:30-second new family-focused spot
:30-second spot dedicated to the Mexico market
All commercials are music-driven and feature a range of vignettes in the same style as our previous commercials.
The "Something to Smile About" television and digital video programs continue to serve as the foundation of the brand awareness advertising layer leading up to the spring and summer travel season.
During January, television launched in five of the eight spot markets: Seattle, Chicago, New York, Boston, and Minneapolis as well as nationally on ABC video-on-demand and CBS during the weekend of the Farmers Insurance Open. The brand television program delivered 21.5 million impressions with $707,469 in media spend.
The NBA broadcast and digital video programming extension of the national sports partnership also began airing across CBS, TBS, TNT, and TruTV launched, delivering 1.8 million impressions during January.
And the national digital video campaign resumed—and will continue through April—with ABC, CBS, Hulu, NBC Sports, Amobee, YouTube and Facebook, delivering 13 million impressions during January.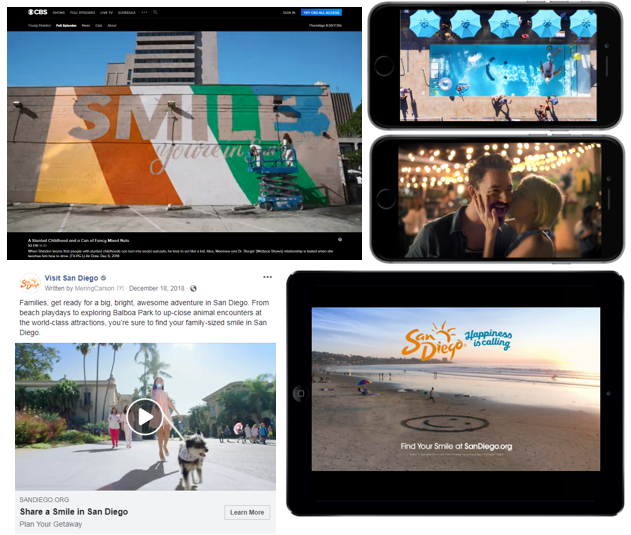 The "Something to Smile About" campaign creative was rotated into SDTA's national foundational digital pull-through campaign, which launched in November with Sojern, Adara, Quantcast, Google Display Network, Expedia and Priceline and will continue through May.

And in an effort to increase hotel demand through maximizing the length of stay, SDTA also launched a new messaging strategy in January within the pull-through program called "Stay Another Night". The campaign will focus on mid- and lower-funnel media tactics targeted to consumers that have already shown intent to travel to San Diego either through search behavior or strong engagement with other campaign layers and will prompt them to stay longer through messaging that hits on their key motivators: (1) travel + hotel discounts that promote longer stays and (2) content communicating can't-miss experiences and multi-day itineraries that show visitors how to maximize their vacation time in San Diego.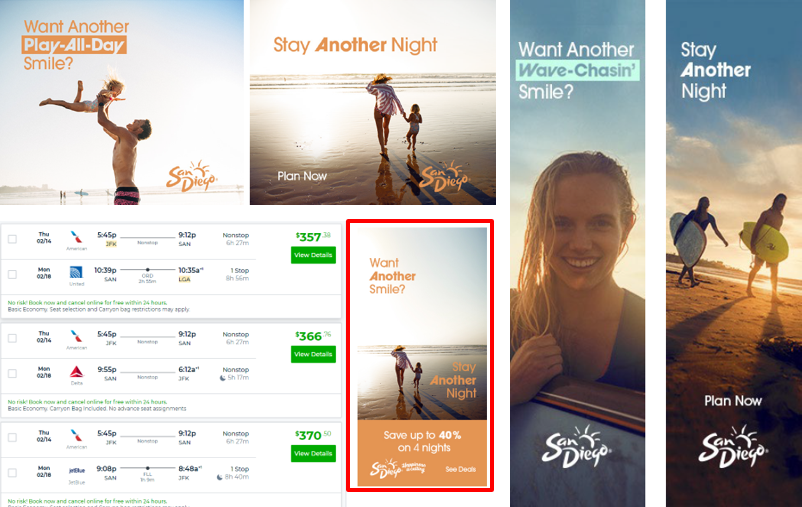 INTERNATIONAL LEISURE ADVERTISING
CHINA
SDTA continued the Always-on and Chinese New Year seasonal keyword and display search engine marketing efforts with Baidu during January, delivering 18.2 million impressions with a total spend of $26,400.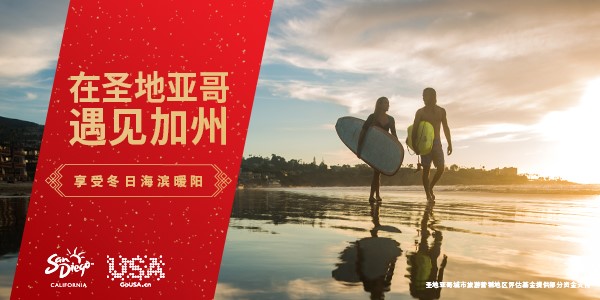 CANADA
The "Something to Smile About" creative was also integrated into SDTA's advertising program of work in Canada including national cable television, digital and online travel agency programs. January marked the end of the first of two media flights in Canada. The second flight will launch in May. In total, $363,528 was spent in Canada during January with 18.32% contributed by Brand USA and affinity partners, delivering 33.5 million impressions.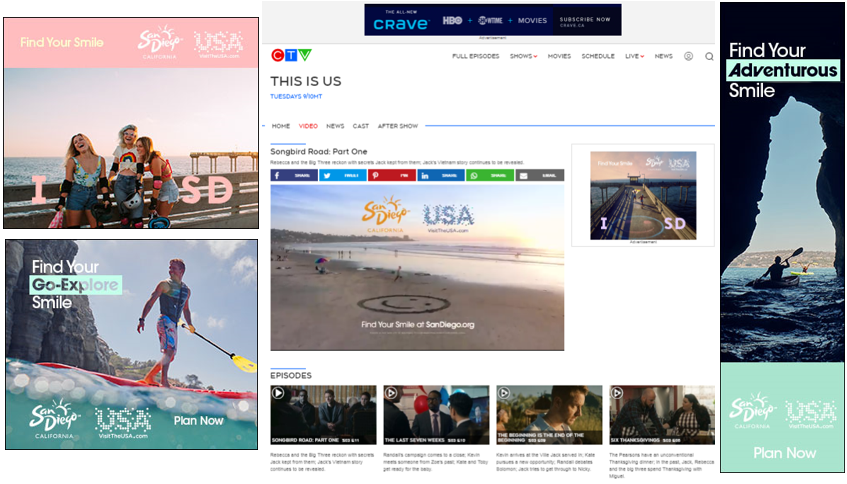 UNITED KINGDOM
The $1.1 million consumer direct advertising program in the United Kingdom launched in January and will continue through March, with 25 percent of total media spend ($309,919) contributed by Brand USA and affinity partner uplift funds. In total, the program is estimated to deliver 112.1 million impressions.
Digital advertising continues to serve as the foundational layer in the United Kingdom. Digital video, display, native, social and search marketing is running on YouTube Trueview, Google Display Network, AVID, TripAdvisor and Facebook. Complementing the digital program is out-of-home advertising including digital boards and video screens in high traffic underground stations such as Waterloo, King's Cross, Victoria and London Bridge. The out-of-home units ran for four weeks at the beginning of the flight, January 14 – February 10.
In January, $224,677 was spent in the United Kingdom with approximately 56.8% contributed by Brand USA and affinity partners delivering just over 32 million impressions.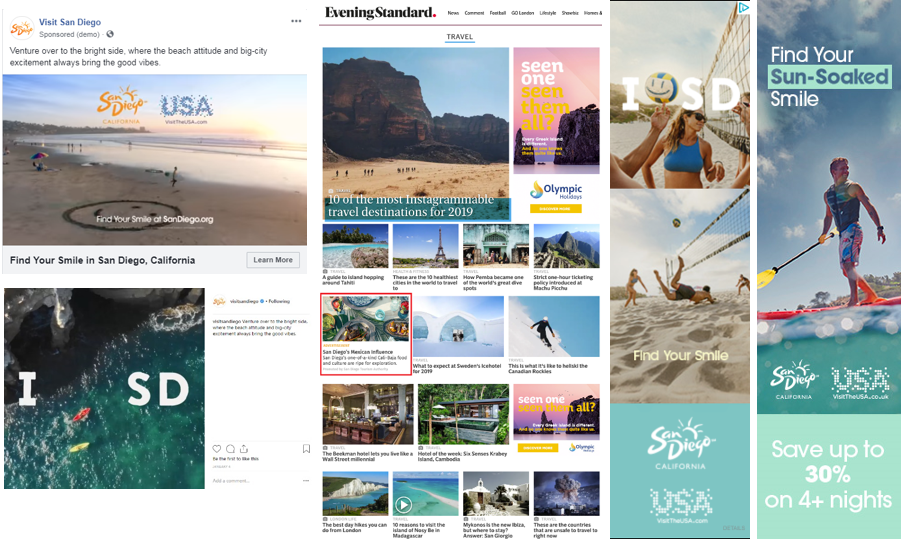 Digital out-of-home units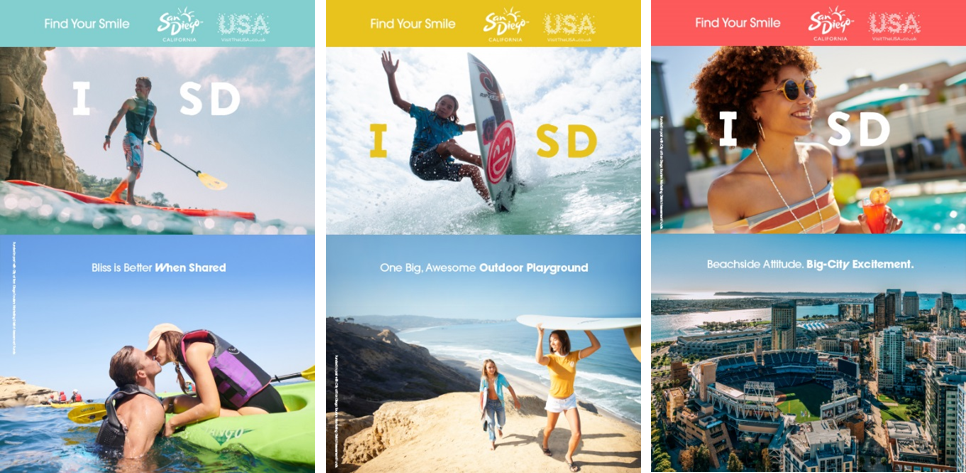 MEXICO
To build on the foundational trade and public relations efforts in Mexico, SDTA launched its first consumer direct advertising campaign in the Mexico market. The $500,000 national digital campaign targeted to affluent households will run January through March and is estimated to deliver 88 million impressions across Facebook, Instagram, YouTube and TripAdvisor. The "Something to Smile About" campaign was localized for the Mexico with in-language video and digital creative that appeals to the family travel mindset.
In January, $120,000 was spent in Mexico with 16.67% contributed by Brand USA and affinity partners delivering 24.1 million impressions.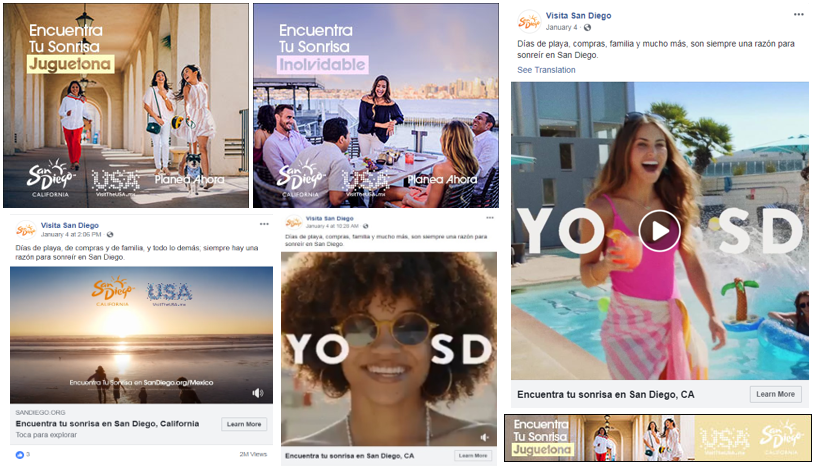 Cali-Baja Experiencia with Best Day
SDTA partnered with Best Day, one of the largest online travel agencies in Mexico, to drive awareness and inspiration for the Cali-Baja Experiencia, a unique two-nation vacation campaign featuring the San Diego and Northern Baja regions.  The $50,000 Cali-Baja Experiencia campaign launched in January will continue through March, complementing SDTA's consumer direct advertising campaign in key markets including Mexico City, Guadalajara, Monterrey and Leon.
The co-branded digital creative promoting the mega-region will run on the Best Day website, Google Display Network, and dedicated email blasts – all driving back to a custom microsite that includes hotel and activity packages,, itineraries and top attractions for San Diego and the main cities in Baja Norte (Tijuana, Tecate, Rosarito and Ensenada). To complement the digital program, SDTA launched an out-of-home layer which includes video creative in top trafficked mall kiosks displaying San Diego's "Speaking of San Diego" Spanish video along with the Cali-Baja experiencia creative.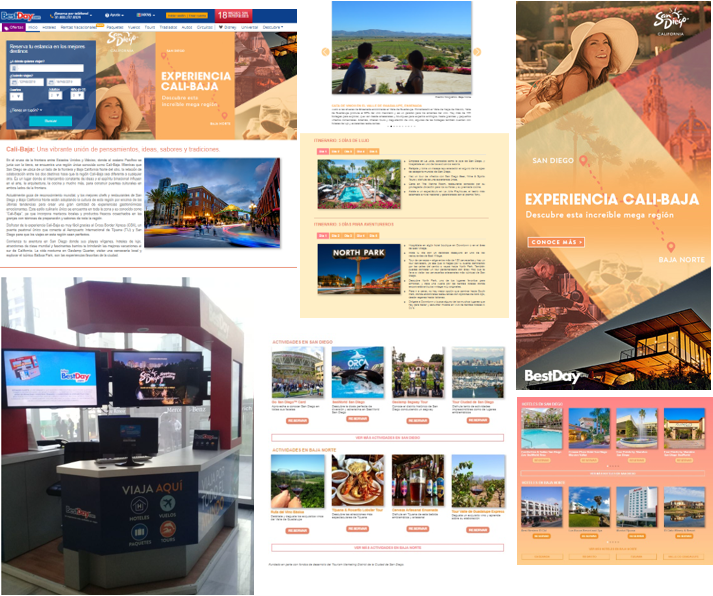 CULTURAL TOURISM
National Geographic Partnership
The National Geographic initiative continued with the four-part miniseries on Balboa Park and San Diego completing its airing in both Canada and the United Kingdom. The SDTA Cultural Tourism team continued to work with National Geographic on finalizing the broadcast campaign, miniseries and collecting reporting for the entirety of the campaign.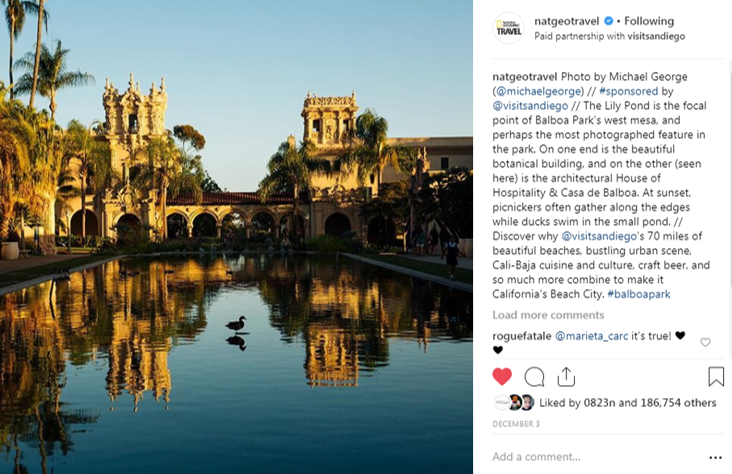 The National Geographic program of work is designed to:
Produce almost 120 million gross impressions.
Reach 105 million households through the four-part broadcast series.
Access an audience of 11 million through the print editions of National Geographic Traveler in North America and the United Kingdom.
Leverage National Geographic's social media audiences, which includes 4.7 million Facebook followers, 22.3 million Instagram followers, and 6.6 million Twitter followers, to drive tune-in to the broadcast series and digital content.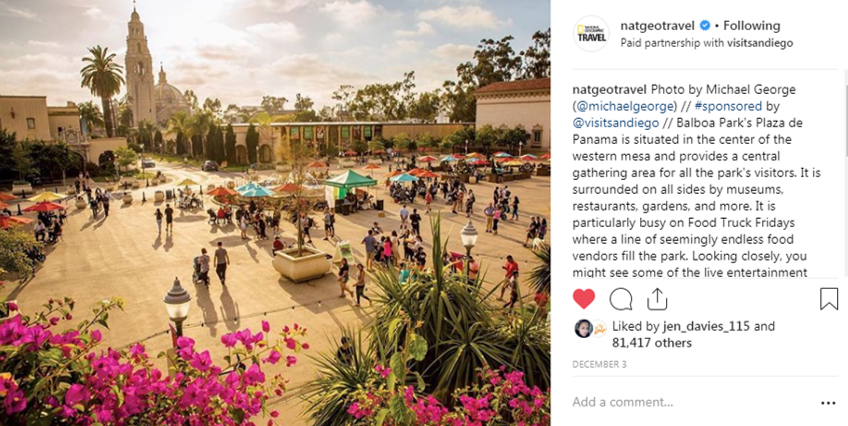 The National Geographic digital campaign results so far:
Digital articles have received 86K pageviews as of January.
Branded banners have received 22M impressions as of January.
More than 15.2M recipients have received the added value newsletters over the first three sends.
Overall the social campaign has received over 64.2M impressions, which includes organic and boosted posts on all platforms and is 136 percent over-delivery at this stage of the campaign.
DIGITAL MARKETING
Special events in January focused on Farmers Insurance Open, San Diego Restaurant Week, and Museum Month.
Web traffic for January included 1.2 million user sessions between the desktop and mobile websites (excluding Travel Blog). The team posted a total of 149 Tweets, 25 Facebook posts, 19 Instagram posts, and 4 Instagram Stories through social channels. There were 9 blogs and 8 consumer emails published this month.
LEISURE DIGITAL
Most Engaged Facebook Post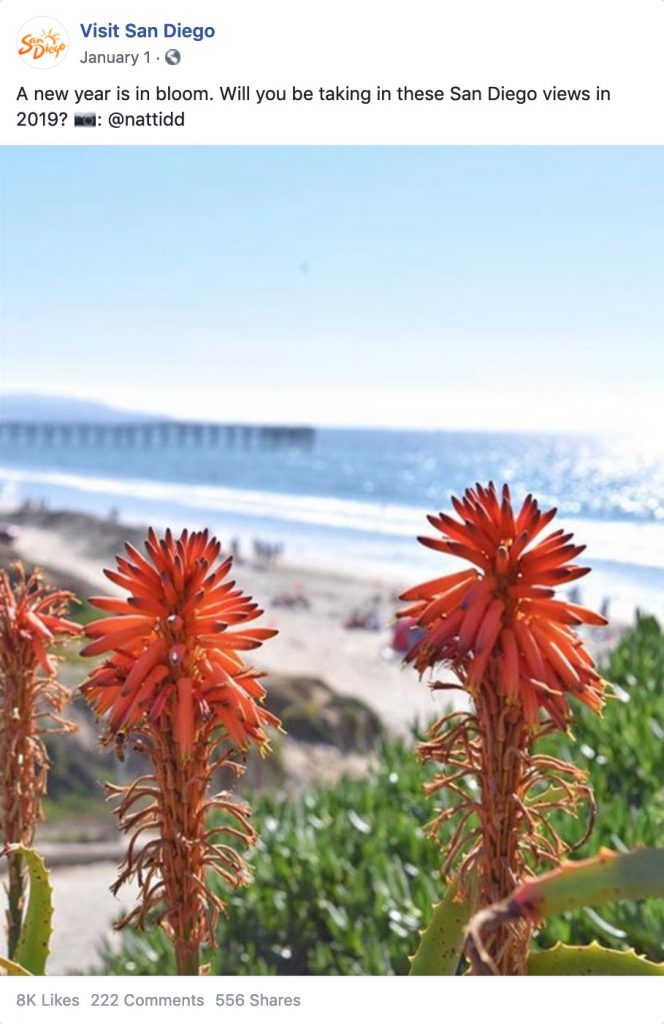 Most Engaged Twitter Post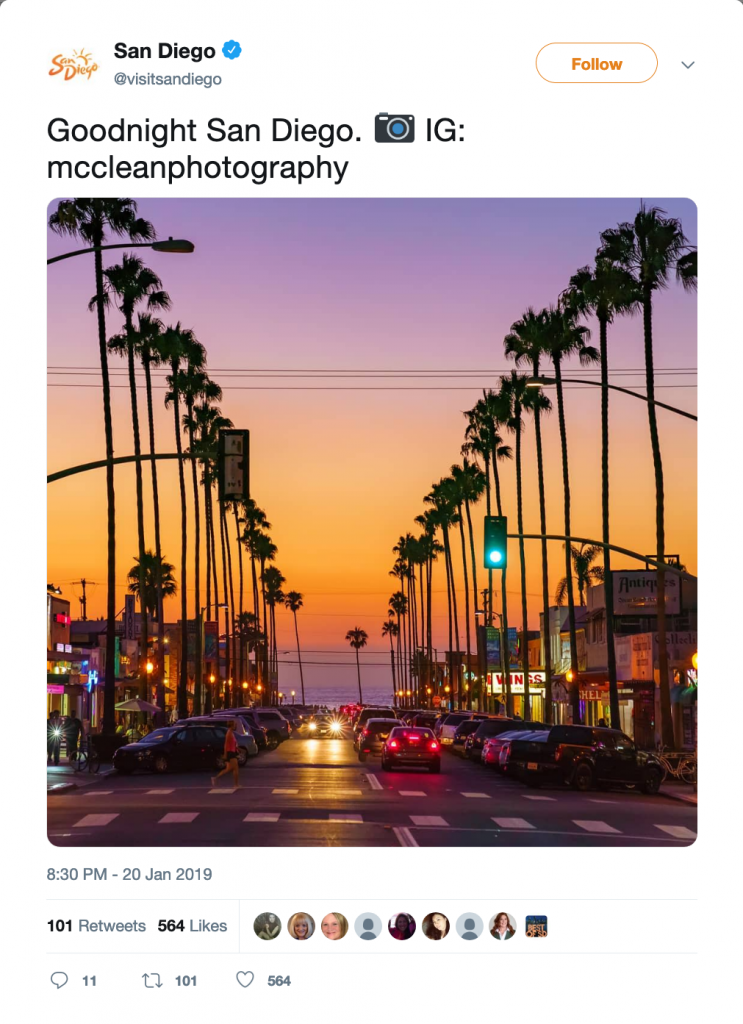 Most Engaged Instagram Post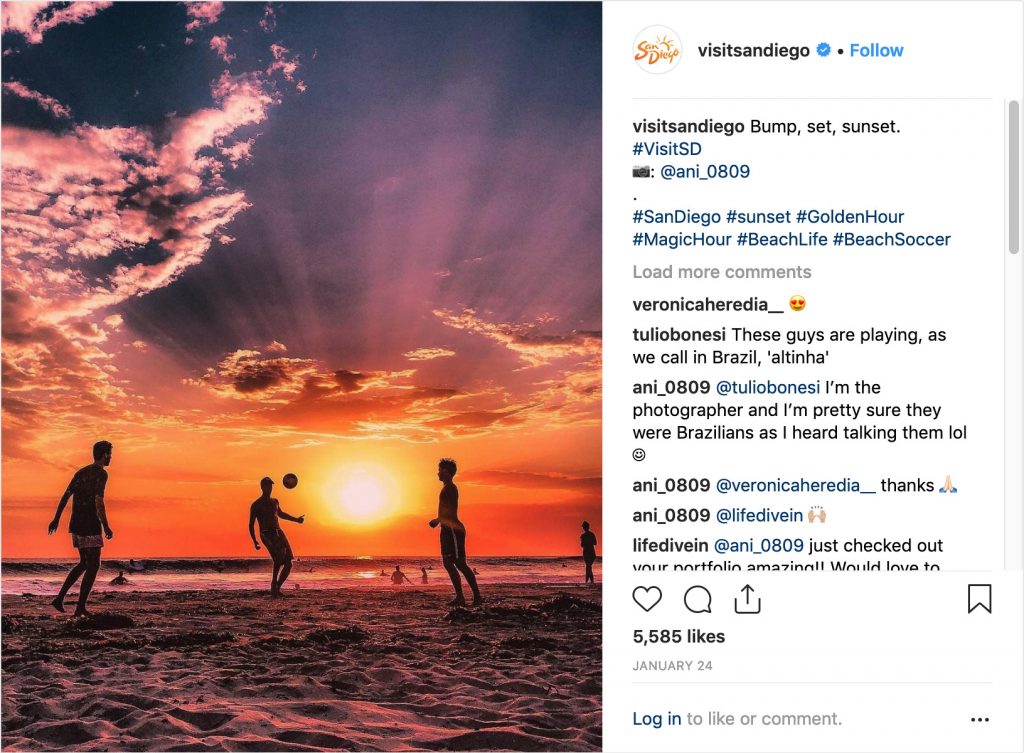 INTERNATIONAL CONSUMER DIGITAL MARKETING
China
Overall sessions to the China website in January (sandiego.com.cn) was 85,670. The social media team, in partnership with Hylink, published a total of 20 Weibo posts, and 4 WeChat posts.
Mexico
Overall traffic to the Mexico page in January was 29,104 unique users. The social media team, in partnership with PR Central, published a total of 13 Facebook posts and 9 Instagram posts.
Japan
Overall traffic to the Japan page was 2,438 unique users. The social media team, in partnership with aviaREPs, published a total of 18 Facebook posts.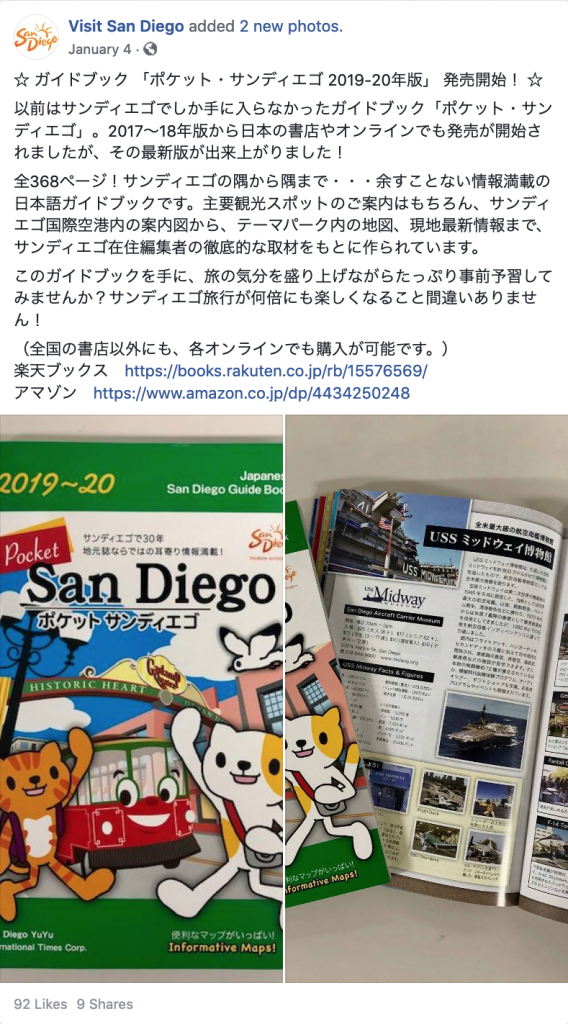 B2B DIGITAL
EMAIL:
The January B2B Postcard was delivered to 8,333 meeting planners as part of an ongoing content series. Each month highlights inspirational opportunities for meeting and event planners in the destination. The open rate for the January B2B email was 22.2% which represents over 1,800 unique meeting planners. The January email highlighted unique historical locations around San Diego including Old Town San Diego, Cabrillo National Monument, Chicano Park, Arts District Liberty Station, Maritime Museum Ships, and Balboa Park.
LINKEDIN:
2 unique posts during January garnered 2,673 impressions and included:
New San Diego Tourism Authority brand campaign and activations
40th Annual Gold Key Awards nominations announcement
LinkedIn grew by 0.6% from last month to 7,351 followers, earning more than 2,673 impressions. Year-over-Year the LinkedIn Audience grew by 20%.
Where We Stand
LinkedIn followers compared to similar organizations:
Visit Orlando 12,362
Discover Los Angeles 7,964
Visit San Diego 7,351
Visit California 7,111
San Francisco Travel 5,143
Brand USA 5,425
US Travel Association 3,463
Visit Anaheim 2,650
San Diego Convention Center 2,256
San Francisco CVB 1,309
California Travel Association 1,009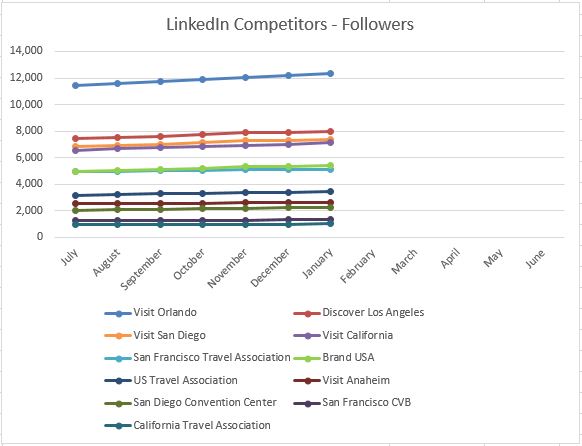 LinkedIn demographics:




TWITTER:
@SDTAConnect Twitter base grew by 8.8% YoY to 3,925 followers. There were 12 tweets during the month.
This month, the tweet with the most exposure (1,879) was Conde Nast Traveler's feature story which included San Diego in the list of top places to visit in January. This was also the tweet with the most engagement.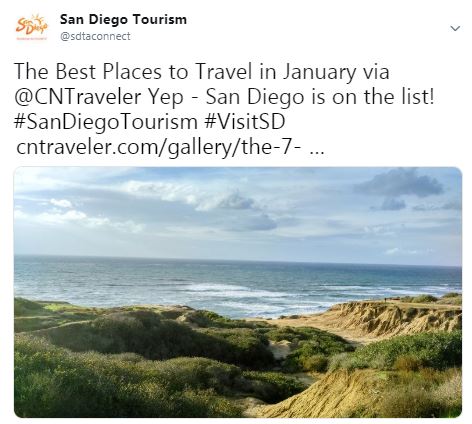 The B2B Account earned over 26,000 impressions during the month of January.
MEMBERSHIP
10 New Members joined in January, adding $9,566 in annual dues revenue.
6 Members attended the Open Office Hours to learn how to best maximize benefits.
9 New and existing Members attended the January New Member Inspiration session to learn how to maximize benefits.
Ad Sales

$ 253,396 was earned in new ad contracts.
Member Outreach
In January the team visited, met or attended events with these Members:
San Diego Padres
Tocaya Organica
Ruth's Chris to view renovation
The Bell Marker Relaunch
Rayka
Paradise Trike Tours
NEW MEMBERS
HOTEL SALES
Hotel Meetings Sales and Events
The Hotel Meetings Sales team kicked off the calendar year booking 59 meetings, representing 28,461 room nights in the month of January.  Fiscal year to date, the team has converted 408 bookings and 221,684 total room nights for the destination.
In January, the sales and events team attended two of the largest industry tradeshows with PCMA Convene in Pittsburgh, PA and RCMA Emerge in Greensboro, NC.  Through both shows, 9 group leads were generated, representing 11,434 room nights.  In addition, Ernie Rossow, National Sales Director, conducted sales calls in Arizona with key meeting planners from Premier Event Resources, Superior Meetings, Plexus, ASLM, The Scarritt Group, HPN, and the headquarter office of HelmsBriscoe.  Thus far 3 leads have been generated with more on the way.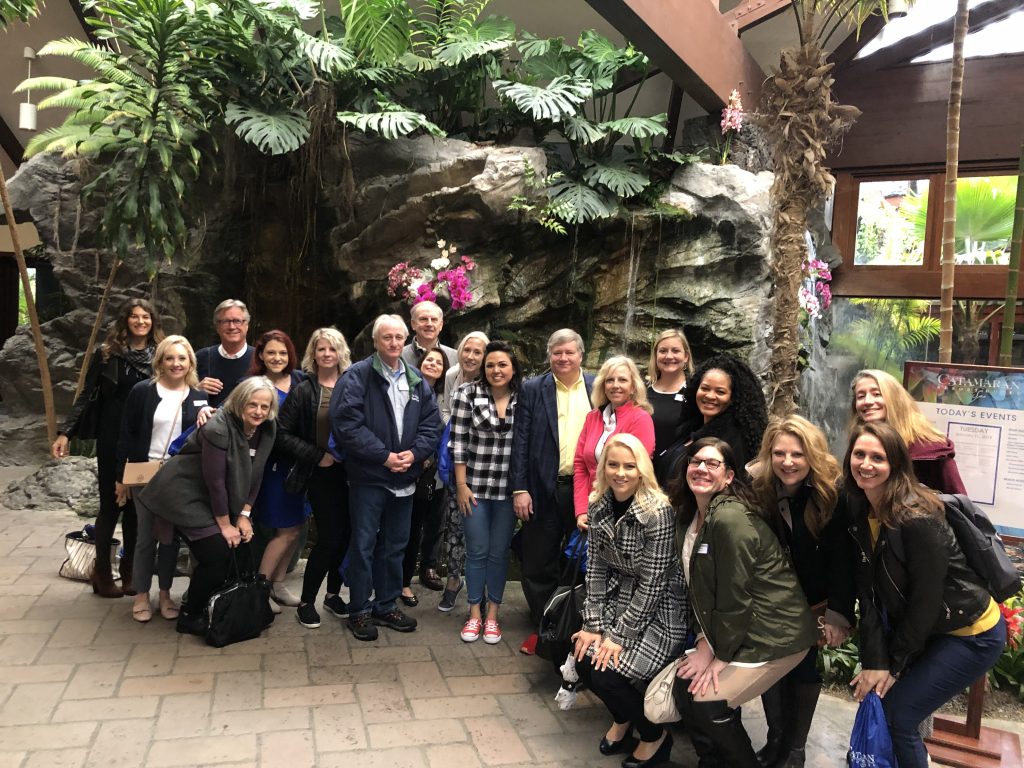 In partnership with Connect Meetings, we conducted a successful fam trip bringing 18 meeting planners that represent high-end corporate and association meetings.  These planners were exposed to 28 hotels and 3 venues, with many experiencing San Diego for the first time. Check out the post from one of the planners, Sarah Buchbinder with Meetings Made Easy…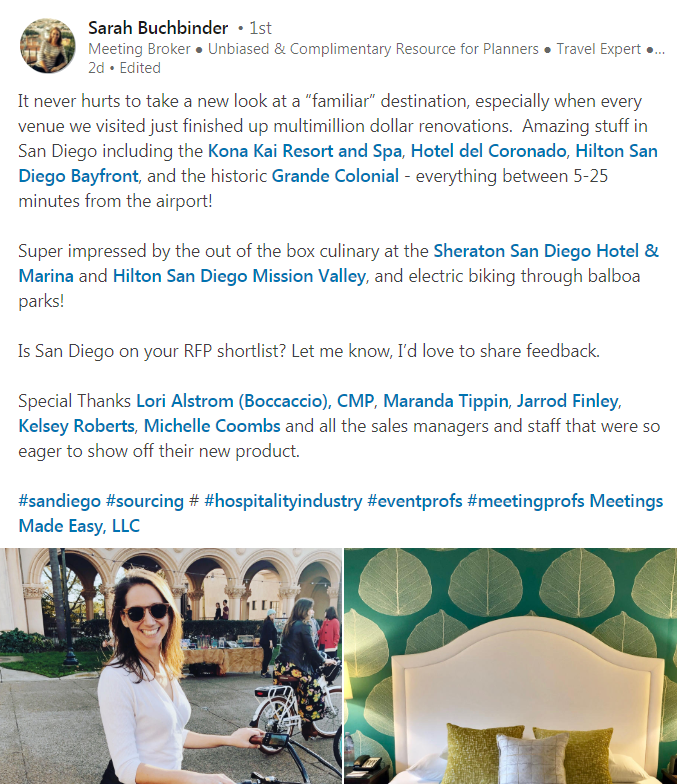 Site Experience Highlights
The Site Experience team had a busy month, with 15 client site experiences, creating exposure to 44 hotels.
CITYWIDE SALES
FY19:
Definite Bookings: 3
Attendance: 84,200
Total Room Nights: 25,507
Fiscal Year 19-To-Date: 201,908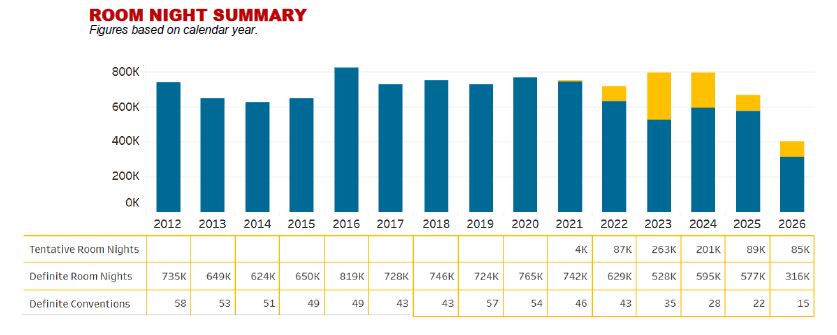 PUBLIC RELATIONS
In January, Director of Communications Candice Eley traveled to New York with Visit California to attend several media events, including IMM NYC 2019 and The New York Times Travel Show. Additionally, Ms. Eley attended an editorial media roundtable with leading titles from Meredith Publishing including Food & Wine, Travel + Leisure, Health, Real Simple and Parents. Working with PR contractor Darren Pudgil, the Communications team hosted a local media event to showcase 2018 year-end tourism numbers.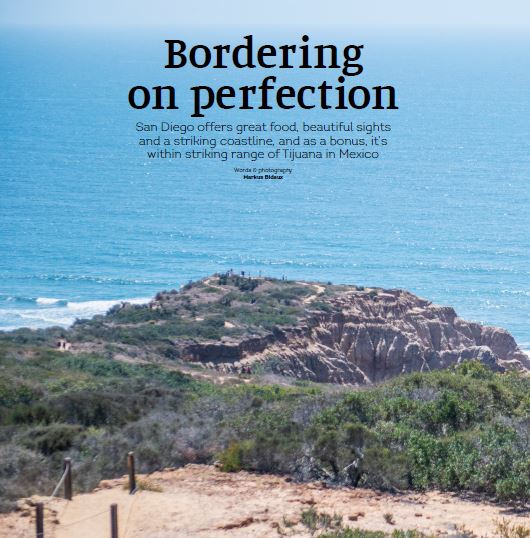 Communications hosted a number of media from around the world, including three top Chinese media outlets and a notable KOL on a three-night visit to San Diego. Publicizing the "Best of California" in partnership with San Francisco, the group's itinerary highlighted our city's natural beauty, family attractions, rich history, unique food and culture, and colorful neighborhoods.
Key coverage received in January included the Calgary Herald, LA Parent, Conde Nast Traveler, Aire (Aeromexico In-flight magazine), Attitude (UK), Savour (UK) and more.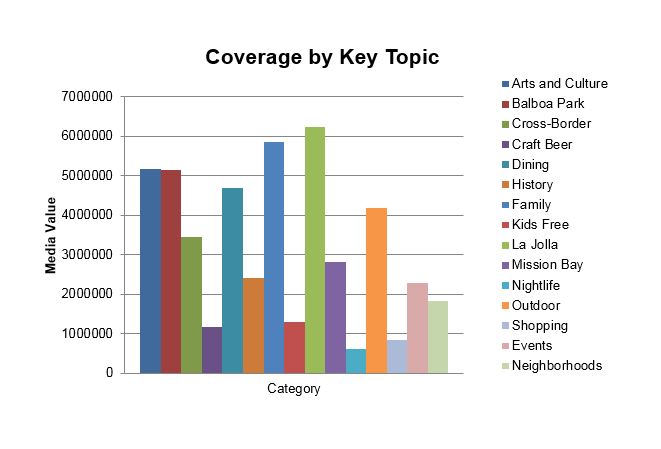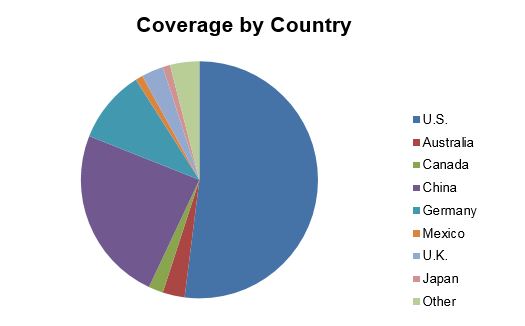 TOURISM DEVELOPMENT
The Tourism Development team distributed 18 referrals and 2 leads to member businesses from travel trade clients.  The team certified 35 new San Diego Specialists agents from USA, Mexico, Canada, Australia, Japan and Germany who account for approximately 2,098 visitors to San Diego – generating approximately 1,137 annual room nights.
Phil Hannes, Sr. Director of International Marketing was in Mexico City with PR Central (SDTA Representation) hosting a breakfast presentation to train 90 agents from Best Day Travel who manage the shopping center travel kiosks.  This was a 2-hour training session on how to sell San Diego to support the Cali-Baja Experience campaign currently featured in Mexico.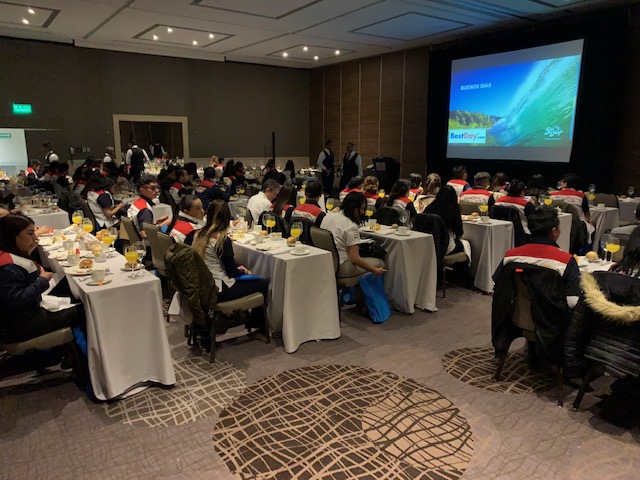 Angel Lee, Travel Trade Representative in Beijing, participated in Club California Product Development Series in Beijing from January 9th to 10th. Ten key tour operators, wholesalers and OTAs in the region joined the sessions where Angel delivered the destination presentations and met with each of them on One-on-one meetings.
Tomoe Matsunaga, Travel Trade Representative in Tokyo, participated in the Club California Nagoya event on January 25th. The event welcomed over 30 travel trade professionals, where Tomoe gave a presentation to promote San Diego and network with the attendees.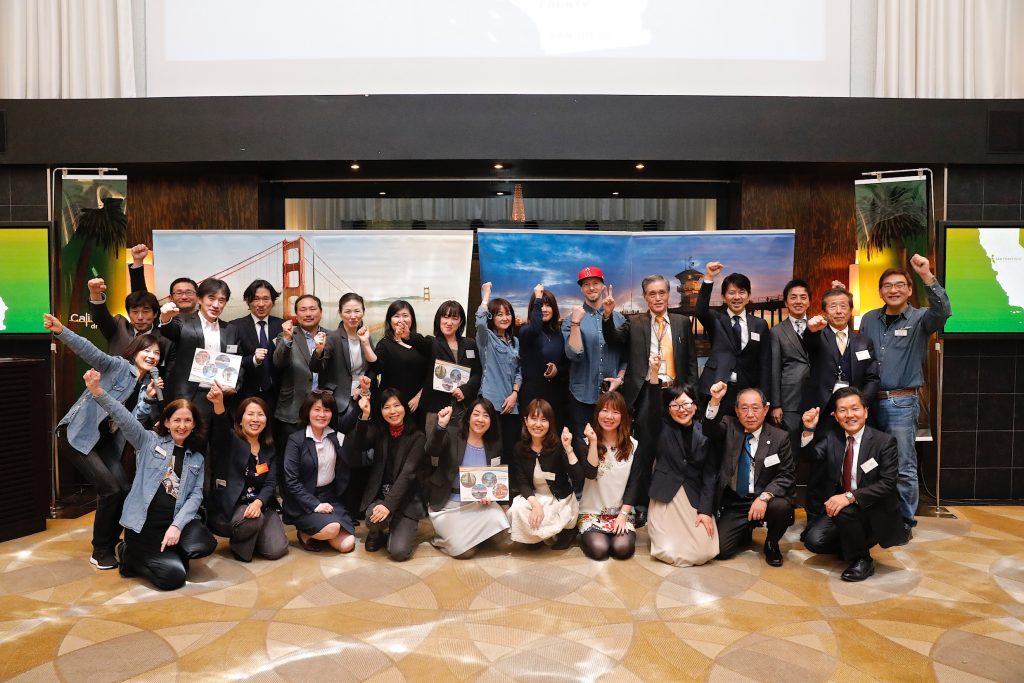 Riki Suzuki, Tourism Development Manager, invited the Ctrip market manager to come to San Diego to meet with SDTA member hotels. A free workshop was organized for members to learn about the Ctrip, the largest OTA in China, and how to work with them effectively. Following the workshop, SDTA also organized one-on-one meetings for the members with Ctrip .
San Diego was the Featured Destination at the Visit USA Switzerland show in Zurich on January 30th. The SDTA, along with the San Diego International Airport and Edelweiss Airlines headlined the event that saw over 400 travel agents from across Switzerland attend.  Tourism Development Director Benjamin Eastman showcased the destination during a 30-minute stage presentation, as well as in small group workshops for an additional 15-minutes of destination insight – providing attendees with a multitude of information about the destination, the regional non-stop flights their clients can use, etc.  Joining the SDTA were representatives of 5 hotels and 2 attraction/activities – and there was brochure & video distribution from an additional 6 members.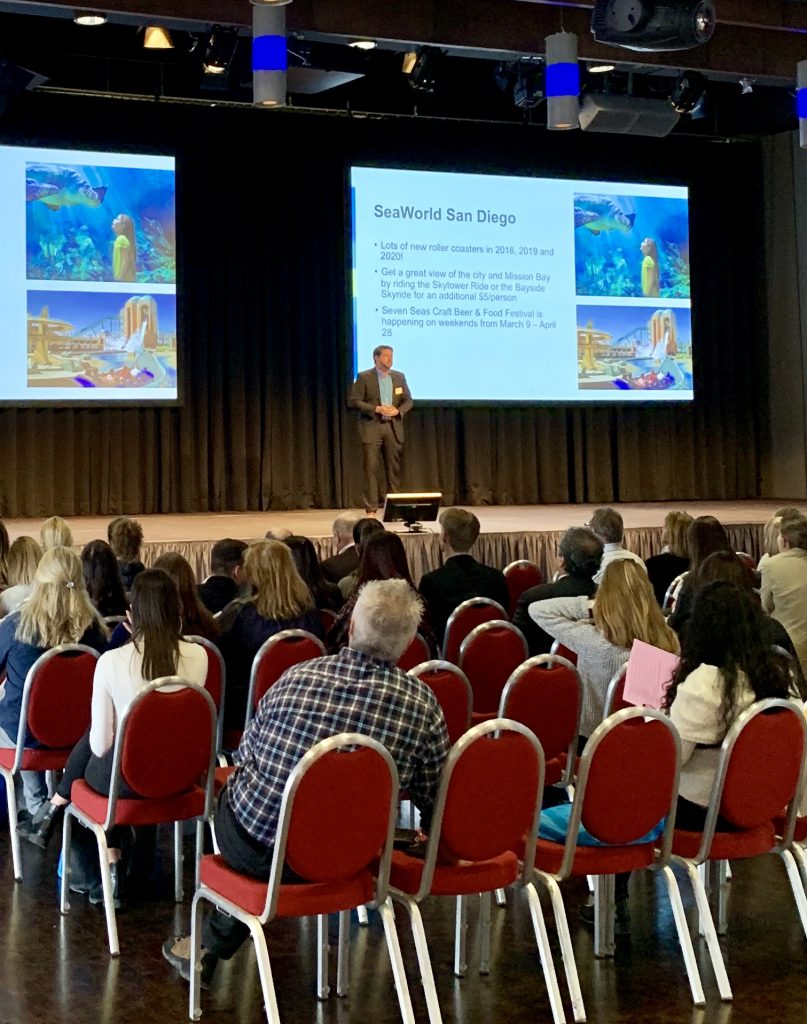 FAMS
During the month of January, SDTA hosted 5 agents from Flight Centre Vancouver and 3 from Sun Fun Tours Canada in preparation of bringing a group to San Diego at the end of the month for two days to experience Balboa Park, USS Midway, and other local attractions.