WINTER/SPRING ADVERTISING PROGRAM OVERVIEW
For more than a decade, SDTA has been celebrating San Diego's distinct "Sunny Outlook" brand positioning through our advertising campaigns. From the "Happy Happens" campaign which launched in 2008; to "Happiness is Calling" in 2012; to "Signs" in 2015; and the refreshed "Summer Feeling" in 2017, SDTA's brand advertising is universally liked by consumers, and most importantly, drives consideration and intent to visit.
In January, we will launch a new, refreshed brand campaign called "Something to Smile About".
Smiles. They are the international symbol of happiness. And given San Diego is all about good vibes, smiles are everywhere here. That's why we think it's about time San Diego owns a piece of that happy symbol. Our new brand campaign – "Something to Smile About" – continues to reinforce San Diego's unique brand platform with a fresh take on what it means to be the epicenter of happiness. The smile grows naturally here, and we intend to share it with the world.
"Something to Smile About" includes a range of visual treatments showcasing positivity—and smiles—in the environment as well as a variety of copy constructs including "I 😊 SD" and "Find Your (insert adjective) Smile" executions that provide flexibility across high-level brand communications and deeper experiential storytelling.
Three new television commercials were produced: a general brand spot that will replace "Summer Feeling", a new family-focused spot and a spot dedicated to the Mexico market. All commercials are music-driven and feature a range of vignettes in the same style as our previous commercials.
Brand TV Spot:
Family TV Spot:
Mexico TV Spot:
This fiscal year, the "Something to Smile About" campaign will be integrated across SDTA's program of work in the United States, Canada, United Kingdom and Mexico and will include television, digital, out-of-home and print executions.
Winter/Spring: Domestic Program Highlights
More $15 million in media will run in the U.S. during the January – June 2019 time period.
Spot market television will run January 21st – April 28th (flight dates vary by market) in Sacramento, San Francisco, Seattle, Chicago, Dallas, New York, Boston and Minneapolis.
The video program also extends nationally with the following initiatives:

Digital video with ABC, CBS, NBC Sports, Hulu, Amobee and YouTube (January – April)
Video-on-demand with ABC (mid-January – mid-March)
Broadcast partnership with ABC—the #1 family network—during February sweeps
NCAA March Madness sponsorship plus an NBA programming extension airing across CBS, TBS, TNT and TruTV on broadcast and in digital video (January – early April)
SDTA's national foundational digital pull-through campaign, which launched this fall with Sojern, Adara, Quantcast, Google Display Network, Expedia and Priceline, will continue through May but with new campaign creative rotated in.
And in an effort to increase hotel demand through maximizing the length of stay, SDTA is also implementing a new messaging strategy within the pull-through program called "Stay Another Night". The campaign will focus on mid- and lower-funnel media tactics targeted to consumers that have already shown intent to travel to San Diego either through search behavior or strong engagement with other campaign layers and will prompt them to stay longer through messaging that hits on their key motivators: (1) travel + hotel discounts that promote longer stays and (2) content communicating can't-miss experiences and multi-day itineraries that show visitors how to maximize their vacation time in San Diego.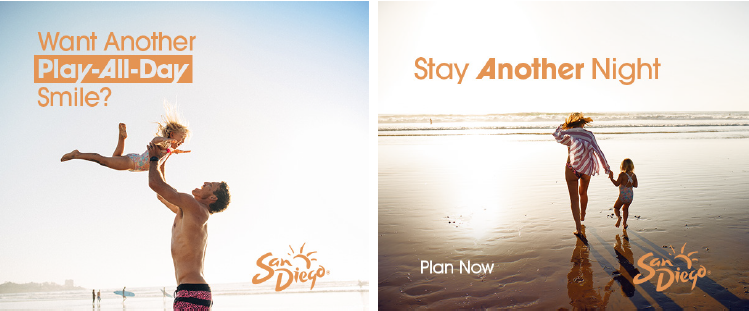 The always-on content initiative also continues during winter/spring with national and Los Angeles and Phoenix spot market layers and will be expanded in February to include content and distribution dedicated to the family audience.
Through co-op with SeaWorld San Diego, San Diego Zoo Safari Park and LEGOLAND California Resort, SDTA's One Bright Idea video series was expanded to include family-specific episodes featuring edutainment experiences that are rewarding for the entire family.

SDTA will also be launching a new series targeted to families, "Stories from the Sock Drawer," which follows the Sock Family on their journeys throughout San Diego as they visit SeaWorld San Diego, San Diego Zoo Safari Park, LEGOLAND California Resort, Torrey Pines State Natural Reserve, the Star of India and go on a tide pooling adventure with a Birch Aquarium guide.

In February, SDTA is also launching a first-of-its-kind integrated partnership with TripAdvisor in the United States, Canada, and United Kingdom. Co-branded creative will reach consumers throughout the consumer decision journey. The program includes a wide variety of placements such as blog posts promoted on TripAdvisor social, co-branded video units with reviews from the TripAdvisor community, custom content hubs built by passion pillar and pull-through banners to encourage booking.
International Program Highlights
Canada
National cable and digital video, display, social and SEM efforts launched in Canada in November and will continue through January. This year a second digital media flight was added during May – July. Total FY19 advertising spend in Canada will exceed $1.6 million this year, including Brand USA contributions.
United Kingdom
Out-of-home and digital video, display, native sponsored content, social and SEM will run in the UK during January – March. Total FY19 advertising spend for the market will exceed $1.1 million this year, including Brand USA contributions.

Mexico
Incremental funds secured from the SDTMD allowed SDTA to add consumer direct advertising in Mexico this year. Over $500,000 will be spent on digital video, display, and social media during January – March.
China
Our efforts in China leverage the "California Concentrated" (best of California all in one place) positioning and include a localized look and feel for the market. The winter/spring program includes the continuation of paid social on WeChat and Weibo, SEM with Baidu and live streaming as well as performance-based media on Ctrip.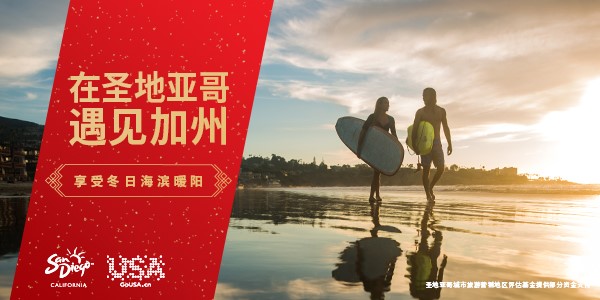 Branding programs including digital video and programmatic display are new to the program this year and will run during April – May on iQiyi with iPinYou.
Germany
In support of the Lufthansa flight out of Frankfurt, SDTA expanded its efforts in Germany to include out-of-home, digital video, and social advertising and shifted up the media flight to better impact Germany's booking window. The $600,000 campaign launched in late October and continues into January. The "Something to Smile About" campaign will be integrated into Germany advertising in the new fiscal year.