Friends,
Since my last message of October 24, there has been a series of very productive meetings with local agencies and Mayor Kevin L. Faulconer regarding the Draft EIR for the Airport Development Plan (ADP), and I wanted to provide you a progress report.
On November 20, Mayor Faulconer convened the leadership of the Airport Authority, SANDAG, the Port of San Diego and MTS with City staff. Specific suggestions to deal with both near-term and long-term solutions for traffic impacts and transit access were brought up and will be considered by the individual agencies.
The Mayor asked the participants to report progress in approximately 30 days. Time is of the essence, as delay will add an estimated $8 million per month to the total ADP cost. There is also universal desire to see Terminal 1 replaced sooner rather than later. While it is likely that the Airport Authority will recirculate the DEIR, that will depend on decisions made about the path forward.
Our goal, shared by many, has been to address comments on the Draft EIR for the ADP, including the replacement of 50-year-old Terminal 1, while allowing us to move forward expeditiously. Related traffic impacts and transit access will require the collaboration of SANDAG, MTS and other entities. Solving one of San Diego's perennial issues – transit connectivity to the airport – is now a group effort, as it should be.
On our part, we have developed an updated air travel forecast scenario based on 2018, which will be submitted to the FAA for approval this month. We have also committed to revisiting the parking requirement contemplated in the Draft EIR. And we have initiated conversations with the FAA about potential financial participation in off-airport roadway and transit improvements.
One point to emphasize is that the San Diego County Regional Airport Authority is regional far beyond its name. We serve air travelers from throughout the region. The airport's nearly $12 billion annual economic impact is truly regional. And our nine-member Board includes representatives from north, south and east, as well as central San Diego County.
It is exciting to report true progress. I look forward to updating you periodically as we advance our efforts to deliver a better airport for the region.
Thank you for your interest and support.
Sincerely,
Kim Becker
---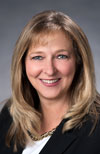 Kim Becker is the President & CEO of San Diego County Regional Airport Authority. Ms. Becker was appointed President/CEO of the San Diego County Regional Airport Authority on May 1, 2017. She brings with her nearly 30 years of experience in the aviation industry.
As President/CEO, Ms. Becker is responsible for management oversight of the Airport Authority and San Diego International Airport (SAN). This includes the Airport Authority's annual operating budget and five-year capital budget. According to the most recent economic impact study, SAN generates $11.9 billion annually in economic impact for the region.