Below are the September 2018 sales & marketing highlights from various departments from the San Diego Tourism Authority.
BRAND MARKETING
DOMESTIC LEISURE ADVERTISING
The fall flight of the national digital video campaign launched in September and will continue through October. The "Summer Feeling" :30 brand spot will run in non-skippable pre-roll and mid-roll video placements in full-episode environments on ABC, CBS, Hulu, NBC Sports, Amobee and YouTube. The fall flight is expected to deliver 37.1 million impressions with $1.05 million in media spend.
San Diego for the Holidays, a digital promotional campaign, launched in September and will continue through November to increase consideration of San Diego among holiday travel intenders. The national campaign has dedicated media in key drive markets including Los Angeles, Phoenix, and Las Vegas.
The campaign positions San Diego as an ideal vacation destination during the holiday season in highly targeted and travel-focused media environments while intercepting holiday travel intenders and re-targeting campaign engagers to drive conversion. Media partners have solicited the San Diego market for hotel savings and deals to serve as the fulfillment mechanism for the program.
Media partners include Facebook, Instagram, Pinterest, Sojern, TripAdvisor, Jetsetter, OTA partners; Expedia and Priceline, and deal distribution with Dunhill Deals, TravelZoo and Shermans Travel. In all, the $427,410 program is expected to deliver 39.2 million impressions.
INTERNATIONAL LEISURE ADVERTISING
CHINA
SDTA continued to ramp up consumer direct efforts in China with Phase 1 "Best of California" campaign on Ctrip with San Francisco and Hilton. The campaign leverages San Francisco as the gateway city and promotes direct flights to San Diego from San Francisco. The two-phase program will continue through November.
September marked the launch of SDTA's FY19 search marketing program with Baidu which is driving Chinese consumers to San Diego's standalone site for the first time since launching consumer direct advertising in China. "Always On" will continue throughout the year with the Fall campaign running through October, both flights include both keyword search and display tactics.
To acquire new followers and increase user engagement on SDTA's WeChat account, San Diego launched its WeChat acquisition campaign in September and will continue in three waves through December.  The Chinese consumer will be served image and text ads on WeChat with the intent of inspiring the consumer to learn more about San Diego's diverse experiences.
Total estimated spend in China for September was $203,500 with 72% contributed through co-op with Brand USA, San Francisco Travel and Hilton, and more than 14.5 million impressions were delivered.
DIGITAL MARKETING
Special events in September focused on KAABOO Del Mar, SWOOP, US Sand Sculpting Challenge and Labor Day.
Web traffic for September included 897,997 user sessions between the desktop and mobile websites (excluding Travel Blog). The team posted a total of 90 Tweets, 22 Facebook posts, and 18 Instagram posts, and 4 Instagram Stories through our social channels. There were 8 blogs and 6 consumer emails published this month.
LEISURE DIGITAL
Most Engaged Facebook Post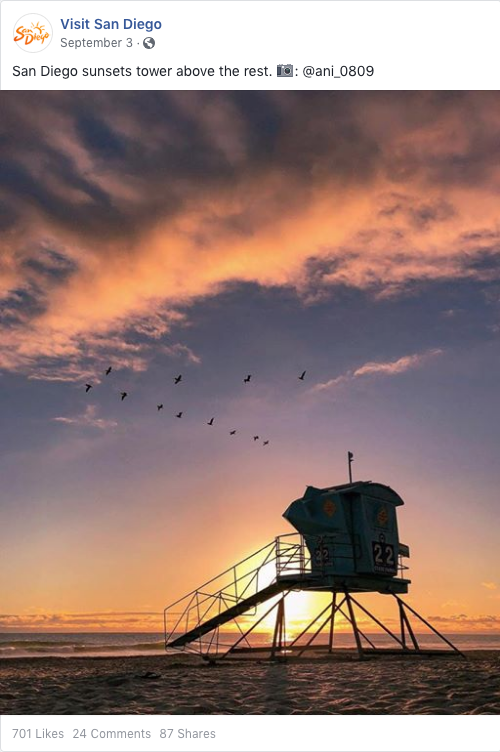 Most Engaged Twitter Post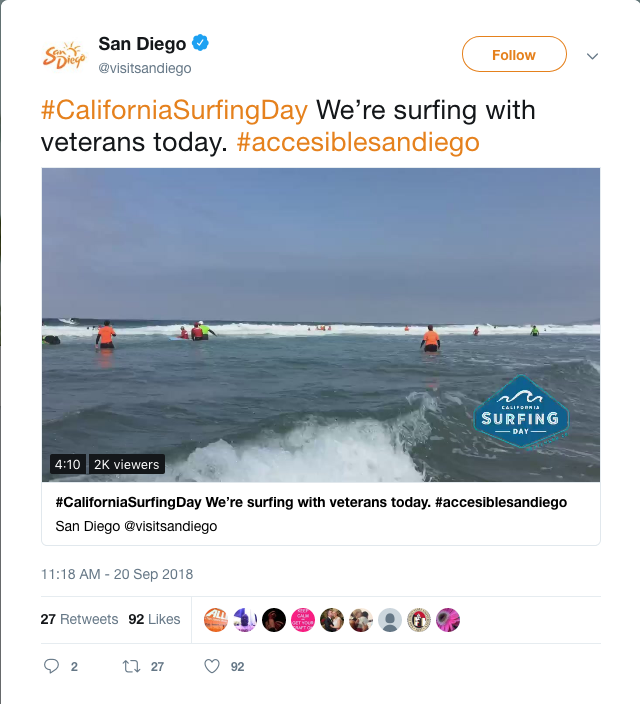 Most Engaged Instagram Post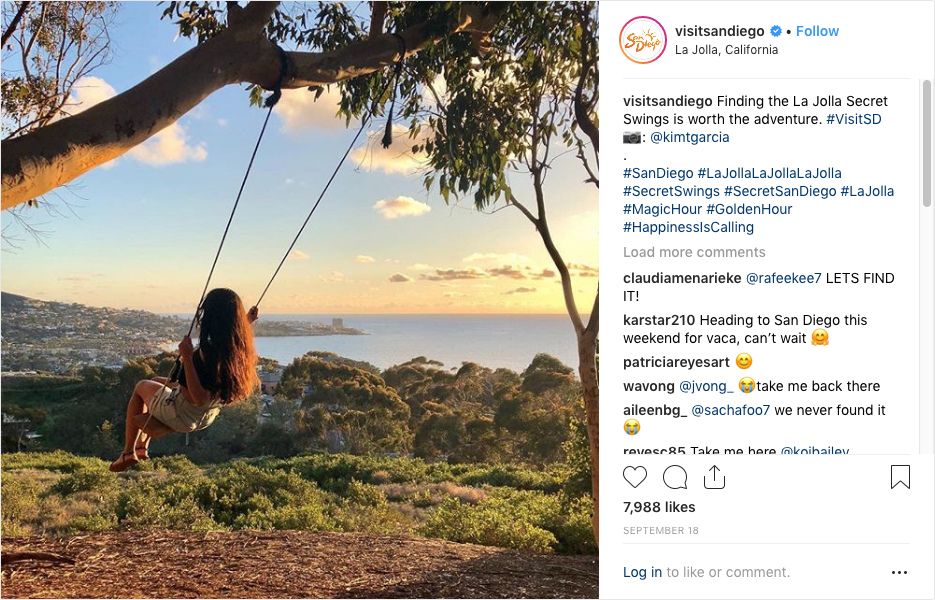 INTERNATIONAL CONSUMER DIGITAL MARKETING
China
Overall sessions to the China website (sandiego.com.cn) was 6,281. The social media team, in partnership with Hylink, published a total of 30 Weibo posts and 4 WeChat posts.
Mexico
Overall traffic to the Mexico page was 557 unique users. The social media team, in partnership with PR Central, published a total of 12 Facebook posts and 7 Instagram posts.
Japan
Overall traffic to the Japan page was 1,503 unique users. The social media team, in partnership with aviaREPs, published a total of 21 Facebook posts.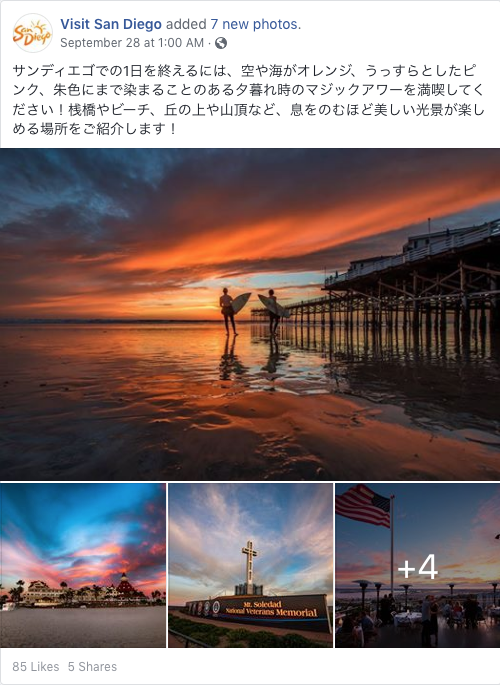 B2B DIGITAL
EMAIL:
The September B2B Postcard was delivered to 8,215 meeting planners as part of a year-long series of "listicle" emails. Each month a new list showcases San Diego icons, regions, businesses, or opportunities to inspire meeting and event planners. The open rate for the September B2B email was 19.6% which represents over 1,577 unique meeting planners. The September email highlighted unique tour opportunities for attendees.
LINKEDIN:
5 unique posts during September garnered 9,878 impressions and included:
World Tourism Day Promotion
Meeting Certified feature coverage by Destinations International
Fall Sales & Marketing Workshop Promotion
Visit California – Global Ready India invitation
Glorietta Bay Inn Sold for $39M story
LinkedIn grew by 1.2% from last month to 6,993 followers, earning more than 9,800 impressions. Year-over-Year the LinkedIn Audience grew by 17%.
Where We Stand
LinkedIn followers compared to similar organizations:
Visit Orlando 11,736
Discover Los Angeles 7,609
Visit San Diego 6,993
Visit California 6,739
San Francisco Travel Association 5,016
Brand USA 5,096
US Travel Association 3,273
Visit Anaheim 2,558
San Diego Convention Center 2,096
San Francisco CVB 1,288
California Travel Association 959
TWITTER:  @SDTAConnect Twitter base grew by 363% from last month to 3,886 followers. There were 12 tweets during the month.
This month, the tweet with the most exposure was coverage of the first ever California Surfing Day featuring a press conference and highlighting support for physically challenged veterans hosted by Surf Divas. This was held to support Visit California's initiative.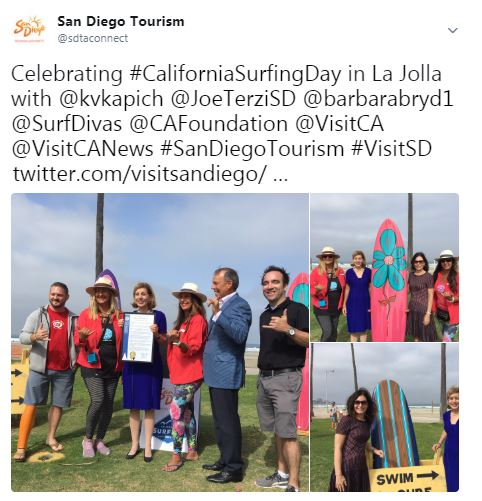 The tweet with the most engagement showcased a behind-the-scenes tour of the new International arrivals terminal at San Diego Airport.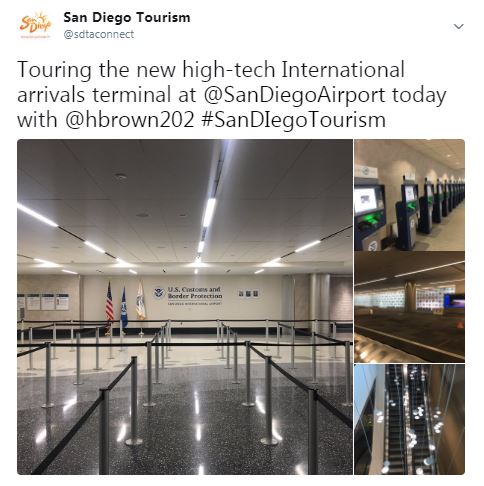 The B2B account earned nearly 9,200 impressions during the month of September and increased by 12% YoY.
MEMBERSHIP
14 New Members joined in September, $12,095 in annual dues revenue.
20 Members attended the Open Office Hours to learn how to best maximize benefits.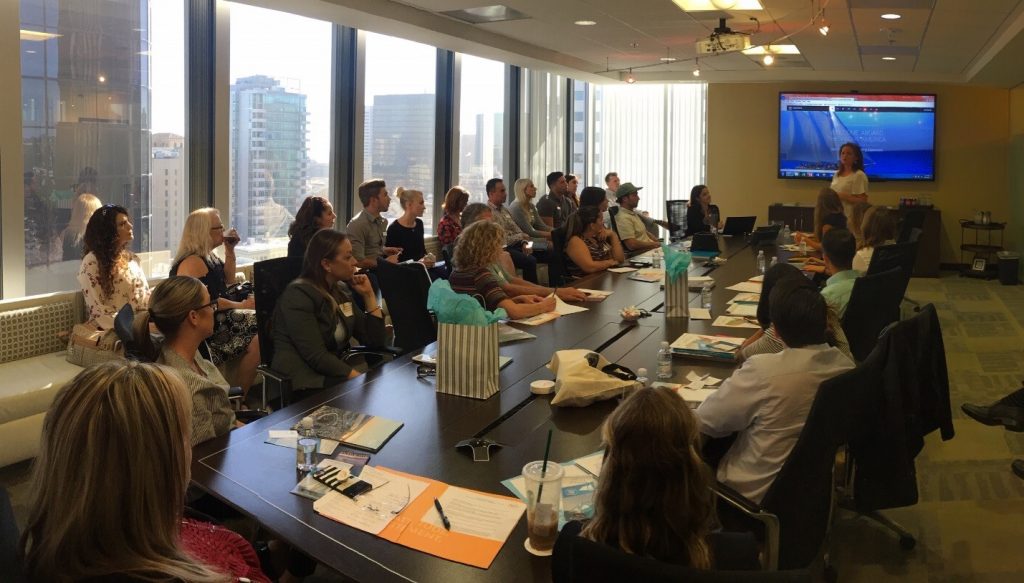 NEW MEMBERS
Ad Sales
$ 39,935 was earned in new ad contracts.
Member outreach
In September the team visited, met or attended events with these Members:
Intercontinental Hotel
Gaslamp Quarter Association Gala
Flagship Cruises and Events
Hilton Gaslamp Quarter
Everyday California
Toddler's Travels
Peohe's
RMD group
HOTEL SALES
Hotel Meetings Sales and Events
The Hotel Meetings Sales team had another strong month in September to close out the quarter, booking 58 meetings, representing 38,687 room nights.  Year to date, the team has converted 153 bookings and 78,262 total room nights for the destination.  Our Customer Acquisition program is continuing to provide positive results generating 5 new group leads in the past month from previous Connect and NHS Global Events Fams representing 3,494 room nights.
This month, our sales and events team conducted client events and sales calls in Seattle, Los Angeles, and Orange County.  In Seattle, Alicia Moneyhun, National Sales Director led a successful roadshow with 10 hotel partners, showcasing San Diego to 78 meeting planners through 4 events and sales calls with Zillow, T-Mobile, Trupanion, and SH Worldwide.  5 group leads have been generated so far, representing 2,175 room nights.   In Los Angeles and Orange County, Veronica Rivera, National Sales Director, along with 11 hotel partners, connected with 58 meeting planners through 2 events and targeted sales calls with Pacific Life Insurance, IEEE Computer Society, and International Site Alliance.  We have received 3 group opportunities thus far, with more on the horizon.  Finally, Brianne Mouton, National Sales Manager attended the Professional Fraternity Association's Annual Conference in Wichita, Kansas.  Brianne conducted 14 one on one appointments with clients generated 2 group opportunities.
Site Experience Highlights
The Site Experience team was on the move in September, with 18 client site experiences, creating exposure to 57 hotels and 17 venues.
In addition, the San Diego Tourism Authority hosted the Egencia Meeting and Events team, along with their high-end corporate clients for a FAM trip the last week of September.  15 meeting planners and account executives spent 3 days in San Diego experiencing 29 hotels through site inspections and presentations.  These planners were targeted, as they have group opportunities for San Diego, though have (1) never been to San Diego or (2) have never booked a meeting in San Diego.
SAN DIEGO MEETING CERTIFIED
San Diego Meeting Certified has graduated seven classes of hospitality professionals since the program's February debut. This certification program is designed specifically for all Hotel Sales Managers, Directors of Sales, and General Managers. It provides you with an actionable plan for selling your property, neighborhood, and the destination to improve your hotel conversion rate. The final class scheduled in 2018 is open for registration now. FOR DETAILS AND TO REGISTER, CLICK HERE.
SEE WHAT RECENT GRADUATES HAVE TO SAY…
"As someone new to San Diego, I enjoyed connecting with fellow industry colleagues to learn more about their properties and areas of expertise. I also liked the overall concept of using stories and tactics like mind-mapping to better engage the client and understand their specific needs."
"The story selling approach was a great way to address the eventual rut that most salespeople will find themselves in. I have already seen a difference in my ability to sell my property with more confidence."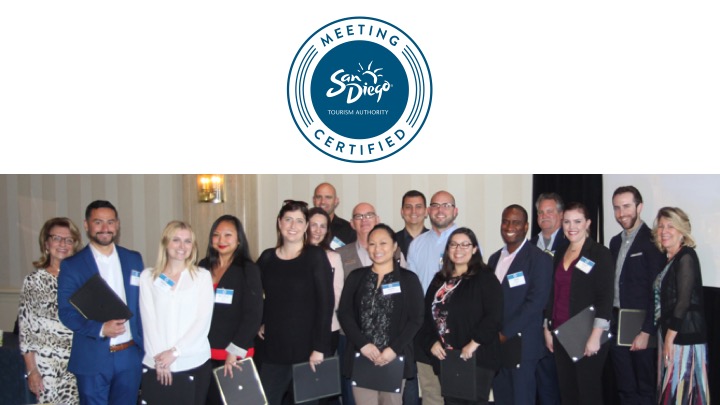 CITYWIDE SALES
FY19:
Definite Bookings: 2
Attendance: 12,900
Total Room Nights: 23,213
Fiscal Year 19-To-Date: 102,463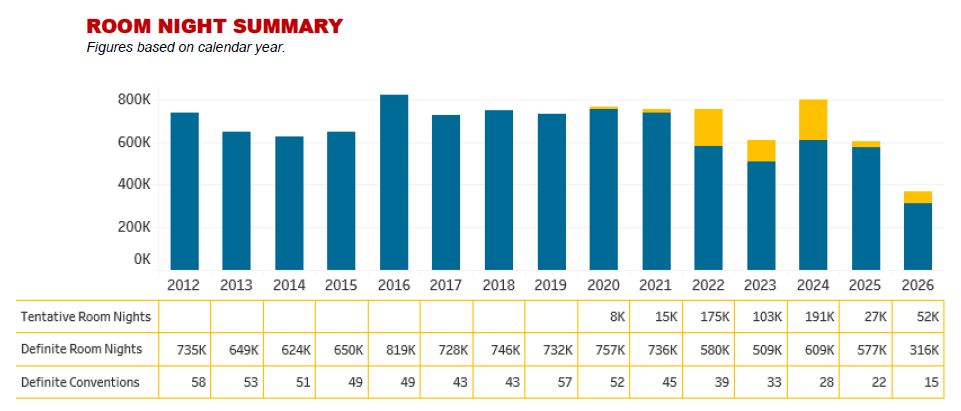 PUBLIC RELATIONS
In September, International PR Manager Joe Timko, in partnership with Edelweiss Airlines, hosted a group of 5 top Swiss media outlets and members of the Edelweiss Airlines marketing team on a visit to San Diego. The group's itinerary highlighted our outdoor recreation, beautiful coastline, rich history and culture, colorful neighborhoods, craft beer, culinary offerings, and dynamic nightlife. PR Manager Edna Gutierrez traveled to Los Angeles on media calls and met with leading outlets including OC Register Magazine, Laguna Beach Magazine, Tastemade, Forbes.com, Hoy Los Angeles, La Opinion, Univision and UPROXX. Ms. Gutierrez also hosted Mexican reporters from Grupo Expansion publishing house in collaboration with Cross Border Xpress.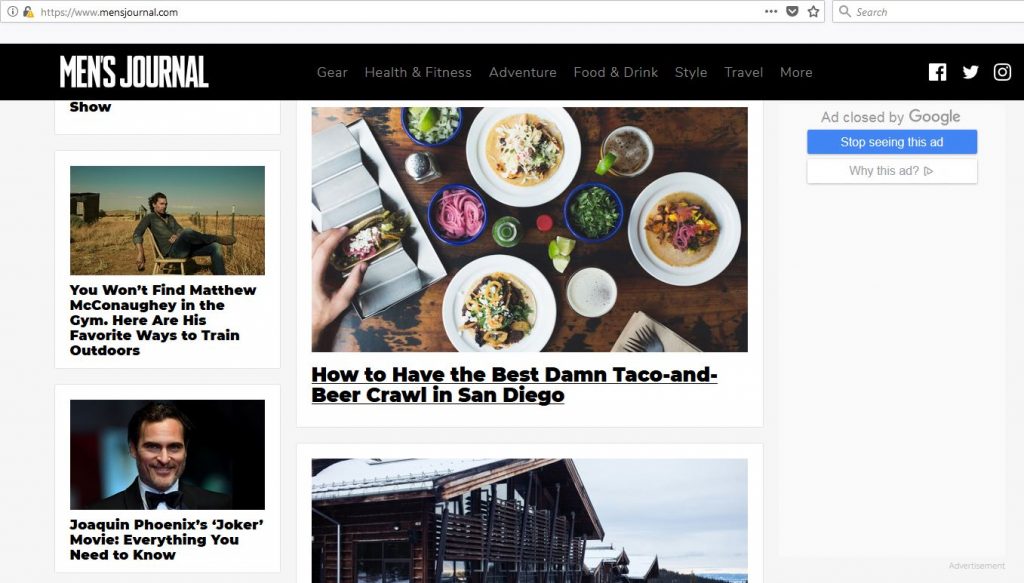 Communications hosted a number of media, including UK outlets The Observer and Savour Magazine, and Vice Media and Travel + Leisure from the U.S.
Key coverage received in September included Good Morning Arizona TV, House of Coco (UK), the Sydney Morning Herald, Skyward (Japan Airlines' in-flight), Men's Journal, Laguna Beach magazine, and more.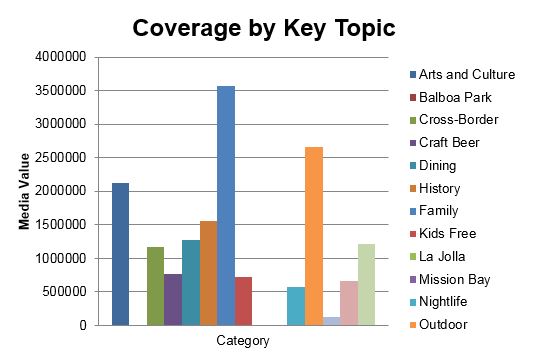 TOURISM DEVELOPMENT
The Tourism Development team distributed 45 referrals and 4 leads to member businesses from travel trade clients.  The team certified 27 new San Diego Specialists agents from USA, Australia, New Zealand, Mexico, Argentina and Brazil who account for approximately 477 visitors to San Diego – generating approximately 412 annual room nights.
SDTA Travel Trade participated in La Cita de las Americas the first week of September with 30 appointments in Fort Lauderdale, FL where Phil Hannes, Sr. Director of International Marketing met with several South America wholesalers to work on San Diego itineraries to be included in their product catalogs.
Denise Heredia, Travel Trade Representative in Mexico participated in NEXT Travel Trade Exchange event September 11-14 in the Riviera Maya where she met with 40 Latin tour operators and wholesalers to discuss San Diego product inclusion and agent destination education.
Phil Hannes attended the World Routes Conference in Guangzhou, China from the 14th to the 19th of September accompanying the San Diego International Airport team to meet with key airline industry representatives in the development of new flights into our region.  We were there to promote San Diego, make new contacts, meet existing clients and update our knowledge of industry trends and developments.
From September 18 to 19, Riki Suzuki, Tourism Development Manager, participated in the Active America China Receptive Operator Edition in the Los Angeles area. Riki presented to over 25 LA-based Chinese receptive tour operators and later sat one-on-one with each of them to discuss business opportunities individually. Also, on the 2nd day, Riki visited 5 different receptive operators' offices to learn more about their business.
Jacky Zhu, Travel Trade Representative in Shanghai, participated in Club California Product Development Series Shenzhen on September 21st. Ten key tour operators, wholesalers, and OTAs in the region joined the session where Jacky delivered the destination presentation and met with each of them on one-on-one meetings.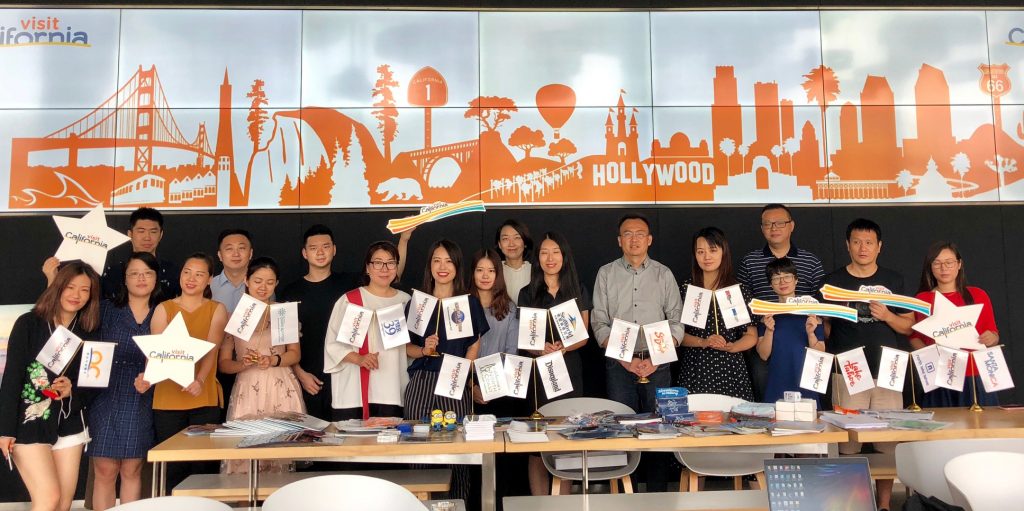 Phil Hannes, Sr. Director of International Marketing participated in the Mark Travel Annual Summit in Cancun with over 650 travel agents and 200 destination executives and suppliers in attendance.  Attending agents received San Diego destination information and were offered an extensive line up of more than 30 workshops, seminars and professional development courses covering such topics as customer engagement, business operations, and supplier and destination information.
FAMS
Tourism Development hosted 1 Domestic fam and 5 International agent fams during September.  Race Around Southern CA and SDTA Australia brought two groups of 12 agents to San Diego for 2 days each, Brand USA Brazil accompanied 5 top tier agents to San Diego for 3 days, and Intercity Argentina accompanied 8 agents to San Diego for 2 days on itineraries that included USS Midway, San Diego Zoo, SeaWorld, Old Town Trolley Tours, The Hopper and Speed Boat Adventures, Harbor Cruises and Dinner Cruise on Hornblower as well as area hotels. 38 International Agents were trained on San Diego, and 1 Domestic agent visited San Diego in preparation for Group Tour 2019. SDTA provided collateral support to the Port of San Diego for Cruise Lines International Association (CLIA) hosted luncheon in San Diego (100 agents anticipated).