Below are the August 2018 sales & marketing highlights from various departments from the San Diego Tourism Authority.
BRAND MARKETING
DOMESTIC LEISURE ADVERTISING
Now in its seventh year, the Kids Free San Diego campaign launched in August. The destination-wide promotion brings together more than 110 SDTA members across hotels, attractions, museums, activities and restaurants to offer Kids Free deals and inspire travel to San Diego during October. The $400,000 campaign will run through mid-October, delivering an estimated 38.3 million impressions in Los Angeles, Phoenix and Las Vegas. Campaign highlights include:
Radio – Terrestrial and Streaming
Digital display advertising targeted to family travelers
Google AdWords search marketing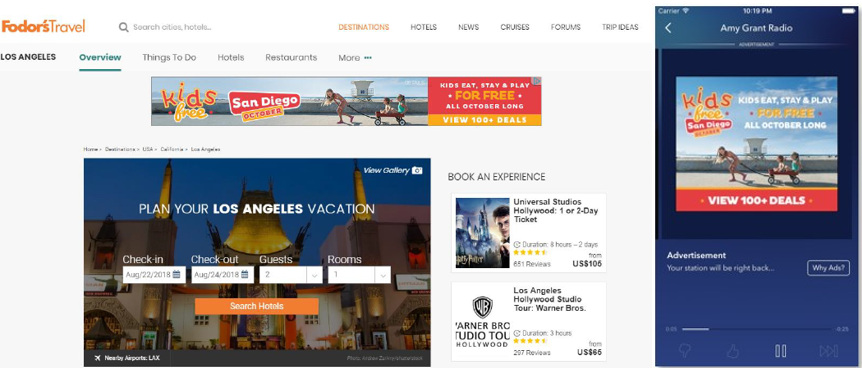 INTERNATIONAL LEISURE ADVERTISING
CHINA
To enhance awareness of San Diego in the China market, SDTA partnered with San Francisco and Hilton to promote the "Best of California" on Ctrip.  The campaign leverages San Francisco as the gateway city and promotes direct flights to San Diego from San Francisco. The two-phase program launched in August and will run through the end of October.
Campaign impressions for August were estimated at 12.1 million and spend for all co-op partners totaled $67.5K. SDTA's August spend was $18.7K.
DIGITAL MARKETING
Special events in August focused on KAABOO Del Mar, SWOOP, US Sand Sculpting Challenge and Labor Day.
Web traffic for August included 604,876 user sessions between the desktop and mobile websites. The team posted a total of 95 Tweets, 23 Facebook posts, and 17 Instagram posts through our social channels. There were 11 blogs and 6 consumer emails published this month.
LEISURE DIGITAL
Most Engaged Facebook Post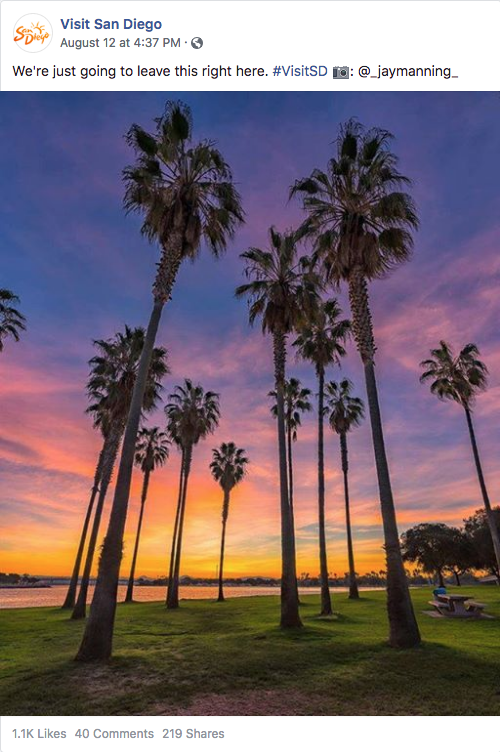 Most Engaged Twitter Post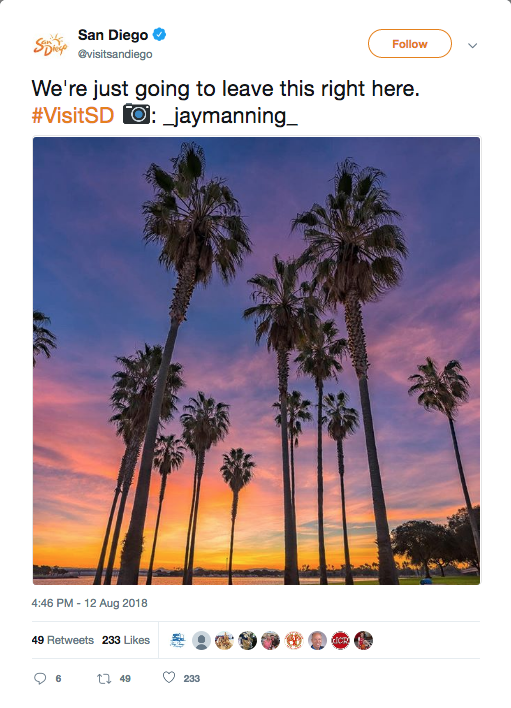 Most Engaged Instagram Post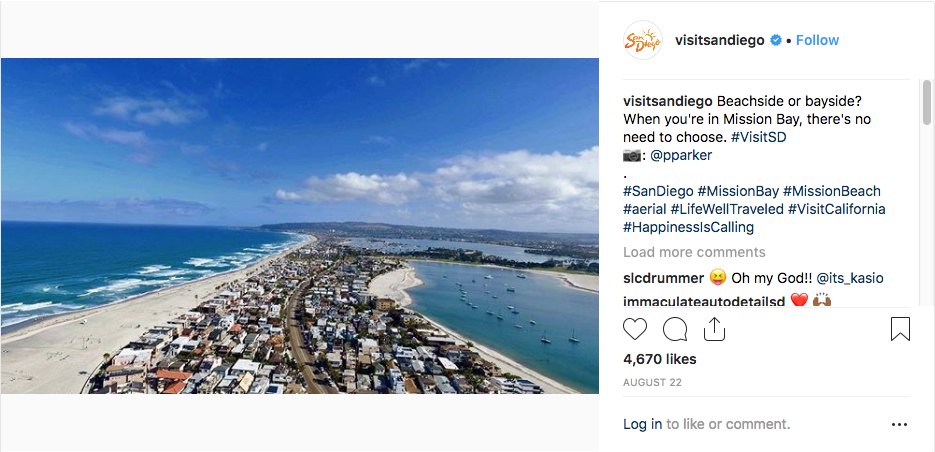 INTERNATIONAL CONSUMER DIGITAL MARKETING
China
Overall traffic to the China website (sandiego.com.cn) was 2,655. The social media team, in partnership with Hylink, published a total of 32 Weibo posts and 4 WeChat posts.
Most Engaged China Content in July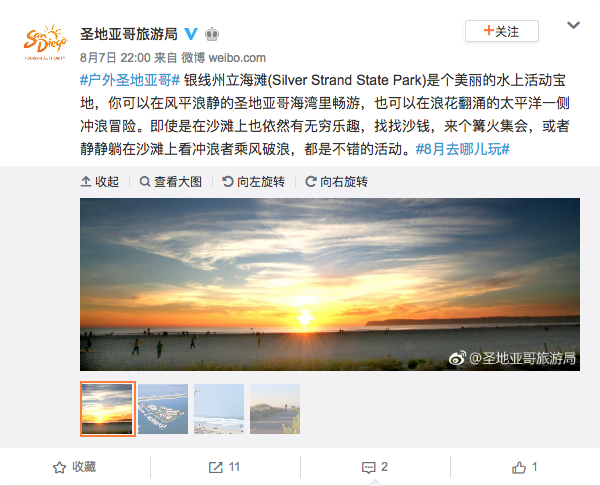 Mexico
Overall traffic to the Mexico page was 616 unique users. The social media team, in partnership with PR Central, published a total of 7 Facebook posts and 9 Instagram posts.
Most Engaged Mexico Content in July
Japan
Overall traffic to the Japan page was 1,691 unique users. The social media team, in partnership with aviaREPs, published a total of 24 Facebook posts.
Most Engaged Japan Content in July

B2B DIGITAL
EMAIL:
The August B2B Postcard was delivered to 6,858 meeting planners as part of a year-long series of "listicle" emails. Each month a new list showcases San Diego icons, regions, businesses, or opportunities to inspire meeting and event planners. The open rate for the August B2B email was 21.2% which represents over 1,389 unique meeting planners. The August email highlighted unique ways to provide after-hours entertainment for meeting and event attendees.
LINKEDIN:
2 unique posts during August garnered 10,506 impressions and included:
Breeders' Cup 2021 Return to Del Mar Announcement
Recruitment Post for SDTA Career Opening
LinkedIn grew by 1.5% from last month to 6,913 followers, earning more than 10,506 impressions. Year-over-Year the LinkedIn Audience grew by 16%.
Where We Stand
LinkedIn followers compared to similar organizations:

Visit Orlando 11,597
Discover Los Angeles 7,531
Visit San Diego 6,913
Visit California 6,653
San Francisco Travel Association 4,980
Brand USA 5,007
US Travel Association 3,226
Visit Anaheim 2,541
San Diego Convention Center 2,071
San Francisco CVB 1,283
California Travel Association 957
TWITTER:
@SDTAConnect Twitter base grew by 1% from last month to 3,849 followers. There were 14 tweets during the month.
This month, the tweet with the most exposure (3,591 impressions) was a series of photos of the ribbon cutting ceremony for Piazza della Fmiglia in Little Italy, featuring Mayor Kevin Faulconer, Assemblyman Todd Gloria, and others. This tweet also saw the largest engagement with more than 150 interactions.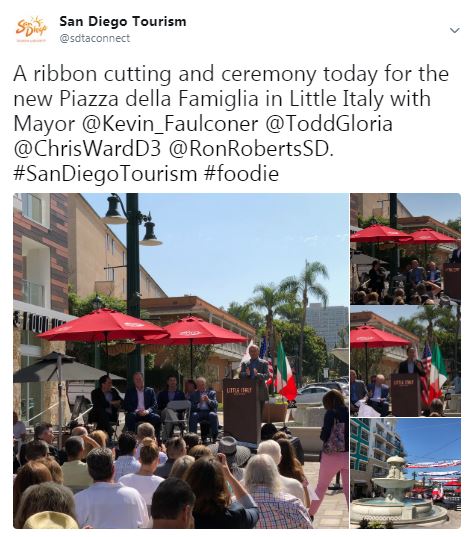 The B2B Account earned nearly 31,100 impressions during the month of August and increased by 12% YoY.
MEMBERSHIP
Six new members joined in August earning $5,160 in annual dues revenue.
18 members attended Open Office Hours in August
9 members attended New Member Inspiration in August
NEW MEMBERS
$ 29,885 was earned in new ad contracts.
Member Events
The SDTA was again a leader in the All Industry Cruise networking event. Another sold-out event attracted over 1,000 industry professionals from all over San Diego.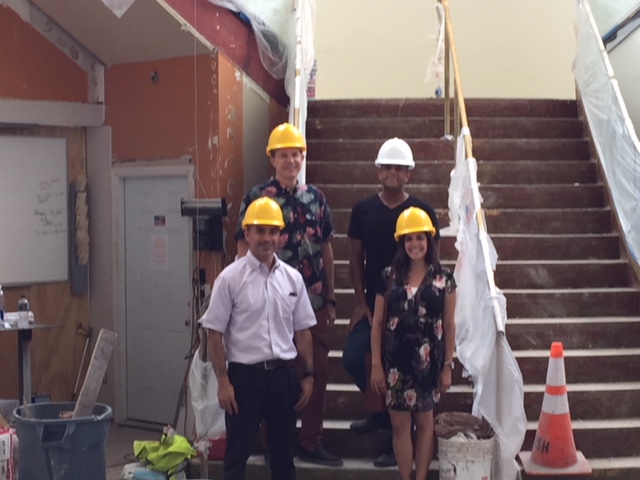 Member outreach
In August the team visited, met or attended events with these Members:
A Taste of Westgate Event
San Diego Zoo
Holiday Party Open House at Volcano Rabbit
Liberty Station
Hard hat tour at Theatre Box
Petrini's
Best of San Diego Party by San Diego Magazine
Café 21 Hospitality Industry Event
Oceanaire Seafood Room Open House
Annual Hospitality Showcase at The Lafayette Hotel
Eppig Brewing Co
Holiday Preview Open House at Morton's
Liberty Station Hampton Inn & Suites and Towne Place Suites
Fashion Valley
HOTEL SALES
Hotel Meetings Sales and Events
In August, the Hotel Meetings Sales team had another strong month, booking 54 meetings, representing 26,265 room nights.  Our Customer Acquisition program is continuing to provide positive results with 5 group leads converting from our Northstar, Midwest Roadshow, and Connect Fam events representing 1,097 room nights.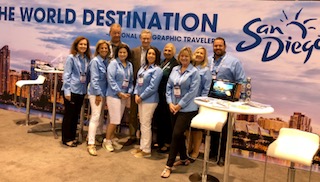 This month, our National Sales Directors, Gillian Ware, Lori Alstrom, and Michelle Coombs attended Connect Marketplace in Salt Lake City.  During the event, the team conducted 90 one on one appointments within the Corporate, Association, and Specialty tracks, generating 16 group leads (12,921 room nights).  In addition, our hotel sales team partnered with our citywide team at ASAE's Annual program in Chicago, generating 18 leads, representing 56,310 room nights.  The team also attended IncentiveWorks in Toronto, as well as the Kellen Manager's Summit in Atlanta, both having success in connecting with high end corporate and incentive meeting planners.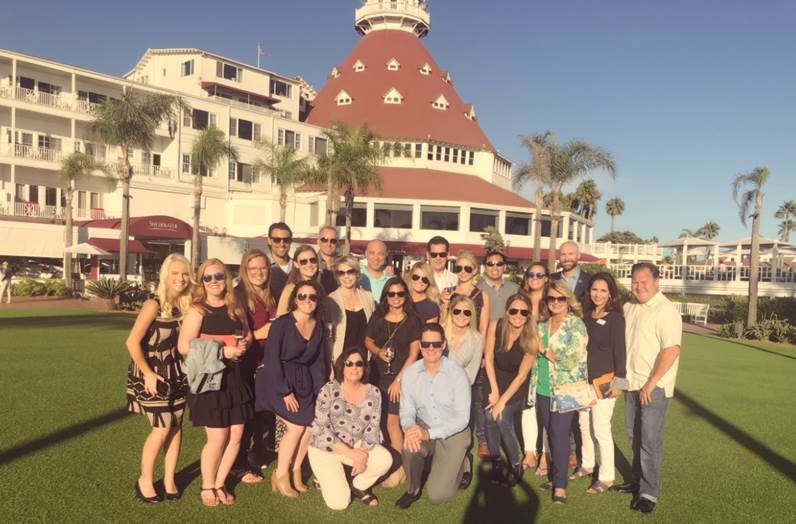 Site Experience Highlights
The Site Experience team had a busy August, with 20 client site experiences, creating exposure to 68 hotels and 11 venues.
In addition, the San Diego Tourism Authority hosted the NHS Global Events team, a prominent event planning company based in Chicago.  22 meeting planners and account executives spent 3 days in San Diego experiencing 29 hotels through site inspections and presentations.  We have achieved immediate ROI receiving 3 group opportunities for 1,835 room nights total.
SAN DIEGO MEETING CERTIFIED
San Diego Meeting Certified has graduated six classes of hospitality professionals since the program's February debut. This certification program is designed specifically for all Hotel Sales Managers, Directors of Sales, and General Managers. It provides you with an actionable plan for selling your property, neighborhood, and the destination to improve your hotel conversion rate. There are two remaining classes scheduled in 2018. FOR DETAILS AND TO REGISTER, CLICK HERE.
SEE WHAT RECENT GRADUATES HAVE TO SAY…
"As someone new to San Diego, I enjoyed connecting with fellow industry colleagues to learn more about their properties and areas of expertise. I also liked the overall concept of using stories and tactics like mind-mapping to better engage the client and understand their specific needs."
"The story selling approach was a great way to address the eventual rut that most salespeople will find themselves in. I have already seen a difference in my ability to sell my property with more confidence."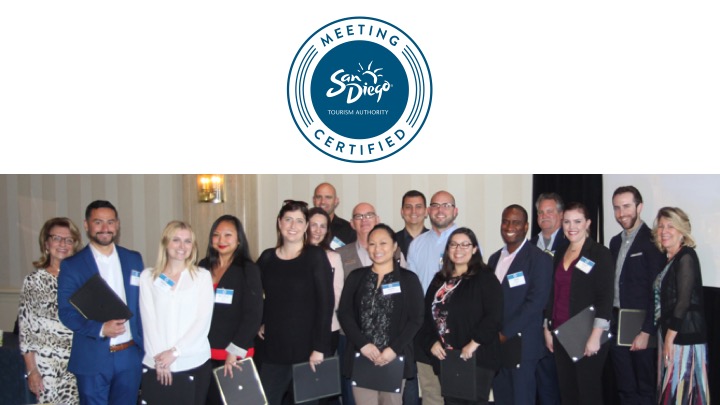 CITYWIDE SALES
FY19:
Definite Bookings: 7
Attendance: 46,000
Total Room Nights: 79,250
Fiscal Year 19-To-Date: 79,250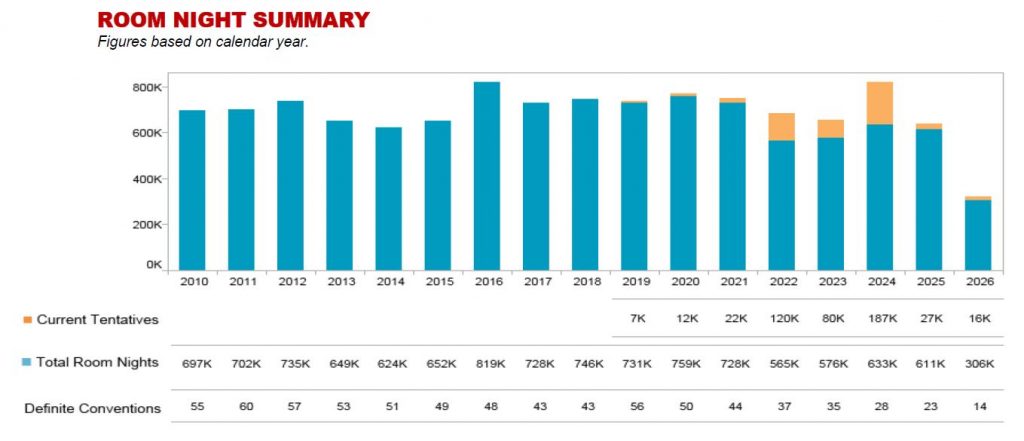 PUBLIC RELATIONS
In August, International PR Manager Joe Timko traveled to Australia as part of the Visit California 2018 media mission. While in Melbourne and Sydney, Mr. Timko met with and pitched San Diego story ideas to key travel media in Melbourne and Sydney including national daily newspapers, consumer magazines, travel trade, TV and radio programs, freelance writers, bloggers and social influencers.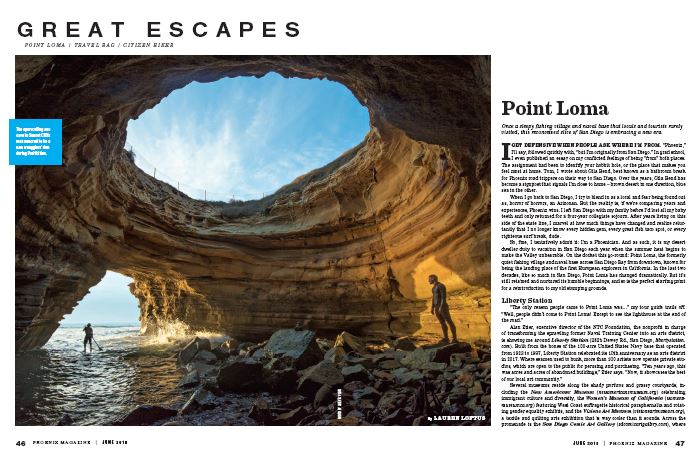 The team hosted media from Mexican airline in-flight magazines, Aire and Volaris, as well as Seattle magazine, Laguna Beach magazine, Men's Journal and more.
Key coverage received in August include WestJet Magazine, Delta Sky, Sunset magazine, Hello magazine (UK) and more.
Total Press Coverage:
Media Value: $3,575,340
Impressions: 278,865,345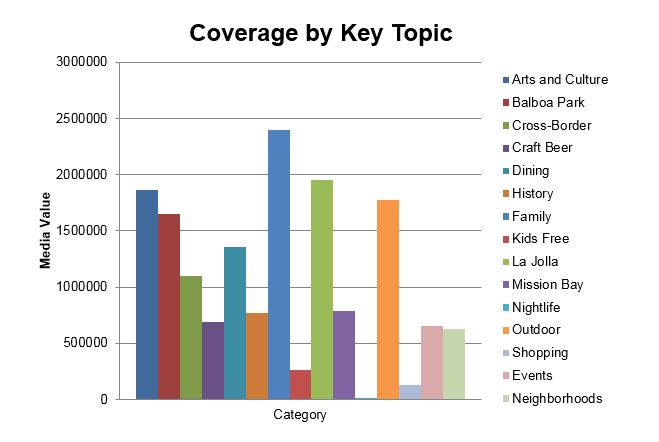 TOURISM DEVELOPMENT
The Tourism Development team distributed 6 referrals and 1 lead to member businesses from travel trade clients.  The team certified 18 new San Diego Specialists agents from USA, Japan, Germany and Australia who account for approximately 218 visitors to San Diego – generating approximately 452 annual room nights.
On August 13th, SDTA co-hosted Agent Kai MLB FAM with San Diego Padres. 14 California based Japanese receptive tour operators and airline partners joined Riki Suzuki, Tourism Development Manager, and 13 San Diego partners for a networking event at the Petco Park during San Diego Padres vs Anaheim Angeles baseball game. The following day, Japanese operators had a site tour to get more familiarized with San Diego attractions and venues.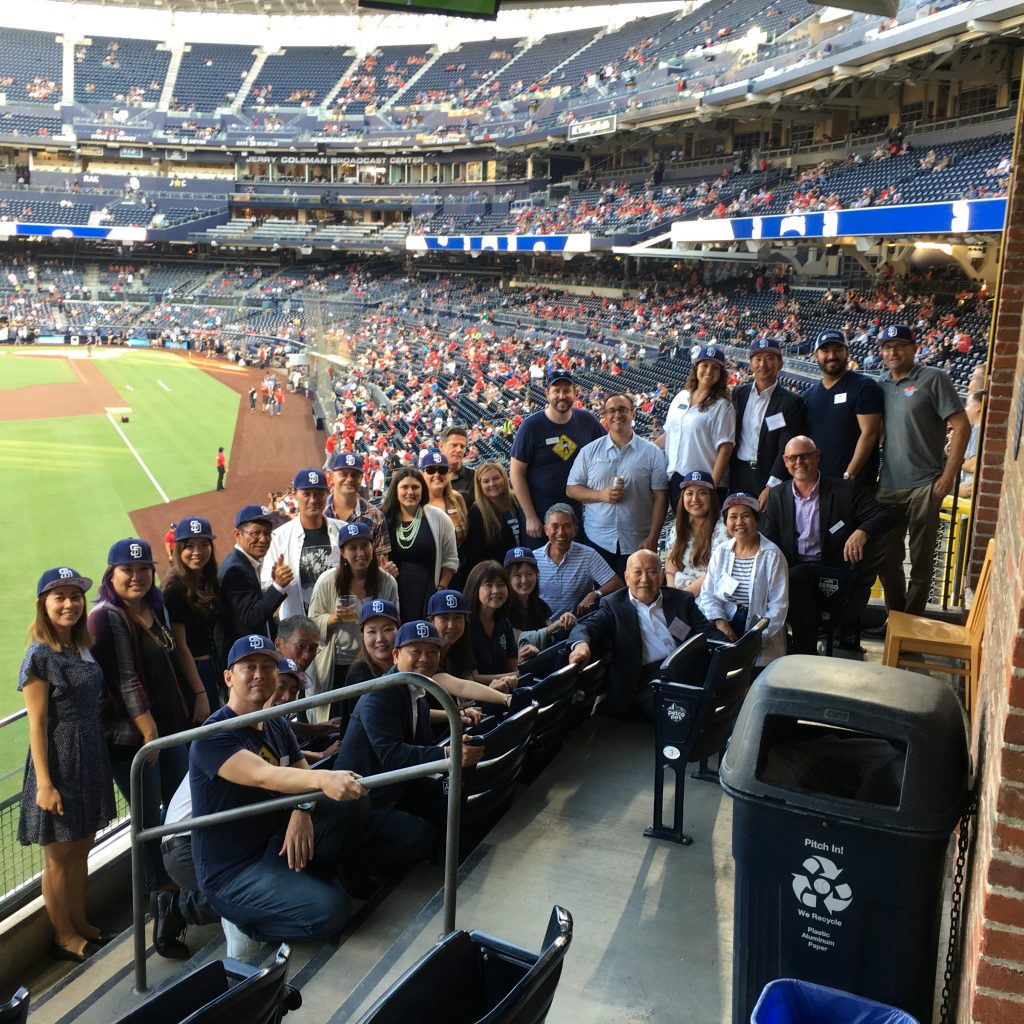 In mid-August, Tourism Development Manager Riki Suzuki, attended the Visit California Sales Mission to New Zealand and Australia. During the mission, Riki attended 8 events across 3 cities, Auckland, Brisbane and Sydney, and trained 395 travel agents. Also, Riki had an opportunity to meet one-on-one with 28 product managers to discuss San Diego products and development.
The team hosted one of the 6 MegaFam groups for the Brand USA Australia, in partnership with Air New Zealand.  13 participants including 2 Brand USA staff spent 3 days experiencing outdoor activities, museums, attractions and one of the Bayside Summer Night Concerts.