Below are the July 2018 sales & marketing highlights from various departments from the San Diego Tourism Authority.
BRAND MARKETING
DOMESTIC LEISURE ADVERTISING
The Fall FY19 Awesome All Year campaign launched in July. The $436,670 campaign will run through October, delivering an estimated 23.5 million impressions in Los Angeles, Phoenix and Las Vegas. The digital out-of-home placements and paid social will showcase the variety of San Diego's fall events.
SDTA's "Always On" digital content program will continue throughout FY19. Leveraging media and creative learnings from the FY18 strategy, the $4.5 million program is designed to drive awareness of specific San Diego offerings while increasing engagement and reaching new audiences. Four content series (Guides to the Good Stuff 3.0, One Bright Idea, Bliss Break and Sunny 7) will be distributed nationally along with a heavy-up in the Los Angeles and Phoenix volume markets.
DIGITAL MARKETING
Special events in July focused on Summer, 4th of July/Big Bay Boom, San Diego Pride Weekend, and Comic-Con.
Web traffic for July included 728,826 user sessions between the desktop and mobile websites and we posted a total of 87 Tweets, 22 Facebook posts, and 17 Instagram posts through our social channels, 10 blogs, and 6 consumer emails.
LEISURE DIGITAL
Most Engaged Facebook Post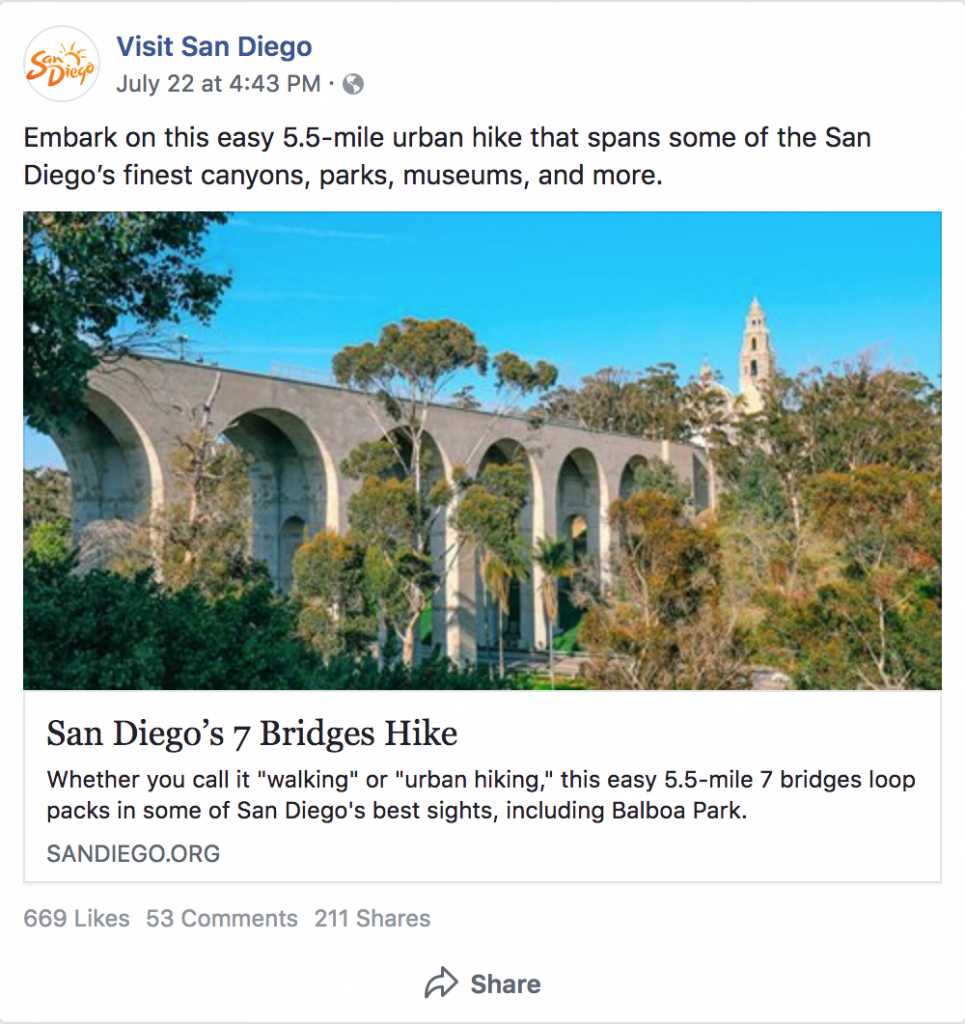 Most Engaged Twitter Post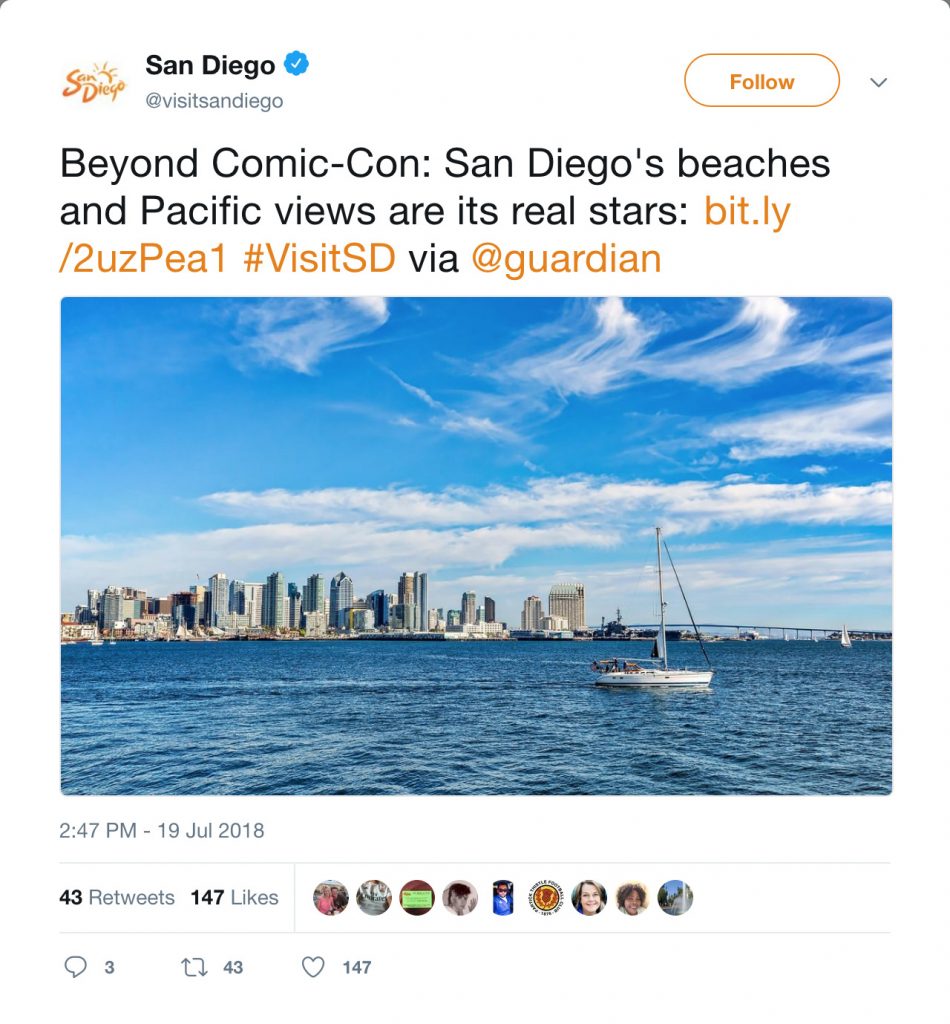 Most Engaged Instagram Post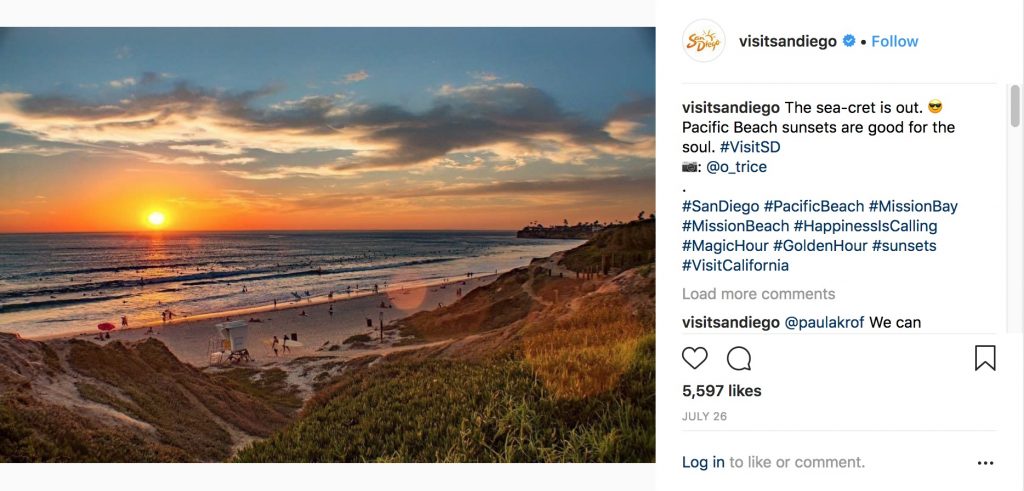 INTERNATIONAL CONSUMER DIGITAL MARKETING
China
Overall traffic to the China website (sandiego.com.cn) was 2,655. The social media team, in partnership with Hylink, published a total of 31 Weibo posts and 4 WeChat posts.
Most Engaged China Content in July
Mexico
Overall traffic to the Mexico page was 1,447 unique users. The social media team, in partnership with PR Central, published a total of 7 Facebook posts and 5 Instagram posts. 
Most Engaged Mexico Content in July
Japan
Overall traffic to the Mexico page was 1,835 unique users. The social media team, in partnership with aviaREPs, published a total of 18 Facebook posts.
Most Engaged Japan Content in July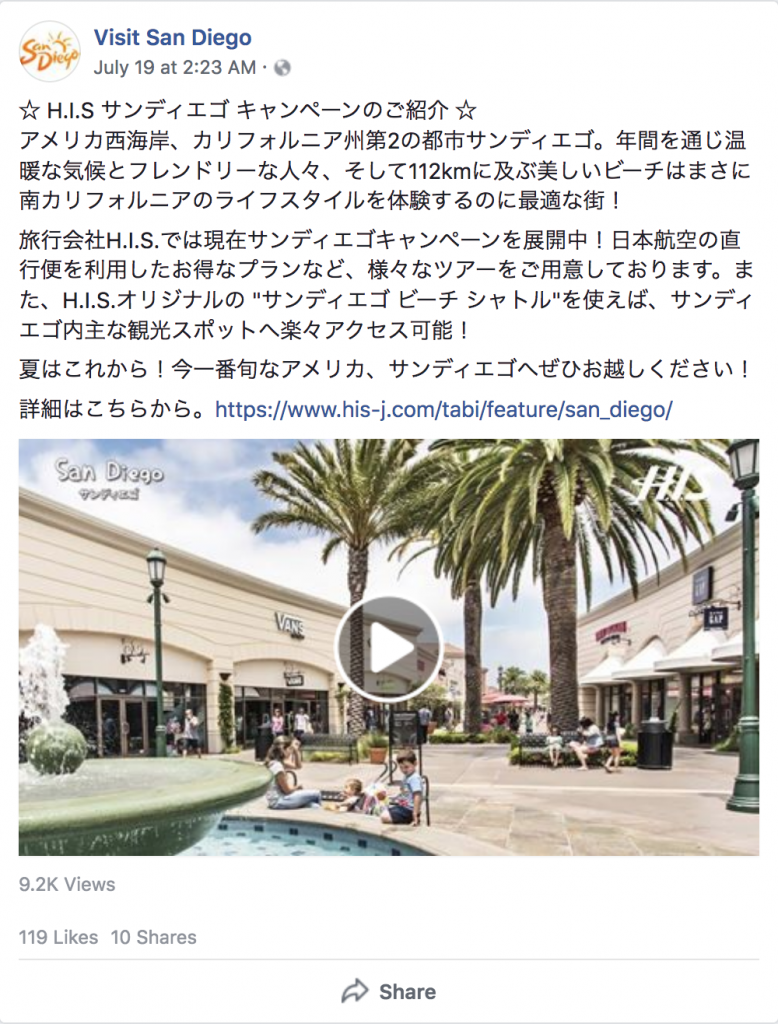 Google PPC
We ran only domestic Google PPC in July.  Google domestic PPC adverting for July totaled $549.24 generating 49,600 million impressions and 1,156 clicks for an average click-through rate of 2.33%.
B2B DIGITAL
EMAIL:
The July B2B Postcard was delivered to 6,705 meeting planners as part of a year-long series of "listicle" emails. Each month a new list showcases San Diego icons, regions, businesses, or opportunities to inspire meeting and event planners. The open rate for the July B2B postcard was 18.5% which represents over 1,226 unique meeting planners. The July email highlighted reasons for attendees to extend their visit to San Diego by bringing the family for a pre- or post-show stay.
LINKEDIN:
3 unique posts during June garnered 14,850 impressions and included:
Reminder to save the date for the SDTA Fall Annual Sales & Marketing Workshop
Career opportunity for a Marketing Services Coordinator
CVent announcement that San Diego moves to No. 4 Top US Destination.
LinkedIn grew by 1.6% from last month to 6,811 followers, earning more than 14,850 impressions. Year-over-Year the LinkedIn Audience grew by 16%.
Where We Stand
LinkedIn followers compared to similar organizations:

Visit Orlando 11,467
Discover Los Angeles 7,413
Visit San Diego 6,811
Visit California 6,568
San Francisco Travel Association 4,945
Brand USA 4,939
US Travel Association 3,151
Visit Anaheim 2,520
San Diego Convention Center 2,041
San Francisco CVB 1,278
California Travel Association 927
TWITTER:
@SDTAConnect Twitter base grew by 1% from last month to 3,841 followers. There were 16 tweets during the month.
This month, the tweet with the most exposure (4,971 impressions) was a photo showing tourism industry workers with Father Joe turning in signatures in support of the ballot initiative for homelessness, infrastructure, and convention center expansion. This tweet also saw the largest engagement with more than 118 interactions.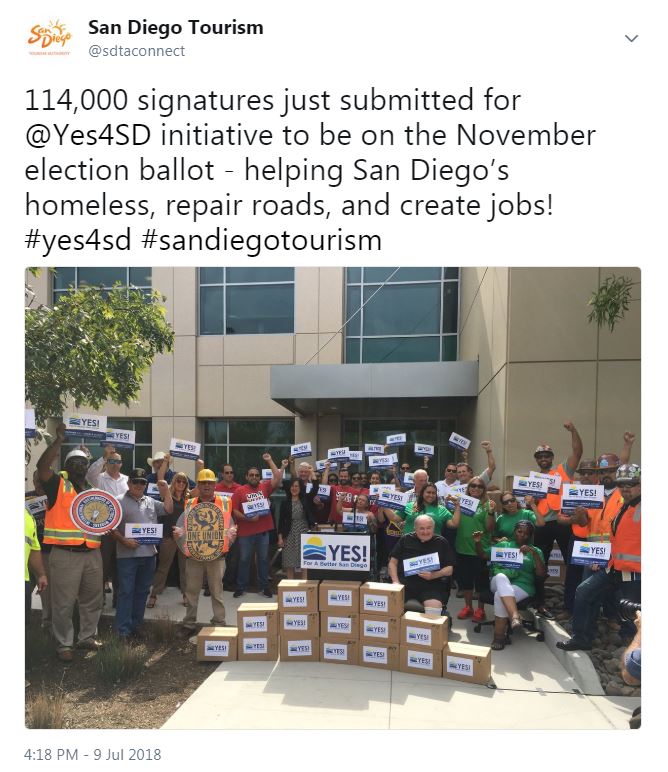 The B2B Account earned nearly 25,800 impressions during the month of July and increased by 13.2% YoY.
MEMBERSHIP
Five new members joined in July earning $1.925 in annual dues revenue.
NEW MEMBERS
25 members attended the Open Office Hours to learn how to best maximize benefits. They met with staff from our Group Sales team.  14 new members attended the July New Member Inspiration training session.
HOTEL SALES
Hotel Meetings Sales and Events
The Hotel Meetings Sales team kicked off the fiscal year booking 41 meetings, representing 13,310 room nights in the month of July.  Our Customer Acquisition program is in full stride with National Sales Director Andrea O'Hara booking a group meeting through a recent Familiarization trip, representing 408 RN's for January of 2019.  In addition, the sales team generated 8 new group lead opportunities through our Familiarization trips, with decisions coming in the next few months.
Brianne Mouton, National Sales Manager, attended the Fraternity Executives Association's Annual Meeting, which was held at the Marriott Marquis San Diego.  From the tradeshow, Brianne interacted with 450 meeting decision makers, generating 2 group leads, with 5 potential RFP's being generated in coming months.  In addition, Gillian Ware, National Sales Director, conducted a client event in New Mexico with 10 meeting planners from Los Alamos National Laboratory.  From the event, 1 group lead has been generated, with more on the horizon.
Site Experience Highlights
The Site Experience team had a busy July, with 23 client site experiences, creating exposure to 80 hotels and 9 venues.  This month we have received positive feedback from clients on the engagement of hotel sales managers.  They specifically commented about so many sales managers sharing memorable stories and experiences about their hotels and region.  Attending San Diego Meeting Certified is making a difference in how our sales community presents the San Diego brand, hotels, and neighborhoods.
SAN DIEGO MEETING CERTIFIED
San Diego Meeting Certified has graduated six classes of hospitality professionals since the program's February debut. This certification program is designed specifically for all Hotel Sales Managers, Directors of Sales, and General Managers. It provides you with an actionable plan for selling your property, neighborhood, and the destination to improve your hotel conversion rate. There are two remaining classes scheduled in 2018. FOR DETAILS AND TO REGISTER, CLICK HERE.
SEE WHAT RECENT GRADUATES HAVE TO SAY…
"As someone new to San Diego, I enjoyed connecting with fellow industry colleagues to learn more about their properties and areas of expertise. I also liked the overall concept of using stories and tactics like mind-mapping to better engage the client and understand their specific needs."
"The story selling approach was a great way to address the eventual rut that most salespeople will find themselves in. I have already seen a difference in my ability to sell my property with more confidence."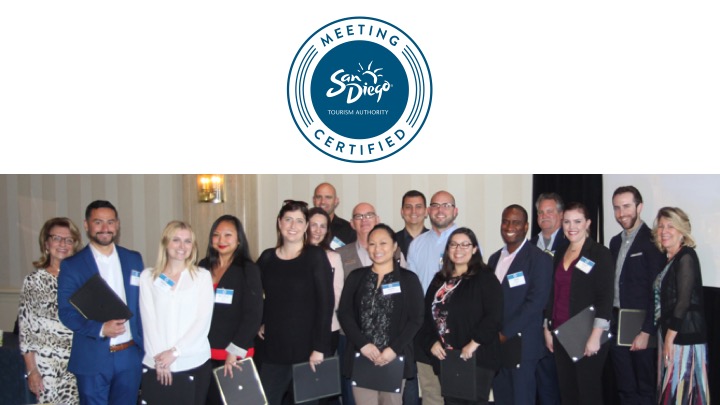 CITYWIDE SALES
FY19:
Definite Bookings: 7
Attendance: 46,000
Total Room Nights: 79,250
Fiscal Year 19-To-Date: 79,250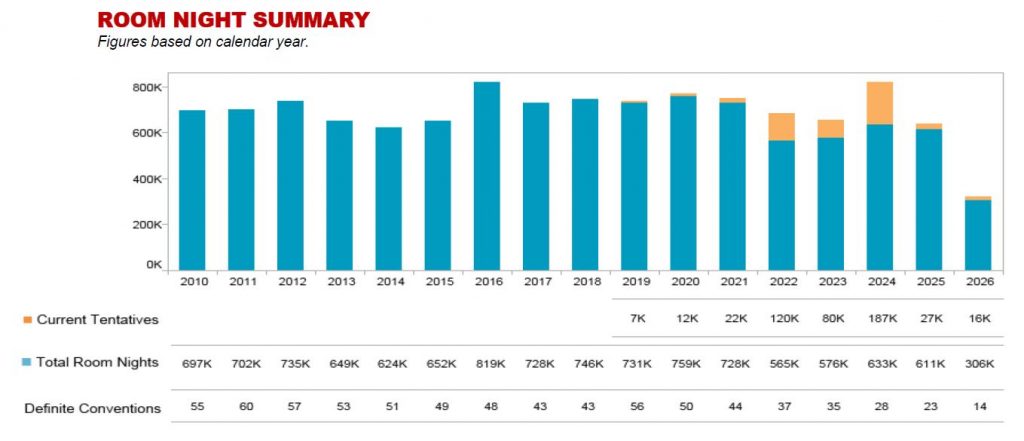 PUBLIC RELATIONS
In July, the SDTA Communications welcomed the creative team from Desmond & Dempsey, a luxury pajama brand out of the UK to conduct research for a San Diego-inspired product. The partnership with the brand will include promotional materials and media coverage highlighting San Diego as a travel destination in conjunction with the launch of their 2019 product line.
The team hosted media from Japan Airlines' in-flight magazine, Skyward, as well as The Sun newspaper (Ireland), the Daily Telegraph (UK), Laguna Beach magazine and more.
Key coverage received in July included Lonely Planet (China), the Sydney Morning Herald (Australia), The Guardian (UK), Calgary's Child magazine and more.
Total Press Coverage:
Media Value: $1,974,505
Impressions: 643,429,053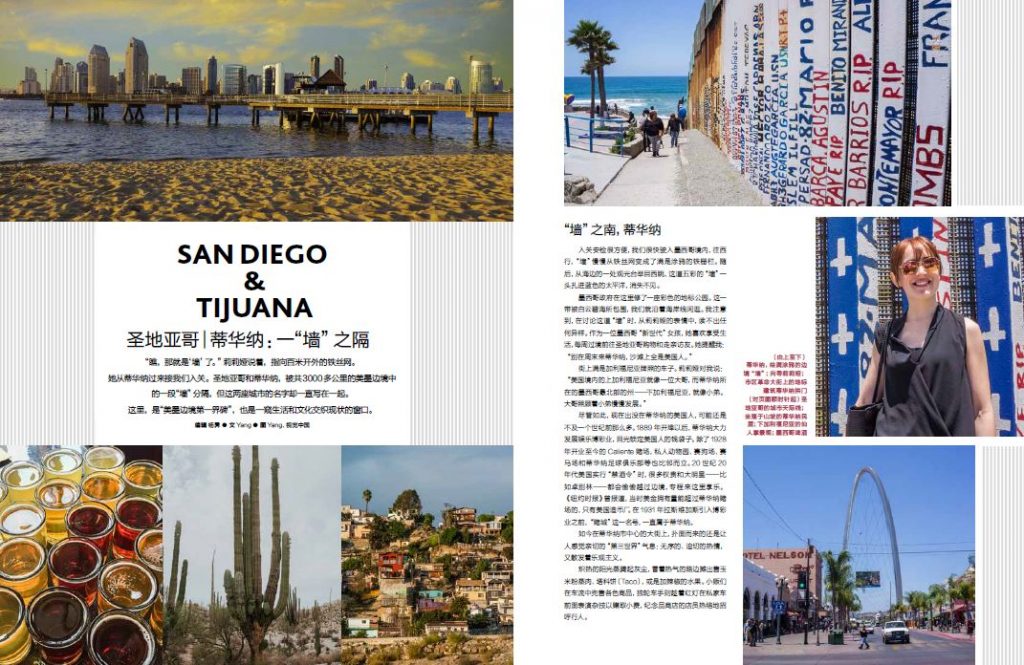 TOURISM DEVELOPMENT
The Tourism Development team distributed 10 referrals and 9 leads to member businesses from travel trade clients.  The team certified 54 new San Diego Specialists agents from USA, Mexico, Japan, India, Germany and Switzerland who account for approximately 2621 visitors to San Diego – generating approximately 555 annual room nights.
In mid-July, Tourism Development Director Benjamin Eastman attended Visit California's UK Luxury Retreat just outside of London. The program brought together high-level product staff from 16 of the top luxury selling tour operators and travel agencies in the region to better learn about California luxury product and allowed Benjamin the opportunity to highlight luxury accommodations, activities, dining, and transportation in the San Diego region. San Diego was highlighted during a Cooking Class for the Buyers – where they learned how to make fish tacos, guacamole, and a fresh farm-to-table salad.
Phil Hannes, Sr. Director of International Marketing visited the PR Central office in Mexico City at the end of July to meet with the SDTA team to review the strategies for 2018/2019.  SeaWorld hosted a VIP dinner event where we were invited to participate and had the opportunity to meet with key Mexican press and top wholesalers.  In addition, Phil spent a day visiting Euromundo, Live Tours and MundoMex.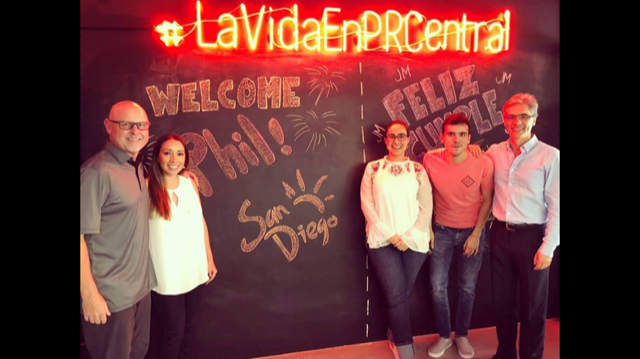 The SDTA China offices in Beijing and Shanghai conducted 11 destination presentations training over 36 travel trade agents and focusing on promoting the Hainan flight into Tijuana as the gateway to San Diego.
The SDTA Germany Office participated in a Lufthansa Roadshow in 4 major German markets – Hamburg, Munich, Stuttgart and Freiburg – in July. In total the team met and educated approximately 550 German travel agents about the new non-stop service to San Diego from Frankfurt and why they should encourage their clients to fly into San Diego and stay multiple nights in town.  The office also included San Diego in their monthly MSI partner e-newsletter.
SDTA's UK Office held a training for 30 agents at Cosmos in July, as well as attended the extremely popular Visit USA Ball on July 5th.  The office also sat down with Benjamin Eastman for a day of strategizing when he was in-market prior to the Visit California UK Luxury Retreat.