Below are the June 2018 sales & marketing highlights from various departments from the San Diego Tourism Authority.
BRAND MARKETING
DOMESTIC LEISURE ADVERTISING
The SDTA's Foundational and "Always-On" digital content programs continued through June with distribution to national and spot market specific markets targeting Los Angeles and Phoenix. In total, the program delivered more than 25.1 million impressions during June, with $279,828 in advertising spend.
The Balboa Park spring native campaign, designed to build national awareness and engagement with content, completed in June. The digital program targeted the intellectually and culturally curious traveler with a newly produced Balboa Park sizzle video and two pieces of content; 7 Hidden Gems in Balboa Park and the Balboa Park Bucket List. The Balboa Park program was distributed through social amplification, native ads, traffic-driving units, in-unit content executions and search engine marketing with Facebook, Sharethrough, Nativo and Google AdWords. The Balboa Park campaign delivered more than 7 million impressions in June with $85,867 advertising spend.
INTERNATIONAL LEISURE ADVERTISING
CHINA
SDTA wrapped the summer consumer direct campaign in China with Ctrip, Fliggy and Baidu. Organic social campaigns continued throughout the month and will continue into FY19. SDTA's China program for June delivered an estimated 24.8 million impressions with a total spend of $251 thousand with 72% contributed by BrandUSA and affinity partners.
SWITZERLAND
SDTA's social advertising program in Switzerland wrapped up in June. The campaign focused on generating awareness and inspiration for travel to San Diego with the Edelweiss Airlines. The total campaign spend was an estimated $30 thousand, delivering an estimated 4.2 million impressions. Sixteen percent of program spending was contributed by Brand USA uplift.
DIGITAL MARKETING
Special event promotion in May focused on Cinco de Mayo, Rhythm & Brews, Mother's Day, and Memorial Day.
Web traffic for April included 610,197 user sessions between the desktop. SDTA posted a total of 110 Tweets, 22 Facebook posts, 15 Instagram posts, and 10 blogs, and distributed 5 consumer emails.
LEISURE DIGITAL
Most Engaged Facebook Post

Most Engaged Twitter Post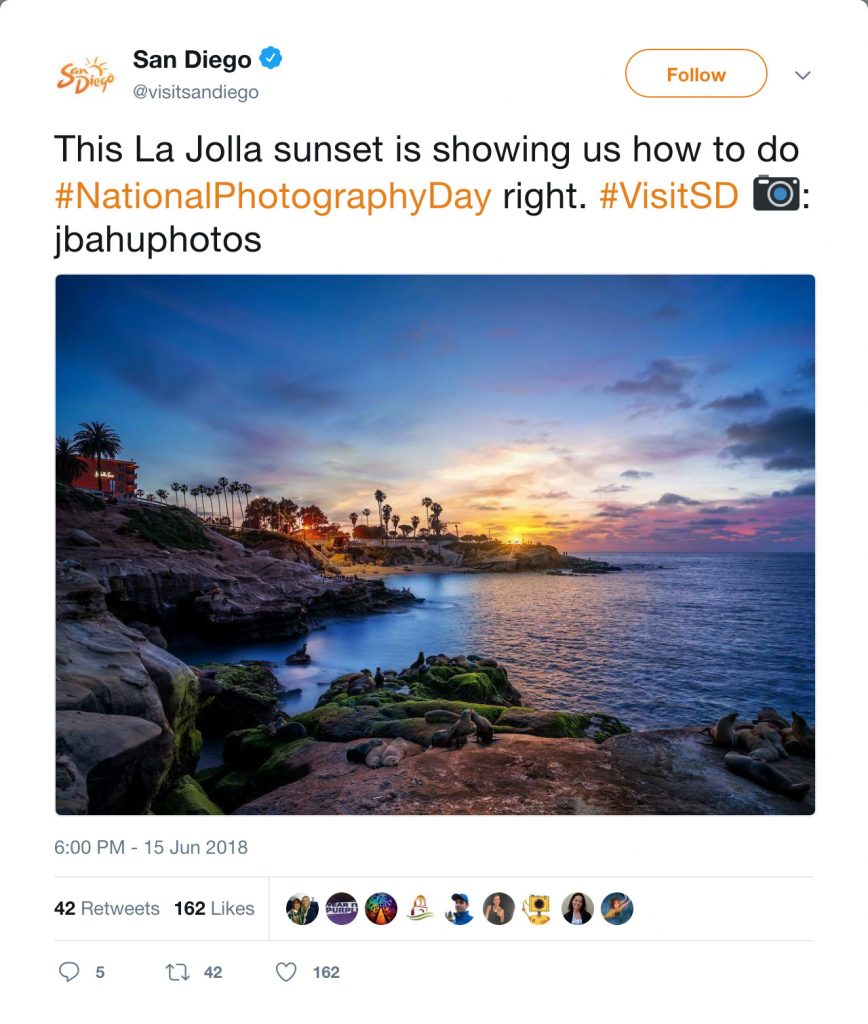 Most Engaged Instagram Post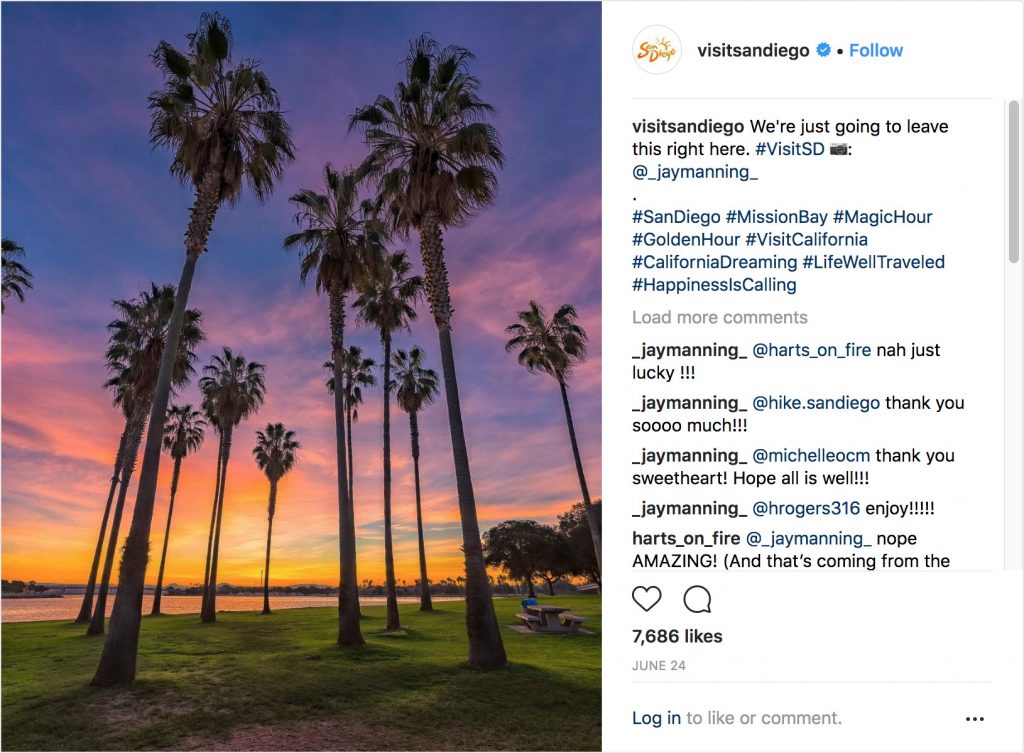 REGIONAL DIGITAL MARKETING
Overall traffic to the Luxury and Value pages on sandiego.org was 2,191 site visitors in May. The social media team, in partnership with Casual Fridays, launched the following campaigns: Scene in San Diego User Generated Content (All Regions), North Coastal Instagram Story.
B2B DIGITAL
EMAIL:
The June B2B Postcard was delivered to 7,944 meeting planners as part of a year-long series of video emails. Each month a new video showcases San Diego icons, regions, businesses, or opportunities to inspire meeting and event planners. The open rate for the June B2B video postcard was 20% which represents over 1,572 unique meeting planners. The June video highlighted unique San Diego outdoor adventure suitable for group events, outings, and breakout sessions.
WATCH THE  OUTDOOR ADVENTURES VIDEO HERE
LINKEDIN:
13 unique posts during June garnered 53,372 impressions and included:
B2B Outdoor Adventures Video
San Diego Airport International Arrival Building
SD-Tijuana Trolley Wrap Promotion and Press Conference
Townplace Suites by Marriott grand opening
Registration announcement for Hospitality Industry Cruise
Job Openings for Group Sales Team promotion
Marketing Administration Services position announcement
Congratulatory post for SDTA employee recognition at MPI San Diego
Padres/Petco Park Hospitality Night Event promotion
Celebratory post about SDTA nomination for Best Places To Work list
Resonance Consultancy list of Top cities includes San Diego
New Frontier flights to San Diego announced
Pacific Gateway Project ribbon cutting event
LinkedIn grew by 2 % from last month to 6,707 followers. Year-over-Year the LinkedIn Audience grew by 18%.
Where We Stand
LinkedIn followers compared to similar organizations:
Visit Orlando 11,144
Discover Los Angeles 7,286
Visit San Diego 6,578
Visit California 6,455
San Francisco Travel Association 4,896
Brand USA 4,847
US Travel Association 3,051
Visit Anaheim 2,508
San Diego Convention Center 1,972
San Francisco CVB 1,272
California Travel Association 904
TWITTER:
@SDTAConnect Twitter base grew by 1% from last month to 3,809 followers. There were 27 tweets during the month.
This month, the tweet with the most exposure (1,514 impressions) was a recap of the SDTA team in Zurich helping to promote the non-stop flights to San Diego on Edelweiss Airlines. This was also the tweet with the most engagement.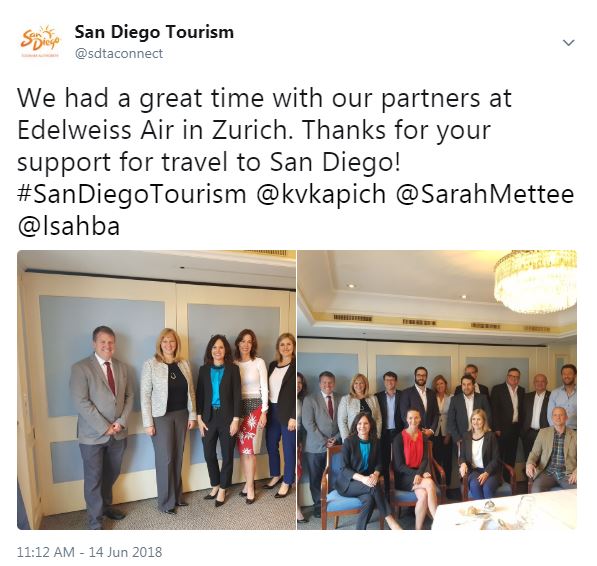 The SDTA corporate Twitter account earned 35,375 impressions during June and has grown by 14.3% YoY.
MEMBERSHIP
Seven new Members joined in June garnering $3,025 in annual dues revenue.
NEW MEMBERS
11 Members attended the Open Office Hours on the 22nd to learn how to best maximize benefits.
Ad Sales
$76,960 in new ad contracts was secured.
Events
The team worked with the Padres and Petco Park Events to host Hospitality Industry Night on June 19th. 280 Members attended the networking event to celebrate the industry and outgoing SDTA Board Chair Dan Fullen had the honor of throwing out the ceremonial first pitch.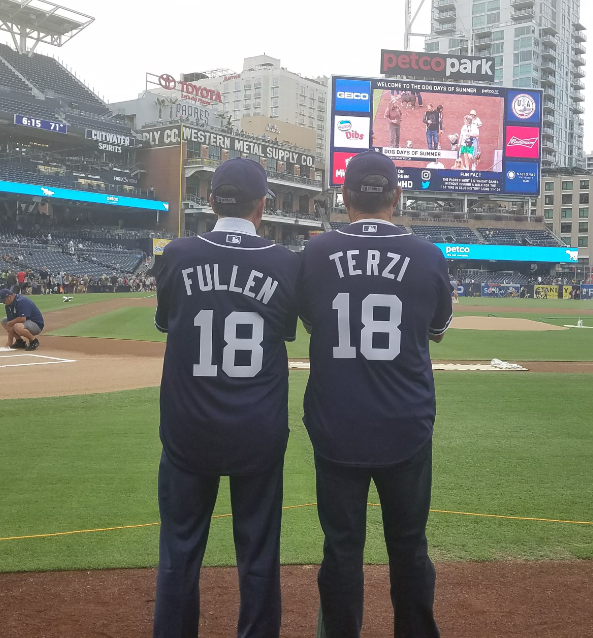 HOTEL SALES
Hotel Sales Client Events and Tradeshows
The Hotel Meetings Sales team ended the fiscal year strong, finishing the month of June booking 92 meetings representing 57,761 room nights.  Fiscal year to date, the team finished the year booking 462,037 room nights, which is 103.8% to goal. These room nights represent 831 meetings that have never been to San Diego or have not been to San Diego in the past 5 years.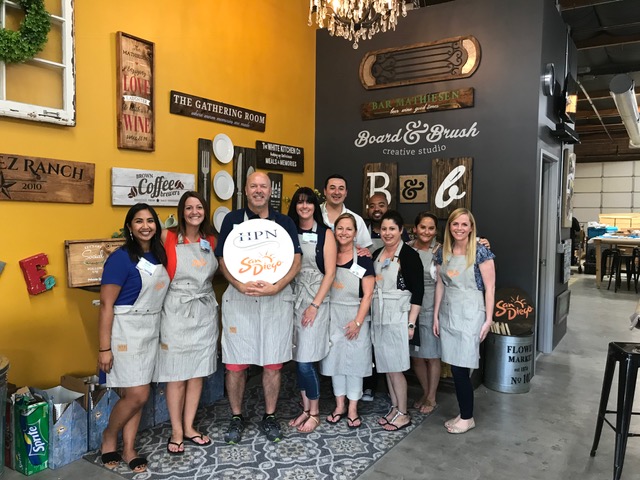 In June, Ernie Rossow, National Sales Director, and the events team put together a successful Arizona Roadshow, conducting 3 client events with 48 clients in attendance.  Two major trade shows were attended in June; MPI WEC in Indianapolis, as well as SGMP's National Education Conference in Virginia.  From these two shows, 9 group leads were generated, representing 14,515 room nights.
Site Experience Highlights
The Site Experience team had a busy June, with 18 client site experiences, creating exposure to 59 hotels and 10 venues.
For our fiscal year, we had a total of 232 client site experiences, resulting in 851 hotel sites and 228 venue sites.   This past year we saw hotels enjoy increased potential to secure a program with an engaged General Manager and Sales associate who built a rapport with the client and followed up following the site visit.
In addition, we conducted a Familiarization trip, June 11-14, bringing 15 clients to San Diego that had never been or has not been to San Diego in the past 5 years.  During the "Fam", we visited and presented 17 hotels and 3 venues.
SAN DIEGO MEETING CERTIFIED
San Diego Meeting Certified has graduated five classes of hospitality professionals since the program's February debut. This certification program is designed specifically for all Hotel Sales Managers, Directors of Sales, and General Managers. It provides you with an actionable plan for selling your property, neighborhood, and the destination to improve your hotel conversion rate. There are three remaining classes scheduled in 2018. FOR DETAILS AND TO REGISTER, CLICK HERE.
SEE WHAT RECENT GRADUATES HAVE TO SAY…
"As someone new to San Diego, I enjoyed connecting with fellow industry colleagues to learn more about their properties and areas of expertise. I also liked the overall concept of using stories and tactics like mind-mapping to better engage the client and understand their specific needs."
"The story selling approach was a great way to address the eventual rut that most salespeople will find themselves in. I have already seen a difference in my ability to sell my property with more confidence."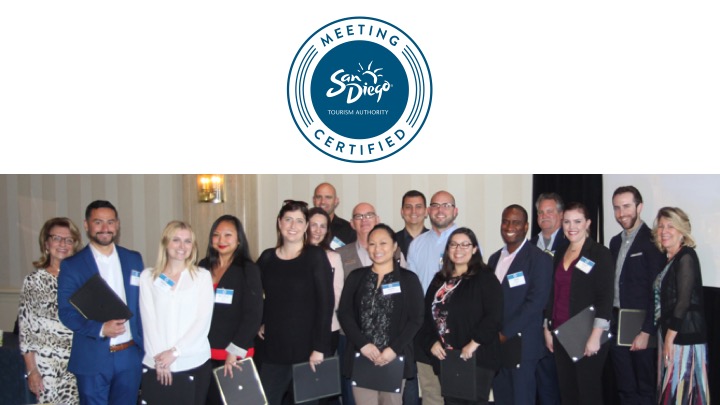 CITYWIDE SALES
FY18:
Definite Bookings: 30
Attendance: 339,900
Total Room Nights: 611,051
Fiscal Year 18-To-Date: 1,063,364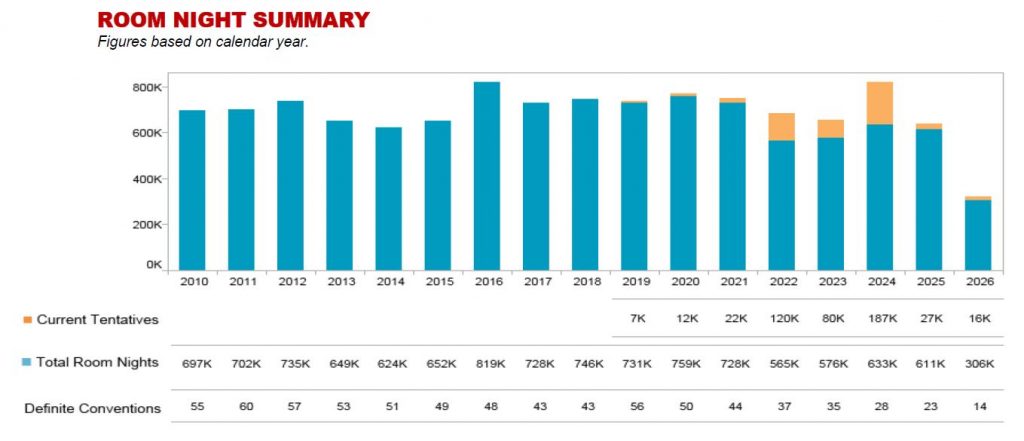 PUBLIC RELATIONS
Members of the communications team traveled to San Francisco and the Bay Area to hold deskside editorial meetings with leading media outlets. PR Manager Robert Arends met with outlets including Sunset Magazine, AFAR, the San Francisco Chronicle and more.
In partnership with Hainan Airlines, International PR Manager Joe Timko hosted a Chinese media FAM with three top travel media on a 5-night visit to San Diego including a day tour and overnight stay in Tijuana.  The San Diego itinerary showcased how the Tijuana airport serves as a gateway for travel into San Diego and highlighted popular family attractions, outdoor recreation, arts and culture, food, craft beer and diverse neighborhoods.
Key media hosted during June included Parents Magazine, Canadian World Traveller, New Zealand Herald, Lonely Planet Magazine and more.
Key coverage received in June includes the Los Angeles Times, Good Morning Arizona TV, the Austin-American Statesman, Aero magazine (Aeromexico in-flight), Harper's Bazaar (Australia), Elle (Mexico), China Radio International and more.
Total Press Coverage:
Media Value: $3,157,587
Impressions: 207,158,053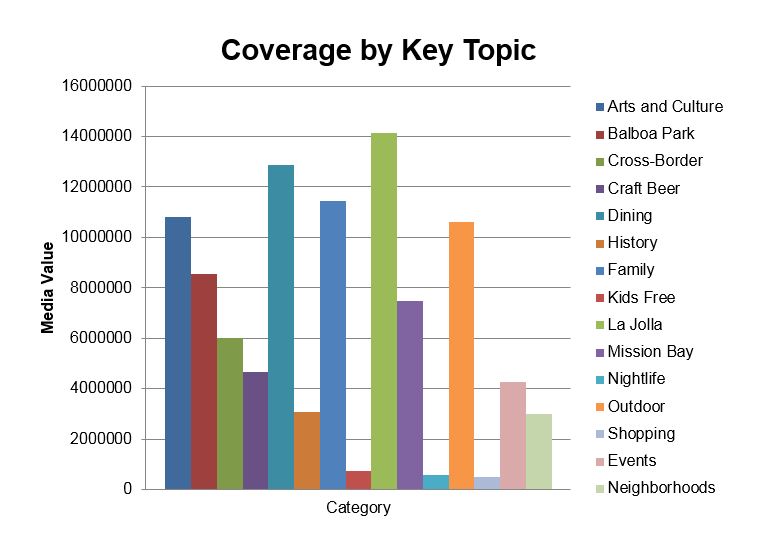 TOURISM DEVELOPMENT
Tourism Development team distributed 5 referrals and 3 leads to member businesses from travel trade clients.  The team certified 47 new San Diego Specialists agents from USA, Mexico, Canada, Germany and Switzerland who account for approximately 35,000 visitors to San Diego generating nearly 14,000 room nights.
Two Club California Product Development Seminars took place in Shanghai and Beijing. Cherrie Yang and Anita Yu, Travel Trade Representative in Shanghai and Beijing, represented San Diego at each event. Both events welcomed around 10 key tour operators and wholesalers from the region where SDTA reps delivered the destination presentation and met with each of the accounts on One-on-one meetings.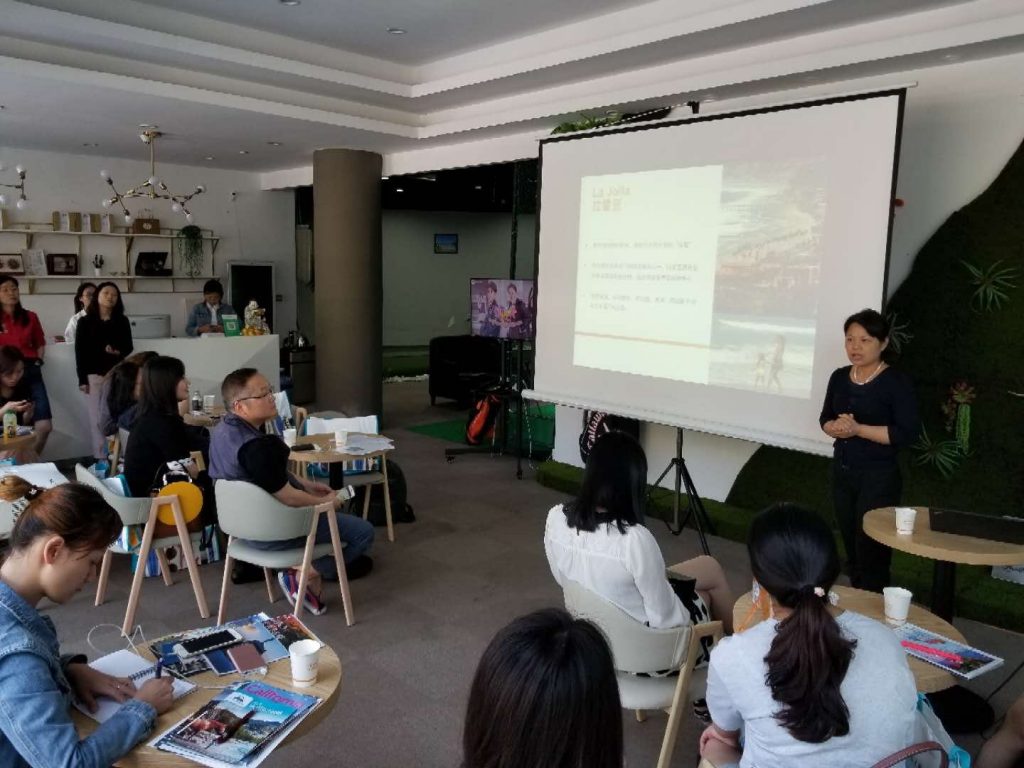 Phil Hannes, Sr. Director of International Marketing attended the Visit California Brazil Sales Mission.  This was an opportunity to reach key trade partners in the main feeder cities of Rio de Janeiro, Sao Paulo and Belo Horizonte.  Over 260 travel professionals were met through presentations, B2B meetings, VIP luncheons and training seminars.
Benjamin Eastman led a group of five SDTA Members on the region's first Germany-Switzerland Sales Mission.  In total the group visited 14 top Tour Operators in Hamburg, Hannover, Frankfurt and Zurich. The mission supported the region's non-stop Lufthansa and Edelweiss flights and further cemented in the minds of German & Swiss operators how important it is to include multiple nights in San Diego in their clients' itineraries.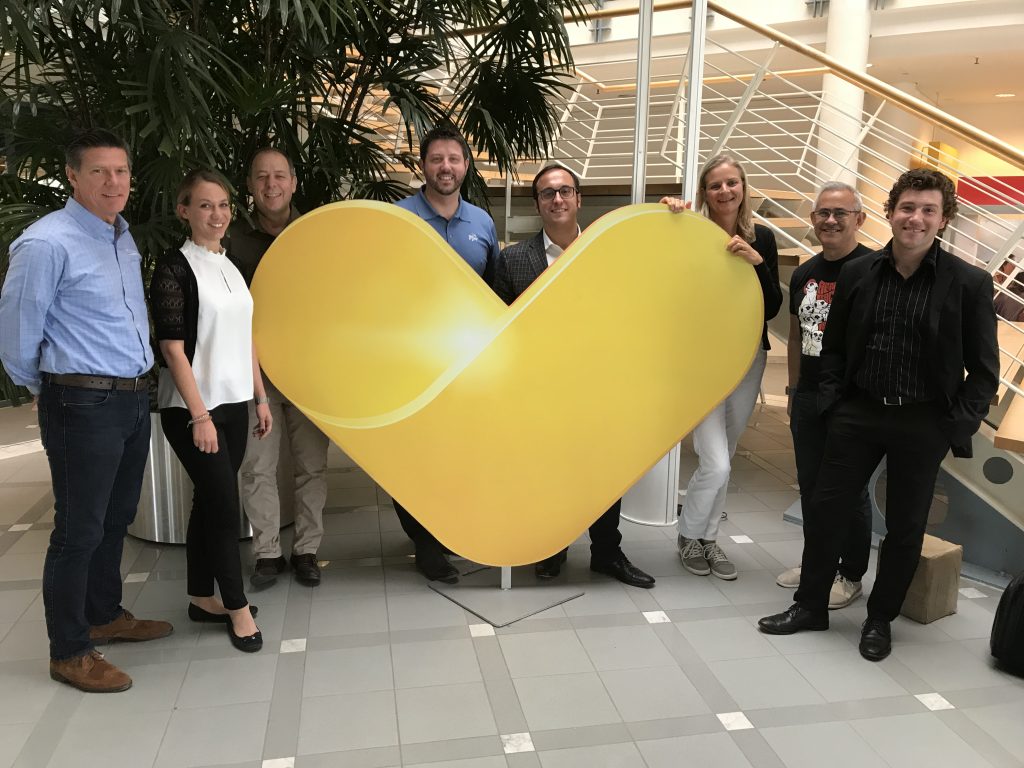 The SDTA hosted a luncheon and invited the members of Japanese Tour Operator Association known as "Agent Kai". Thirteen San Diego partners and Phil Hannes, Sr. Director of International Marketing joined Riki Suzuki, Tourism Development Manager, in Torrance for this opportunity to network with key Japanese operators based in LA area. The event was well attended with 27 clients and Mr. Suzuki provided updated information about San Diego through a presentation during the luncheon.
During June 2018 Tourism Development coordinated 3 site experiences, hosting reps from FTI Switzerland, British Airways Holidays and TargetReps out of Argentina.  Travel agent group FAMs included Visit CA Mexico/Volaris Airlines, 10 agents flew into Tijuana and promoting CBX, spent two nights and 3 days in San Diego.  Visit CA Korea co-hosted a unique, camping/hotel stay FAM with SDTA including the San Diego Zoo Safari Park Roar & Snore experience.