SALES & MARKETING HIGHLIGHTS
Below are the April 2018 sales & marketing highlights from various departments from the San Diego Tourism Authority.
BRAND MARKETING
DOMESTIC LEISURE ADVERTISING
The Happiness is Calling "Summer Feeling" digital video campaign and spot market television in San Francisco and Sacramento continued through April with both brand awareness programs delivering 36.5 million impressions against $1.03 million in advertising spend.
SDTA's "Always-on" digital content initiative continued in April with the distribution of 8 new content pieces to national and spot markets targeting Los Angeles and Phoenix. In total, the program delivered an estimated 83.6 million impressions during April.
INTERNATIONAL LEISURE ADVERTISING
CHINA
To inspire summer visitation to San Diego, SDTA launched consumer direct advertising campaigns with Fliggy, Ctrip, and Baidu in April. Influencer marketing strategy was activated with key opinion leaders (KOLs) through WeChat and Weibo. Always-on paid search and organic social campaigns also continued throughout the month.
The overall spend in China for the month of April was an estimated $613,000 with 63% contributed by Brand USA and affinity partner uplift with estimated impressions of 52.6 million.
Fliggy Campaign Page
Ctrip Summer Campaign Banner Ads
Summer Campaign Banner Ads
KOL Program
DIGITAL MARKETING
Special event promotion in April focused on Padres, Rhythm & Brews Festival, Mission Federal ArtWalk, and Hotspur vs Roma Soccer Game.
Web traffic for April included 610,197 user sessions between the desktop and mobile, and SDTA created a total of 106 Tweets, 27 Facebook posts, 18 Instagram posts, 10 blogs, and 5 consumer emails.
LEISURE DIGITAL
Most Engaged Facebook Post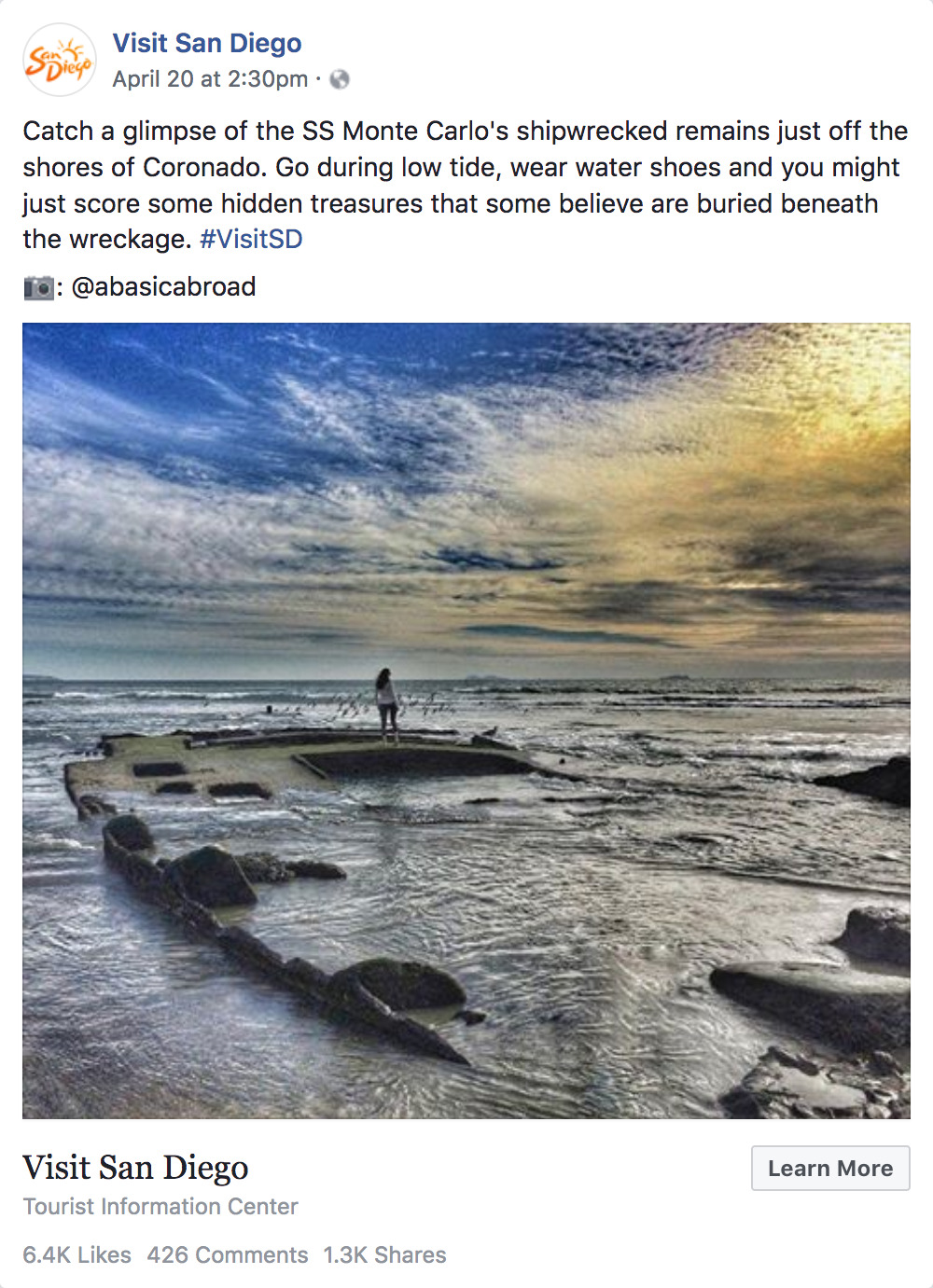 Most Engaged Twitter Post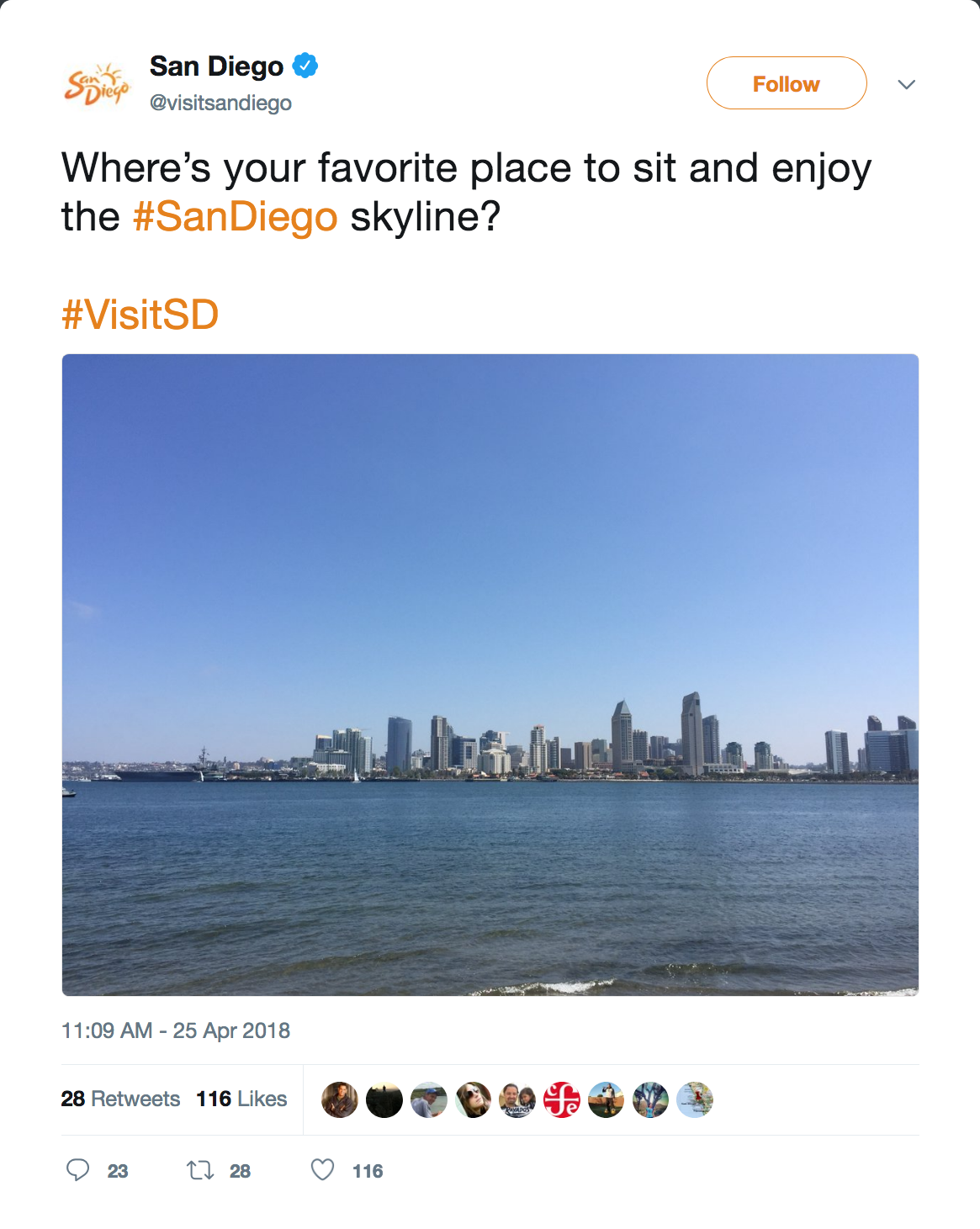 Most Engaged Instagram Post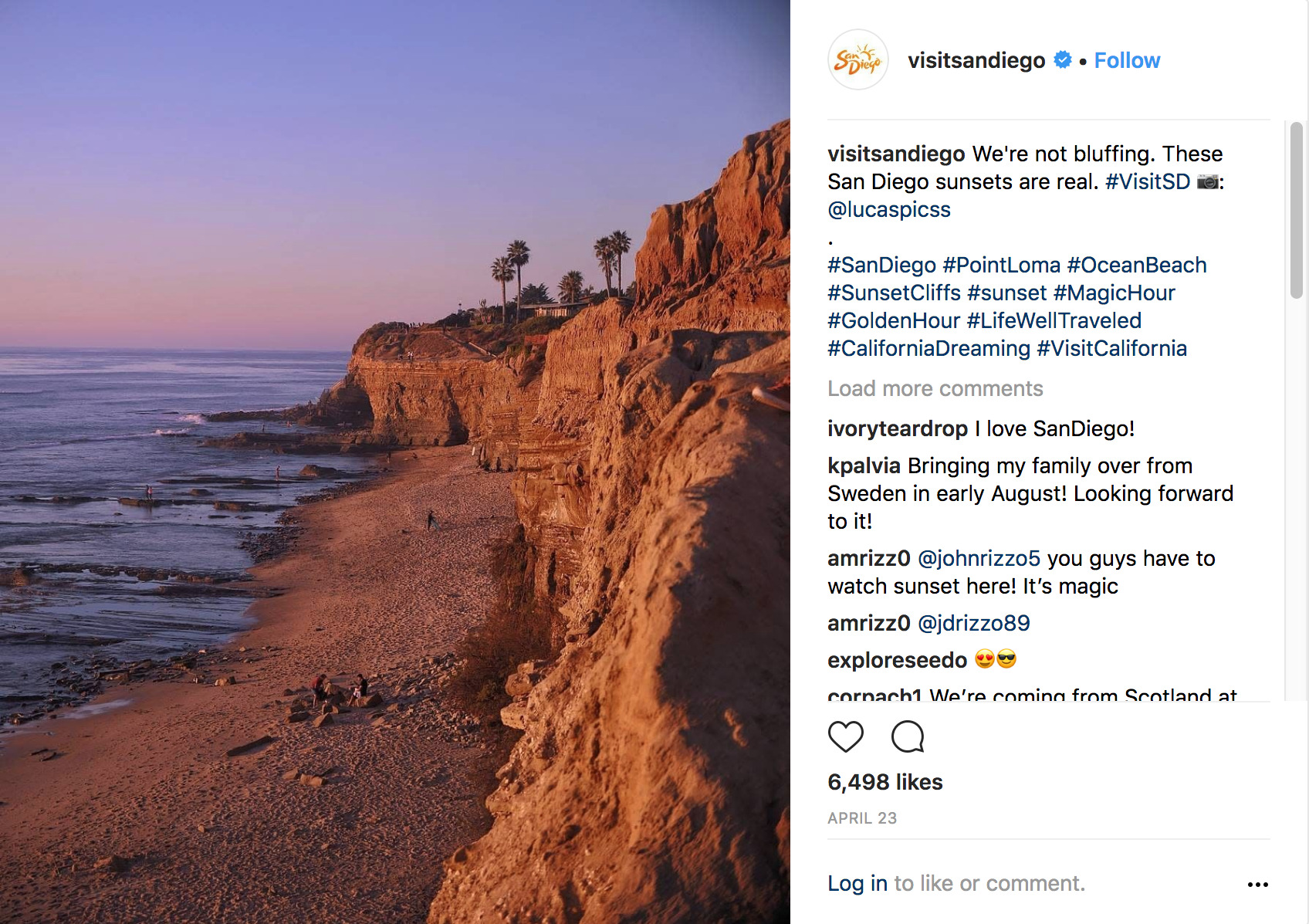 REGIONAL DIGITAL MARKETING
Overall traffic to the Luxury and Value pages on sandiego.org was 2,191 site visitors in April. The social media team, in partnership with Casual Fridays, launched the following campaigns: Secret User Generated Content (All Regions), The Jewel of the Sea Instagram Story (La Jolla).
Most Engaged Regional Post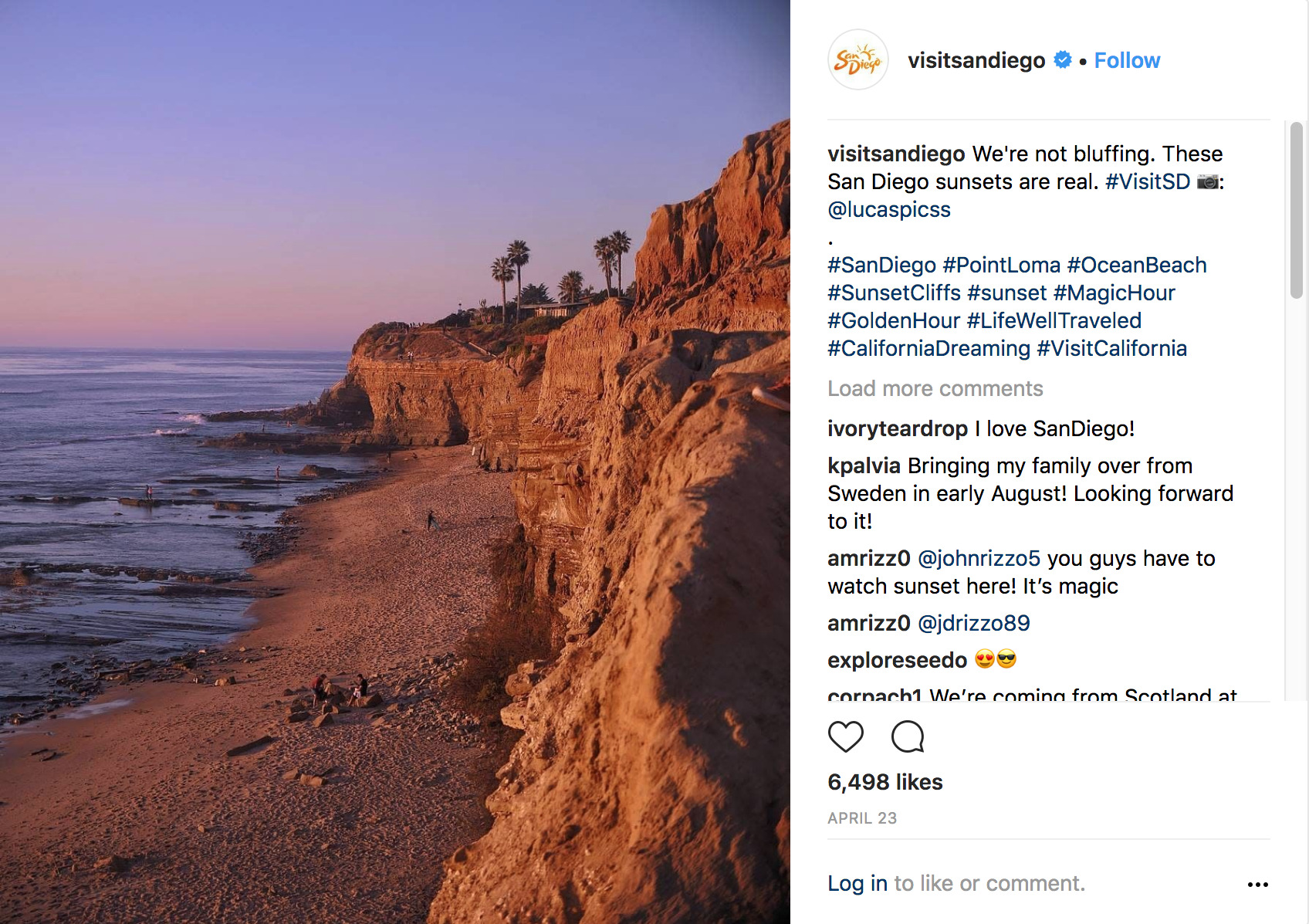 B2B DIGITAL
EMAIL:
The April B2B email postcard was delivered to 8,706 meeting planners and was the twelfth in a year-long series of video emails. Each month a new video showcases San Diego icons, regions, businesses, or opportunities to inspire meeting and event planners. The open rate for the April B2B video postcard was 20.2% which represents over 1,730 unique meeting planners. The April video highlighted Balboa Park's museums, venues, restaurants, gardens, and attractions.
WATCH THE BALBOA PARK VIDEO HERE
LINKEDIN:
Five unique posts during April garnered 27,595 impressions and included:
SDTA Annual Meeting registration open
Recap of SDTA Hospitality Open golf tournament
An announcement of SDTA/SDCC 5-year agreement
Global Meetings Industry Day, infographic
Save the Date for SDTA Annual Meeting
LinkedIn grew by 1.3% from last month to 6,433 followers, earning 27,595 impressions. Year-over-Year the LinkedIn Audience grew by 17%.
Where We Stand
LinkedIn followers compared to similar organizations:
Visit Orlando 10,342
Discover Los Angeles 7,184
Visit San Diego 6,433
Visit California 6,243
San Francisco Travel Association 4,819
Brand USA 4,666
US Travel Association 2,876
Visit Anaheim 2,451
San Diego Convention Center 1,886
San Francisco CVB 1,262
California Travel Association 879
TWITTER:
@SDTAConnect Twitter base grew by 2% from last month to 3,705 followers. There were 32 tweets during the month.
This month, the tweet with the most exposure (2,532 impressions) was the promotion of Mayor Kevin Faulconer's proclamation that April 12, 2018, is celebrated as Global Meetings Industry Day in San Diego.
The tweet with the most engagement was a recap of the SDTA Hospitality Open golf tournament.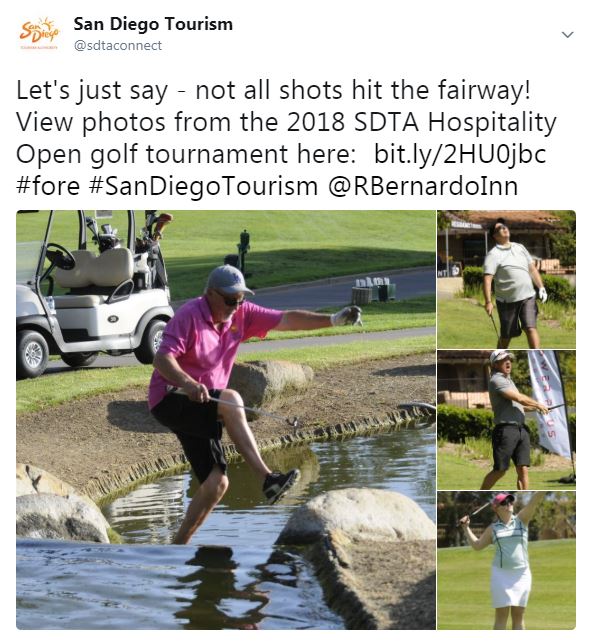 The SDTA corporate Twitter account earned 25,854 impressions during April and has grown by 15.3% YoY.
MEMBERSHIP
16 Members attended the Open Office Hours on the 27th to learn how to best maximize benefits.
$37,855 in new ad contracts was secured.
6 New Members joined in April earning $3,300 in annual dues revenue.
NEW MEMBERS
SDTA Licensee Knockaround sunglasses reported that they had sold out of the SDTA's signature pair of glasses. Two licensee expos were scheduled to encourage Members with retail to stock the SDTA licensed goods. The events will be in conjunction with the SDTA golf tournament and Annual Meeting.
HOTEL SALES
Hotel Sales Client Events and Tradeshows
April was another strong month for the Hotel Meetings Sales team, booking 68 meetings representing 42,052 NEW room nights to San Diego. Two of those definite meetings were generated from recent Familiarization trips, where SDTA had brought meeting planners here that had formerly never been to San Diego.  Fiscal year to date, the Hotel Meetings Sales team has converted 372,765 room nights, which is 105.2% to goal.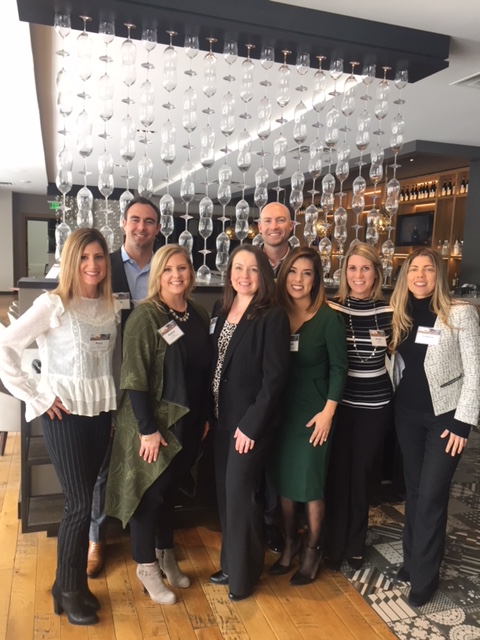 This month, our National Sales Directors, Andrea O'Hara, Lori Alstrom, and Michael Steffen conducted sales missions in Minneapolis, Indianapolis, Philadelphia, New York City, and New Jersey.  During these sales missions, 12 targeted sales calls were conducted, along with 9 key client events.  In total, the team connected with over 250 meeting planners generating 20 leads representing 30,987 room nights for the destination… with more to come!
In addition to the roadshows, the team attended 5 Tradeshows; MPI SSN in Sacramento, Destination California on Coronado Island, Prestige Events in both Seattle and Portland, as well as HelmsBriscoe's annual ABC conference in Orlando.
Site Experience Highlights
The Site Experience team had a busy month, with 20 client site experiences, creating exposure to 70 hotels and 18 venues.  Each month we receive feedback from clients, and it continues to be clear that hotels with engaged department heads during sites have the best opportunity to secure the program at their hotel.
SAN DIEGO MEETING CERTIFIED
San Diego Meeting Certified has graduated three classes of hospitality professionals since the program's February debut. This certification program is designed specifically for all Hotel Sales Managers, Directors of Sales, and General Managers. It provides you with an actionable plan for selling your property, neighborhood, and the destination to improve your hotel conversion rate. There are six remaining classes scheduled in 2018. FOR DETAILS AND TO REGISTER, CLICK HERE.
SEE WHAT RECENT GRADUATES HAVE TO SAY…
"As someone new to San Diego, I enjoyed connecting with fellow industry colleagues to learn more about their properties and areas of expertise. I also liked the overall concept of using stories and tactics like mind-mapping to better engage the client and understand their specific needs."
"The story selling approach was a great way to address the eventual rut that most salespeople will find themselves in. I have already seen a difference in my ability to sell my property with more confidence."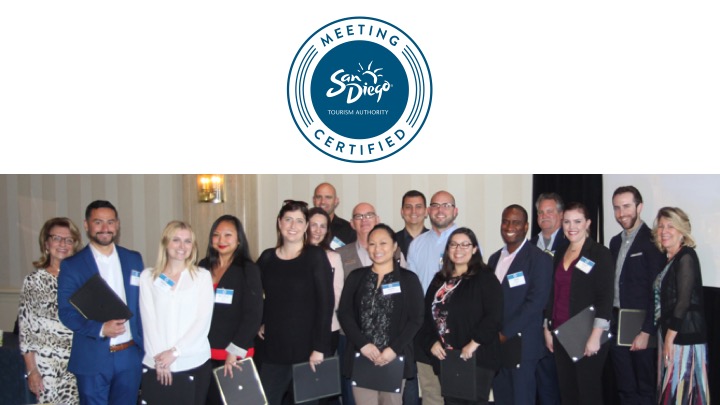 CITYWIDE SALES
FY18:
Definite Bookings: 2
Attendance: 11,600
Total Room Nights: 12,840
Fiscal Year 18-To-Date: 366,019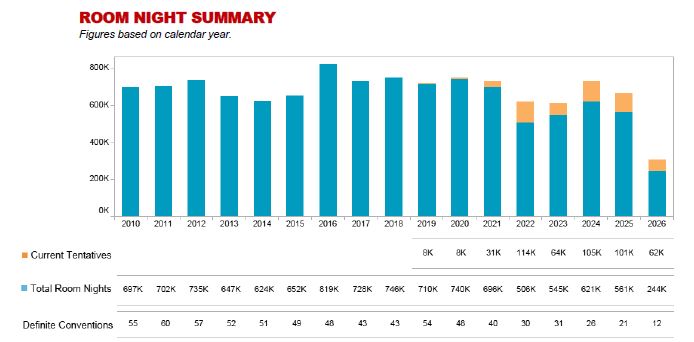 PUBLIC RELATIONS
In April, International Public Relations Manager Joe Timko joined Visit California for a China Media Mission to Shanghai and Beijing. During the mission, Mr. Timko met and pitched San Diego travel stories to a variety of media based in Shanghai, Beijing, Chengdu, and Guangzhou, including top consumer and travel magazines, daily newspapers, bloggers, digital influencers and more.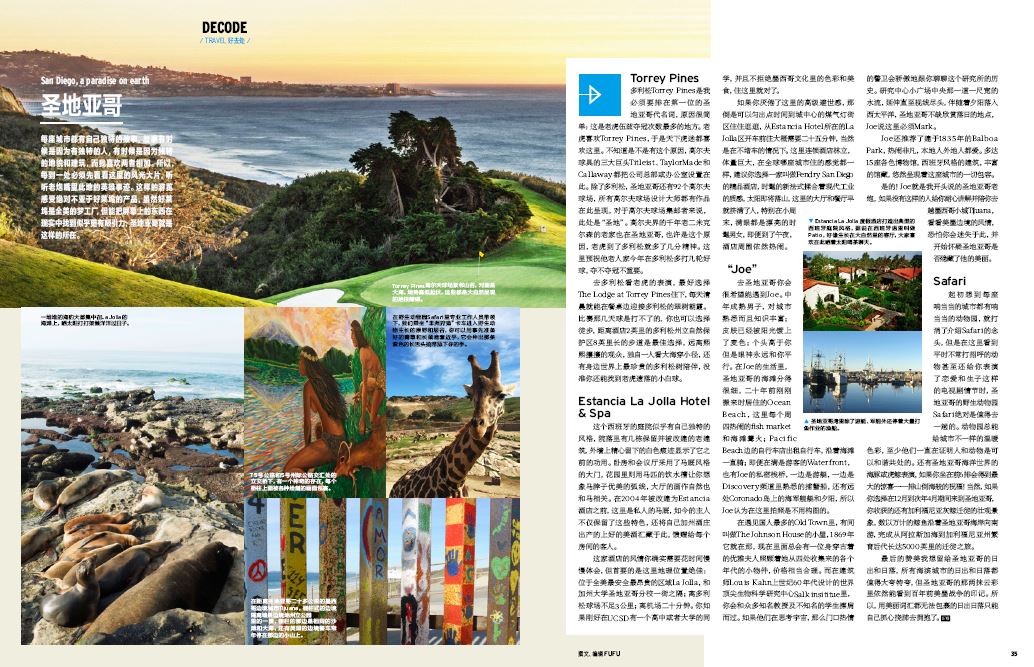 Director of Communications Candice Eley partnered with Visit California to host a group of international media for a Pre-Coachella Global Media Tour that began in San Diego. The group included 12 journalists, bloggers and influencers from Scandinavia, the UK, Australia, Korea, Japan, China, Mexico, Brazil, India, and Italy. Ms. Eley also hosted a UK-dedicated media fam with a representative from our UK PR firm, Black Diamond. During the tour, media from Attitude, House of Coco, LoveEXPLORING and Manchester Confidentials visited the Gaslamp Quarter, East Village, Balboa Park, Chicano Park, Liberty Station, Little Italy, La Jolla, North Park and Tijuana, Mx.
Key media hosted during March included Phoenix magazine, Harper's Bazaar (Aus.), Good Morning Arizona TV, Travel + Leisure and more.
Key coverage received in March included National Post (Canada), Alaska Beyond in-flight magazine, Hemispheres in-flight magazine, The Scottish Sun, The Seattle Times and more.
Total Press Coverage:
Media Value: $3,516,900
Impressions: 886,283,149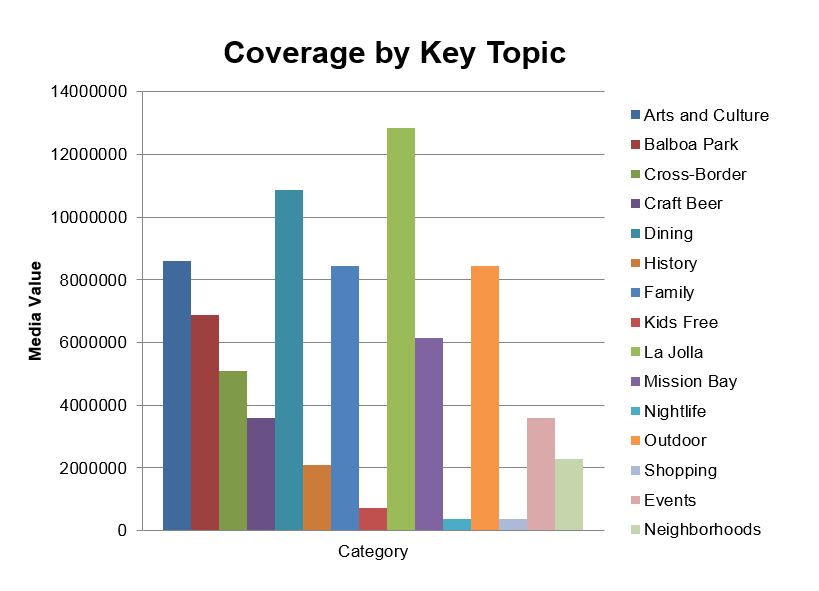 TOURISM DEVELOPMENT
The SDTA Tourism Development team distributed 3 referrals and 2 leads to member businesses from travel trade clients.  The team certified 52 new San Diego Specialist agents from USA, Mexico, Germany, Japan and Australia who account for approximately 1809 annual room nights.
On April 5th, Tourism Development Director Benjamin Eastman coordinated a Webinar for approximately 60 Canadian travel agents who book through TravelBrands. Benjamin provided an update on the destination and then turned the presentation over to members where they highlighted their 8 hotels and 8 attractions to the group. The webinar was well received and will be posted on the TravelBrands training site for 1 year so that agents who missed the live version of it can replay it at their convenience.
Benjamin Eastman joined SeaWorld San Diego in visiting the offices of top domestic account, Getaway Today in mid-April. In total, more than 30 agents were trained on the destination and encouraged to become San Diego Specialists. Benjamin also had the opportunity to sit with the management team to discuss promoting San Diego in more depth on Getaway Today's very active Social Media pages.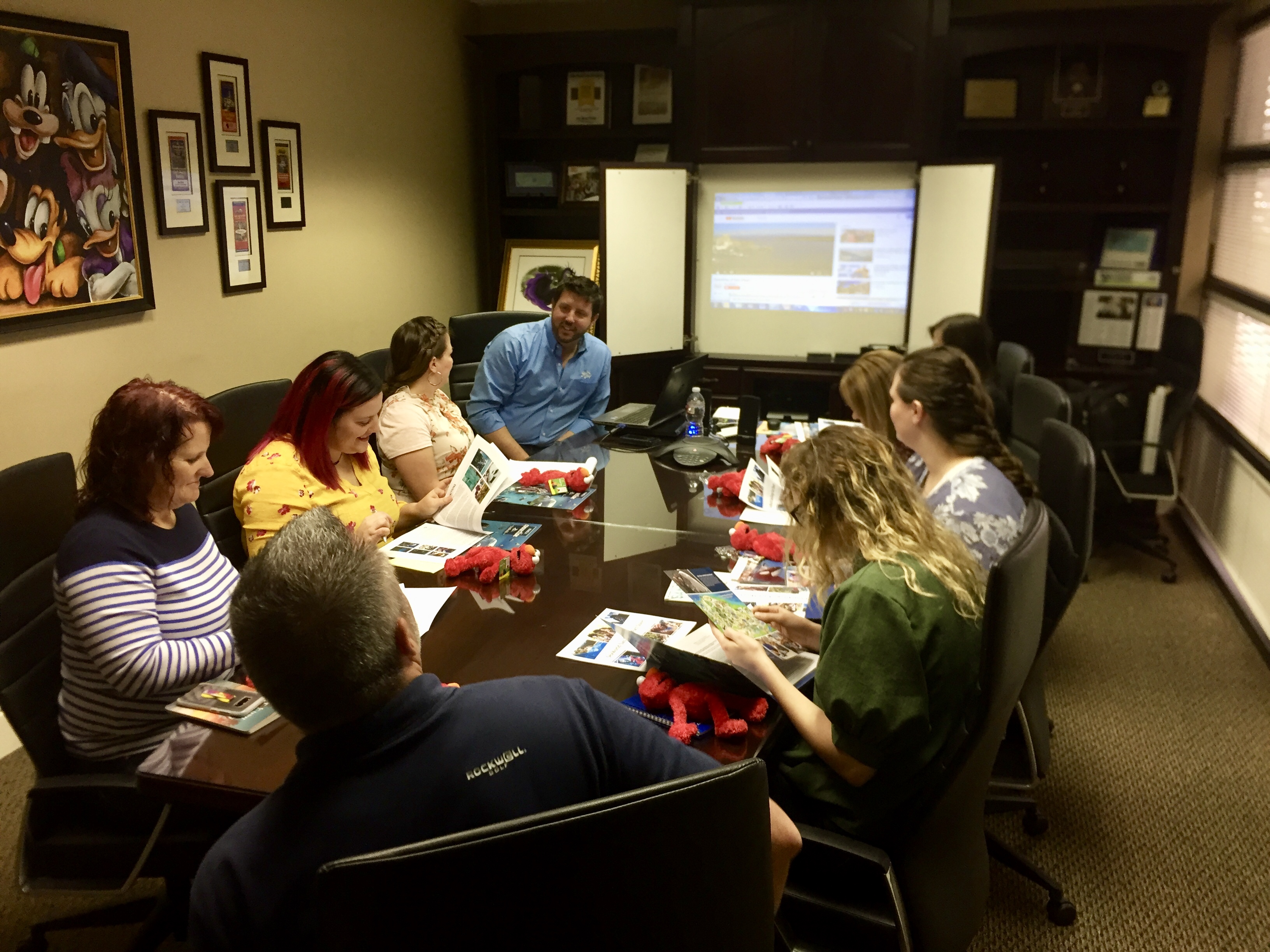 In late April, Benjamin Eastman participated in 2 of the TravelBrands Canada Roadshows in Calgary and Vancouver. 5 Members attended the shows along with the SDTA and joined forces with Benjamin to promote the destination. The group offered a "Win A Trip" contest during the events and had over 200 agents participate. Agents were also encouraged to become San Diego Specialists and to continue supporting the Air Canada and Westjet non-stop routes into San Diego.
At the invitation of Visit California, Benjamin Eastman participated in a tradeshow and networking dinner in Beverly Hills at the Carlson Wagonlit Owners & Managers Conference.  There were approximately 150, mostly Canadian, owners and managers of Carlson Wagonlit travel agencies in attendance where Benjamin was able to highlight San Diego's main draws for visitors and establish relationships with additional Canadian wholesalers being sold by Carlson.
In early April, Riki Suzuki, Tourism Development Manager, joined Visit California's China Sales Mission in 3 cities, Beijing, Shanghai, and Taipei. During the mission, Riki met one-on-one with 78 top accounts from all over China and had opportunities to network with more thorough dinner/lunch events and office visits. The news of new direct route between Beijing and San Diego (via Tijuana and CBX) by Hainan Airlines was especially well received by Beijing tour operators and some of them are already planning on new products utilizing the new flight.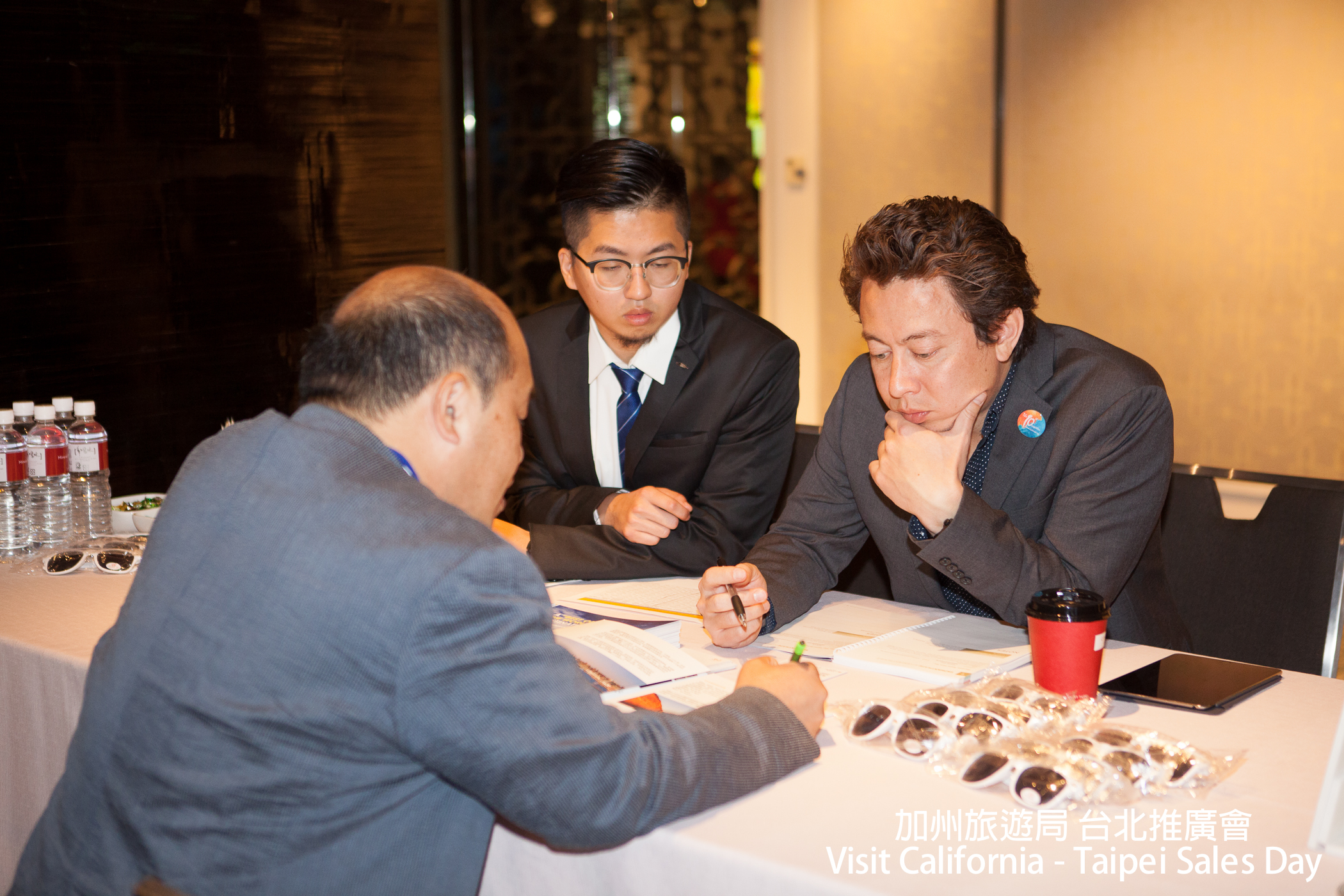 In late April, Riki Suzuki participated in the California Cup in Napa/Sonoma region. Riki was able to network with over 40 international clients from all of San Diego's major markets during the course of the 3-day event.
FAMS:  For April 2018, Tourism Development coordinated 7 site experiences for 35 agents from the United Kingdom, including Virgin Holidays, Travel Counselors, Kuoni and Gold Medal/Travel2 and agents from Mexico and Taiwan.