SALES & MARKETING HIGHLIGHTS
Below are the March 2018 sales & marketing highlights from various departments from the San Diego Tourism Authority.
BRAND MARKETING
DOMESTIC LEISURE ADVERTISING
The Happiness is Calling "Summer Feeling" television and digital video program continues to be the foundation of the brand awareness layer.  The national digital video flight will continue through the end of April with Hulu, ABC, CBS, NBC Sports and YouTube Trueview. Spot market television in Seattle, Chicago, New York City, Boston, Minneapolis, Dallas continued through March while television in San Francisco and Sacramento launched in March and will run for six weeks.
SDTA's "Always-on" digital content initiative continued in March with the distribution of 14 new pieces of content to national and spot market specific markets targeting Los Angeles and Phoenix. In total the program delivered estimated 60.1 million impressions during March.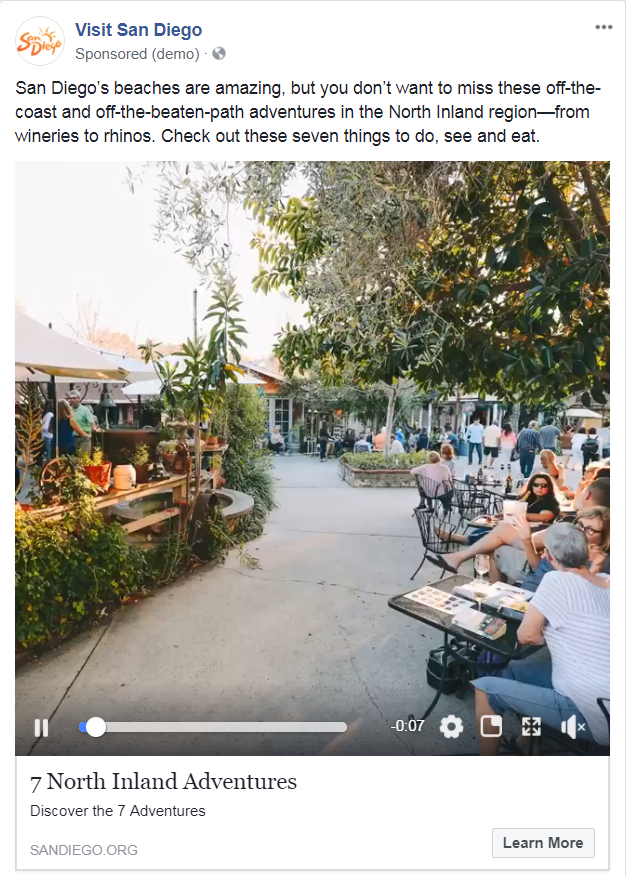 INTERNATIONAL LEISURE ADVERTISING
CANADA
In March, SDTA wrapped up its Canada campaign with national cable television, digital video, display, native, social and search marketing media delivering an estimated 42.5 million impressions and a total of $366,055 spent. 21% of program spending was contributed by Brand USA and affinity partner uplift.
March also completed SDTA's co-op participation in Visit California's "All Dreams Welcome" campaign with a total of 5.8 million estimated impressions with a total spend of 14.6k from Visit California for the Canada market.
UNITED KINGDOM
In March, digital and out-of-home advertising for the United Kingdom wrapped up with a total $303k spent delivering an estimated 18.5 million impressions. 17% of program spending was contributed by Brand USA and affinity partner uplift.
GERMANY
SDTA's co-op participation in Visit California's "All Dreams Welcome" campaign wrapped up in March with a total of 6.2 million estimated impressions and a spend of $17.3k for the Germany market.
CHINA
SDTA continued planning and execution for the summer 2018 campaigns with Fliggy, Ctrip and Baidu campaign flighted to launch in April. Always-on paid search and organic social campaigns continued throughout the month with an estimated 4.3 million impressions and a total spend of 22k, 4% was contributed as in-kind media value from Brand USA.
MULTI-MARKET
SDTA's co-op with Visit California's "All Dreams Welcome" campaign wrapped up in March for Germany, Mexico and Canada markets. Delivery across all markets for the month was an estimated 25 million impressions with over $44k in Visit California cooperative spending.
DIGITAL MARKETING
Special event promotion in March focused on Spring break, Easter, Padres, NCAA Men's basketball, Club America Soccer, Rhythm & Brews and more.
Web traffic for March included 764,445 user sessions and SDTA posted a total of 150 Tweets, 40 Facebook posts, and 18 Instagram posts through our social channels, 9 blogs, and distributed 5 consumer emails.
LEISURE DIGITAL
Most Engaged Facebook Post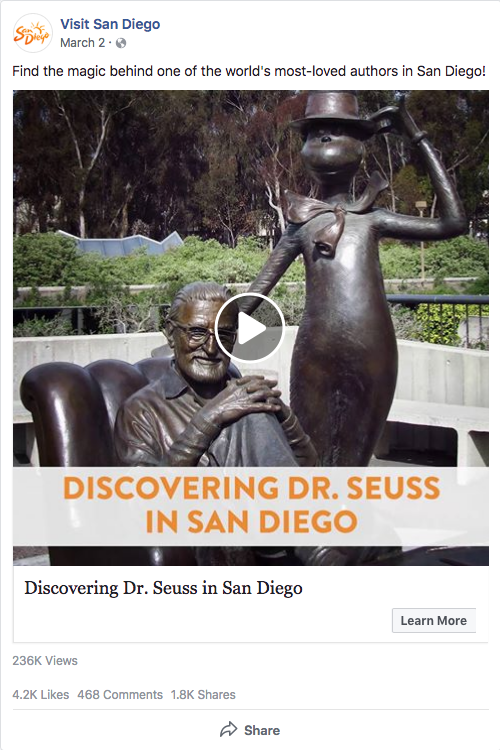 Most Engaged Twitter Post
Most Engaged Instagram Post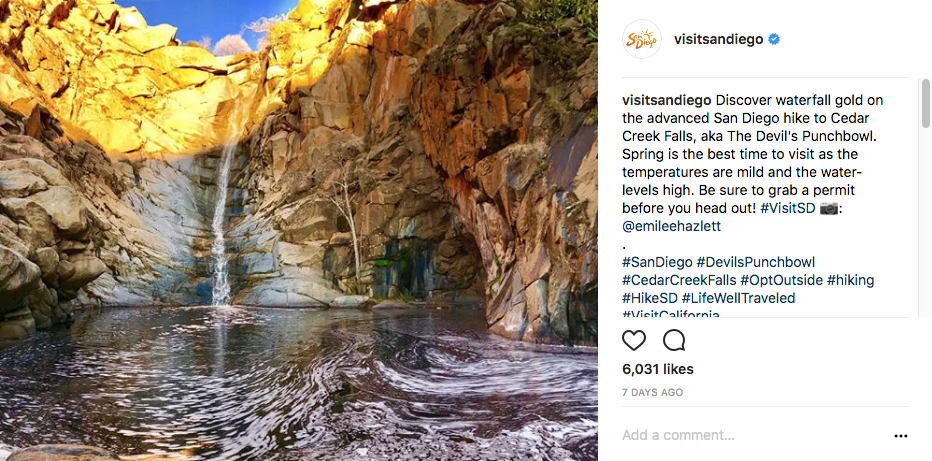 REGIONAL DIGITAL MARKETING
Overall traffic to the Luxury and Value pages on sandiego.org was 2,765 site visitors in March. The social media team, in partnership with Casual Fridays, launched the following campaigns: Spring Fling Slideshow (All regions), Spring User Generated Content (All Regions), A Day in Mission Bay Instagram Story (Mission Bay).
Most Engaged Regional Post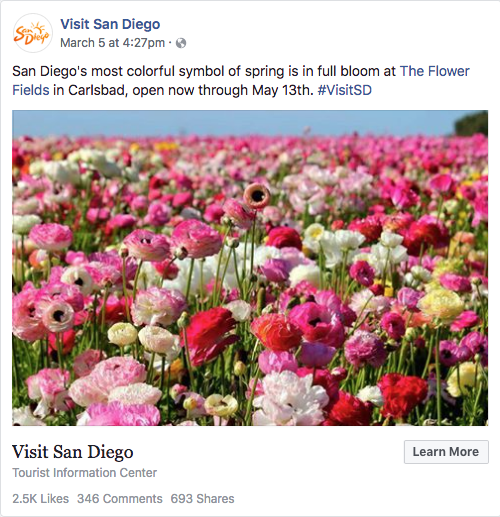 B2B DIGITAL
EMAIL:
The March B2B Postcard was delivered to 8,568 meeting planners and was the eleventh in a year-long series of video emails. Each month a new video showcases San Diego icons, regions, businesses, or opportunities to inspire meeting and event planners. The open rate for the March B2B video postcard was 21.3%, which represents over 1,797 unique meeting planners. The March video showcased golf courses across the county with a message that "tee time" is a great way to reward attendees. The video featured:
Torrey Pines Golf Course
Maderas Golf Club
The Grand Golf Club at Fairmont Grand Del Mar
Coronado Municipal Golf Course
Steele Canyon Golf Club
Balboa Park Golf Course
Mission Bay Golf Course
The Crossings at Carlsbad
Riverwalk Golf Course
Sycuan Casino and Golf Resort
Rancho Bernardo Inn Golf Resort
WATCH THE TEAM BUILDING VIDEO HERE
LINKEDIN:
Five unique posts during March garnered 39,683 impressions and included:
Career opportunity in the SDTA Meeting Sales department
Career opportunity in for a Data Analyst
Update on Lufthansa Airlines new direct flight to San Diego
Announcement of SDTA Golf Tournament & networking event
Sharing photos and information about our bi-national document signing with Ensenada tourism agency
LinkedIn grew by 1.6% from last month to 6,352 followers, earning 39,683 impressions. Year-over-Year the LinkedIn Audience grew by 16%.
Where We Stand
LinkedIn followers compared to similar organizations:
Visit Orlando 10,145
Discover Los Angeles 7,128
Visit San Diego 6,352
Visit California 6,184
San Francisco Travel Association 4,791
Brand USA 4,636
US Travel Association 2,845
Visit Anaheim 2,413
San Diego Convention Center 1,860
San Francisco CVB 1,259
California Travel Association 868
TWITTER:
@SDTAConnect Twitter base grew by 1% from last month to 3,646 followers. There were 20 tweets during the month.
This month, the tweet with the most exposure (2,686 impressions) was a story highlighting the SDTA partnership with Ensenada tourism and its bi-national partnership.  This tweet also received the most engagement with 137 interactions.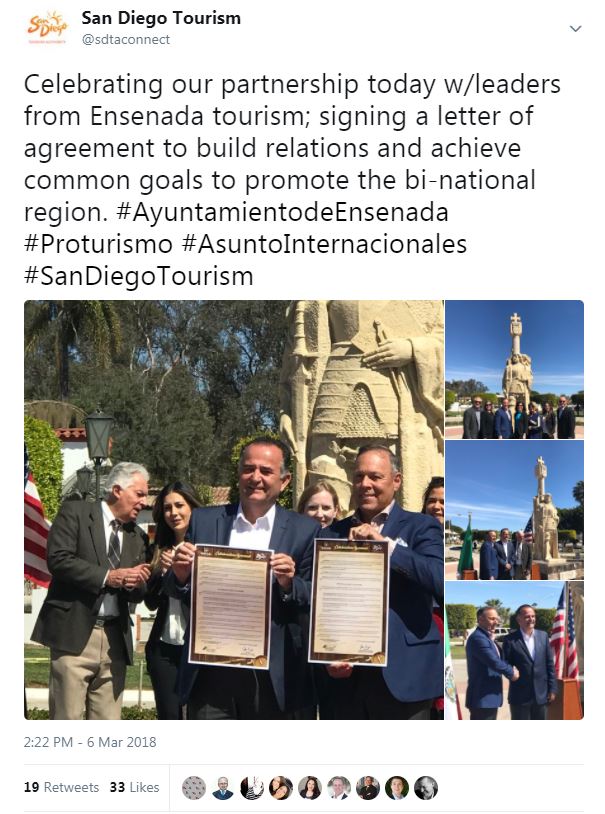 The SDTA corporate Twitter account earned 24,400 impressions during March.
MEMBERSHIP
10 Members attended the Open Office Hours on the 23rd to learn how to best maximize benefits.
Ad sales totaled $22,479 through new contracts.
6 New Members joined in March garnering $3,300 in annual dues revenue.
NEW MEMBERS
HOTEL SALES
Hotel Sales Client Events and Tradeshows
The Hotel Meetings Sales team momentum continues, finishing the month of March booking 70 meetings representing 31,772 room nights.  Fiscal year to date, this brings the team to 330,978 room nights, which is 103.2% to goal. These room nights represent 603 meetings that have never been to San Diego or have not been to San Diego in the past 5 years.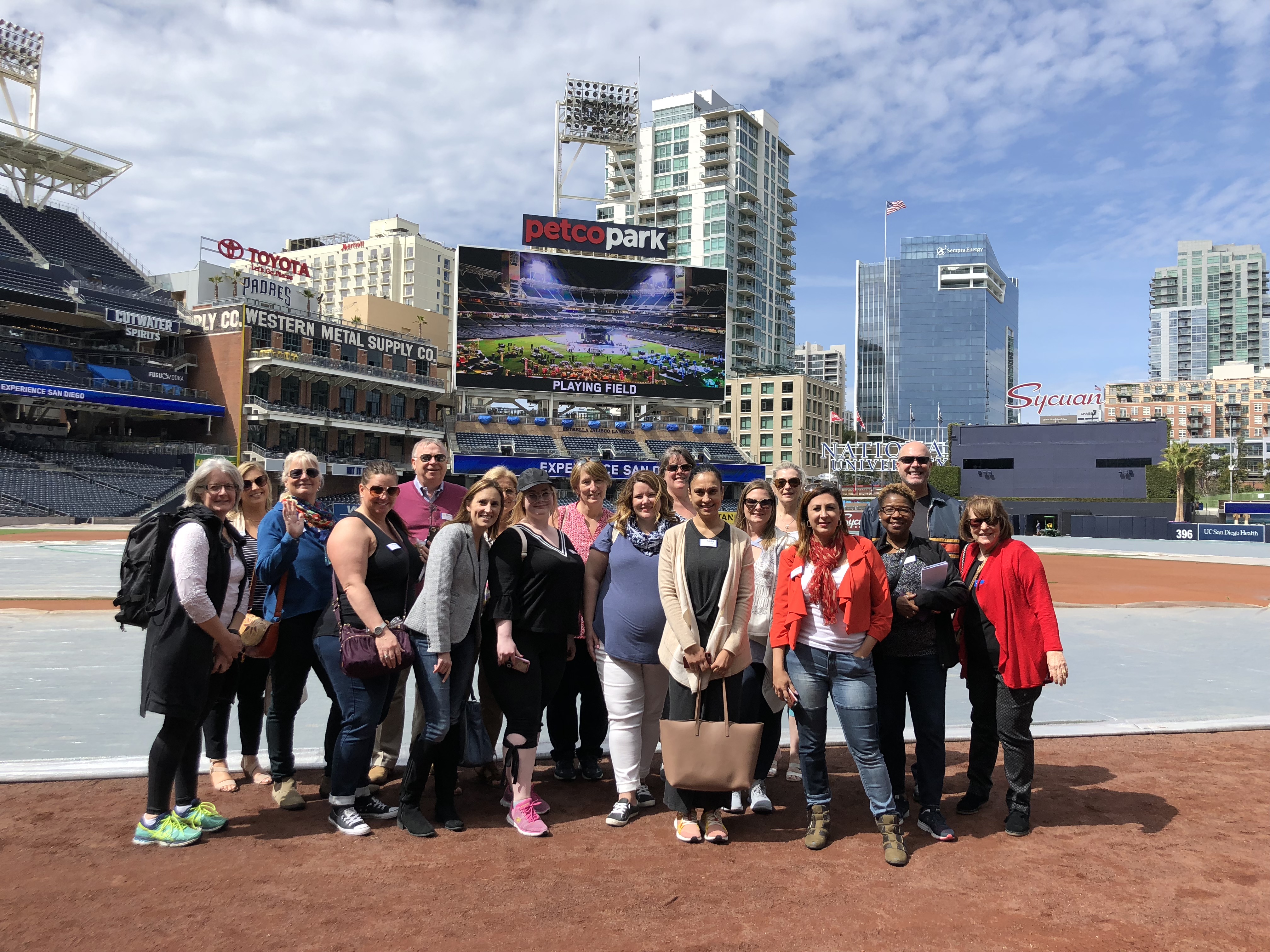 March was a big travel month, with the team participating in 10 tradeshows throughout the country.  Tradeshows attended include Connect California in Lake Tahoe, MPI Cascadia in Reno, NV, CMCA Annual in Virginia, Meet New York and Luxury Summit Meetings in New York City, Pharma Forum in Philadelphia, MIC Colorado in Denver, ConferenceDirect APM in Los Angeles, Experient Envision in Detroit, and finally CalSAE Elevate in Monterey, CA.  From these shows, 26 group leads totaling 62,099 potential room nights were generated, with more opportunities on the horizon.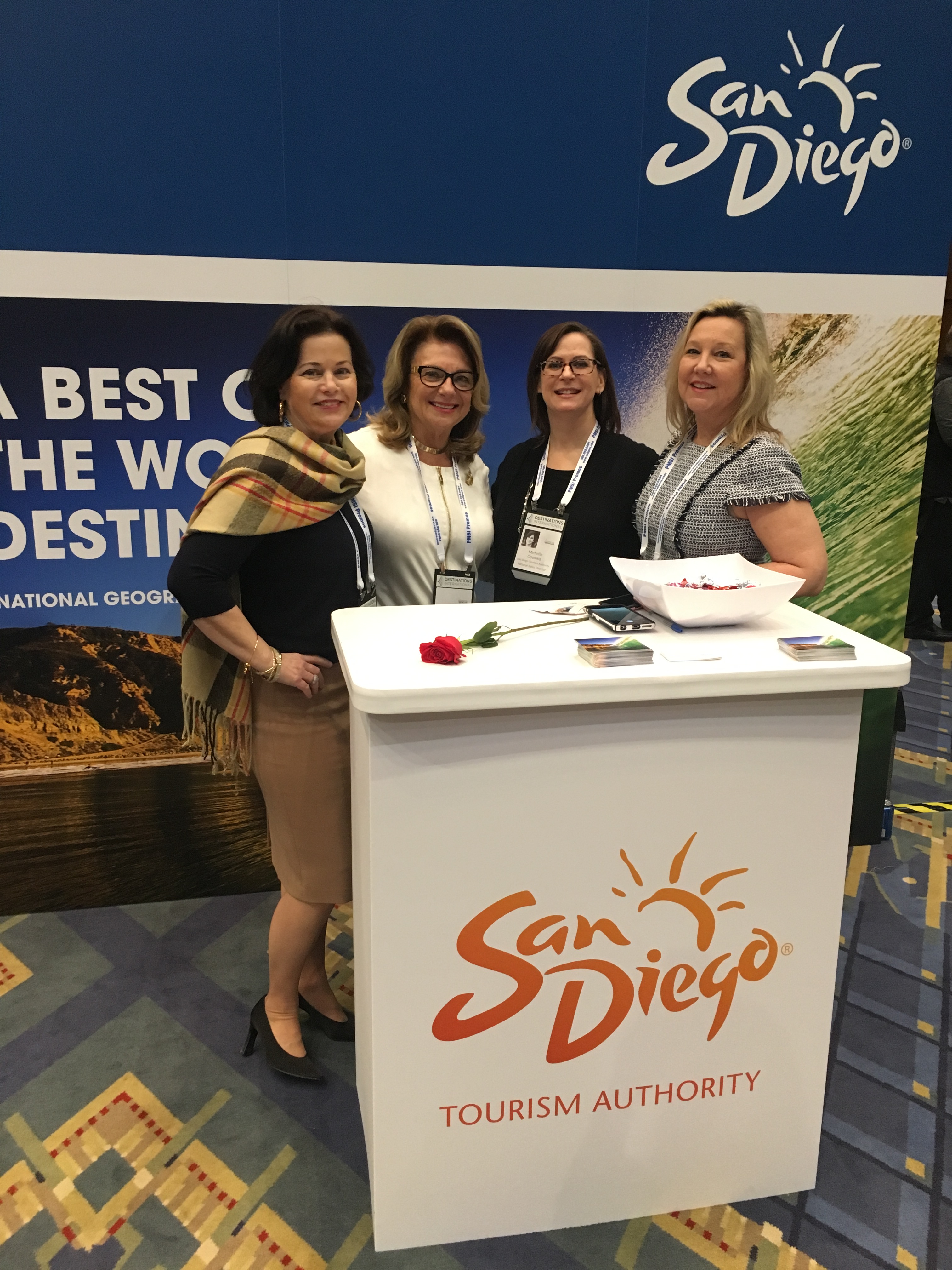 Site Experience Highlights
March was an incredibly busy month for our Site Experience team, with 27 client site experiences, creating exposure to 103 hotels and 18 venues.  During the month, our clients experienced some memorable sites.  One, in particular, was a site with the Institute of Navigation.  One of our Mission Bay hotels did such an incredible job with doing their homework, understanding the clients' needs, and building a trusting relationship, the client was so impressed that she decided to book two years, worth 2,170 room nights combined.
In addition, we conducted a Familiarization trip, March 19-22, bringing 16 clients to San Diego that had never been or has not been to San Diego in the past 5 years.  During the "Fam", we visited 23 hotels while discussing 11 potential group business opportunities.
SAN DIEGO MEETING CERTIFIED
San Diego Meeting Certified has graduated two classes of hospitality professionals since the program's February debut. To date, a total of 54 attendees have "graduated" from the program.  This certification program is designed specifically for all Hotel Sales Managers, Directors of Sales, and General Managers. It provides you with an actionable plan for selling your property, neighborhood, and the destination to improve your hotel conversion rate. There are six remaining classes scheduled in 2018. FOR DETAILS AND TO REGISTER, CLICK HERE.
SEE WHAT RECENT GRADUATES HAVE TO SAY…
"As someone new to San Diego, I enjoyed connecting with fellow industry colleagues to learn more about their properties and areas of expertise. I also liked the overall concept of using stories and tactics like mind-mapping to better engage the client and understand their specific needs."
"The story selling approach was a great way to address the eventual rut that most sales people will find themselves in. I have already seen a difference in my ability to sell my property with more confidence."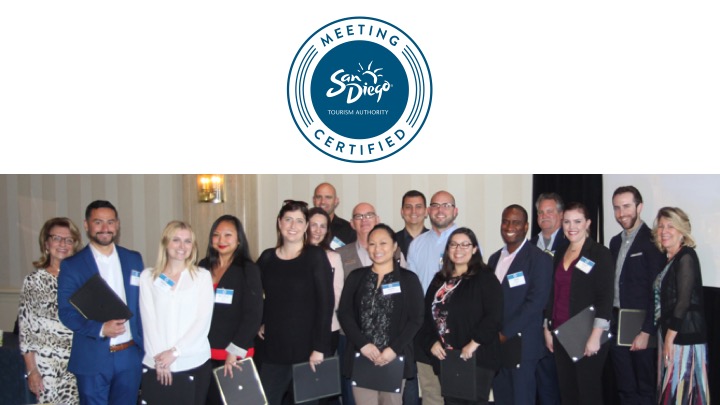 CITYWIDE SALES
Fiscal Year 18-To-Date: 351,500 room nights booked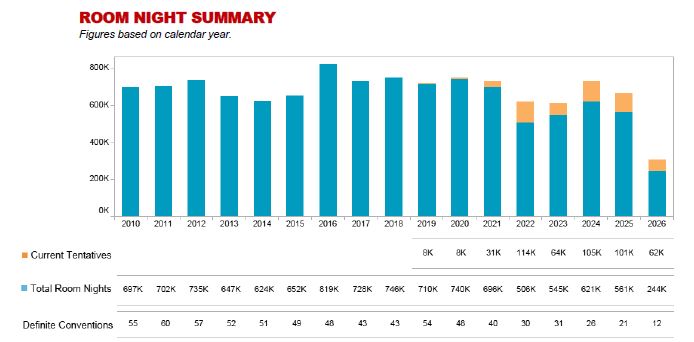 PUBLIC RELATIONS
In March, public relations manager Edna Gutierrez joined Visit California on a media mission to Mexico City, which was attended by 66 media and 27 influencers. Also while in Mexico, Gutierrez met individually with seven leading media outlets, including Excelsior, Vogue Mexico, Donde Ir and Fernanda. The Communications team also joined SDTA staff who traveled to Ensenada Baja California for the signing of a letter of agreement with Ensenada tourism leaders to build relations and achieve common goals to promote the bi-national region.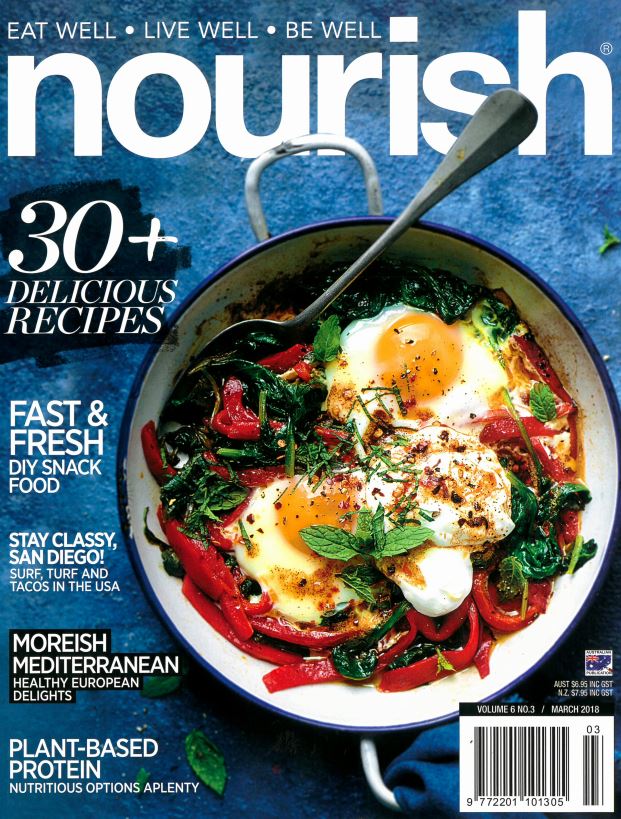 International team members partnered with Lufthansa Airlines to promote the launch of new nonstop service between San Diego and Frankfurt. In addition to helping host local media at a welcome luncheon, the team hosted a group of 7 German travel media for a 4-night visit to San Diego. The group's itinerary highlighted San Diego's popular neighborhoods, outdoor recreation, family attractions, early California history, arts and culture, culinary scene, craft beer, and nightlife.
Public relations manager Robert Arends hosted a regional-focused fam tour with five prominent Canadian media outlets. The itinerary showcased regions such as La Jolla, Shelter Island/Point Loma, Little Italy and Tijuana.
Key media hosted during March included The Guardian newspaper (UK), Arizona Midday television, Delicious magazine (Australia), Tucson Lifestyles magazine and more.
Key coverage received in March included USA Today, Delta Sky magazine, America Journal (Germany), the Sydney Morning Herald, WestJet magazine, Travel Weekly (Australia) and more.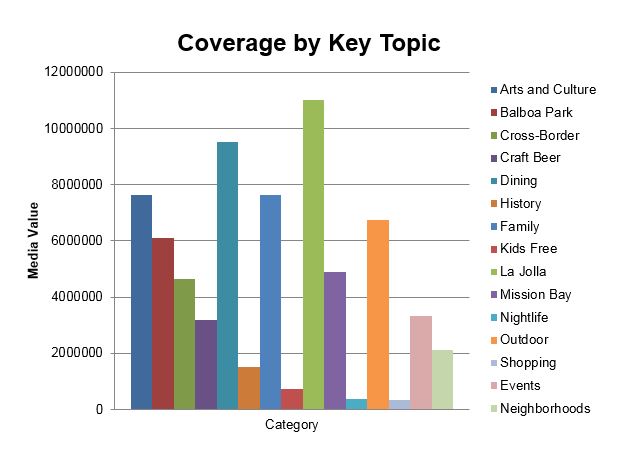 TOURISM DEVELOPMENT
Tourism Development team distributed 10 referrals and 2 leads to Member-businesses from travel trade clients.  The team certified 55 new San Diego Specialists agents from USA, Mexico, Germany, Japan and Australia who account for approximately 17,452 annual room nights.
Anita Yu, Travel Trade Representative in Beijing, participated in Club California Product Development Seminar in Shenzhen. 10 key tour operators and wholesalers from Shenzhen and Guangzhou region joined the session where Anita delivered the destination presentation and met with each of them on One-on-one meetings.
SDTA co-organized a training session with Hainan Airline in Beijing to provide the information about the new PEK-TIJ-MEX route to help new product developments utilizing the flight. 25 key tour operators in Beijing attended the event and learned about travel resources in San Diego and how to use Cross Border Xpress to get to San Diego.
Phil Hannes, Sr. Director of International Marketing attended the March 22nd inaugural flight ceremony in the Tijuana Airport to welcome the first Hainan flight from Beijing to Tijuana.  71 of the 152 passengers stayed in Tijuana/San Diego while the others continued service to Mexico City. This flight will have three weekly frequencies.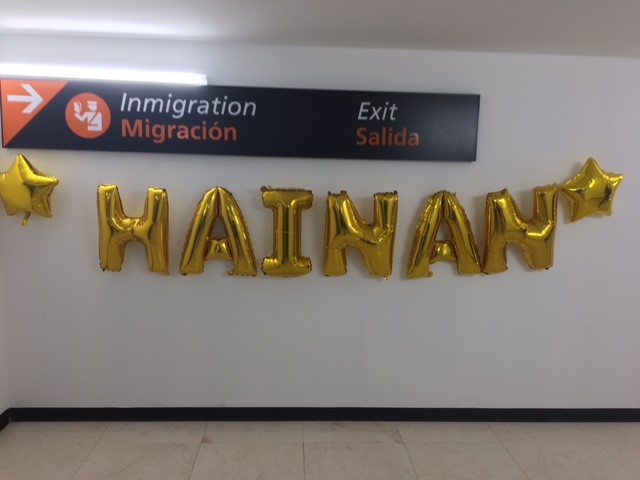 In late March Riki Suzuki, Tourism Development Manager attended the Active America China Summit in Atlanta. Riki Suzuki had 18 one-on-one meetings with tour operators from China to discuss San Diego promotions and update them on what's new in San Diego including new direct flight via CBX by Hainan Airlines. Also, Mr. Suzuki had opportunities to network with many more accounts during the summit events.
SDTA conducted the first SDTA Japan Sales Mission in Tokyo and Osaka from March 5th to 9th. Riki Suzuki, Tourism Development Manager, and a 5-member organizations participated in the mission. San Diego delegates had opportunities to present and train over 80 travel professionals through:
Retail store training
Meetings / Office Visits
In-house Seminars
Client Event
Also, during the mission, San Diego was featured as the regional showcase partner at a Visit California's event, Club California Breakfast Seminar. The team had an opportunity to have a presentation to train over 40 frontline retail agents, followed by networking time with them.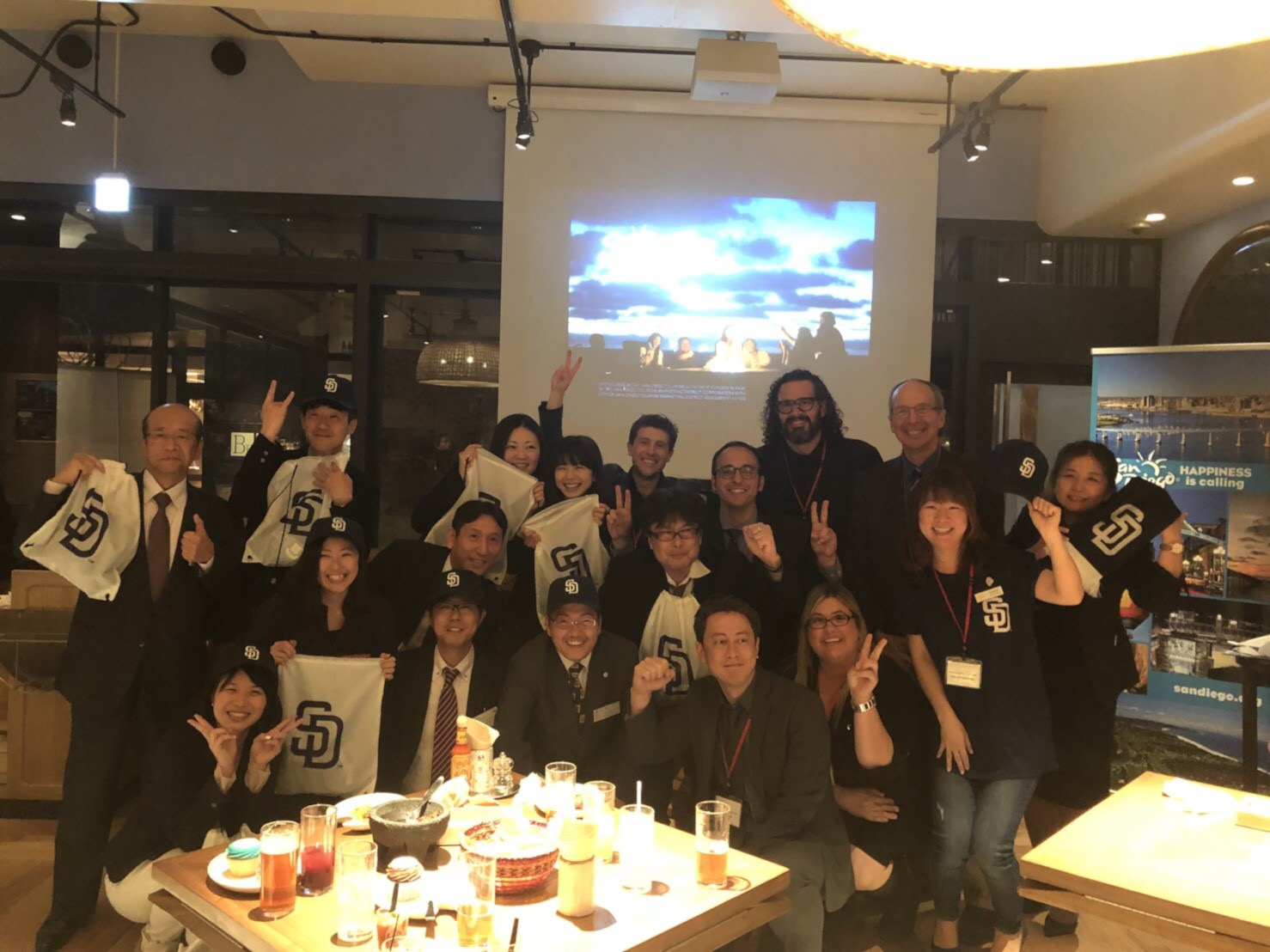 Following the sales mission in Japan, 3 members joined Riki Suzuki, Tourism Development Manager, in Seoul, South Korea for add-on Sales Calls on March 12th and 13th. The team visited 11 key tour companies from South Korea to promote San Diego and their products during sales calls and a client lunch/dinner.
Phil Hannes attended the March 10th Inaugural ceremony to promote the COTUCO Tourism Plan for 2018 to promote the Mega-Region. Hannes participated in the ribbon cutting event followed by a San Diego welcome message and consumer trade show at the Tijuana Cultural Center.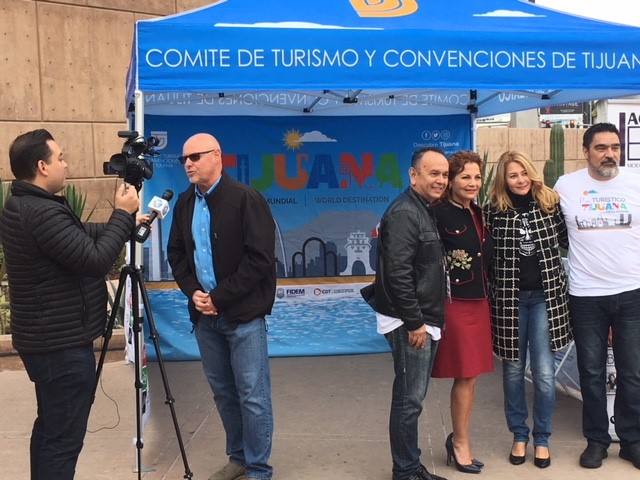 In early March, Tourism Development Director, Benjamin Eastman, attended the ITB Tradeshow in Berlin, Germany. San Diego was a hot topic within the Visit California booth as the debutes of the new Lufthansa flight and the return of the Edelweiss flight were imminent. Benjamin had a multitude of meetings with tour operators discussing current and upcoming promotional activity for the region and heard lots of great feedback about German/Swiss room night sales to San Diego.
The staff of Black Diamond, the SDTA UK office representation conducted a training day at Barrhead Travel which is Scotland's largest independent travel group and one of the largest in the UK.  40 agents were trained as the tour operator is planning to expand its programs with US destinations.
FAMS:  For March 2018 Tourism Development coordinated 4 site experiences including sites for PR Central the new SDTA representative firm in Mexico and Claro Sports Network. Virgin Holidays UK sent 2 product managers to pre-con San Diego before including the destination of San Diego in their FAMTASTIC program, sending 11 agents to San Diego as one of 5 destinations, prior to the entire group meeting up in Las Vegas to share pictures and experiences.  Representatives from Sweden, Mexico and Canada were also in San Diego on sites/visits.