SALES & MARKETING HIGHLIGHTS
Below are the February 2018 sales & marketing highlights from various departments from the San Diego Tourism Authority.
BRAND MARKETING
DOMESTIC LEISURE ADVERTISING
The Happiness is Calling "Summer Feeling" spot market television and digital video programs, which serve as the primary brand awareness advertising layer, continued in February and will extend through April. Complementing the brand program is a robust layered digital media program including but not limited to the "Always On" content initiative, search marketing, acquisition and conversion-based display campaigns with online travel agency, network and premium travel partners. In total, the domestic leisure advertising program for February delivered an estimated 181 million impressions against $3.1 million in spend.
SDTA's "Always-on" digital content initiative continued in February with the distribution of 14 new pieces of content to national and spot market specific audiences. In total, the program delivered an estimated 73.5 million impressions during February with 24% supporting the regional program of work and 27% dedicated to Los Angeles and Phoenix spot market promotion.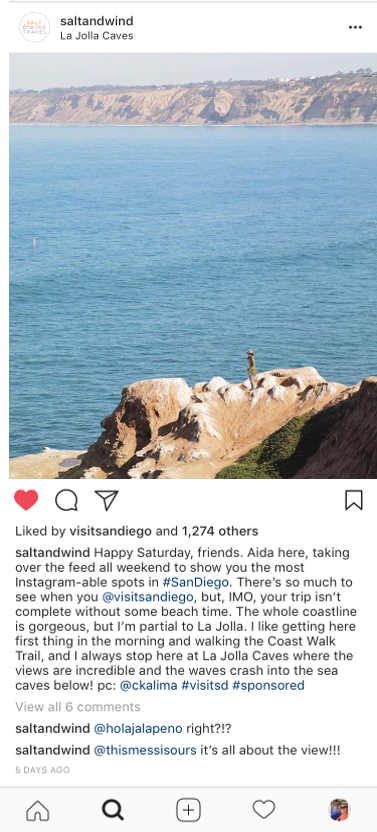 In addition to the video, social, native and influencer media distribution programs which launched in January and continue through June, custom media partnerships with premium partners BuzzFeed and Tastemade launched in February in the Los Angeles and Phoenix markets. Tastemade leveraged their Tastemaker and Destination Spotlight video franchises, and Buzzfeed leveraged their "Bring Me" series and produced a co-branded video for San Diego.
INTERNATIONAL LEISURE ADVERTISING
SDTA's consumer direct advertising programs also continued in February in Canada, United Kingdom, Germany, and China.
CANADA
During February $344k was spent in Canada across

national cable television, digital video, display, native, social and search marketing media delivering an estimated 34.9 million impressions. 21% of program spending was contributed by Brand USA and affinity partner uplift. Additionally, Brand USA provided added value print exposure in the February 2018 issue of Dreamscapes, a premier travel & lifestyle magazine in Canada.  
UNITED KINGDOM
Digital and out-of-home advertising continued during February in the United Kingdom with $395k spent delivering an estimated 26.9 million impressions. 29% of program spending was contributed by Brand USA and affinity partner uplift.
GERMANY
SDTA's digital program in Germany developed to increase awareness inspiration for travel to San Diego leading up to the March 22 launch of the Lufthansa flight from Frankfurt, continued and wrapped up during February. $181k was spent delivering an estimated 13.7 million impressions. 17% of program spending was contributed by Brand USA uplift.
CHINA
In February, SDTA wrapped up the consumer direct Chinese New Year campaign in China with Ctrip and Baidu. Always-on paid search and organic social campaigns continued throughout the month. SDTA also began planning and execution for

the summer 2018 campaigns with Fliggy, Ctrip and Baidu campaign flighted to launch in April. China media delivery and impressions for February will be available at the end of March. 
MULTI-MARKET
SDTA's co-op with Visit California's "All Dreams Welcome" campaign continued in Germany, Mexico and

Canada during February. Delivery across all markets for the month was 22.7 impressions with over $34k in Visit California cooperative spending.
Global OTA Program
In February, in collaboration with Expedia Media Solutions, SDTA launched "Better By The Beach," a global OTA campaign that drives awareness, inspiration, and consideration while increasing perception of San Diego as more than just a beach destination.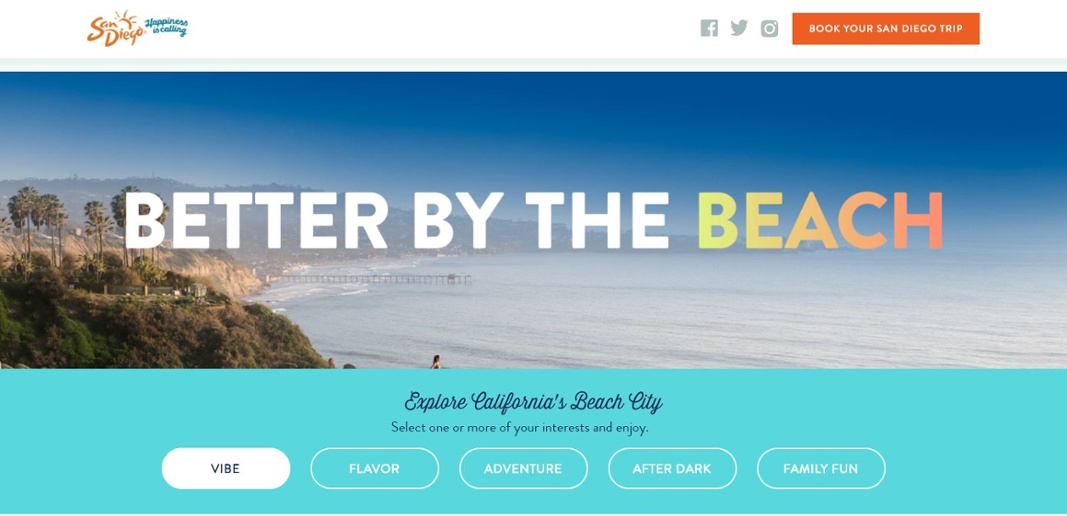 The custom hub was built upon the notion that travel experiences are significantly enhanced when they happen closer to the coast. On the custom "Better By The Beach" hub, users can explore the variety of experiences that San Diego has to offer and browse by region or activity type such as adventure, lifestyle, family fun, flavor and after dark.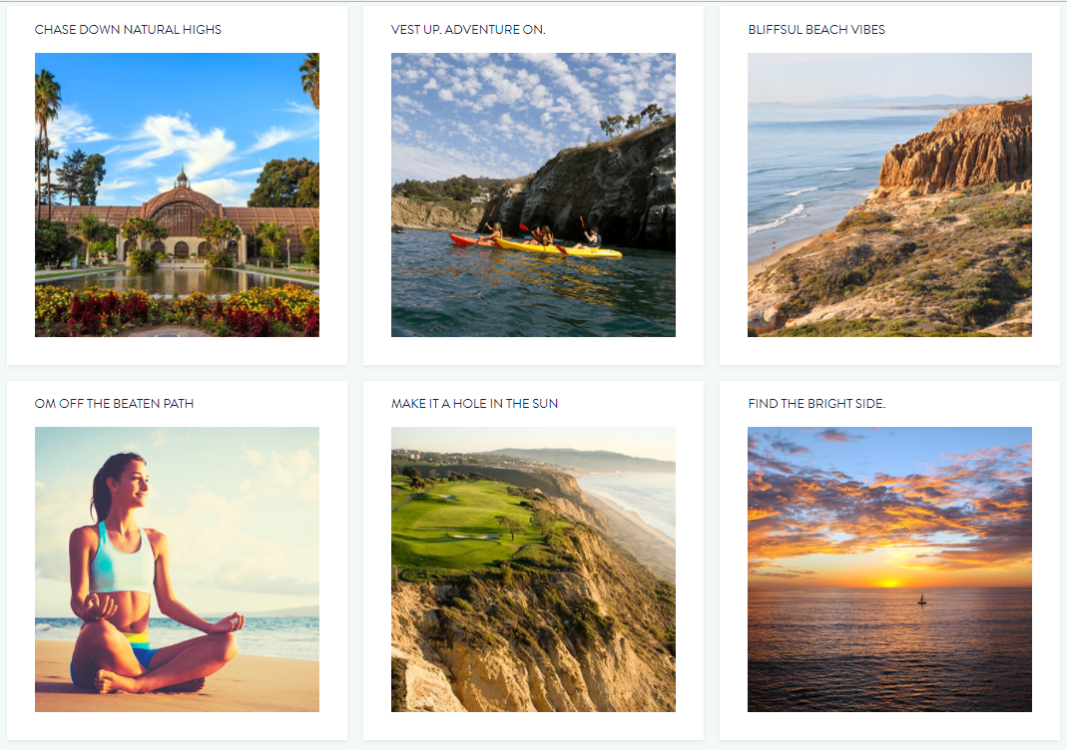 To leverage the power of social media and its role in consumer inspiration, the campaign utilizes a variety of globally-relevant trending hashtags along with a San Diego branded hashtag #BetterByTheBeach to inspire potential travelers to discover more San Diego related content on Instagram, Facebook and Twitter. The $500k campaign will run through May in the United States, Canada, United Kingdom and Germany.
DIGITAL MARKETING
Special event promotion in February focused on San Diego Museum Month, Spring Travel, Valentine's Day.
Web traffic for January included 735,271 user sessions between the desktop and SDTA posted a total of 109 Tweets, 33 Facebook posts, and 21 Instagram posts through our social channels, 8 blogs, and distributed 5 consumer emails.
LEISURE DIGITAL
Most Engaged Facebook Post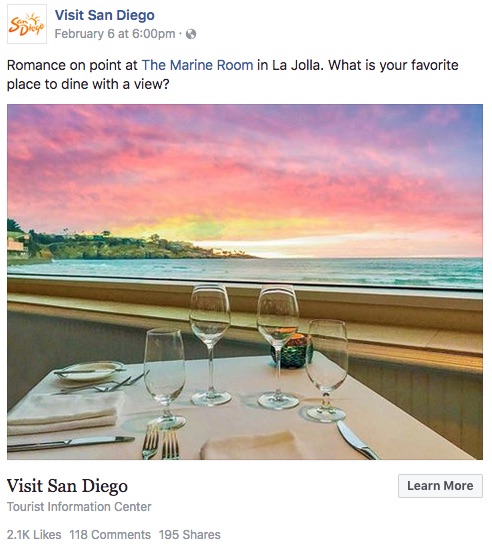 Most Engaged Twitter Post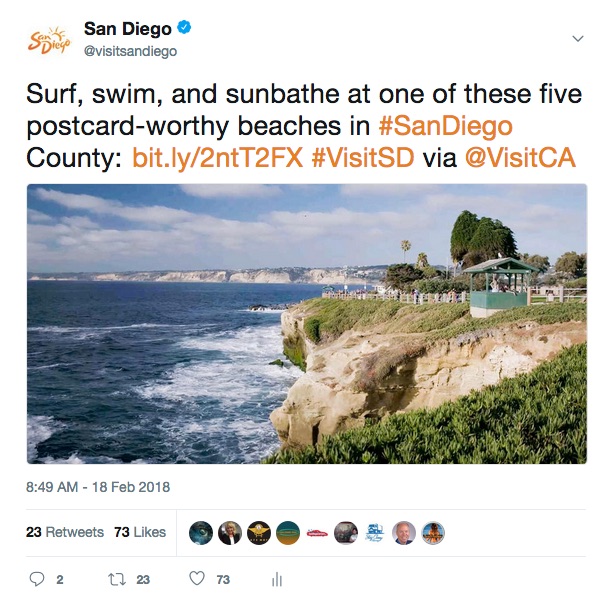 Most Engaged Instagram Post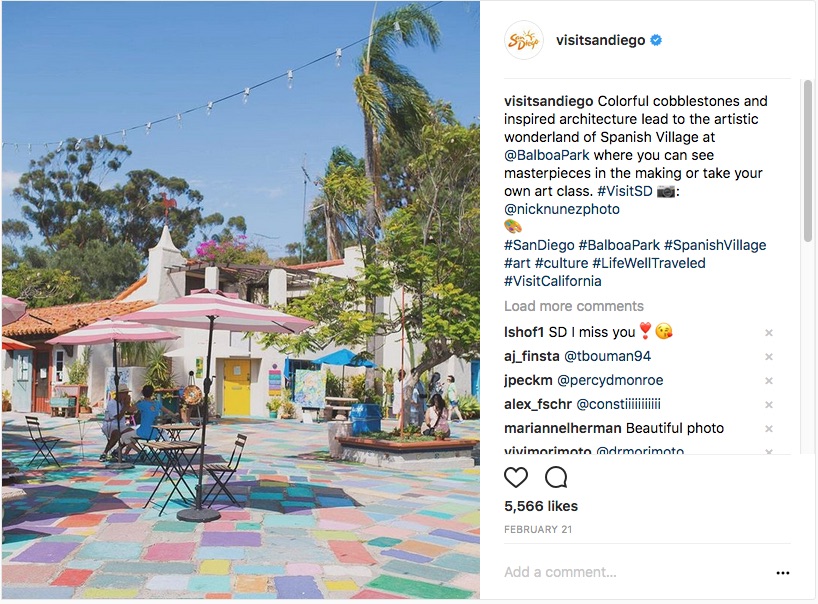 REGIONAL DIGITAL MARKETING
Overall traffic to the Luxury and Value pages on sandiego.org was 2,928 site visitors in February. The social media team, in partnership with Casual Fridays, launched the following campaigns: Lovin' San Diego Slideshow (All regions), Great Date Locations User Generated Content (All Regions), Point Loma Museums Instagram Story (Point Loma Peninsula) and Lovin' San Diego Instagram Story (All Regions).
Most Engaged Regional Post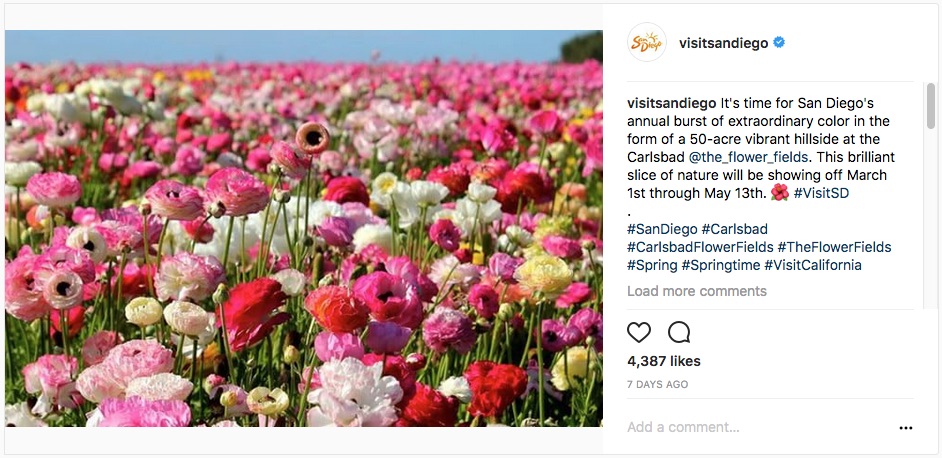 B2B DIGITAL
EMAIL:
The February B2B Postcard was delivered to 8,289 meeting planners and was the tenth in a year-long series of video emails. Each month a new video showcased San Diego icons, regions, businesses, or opportunities to inspire meeting and event planners. The open rate for the February B2B video postcard was 23.8%, which represents over 1,970 unique meeting planners. The February video showcased teambuilding in the destination. The video featured:
Sky Falconry
Go Car Tours
Urban Adventure Quest
Surf Diva Surf School
Chula Vista Elite Athlete Training Center
America's Cup Sailing Adventure
WATCH THE TEAM BUILDING VIDEO HERE
LINKEDIN:
Seven unique posts during February garnered 64,845 impressions and included:
Hainan Airlines offers direct Beijing-Tijuana flights beginning March 2018
CalTravel Summit "Voices Carry" – Invitation
San Diego shines in California Meetings + Events Best of 2018 Report
SDTA is out to prove vacationing is "Better by the Beach"
VisitCA Poppy Awards Recognition
Annual Golf Tournament Save The Date Reminder
The announcement of 1st graduating class for San Diego Meeting Certified
Convention Center new Sails Pavilion story
LinkedIn grew by 2.1% from last month to 6,255 followers, earning 64,845 impressions. Year-over-Year the LinkedIn Audience grew by 16%.
Where We Stand
LinkedIn followers compared to similar organizations:
Visit Orlando 9,819
Discover Los Angeles 7,004
Visit San Diego 6,255
Visit California 6,092
San Francisco Travel Association 4,764
Brand USA 4,563
US Travel Association 2,782
Visit Anaheim 2,378
San Diego Convention Center 1,823
San Francisco CVB 1,250
California Travel Association 846
TWITTER:
@SDTAConnect Twitter base grew by 1% from last month to 3,626 followers. There were 20 tweets during the month.
This month, the tweet with the most exposure (4,611 impressions) was a story promoting the USS Midway Museum earning a spot on Trip Advisor's list of most popular tour items for international travelers.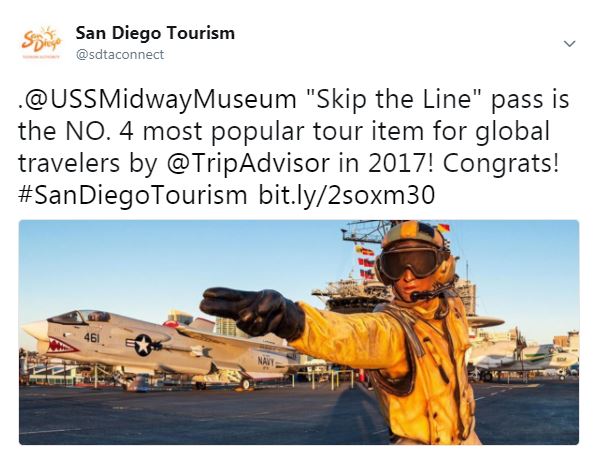 The tweet with the most engagement was the announcement of the Visit California Poppy awards – SDTA team took home the award for Best PR campaign promoting the strength of our bi-national partnership with Tijuana & Mexico's Baja region.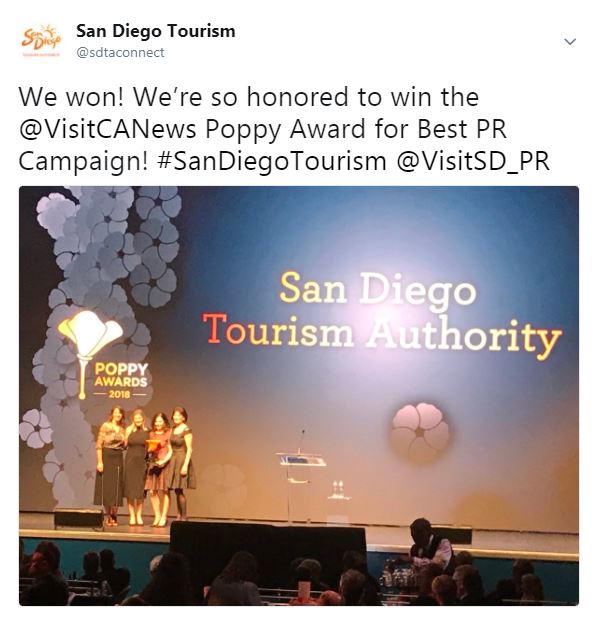 The SDTA corporate Twitter account earned 27,759 impressions during February.
MEMBERSHIP
32 Members attended the Open Office Hours on the 28th to learn how to best maximize benefits.
Ad sales totaled $117,285 through new contracts.
11 New Members joined in February garnering $5,500 in annual dues revenue.
NEW MEMBERS
HOTEL SALES
Hotel Sales Client Events and Tradeshows
The Hotel Meetings Sales team had another strong month, booking 62 meetings representing 25,768 room nights. This represents 12 more meetings booked compared to February of last year. Fiscal year to date, the Hotel Sales team has booked 299,206 room nights, which is 108% to goal.  These booked business opportunities represent meetings which have never been to San Diego or have not been to San Diego in the past 5 years.
In addition to the positive productivity results, the Sales and Events Teams were active with several tradeshows and events across the country.  On February 13th, Margie Sitton, along with our National Sales Directors from both the Hotel Meetings and Citywide Teams attended Destination Showcase in Washington, D.C.(below). This event lured 650 meeting planners from the DC Metro area to network and discuss business opportunities with our Sales Team.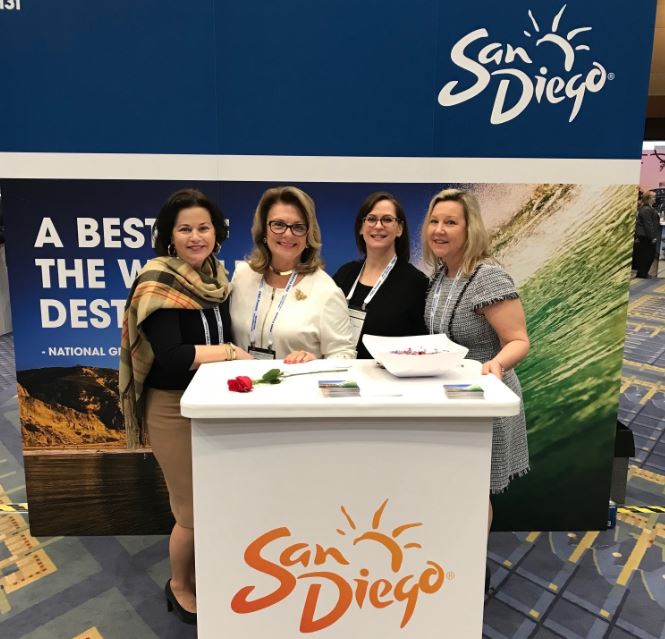 In addition, Michelle Coombs attended the MPI Mid-Atlantic Chapter's annual conference and expo on February 27th.   Washington, D.C continues to be a key group market for San Diego.
In San Francisco, Alicia Moneyhun (below) attended MPI's Northern California Chapter's annual conference and expo with five hotel partners.  From the tradeshow, four group leads were generated totaling 5,470 potential room nights for the destination.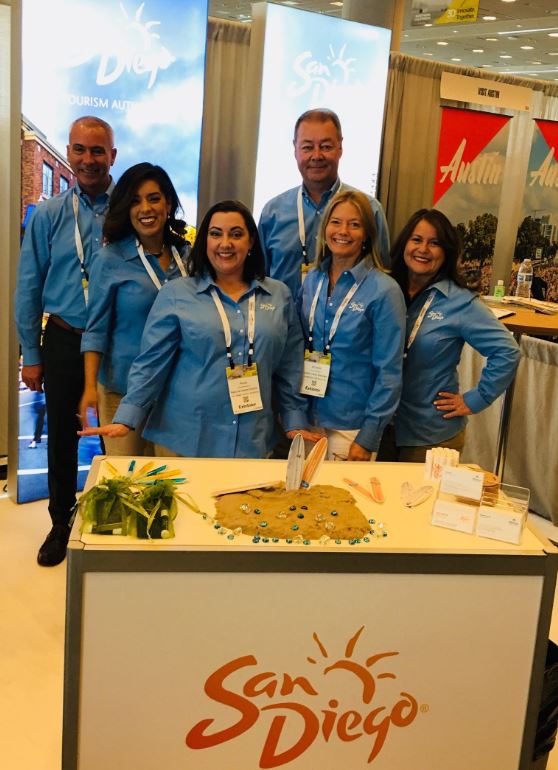 Also in February, Lori Alstrom partnered with Puesto on a "pop up" restaurant opening in New York City.  Lori invited 15 key meeting planners to the one night only event and showcased our Cali-Baja cuisine while discussing group and incentive meetings for San Diego.
Finally, Gillian Ware attended Connect Diversity in Portland, Oregon where she conducted 30 one-on-one appointments with customers, generating six group leads for our destination.
Site Experience Highlights
February was another busy month for our Site Experience team, with 14 client site experiences, creating exposure to 54 hotels and 11 venues.  One particular hotel stood out during a recent site, with a client expressing interest in Mexican food.  The hotel personalized an authentic Baja taco bar experience, which was memorable and creative, positioning the hotel to be in the final running for an upcoming board decision.
Ted File, Director of Site Experiences, began a new Site Experience 3.0 training program! Six properties, including operation team members that are involved with sites, have completed the training in January and have already experienced recent successes with their sites. A recent comment from a Director of Sales: "the training was very helpful and informative and has invigorated our sales team!".  If you have not yet reached out to Ted to set a date for training, please send him an email at tfile@sandiego.org.
SAN DIEGO MEETING CERTIFIED
San Diego Meeting Certified saw its first graduating class in February. This certification program is designed specifically for all Hotel Sales Managers, Directors of Sales, and General Managers. It provides you with an actionable plan for selling your property, neighborhood, and the destination to improve your hotel conversion rate. There will be eight total courses options in 2018. FOR DETAILS AND TO REGISTER, CLICK HERE.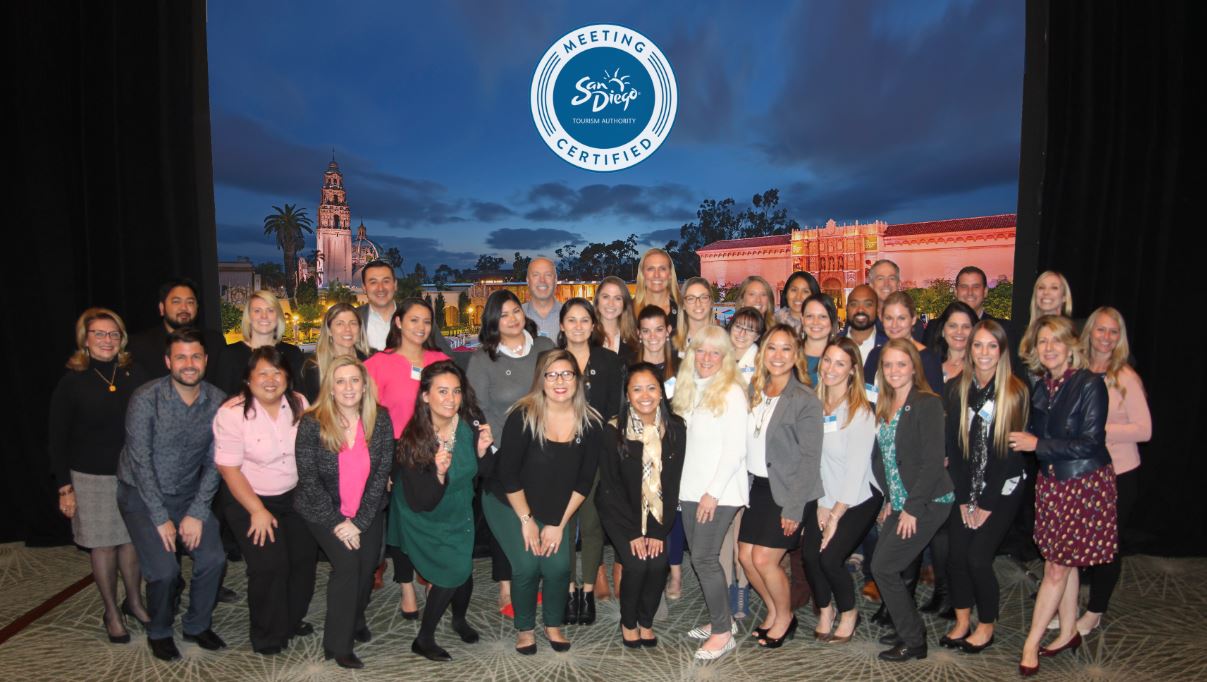 Margie Sitton speaks with a recent graduate of the San Diego Meeting Certified program on the latest episode of Margie's Minute. Nancy Wagner is director of sales and marketing for Hilton San Diego Misson Valley and she shares her experience on what she learned in the three-day course and why it's so important for her entire team to become certified.
CITYWIDE SALES
FY18:
Definite Bookings: 5
Attendance: 33,000
Total Room Nights: 51,968
Fiscal Year 18-To-Date: 351,500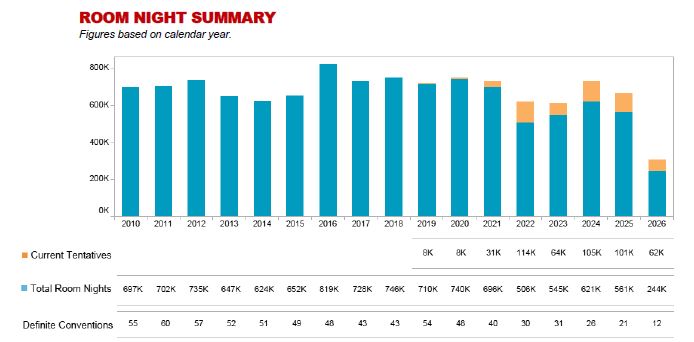 PUBLIC RELATIONS
In February, Communications partnered with Brand USA to host a local media availability highlighting the SDTA's marketing program of work in China. San Diego-based media were invited to capture the Brand USA shoot and interview Joe Terzi about marketing efforts in China.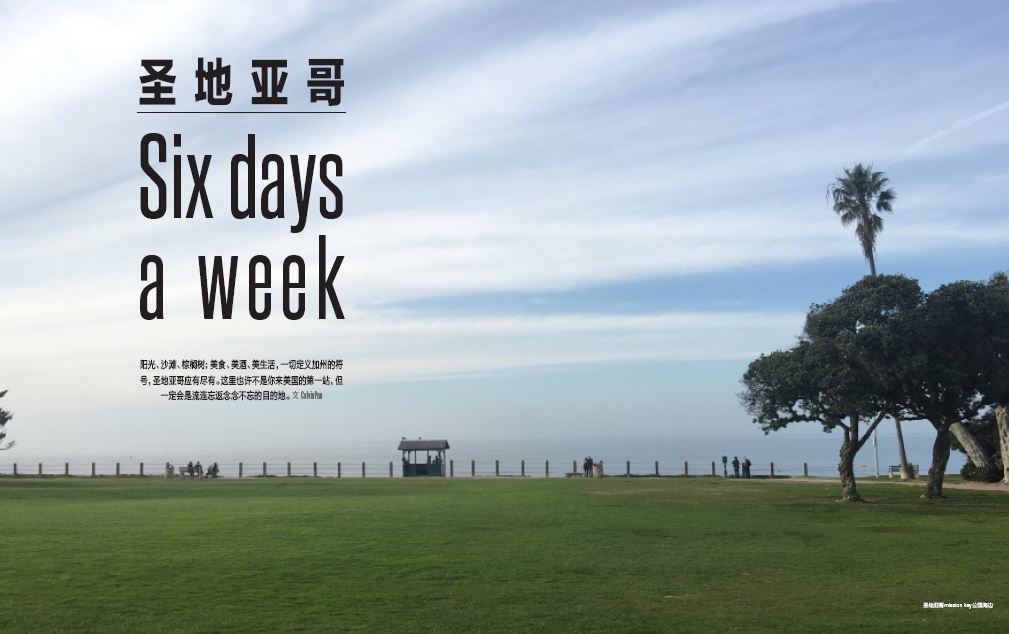 The team also partnered with Visit California's office in India and hosted its new California Dreamer, actor and celebrity influencer Rannvijay Singh Sangha, along with Lonely Planet Travel magazine and the Times of India, a leading media group with a combined circulation of over 24.5 million and readership of almost 74 million, on a content-capturing trip in San Diego.
Key media hosted included Alaska Beyond magazine, USA Today, Ottawa Life magazine, and more.
Key coverage received in February includes the Los Angeles Times, Delta Sky magazine, America Journal (Germany), Travel + Leisure (China), Yahoo (UK) and more.
Total Press Coverage:
Media Value: $1,689,798
Impressions: 99,551,324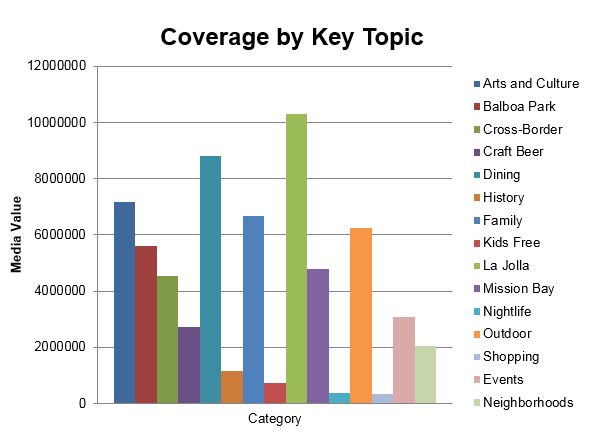 TOURISM DEVELOPMENT
The Tourism Development team distributed eight referrals and one lead for 60 room nights to Member businesses from travel trade clients. The team certified 62 new San Diego Specialists agents who account for approximately 11,400 annual room nights.
Phil Hannes, senior director of international marketing, participated in the SCMA (Southern California Marketing Alliance) Mexico Sales Mission the week of February 5th.  He was accompanied by seven San Diego Member businesses. He presented in Mexico City, Guadalajara, and Leon to over 640 travel professionals promoting San Diego packages featured by six wholesalers.
The week of February 12th, Phil also attended the America's Routes Conference in Quito, Ecuador accompanying the San Diego International Airport team to meet with key airline industry representatives in the development of new flights into our region.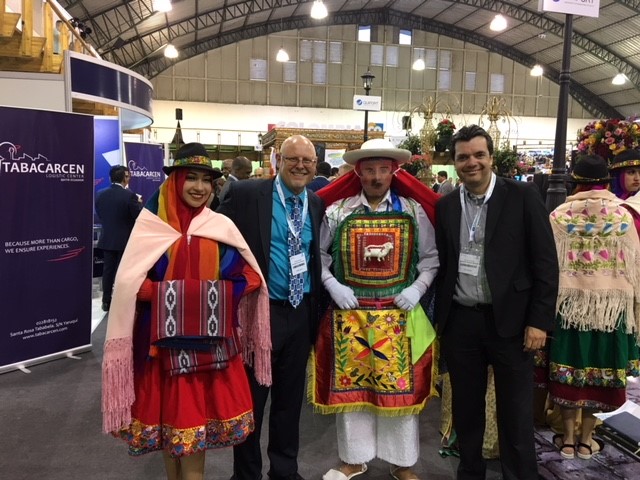 The SDTA Tourism Development team hosted the Annual Asian Client 9-course luncheon in Rosemead on February 21st with nearly 40 top Chinese, Japanese, and Korean attendees. There were 22 SDTA Members who participated and networked with clients and had the opportunity to showcase their products in a trade show format.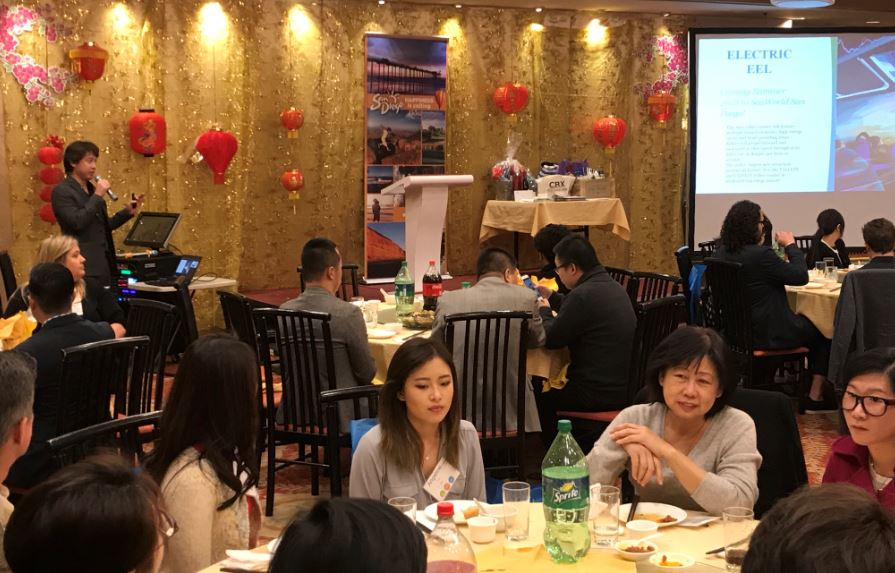 On the same evening, the Tourism Development team hosted the 22nd Annual VIP Client Dinner bringing together 28 top Receptive and Tour Operator partners from the LA region with 16 participating SDTA Members for an evening of networking and introductions.