The San Diego Tourism Authority won the award for Best PR Campaign at the 2018 Visit California Poppy Awards on February 15, 2018. The campaign promoted the bi-national influence and partnership with Mexico and our cross-border tourism ties in the destination. The campaign was up against Palm Springs and Los Angeles in this category.  Congratulations to our friends at the San Diego Zoo for winning Best Overall Marketing Campaign – $500k – $2M (tied with Palm Springs).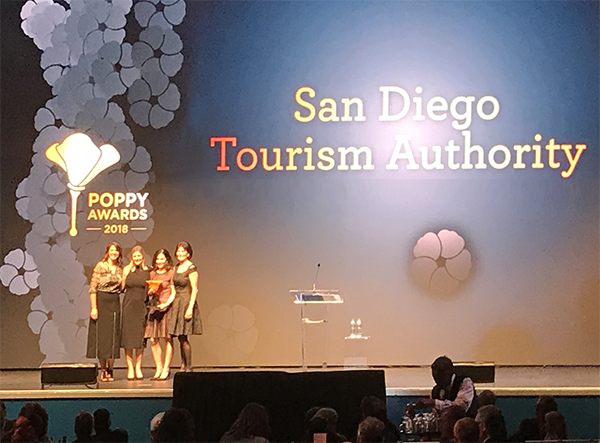 ABOUT THE CAMPAIGN
Due to a rise in violence and drug trafficking at the start of the 21st century, the Baja region of Mexico was historically not considered a desirable travel destination. However, in recent years, Baja's reputation began to change: the region was increasingly receiving media coverage as an up-and-coming destination for arts, culture, food, and wine. Many U.S. travel media began highlighting the destination, often overlooking the fact that San Diego shares close cultural and economic ties with Tijuana and the surrounding region.
At the same time, due to international media coverage of the 2016 U.S. election and anti-global political rhetoric, international visitors were beginning to perceive U.S. destinations as unwelcoming to foreign visitors. The San Diego Tourism Authority (SDTA) saw a need to create a public relations campaign that would emphasize our position as a border city with a strong bi-national spirit that embraces our Mexican neighbors.
The SDTA created a "Two Nation Destination" PR campaign to show media both in the U.S. and around the world that San Diego and Baja can be experienced and enjoyed as one destination together. The campaign encourages visitors planning trips to Baja to include San Diego in their itineraries and vice versa, while also demonstrating that San Diego embraces multi-culturalism and regularly welcomes visitors from Mexico and beyond with open arms. Through targeted pitching and media hosting strategies focused on cross-border and cross-cultural offerings, the SDTA's PR team was able to generate millions of dollars' worth of media coverage on why San Diego's border location makes it a desirable destination to visitors from all walks of life.
The main objective of the "Two Nation Destination" PR campaign was to shift the national and international dialogue about travel to San Diego by increasing coverage of San Diego as part of a welcoming, bi-national region. The campaign strategy highlighted the influence of Mexican culture on San Diego's lifestyle and showing the ease of traveling between San Diego and Baja.
Pitches, press releases, and media hosting efforts pushed the following messaging:
Our bi-national culture makes the San Diego-Baja region unique in the world
San Diego is warm and welcoming to all visitors
Crossing the border from Mexico is easier than expected
Travelers interested in visiting Baja should add San Diego to their itinerary and vice versa
While the campaign began in earnest in the second half of 2016, the SDTA's PR messaging was further refined in 2017 to reinforce the message of Visit California's "All Dreams Welcome" campaign.
The success of the campaign would be determined by the number of articles generated that included these key messages. In addition to reviewing the articles individually, the greater objective would be to see a shift in the percentage of overall destination stories that included cross-border messaging versus those that did not.
TACTICS
Tactics focused on media pitching and hosting. The team developed pitches highlighting the ways cross-border culture infuses life in San Diego. A strong emphasis was placed on Barrio Logan, a San Diego neighborhood known for its vibrant Mexican immigrant community and its landmark Chicano Park, the world's largest collection of Chicano murals.
In spring 2017, following the lead of Visit California's "All Dreams Welcome," SDTA issued a press release titled "United by the Border: San Diego and Baja's Bi-national Spirit," which featured food, beer and art with connections on both sides of the border to demonstrate the region's intertwined culture.
When pitching day trips to Baja as part of a San Diego itinerary, many media were still concerned that travel to the Baja region was not safe. To change perception, the PR team worked with local tour partners including Turista Libre and Let's Go Clandestino to include trips to Tijuana and the Valle de Guadalupe in media fams. Partnering with international PR firms Gate7, Black Diamond and AviaReps, as well as Edelweiss Airlines, SDTA hosted group media fams for leading media from Australia, the UK, China and Germany; itineraries for all these fams included day trips to Baja as part of the San Diego experience.
For media in Mexico, the SDTA had to take a markedly different approach. Rather than highlighting day trips to Baja, the PR team focused on showing Mexican media that the San Diego region was both easy to access and welcoming to Mexican residents. CEO Joe Terzi joined Visit California's mission to Mexico City, and the SDTA hosted a number of media who entered San Diego via the CrossBorder Xpress, the world's first bi-national airport terminal, located at the San Diego-Tijuana border.
Partnering with both CrossBorder Express and Aeromexico, SDTA hosted two Mexican media fams, which included media from Hotbook, Travesías, Food & Travel Mexico, Revista Open, Forward Travel, El Economista, Excélsior and Alto Nivel.
EVALUATION
The SDTA works with leading media monitoring companies to track return on investment for public relations efforts. The SDTA contracts with BurrellesLuce to track and analyze all North American print and web media coverage for the destination and key topics. Supplemented by the Public Relations Department's own internal tracking and reporting, BurrellesLuce provides detailed monthly reports on circulation and readership of web and print articles related to San Diego, as well as providing an advertising equivalency report for print and web placements. International media coverage reports are provided by our PR representation firms in each country: AviaReps in China, Black Diamond in the UK, Gate7 in Australia and Marketing Services International in Germany.
RESULTS
Between July 1, 2016, and Sept. 30, 2017, coverage of San Diego that included cross-border messaging reached $9.4 million in media value and more than 500 million impressions, with more coverage pending in the remainder of 2017.
Key coverage directly resulting from media hosting or pitching efforts included the Globe and Mail (Canada), Wall Street Journal, Toronto Star, Hemispheres, Nexos, the Sunday Times (UK), Sydney Morning Herald, RCKSTR Magazine (Switzerland), IMAGINE Magazine (Switzerland), Manchester Evening News, Mafengwo (China), Escape Magazine (Australia), The New York Times and many more.
Comparing coverage from previous years, in FY16, 4 percent of all SDTA generated coverage included cross-border messaging. In FY15, less than 1 percent of coverage included cross-border messaging. In FY17, more than 22 percent of all destination coverage included cross-border messaging. This clearly demonstrates a significant jump due to the efforts of the "Two Nation Destination" PR campaign.
Without fail, all media that experienced crossing the border into Baja from San Diego found the experience remarkable, welcoming and unique.