SALES & MARKETING HIGHLIGHTS
Below are the January 2018 sales & marketing highlights from various departments from the San Diego Tourism Authority.
BRAND MARKETING
DOMESTIC LEISURE ADVERTISING
The winter/spring advertising program launched in January, increasing awareness and consideration leading up to the spring/summer travel season.
The Happiness is Calling "Summer Feeling" television/digital video program continues to be the foundation of the brand awareness advertising layer. The national digital video flight resumed in January, delivering 8.7 million impressions and will continue through the end of April with Hulu, ABC, CBS, NBC Sports, and YouTube Trueview. National television advertising also ran on CBS during the weekend of the Farmers Insurance Open. January also marked the launch of spot market television in five of the eight spot markets including Seattle, Chicago, New York City, Boston, and Minneapolis.
January also marked the launched of SDTA's $4 million "Always-on" content initiative that will run through June. Five new content series (Guides to the Good Stuff 3.0, One Bright Idea, Bliss Break, Sunny Seven, and Positively Postable) and 11 individual content pieces were distributed in January with national and spot market-specific distribution layers, including dedicated media in Los Angeles.
Foundational programs including regional and base search, online travel agency campaigns, and brand social continued in January. In total, the domestic leisure advertising spend for the month was $1.5 million and delivered an estimated 86 million impressions.
INTERNATIONAL LEISURE ADVERTISING
CANADA
While digital advertising in Canada began in November, the bulk of the consumer direct program in Canada runs January – March and includes national cable television, digital video, display, native, social and search marketing. As a co-op participant in Visit California's "All Dreams Welcome" campaign, SDTA will also receive dedicated social marketing support in Canada during this timeframe. SDTA's total FY18 investment in Canada is just over $1.4 million, which includes $277k in Brand USA, affinity partner and Visit California partner contributions.
Television Networks: Action, Bravo, Comedy, Cooking Channel, Discovery, DTOUR, E! Network, Food, Gusto, HGTV, History, Lifetime, MovieTime, Nat Geo, Showcase, Space, SportsNet, SportsNet One, TSN and W Network
Digital Partners: Global TV, CTV, YouTube Trueview, TripAdvisor, Sojern, MediaCorps, Expedia, Facebook, and Google
During January, $417k was spent in Canada delivering an estimated 49.2 million impressions.
UNITED KINGDOM
The $1.1 million consumer direct advertising program in the United Kingdom launched in January and will continue through March. Twenty-five percent of the UK media spend ($287k) was contributed by Brand USA and affinity partner uplift funds. In total, the program is estimated to deliver 73.6 million impressions.
Digital advertising serves as the foundational layer in the UK market. Digital video, display, native, social and search marketing will run with the following partners: YouTube Trueview, AVID, TripAdvisor, Adara, Sojern, Expedia, Facebook, and Google. Complementing the digital program is out-of-home including digital boards and video screens in high traffic underground stations such as Waterloo, King's Cross, St. Pancras, Victoria and London Bridge. Out-of-home runs for four weeks at the beginning of the flight, January 15 – February 11.
During January, $372k was spent in the UK delivering an estimated 24.4 million impressions.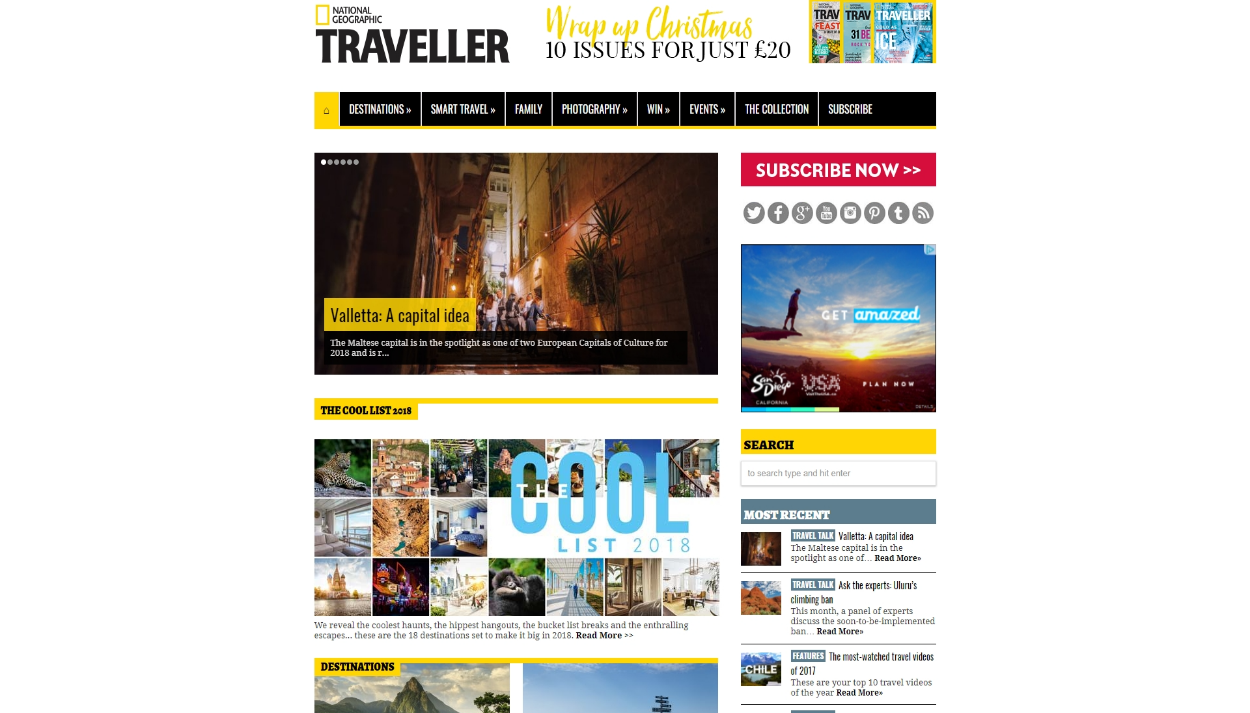 GERMANY
To generate awareness and inspiration for travel to San Diego leading up to the March 22 launch of the Lufthansa flight from Frankfurt, SDTA will run digital video with YouTube Trueview and social media advertising on Facebook and Instagram during January – February. Lufthansa was integrated into SDTA's :30-second brand video spot with a "fly non-stop on Lufthansa" call to action. And a "Book Now" button was integrated into the social media ads, driving direct to LH.com.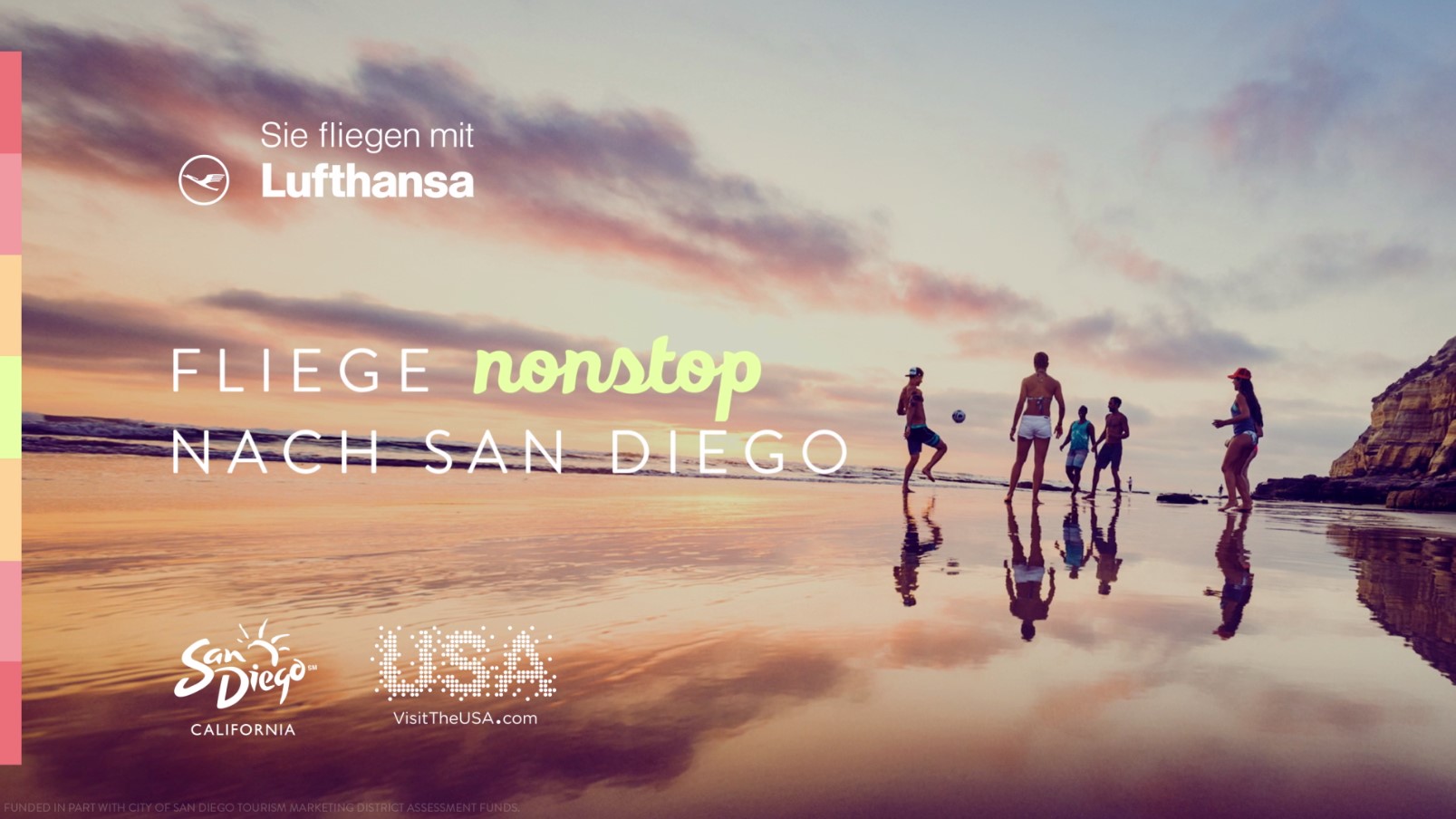 Additionally, San Diego's co-op participation in Visit California's "All Dreams Welcome" campaign extends to Germany as does and SDTA's online travel agency program, both of which run during the winter/spring booking window. SDTA's total advertising investment in Germany is just under $400k, with $100k contributed by Brand USA and Visit California, and is estimated to deliver 50 million impressions.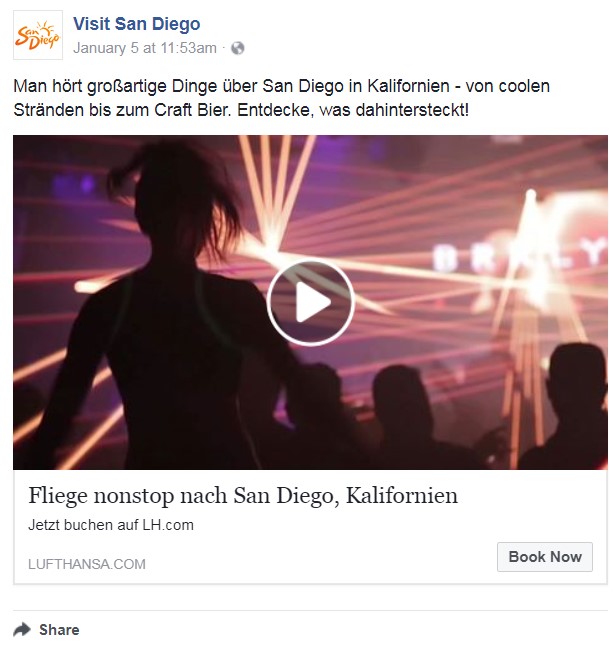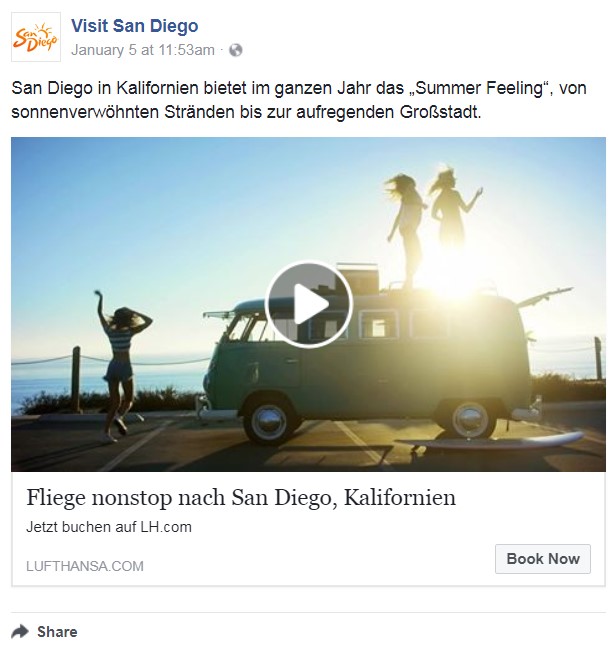 During January, just under $126k was spent in Germany delivering an estimated 16.9 million impressions.
CHINA
SDTA continued to ramp up consumer direct efforts in China this month. The Chinese New Year campaign with C-trip continued during January as did the "Always On" and Chinese New Year search marketing campaigns with Baidu.
During January, just over $323k was spent in China delivering an estimated 4.6 million impressions. The bulk of spending during January (75 percent) was contributed as in-kind media value from Brand USA for the Ctrip campaign.
DIGITAL MARKETING
Special event promotion in January focused on San Diego Restaurant Week and Farmers Insurance Open.
Web traffic for January included 660,640 user sessions between the desktop and SDTA posted a total of 101 Tweets, 42 Facebook posts, and 15 Instagram posts through our social channels, 10 blogs, and distributed 6 consumer emails.
LEISURE DIGITAL
Most Engaged Facebook Post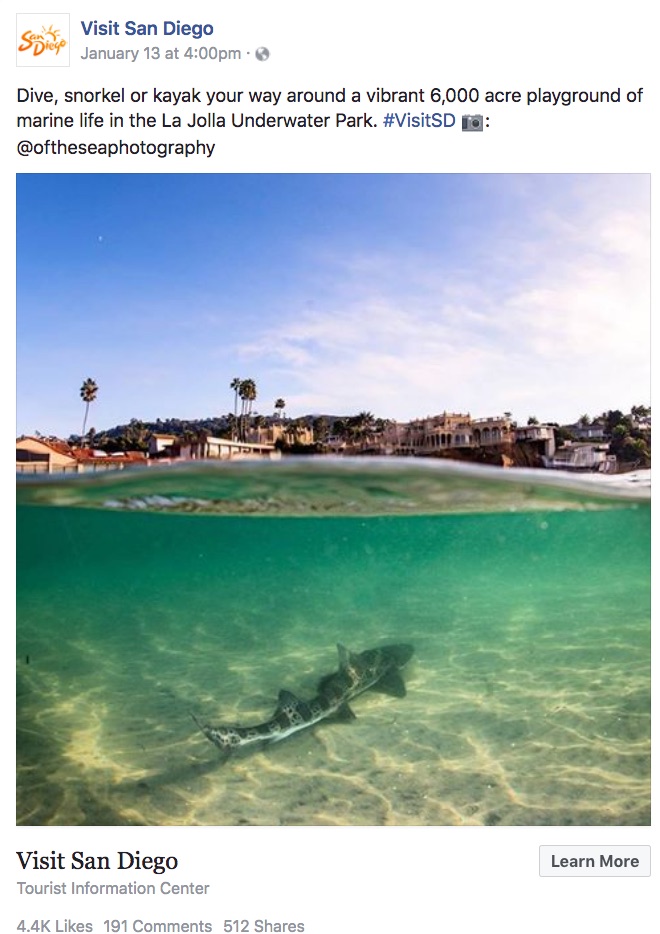 Most Engaged Twitter Post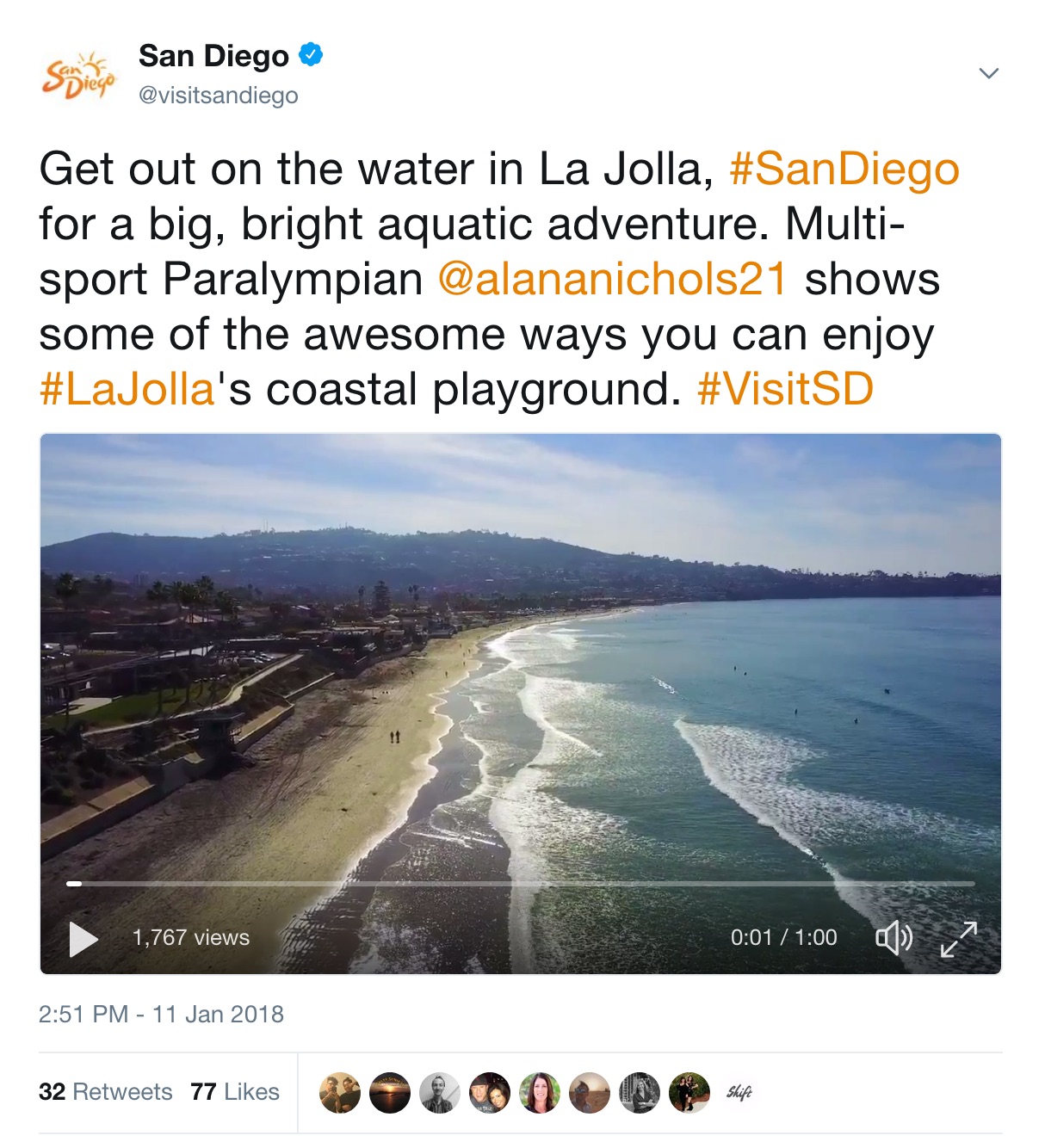 Most Engaged Instagram Post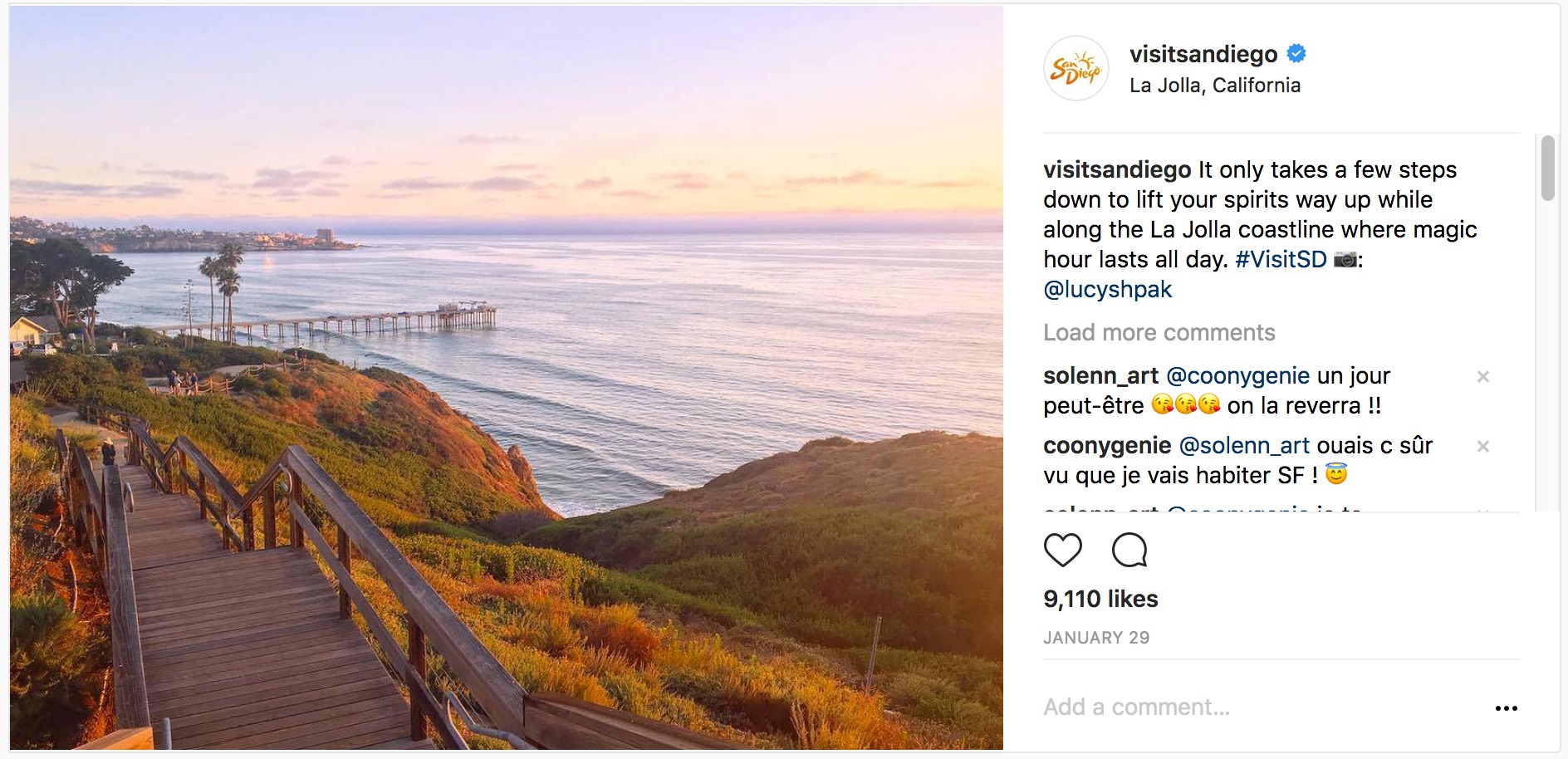 REGIONAL DIGITAL MARKETING
Overall traffic to the Luxury and Value pages on sandiego.org was 3,417 site visitors in January. The social media team, in partnership with Casual Fridays, launched the following campaigns: Outdoor Recreation User Generated Content for All Regions, Avant at RBI Instagram Story for North Inland, and a Waves over Winter Instagram Story for La Jolla.
Most Engaged Regional Post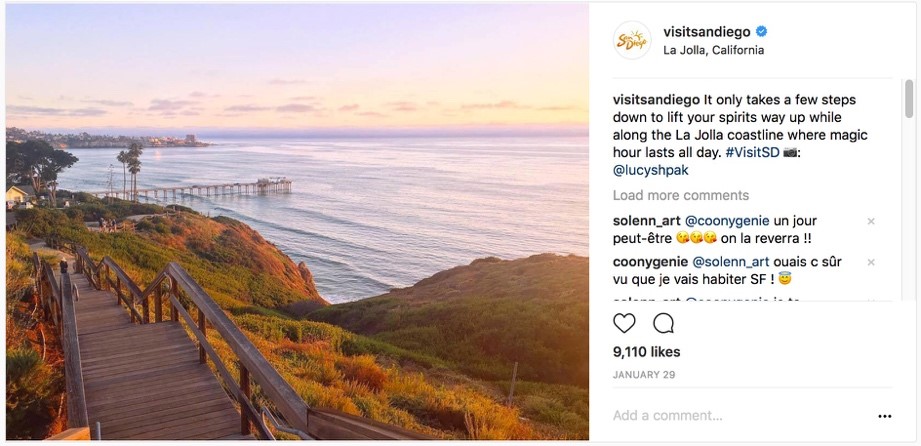 B2B DIGITAL
EMAIL:
The January B2B Postcard was delivered to 8,248 meeting planners and was the ninth in a year-long series of video emails. Each month a new video will showcase San Diego icons, regions, businesses, or opportunities to inspire meeting and event planners. The open rate for the January B2B video postcard was 23.67%, which represents over 1,915 unique meeting planners. The January video showcased historical locations in the destination. The video featured:
Point Loma
Cabrillo National Monument
Old Town San Diego
Mormon Battalion Historic Site
Whaley House
Balboa Park
USS Midway Museum
Maritime Museum Ships
Mission San Diego De Alcala
Liberty Station
Gaslamp Quarter
Chicano Park
WATCH THE HISTORICAL LOCATIONS VIDEO HERE
LINKEDIN:
Five unique posts during January garnered 33,584 impressions and included:
Historical Landmarks in San Diego (VIDEO)
Balboa Park – SDTA Career opening
Balboa Park Marketing Going Global
San Diego Meeting Certified Program Debut
Paradise Point Renovation Coverage
LinkedIn grew by 1.1% from last month to 6,126 followers, earning 33,584 impressions. Year-over-Year the LinkedIn Audience grew by 14%.
Where We Stand
LinkedIn followers compared to similar organizations:
Visit Orlando 9,621
Discover Los Angeles 6,970
Visit San Diego 6,126
Visit California 5,955
San Francisco Travel Association 4,721
Brand USA 4,477
US Travel Association 2,710
Visit Anaheim 2,296
San Diego Convention Center 1,773
San Francisco CVB 1,244
California Travel Association 831
TWITTER:
@SDTAConnect Twitter base grew by 1% from last month to 3,606 followers. There were 20 tweets during the month.
This month, the tweet with the most exposure (2,2816 impressions) was a recap of California's 14 Cultural Districts – which included Balboa Park, Oceanside, and Barrio Logan.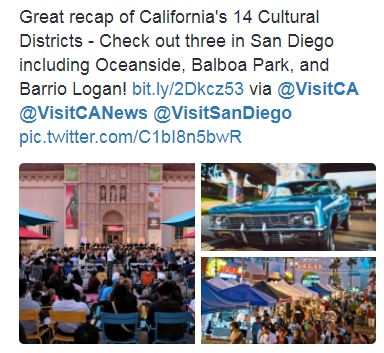 The tweet with the most engagement was Expedia's article on America's Most Asked-About cities – San Diego earned the No. 2 spot!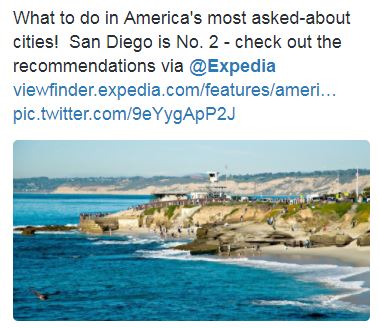 The SDTA corporate Twitter account earned 23,600 impressions during January.
MEMBERSHIP
Ad Sales
$ 152,062 in new ad contracts was secured.
8 New Members joined in January earning $5,320 in annual dues revenue.
26 Members attended the Open Office Hours on the 26th to learn how to best maximize their Member benefits.
NEW MEMBERS
HOTEL SALES
Hotel Sales Client Events and Tradeshows
With a new year in full swing, several of our National Sales Directors began 2018 by attending PCMA's Convening Leaders conference in Nashville. There were over 4,500 people in attendance in Music City with four productive days of education, networking and group functions.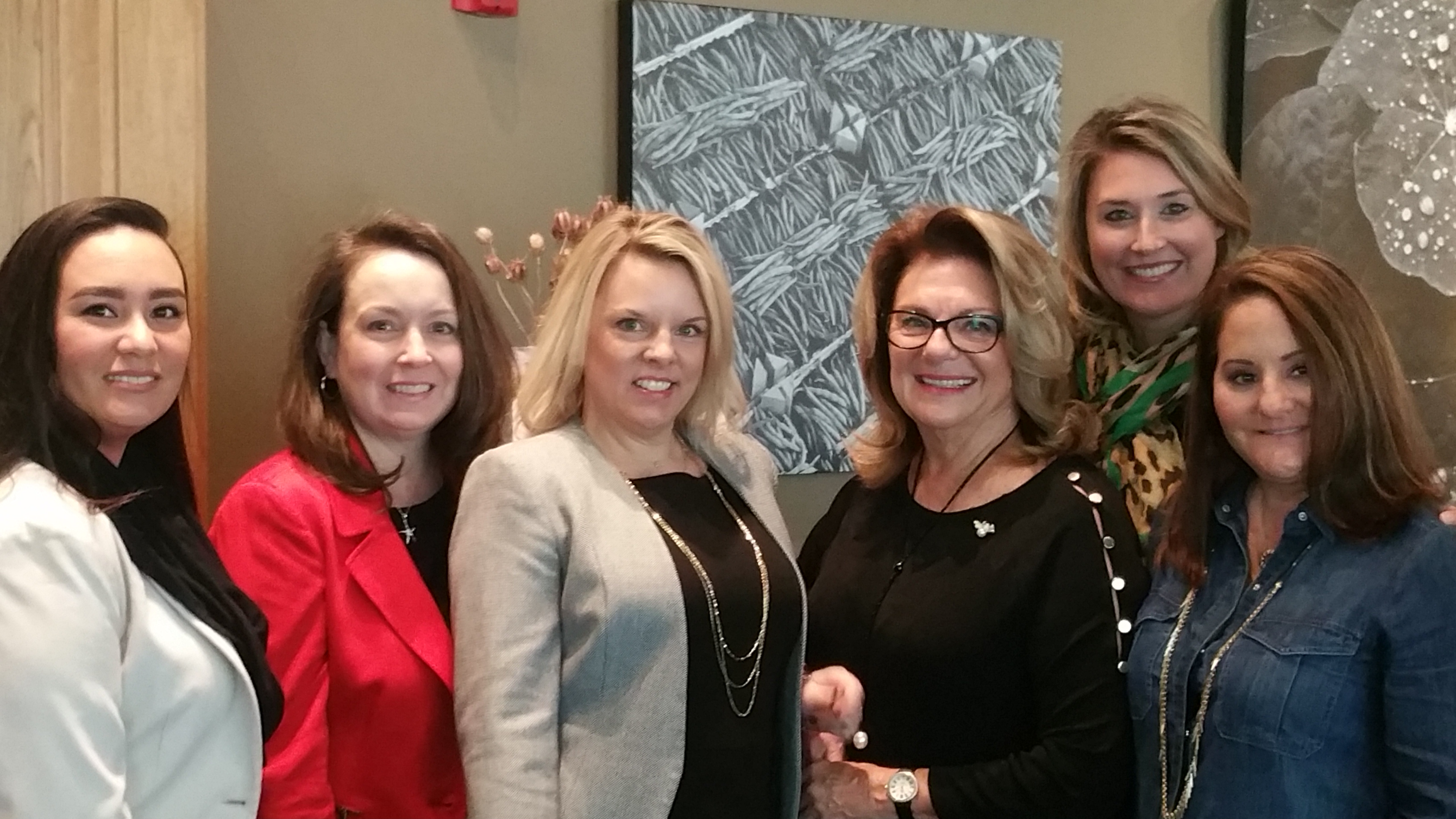 At the end of the month, the San Diego Tourism Authority collaborated with Northstar Meetings Group to host customers in Los Angeles and Nashville for a luncheon and presentation on the destination. Invited customers had never been to San Diego or booked a meeting in the destination for at least five years.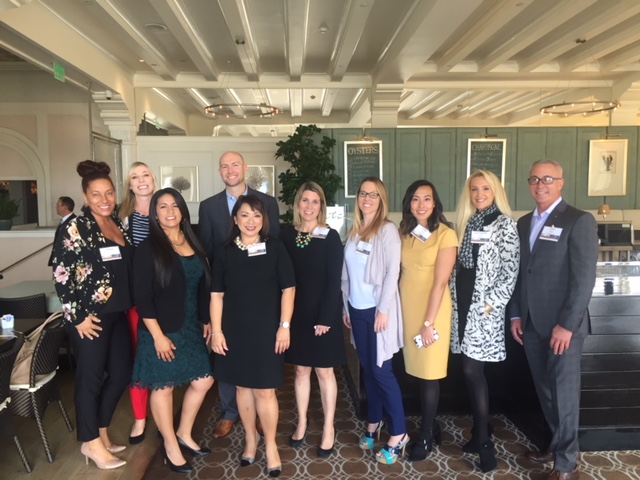 In conjunction with a successful client event in Nashville, Jen Hicks and three hotel partners met with clients in Birmingham and Memphis for a 4-day roadshow. So far Jen received four RFPs with more to come as a result of these efforts.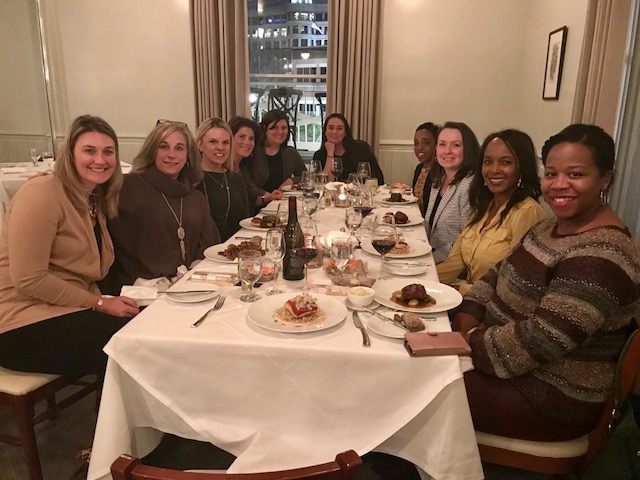 Bri Mouton traveled to Omaha to attend RCMA for three days and came away with 10 leads with over 15 individual appointments. The 3-day event provided a 2-day trade show, four engaging keynote sessions, 30 educational sessions and over a dozen micro-education sessions, as well as opportunities for service in the Omaha community.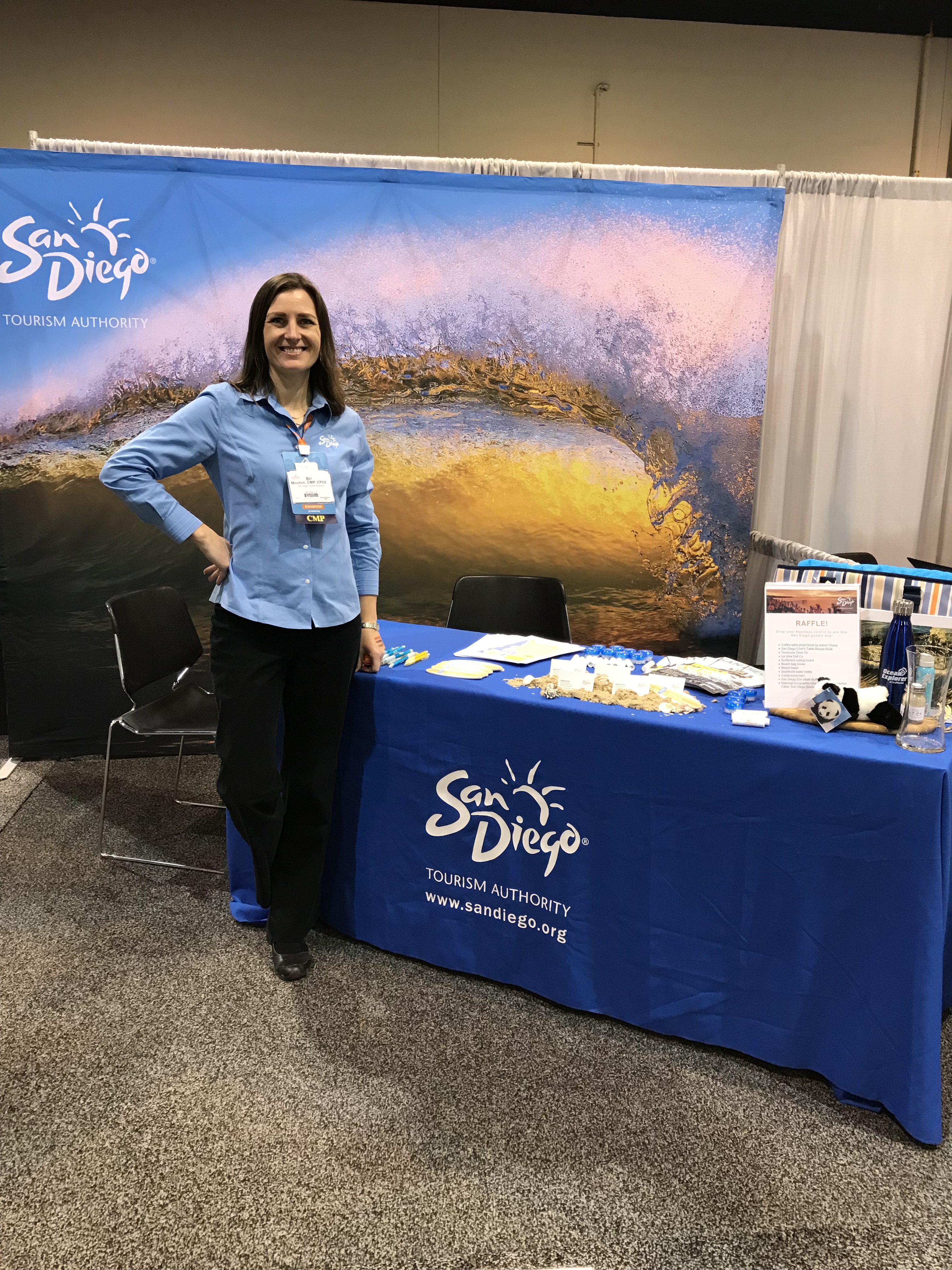 Michelle Coombs attended IPEC in National Harbor where she conducted individual appointments with customers and received three leads.
January Site Experience Highlights
Our National Sales Directors kick-started our new year with 21 client site itineraries. Of the 21 itineraries produced, our Site Specialists conducted 16 of the sites. They toured 49 hotels along with 19 venues.
The site team assisted the SDTA National Sales Directors and hotel partners in closing 11 programs. These sites had been conducted as far back as the early months of 2017 and garnered a total of 8,002 room nights.
Rob Anaya, site experience specialist, hosted a site in May of 2017 with a client based in Washington DC for a program for 2018.  Due to a shift in dates the client lost her preferred property.  Thanks to her positive experience with Debbie and Rob, the client was determined to bring a meeting to San Diego and was able to sign a contract for 2019.  Total room nights: 523.
In January, Ted File began the new Site Experience training program. Three properties completed the training and already seeing the benefits of their attendance. We have received great feedback including this comment, "the training was informative with new material and engaging for our team!" If you have not yet reached out to Ted to set a date for training, please send him an email at tfile@sandiego.org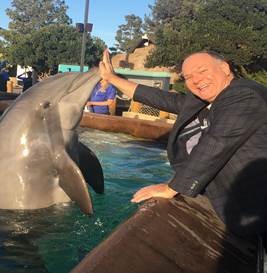 This past month while conducting a site, Rob Anaya recruited the assistance of one of our local stars at SeaWorld to assist in closing the business for our city. Thank you, Flipper!
SAN DIEGO MEETING CERTIFIED
San Diego Meeting Certified kicked off in January.  This certification program is designed specifically for all Hotel Sales Managers, Directors of Sales, and General Managers. It provides you with an actionable plan for selling your property, neighborhood, and the destination to improve your hotel conversion rate. There will be eight total courses options in 2018. FOR DETAILS AND TO REGISTER, CLICK HERE.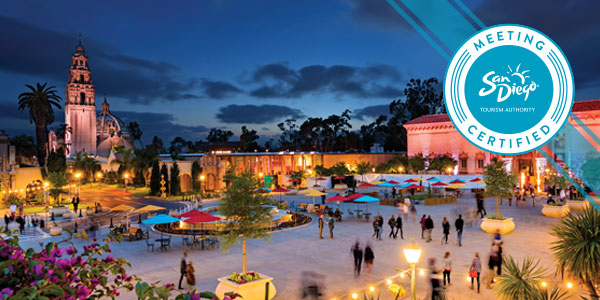 CITYWIDE SALES
FY18:
Definite Bookings: 1
Attendance: 13,000
Total Room Nights: 26,690
Fiscal Year 18-To-Date: 299,832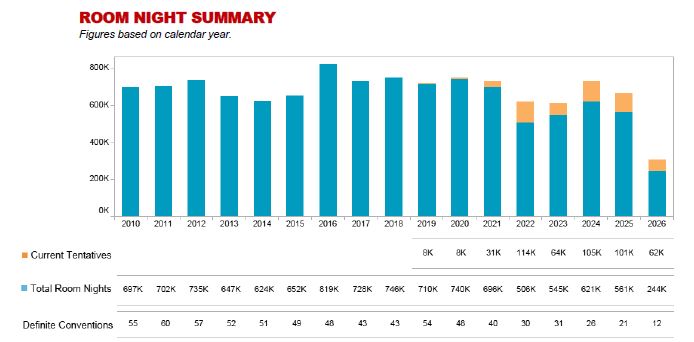 PUBLIC RELATIONS
In January, Communications staff traveled to London and Manchester, England. Joined by account representatives from Black Diamond, the SDTA staff attended a media event hosted by Visit USA and also hosted San Diego-specific media meetings that included showcasing San Diego cocktails and local food. In all, the SDTA met with 23 UK media across four days including publications such as London Evening Standard, Manchester Confidentials, NME, Savour magazine, The Guardian, Vice, Woman&Home, The Telegraph and freelance travel writers.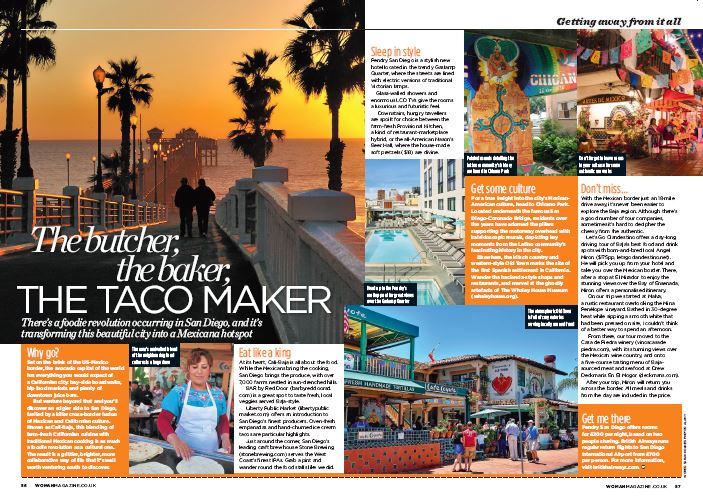 The Communications team sent personalized email invitations to the "San Diego Art & Sol Media Tour, March 1-4, 2018" to 200 targeted Canadian media outlets. The team also hosted media from the U.K., China, New Zealand, Canada and a writer on assignment for Volaris' in-flight magazine from Mexico.
Key coverage received in January include the San Francisco Chronicle, Alaska Beyond (Alaska Airlines' in-flight), Woman magazine (UK), Get Lost (Australia), The Irish Mirror, US Traveler Magazine (Mexico) and more.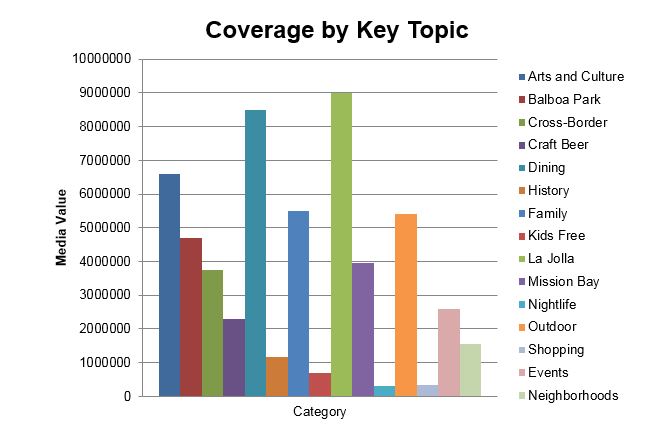 TRAVEL TRADE
Riki Suzuki, tourism development manager, participated in Go West Summit in Salt Lake City from January 15th to 19th. Riki had 40 one-on-one appointments with product managers from all over the world to discuss promotional opportunities and new product development.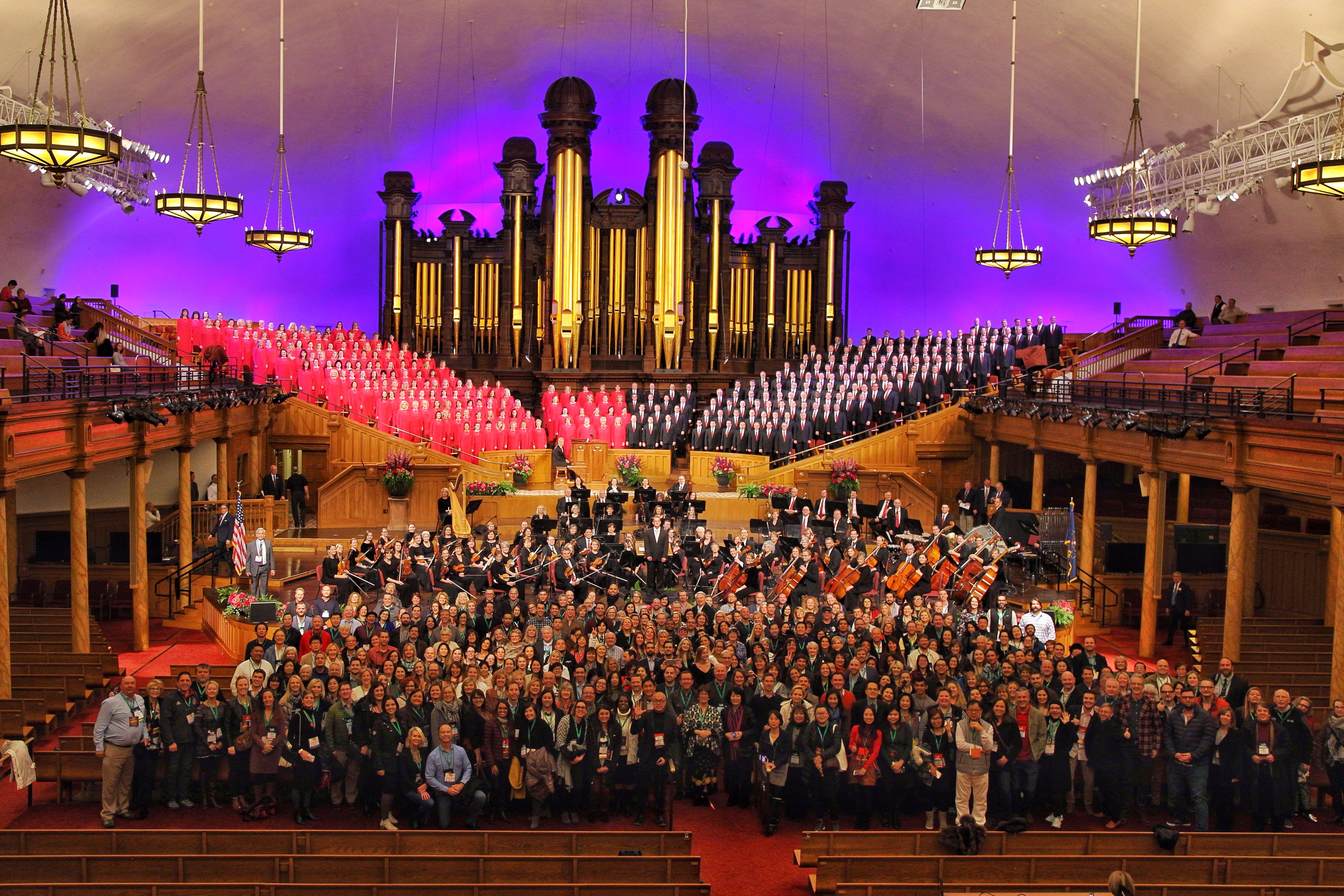 Anita Yu, travel trade representative in Beijing, participated in Club California Product Development Series Wuhan on January 19th. 12 key tour operators, wholesalers, and OTAs from the region joined the session where Anita delivered the destination presentation and met with each of them on one-on-one meetings.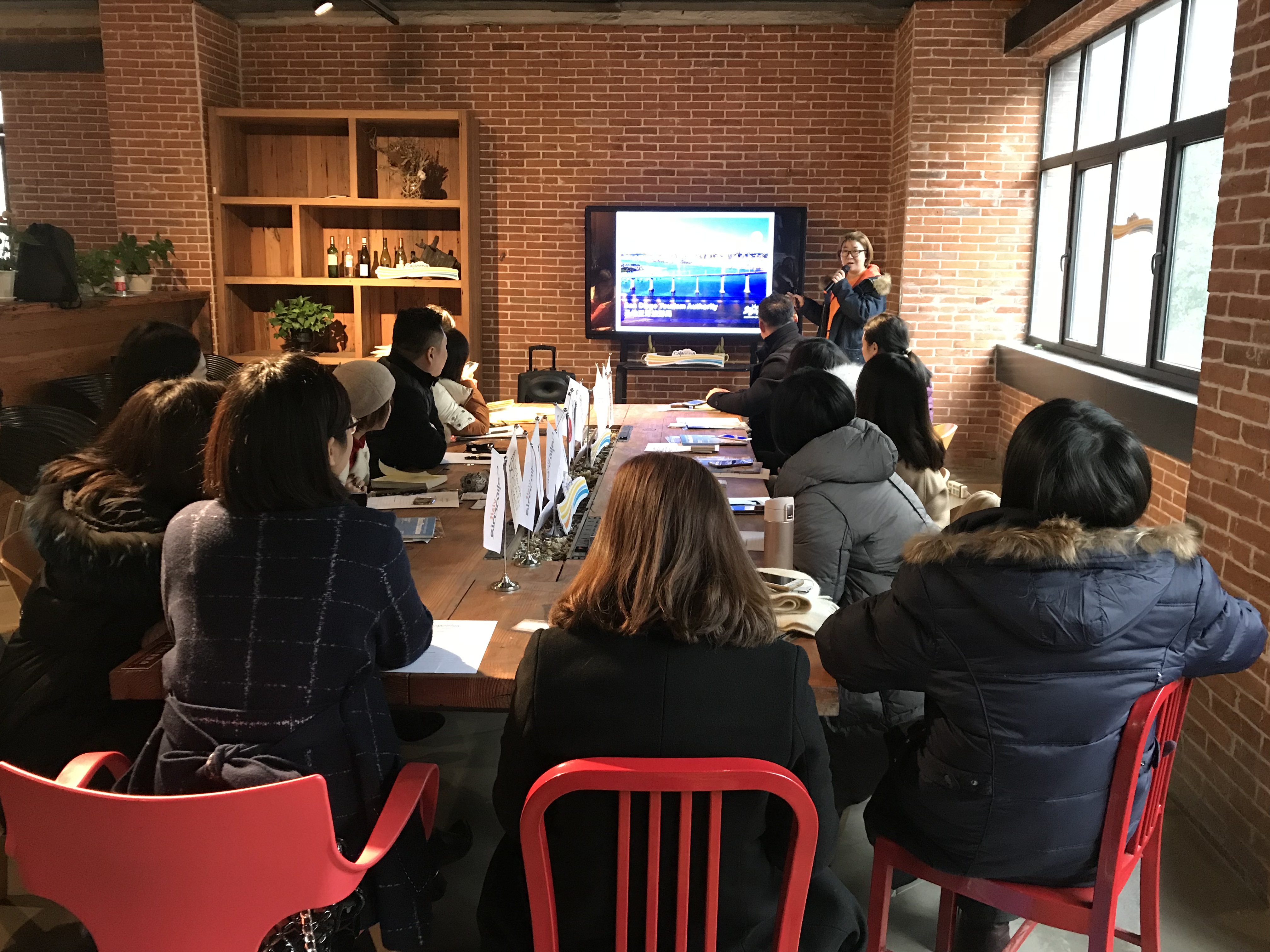 Tomoe Matsunaga, travel trade representative in Tokyo participated in the Club California Nagoya event. The event welcomed 40 travel professionals in the region. Tomoe had an opportunity to give a presentation to the guests followed by a networking reception.