The 2018 CalTravel Summit takes place in San Diego! We hope you can join us for 4 days of networking, keynotes, and panel discussions on California's hottest travel and tourism issues. Aside from making your way down to the Hilton Bayfront San Diego, there are no extra travel or hotel costs involved – we're local!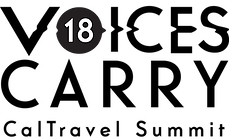 Check Out our Keynote Speaker Lineup for CalTravel Summit 2018
Register today and save $200 on your CalTravel Summit (CTS) registration. Make a smart investment in your career and success for 2018.
The CalTravel Summit will inform and inspire you with:
top national keynote speakers
interactive industry panels on California's hottest issues
outspoken political commentators
invaluable networking with California's most important travel and tourism leaders
personal development opportunities
Get involved. Participate in California's travel and tourism industry, and make your voice heard.
Join us May 29 – June 1, 2018, for the 36th annual CalTravel Summit at the Hilton Bayfront San Diego for the best education, inspiration, and networking opportunity of the year.