SALES & MARKETING HIGHLIGHTS
Below are the November 2017 sales & marketing highlights from various departments from the San Diego Tourism Authority.
BRAND MARKETING
DOMESTIC LEISURE ADVERTISING
The Regional OTA campaign launched in November and will continue through April with Expedia Brands. The $250,000 advertising campaign is expected to deliver 8.6 million impressions to the regional hotel partners. The regional program of work was also supported with Google Pay-per-click advertising.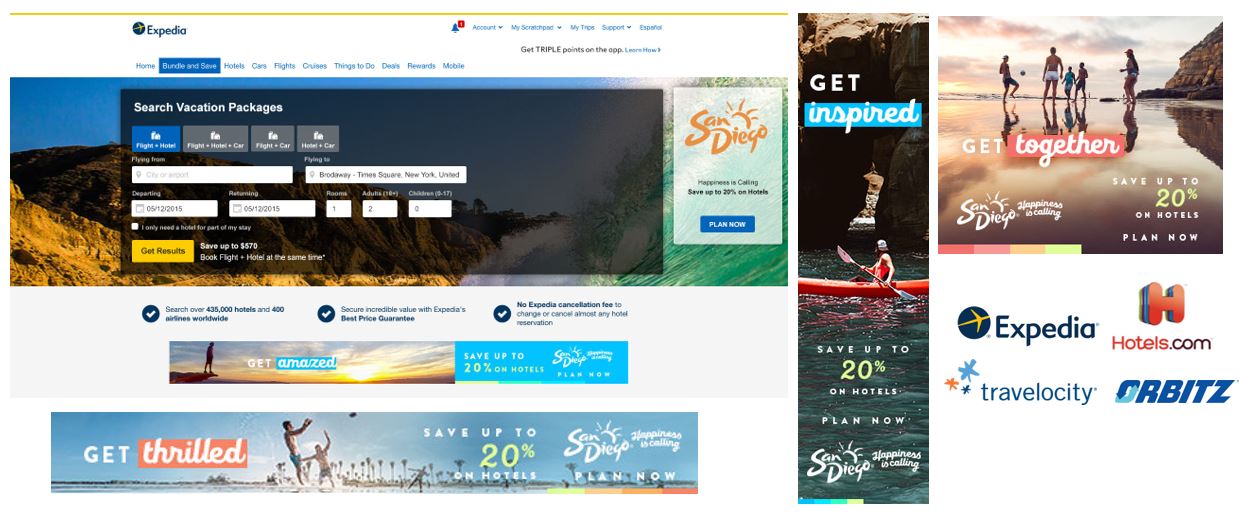 INTERNATIONAL LEISURE ADVERTISING
CANADA
The digital portion of the consumer direct advertising program in Canada launched in November and will extend through March 31, 2018. SDTA's media investment for this campaign will be extended by more than $218k in Brand USA and affinity partner uplift for a total digital media buy value just under $806k.
During November, almost $88k in media ran delivering an estimated 5.16 million impressions across the following tactics and partners: digital video with CTV, Global TV and YouTube Trueview; digital display with TripAdvisor, Sojern, and Adara; paid social video and slideshow units with Facebook and Instagram; and search marketing with Google.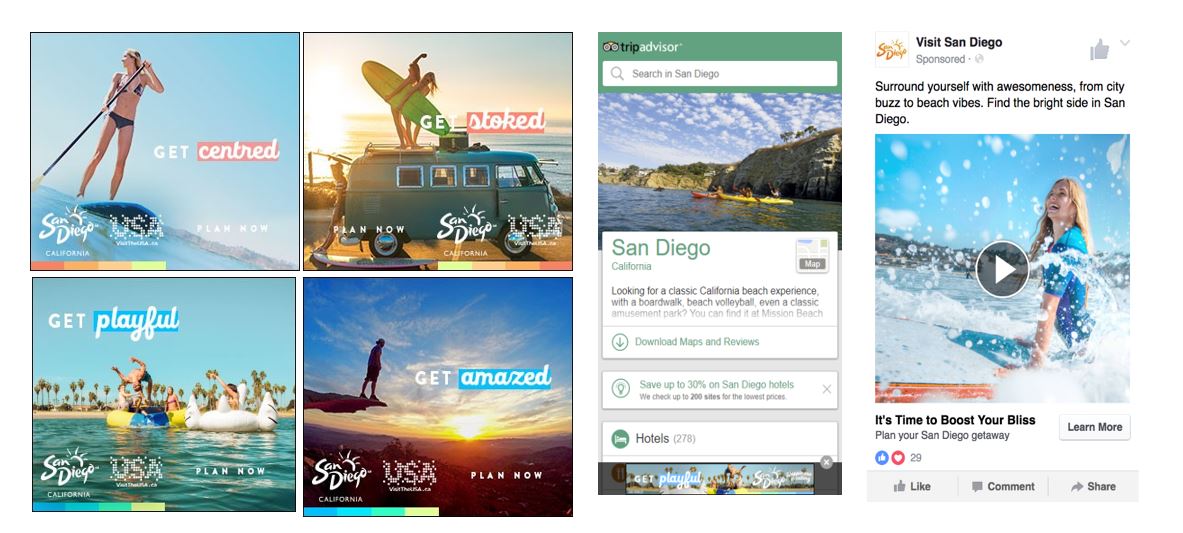 CHINA
To increase awareness and interest in travel to San Diego among Chinese FIT travelers and to generate overnight hotel/motel stays for San Diego, SDTA partnered with Brand USA and their digital agency, Hylink, to launch consumer direct advertising programs in China. SDTA's $1 million investment during FY18 will be extended by at least another $1.5 million in million through co-op with Brand USA, resulting in a paid advertising program that is estimated to deliver more than 250 million impressions.
Key strategies for FY18 include:
Expanding SDTA's foundational digital layers including developing a San Diego landing page on GoUSA.cn, launching San Diego's WeChat, transitioning social community management to Hylink, and expanding organic social promotion on WeChat and Weibo
Developing and distributing in-language video content including Brand USA's Native Traveler and Destination-at-a-Glance series
Consumer advertising campaigns including paid search marketing with Baidu, online travel agency campaigns with Ctrip and Fliggy and influencer marketing programs with "Key Opinion Leaders" (KOLs)
Fliggy: Secret Journey & Single's Day Promotion
SDTA participated in Brand USA's Single's Day campaign on Fliggy, which ran October 21 – November 11, 2017. Single's Day, the equivalent to Black Friday in the U.S., is a nationally recognized day created by Alibaba celebrating e-commerce. It has now become the number one travel campaign in China. San Diego along with 4 other U.S. destinations (Michigan, San Francisco, Las Vegas and Hawaii) participated in Brand USA's program.
To generate interest in the USA's Single's Day campaign, Fliggy launched "Secret Journey Season 8", which utilized the influence of top travel KOLs to promote the participating destinations and drive traffic to the USA's Single's Day campaign page.  On October 25-27th, SDTA hosted two KOLs who produced six hours of live streaming, 10 Weibo posts, 10 WeChat posts, two travel journals and captured multiple images of the destination. The live streaming alone resulted in more than 7.5 million views, 4.76 million likes and 4,462 comments.
Beyond Secret Journey, San Diego was included in an integrated media campaign on Fliggy's owned and social channels leading up to Single's Day. In total, SDTA's $100k investment in the program was uplifted by an additional $403k in in-kind media by Brand USA. The program delivered more than 112.7 million impressions throughout the campaign window.

C-trip Campaign
During November SDTA also launched a campaign with C-trip, the largest online travel agency in China, to promote Chinese New Year travel to San Diego. Through a partnership with Brand USA, SDTA's $206,790 media investment for this program was uplifted by an additional $494,805 in Brand USA in-kind media value. While the campaign will extend through February, SDTA spent just over $77k during November, delivering more than 3.4 million impressions.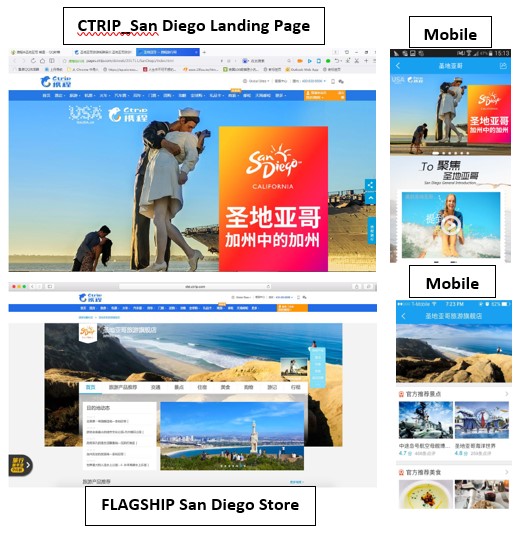 MULTI-MARKET
Through a cooperative partnership with Brand USA, San Diego Tourism Authority (SDTA) invested $105,000 during 2017 to secure an episode in the second series of the Travel Channel UK's Olly Smith's Ale Trails. San Diego was one of five participating destinations and the only city in the state of California that participated in the program.
The episode, which was produced earlier this year, aired on the Travel Channel in the UK on November 4 – 20. Airing in the EMEA began November 27th and will continue through December 27th. In addition to the 23-minute episode, SDTA also received a :30-sec broadcast schedule on the Travel Channel, which airs October – December, as well as paid social media promotion via VisitTheUSA's Facebook and Instagram channels. In total, the program is expected to deliver just under 5 million impressions.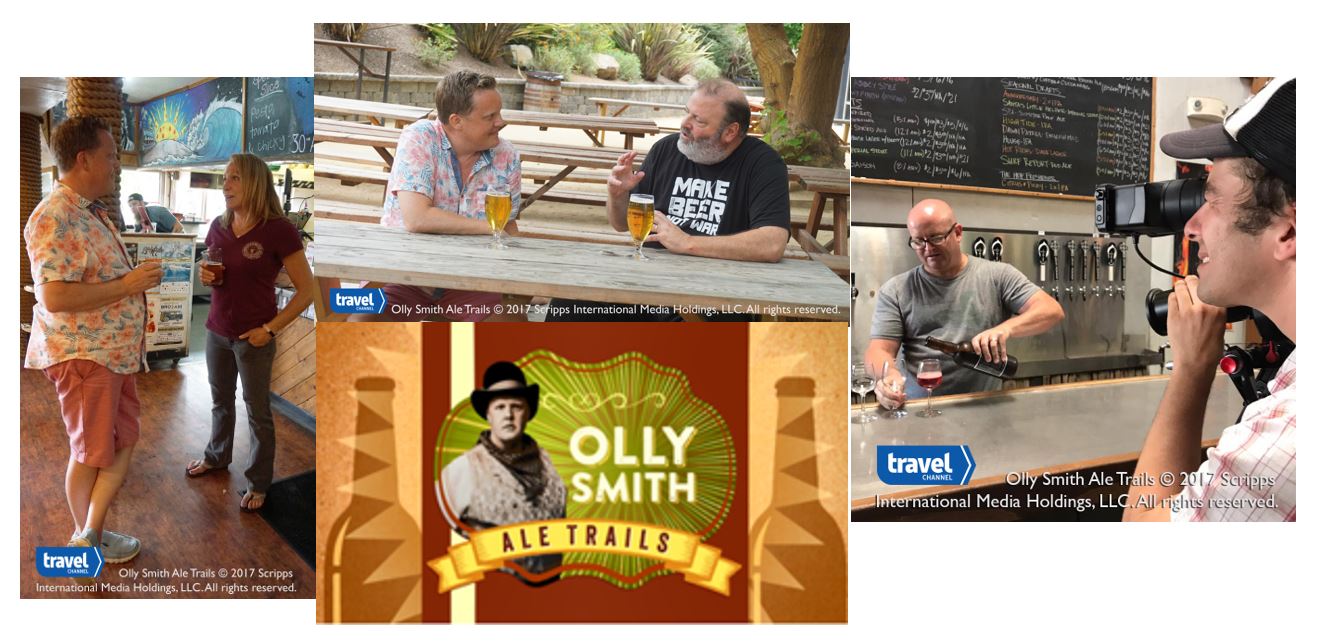 DIGITAL MARKETING
Special event promotion in November focused on Breeders' Cup World Championship, San Diego Beer Week, San Diego Bay Wine & Food Festival events, and the upcoming holiday season.
Web traffic for November included 441,709 user sessions between the desktop and mobile websites. The team posted a total of 67 Tweets, 65 Facebook posts (Including Dark Posts), 30 Instagram posts, and 6 blogs, and distributed 7 consumer email.
LEISURE DIGITAL
Most Engaged Facebook Post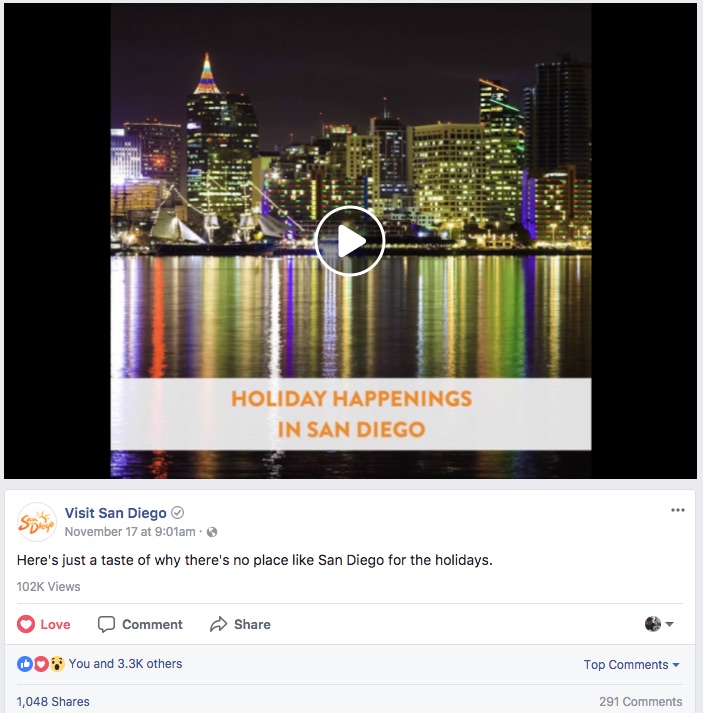 Most Engaged Twitter Post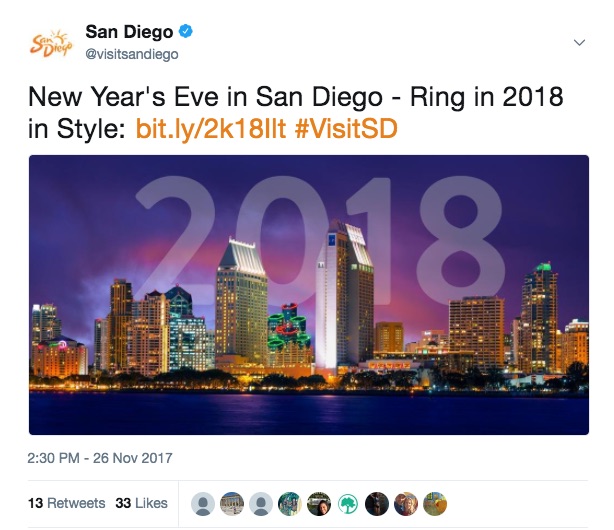 Most Engaged Instagram Post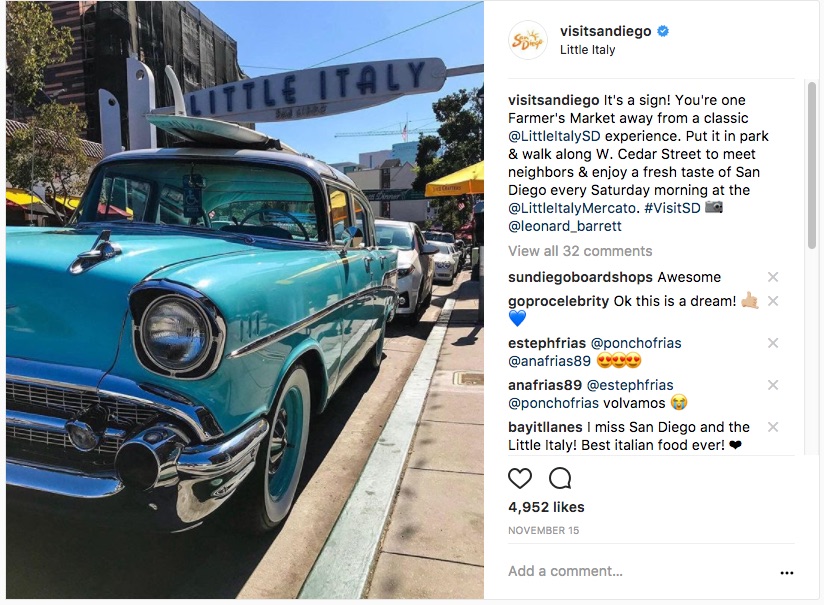 REGIONAL DIGITAL MARKETING
Overall traffic to the Luxury and Value pages on sandiego.org was 3,527 site visitors in November. The social media team, in partnership with Casual Fridays, launched the following campaigns: User Generated Content for North Inland and a Mission Basilica San Diego de Alcala Instagram Story for Mission Valley.
Most Engaged Regional Post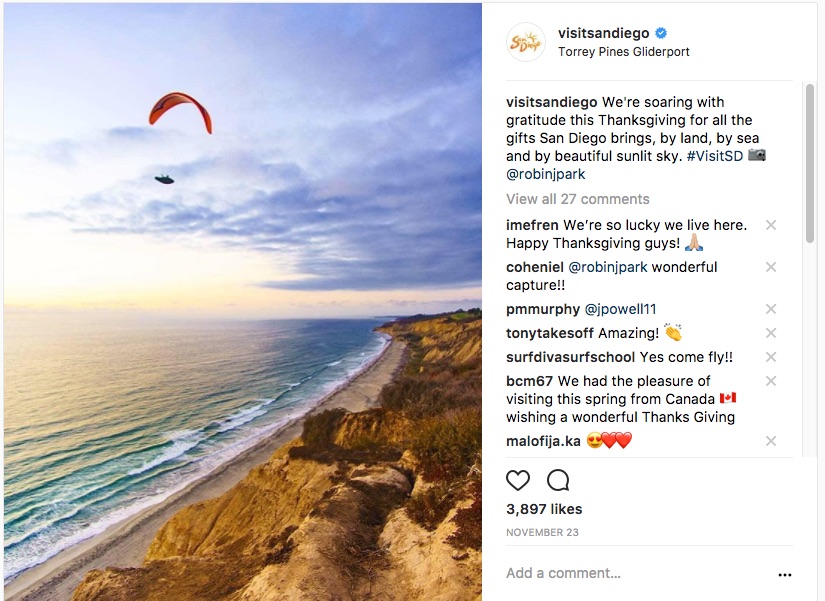 B2B DIGITAL
EMAIL:
The November B2B Postcard was delivered to 7,197 meeting planners and was the eighth in a year-long series of video emails. Each month a new video will showcase a group of venues or opportunities to inspire meeting and event planners. The open rate for the November B2B video postcard was 20.12%, which represents over 1,416 unique meeting planners. The November video showcased military-inspired venue meeting opportunities. The video featured:
USS Midway Museum
San Diego Air and Space Museum
Flying Leatherneck Aviation Museum and Foundation
Liberty Station, Former Naval Training Center
Veterans Museum and Memorial Center
LINKEDIN:
Six unique posts during November included:
Military-inspired meeting venues video
Announcement of Margie Sitton Smart Meetings Award
San Diego Airport streamlined arrivals feature story
Sports meeting venues video
US Travel shared post on Roger Dow lobbyist list
LinkedIn grew by .2% from last month to 6,009 followers, earning 26,485 impressions. Year-over-Year the LinkedIn Audience grew by 14%.
Where We Stand
LinkedIn followers compared to similar organizations:
Visit Orlando 9,470
Discover Los Angeles 6,885
Visit San Diego 6,009
Visit California 5,788
San Francisco Travel Association 4,657
Brand USA 4,375
US Travel Association 2,583
Visit Anaheim 2,208
San Diego Convention Center 1,689
San Francisco CVB 1,235
California Travel Association 817
TWITTER:
@SDTAConnect Twitter base grew by 1% from last month to 3,545 followers. There were 22 tweets during the month.
This month, the tweet with the most exposure (1,448 impressions) showcased the topping off ceremony and art installation for the new InterContinental Hotel on the Embarcadero.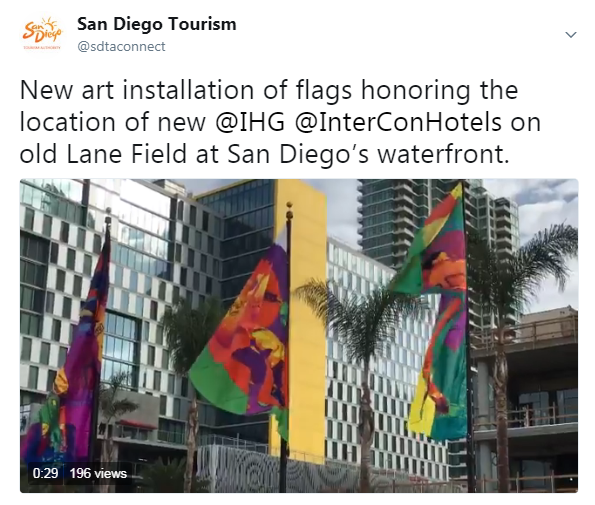 The tweet with the most engagement was a live Periscope video of the new champagne vending machine in action at the Pendry Hotel.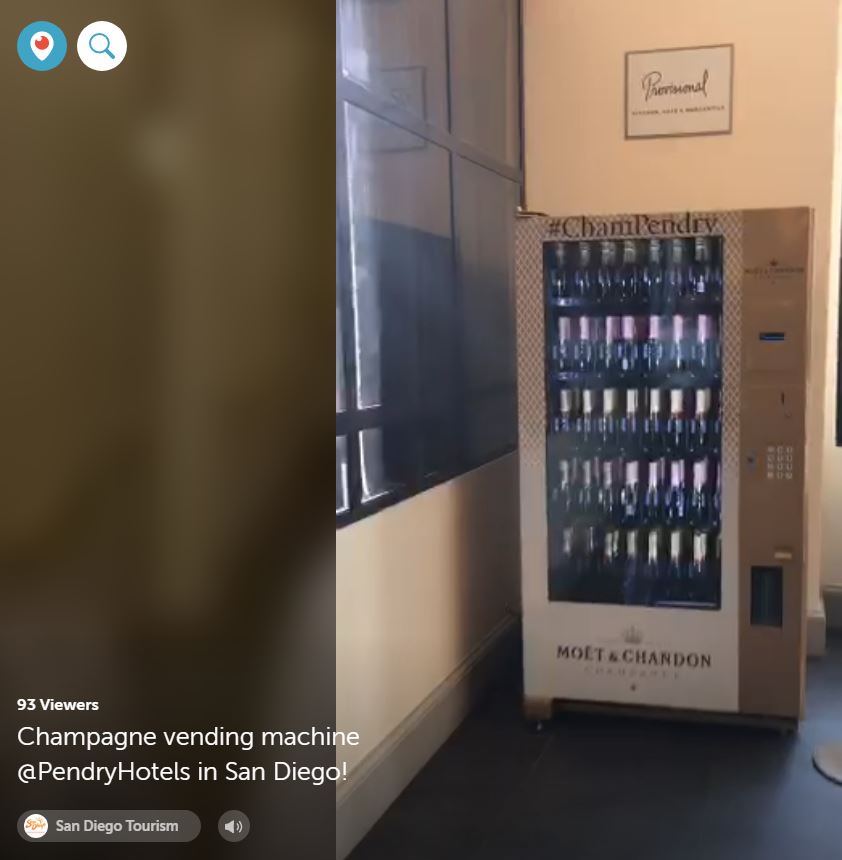 MEMBERSHIP
16 Members attended the Open Office Hours on the 28th to learn how to best maximize benefits and utilize the SDTA's planning and research tools.
4 new Members joined in November earning $2,295 in annual dues revenue.
HOTEL SALES
The hotel sales team received 2 leads totaling 2,820 potential room nights for the destination.
Ernie Rossow partnered with five hotel partners for a lunch and learn about San Diego client event in Salt Lake City, Utah.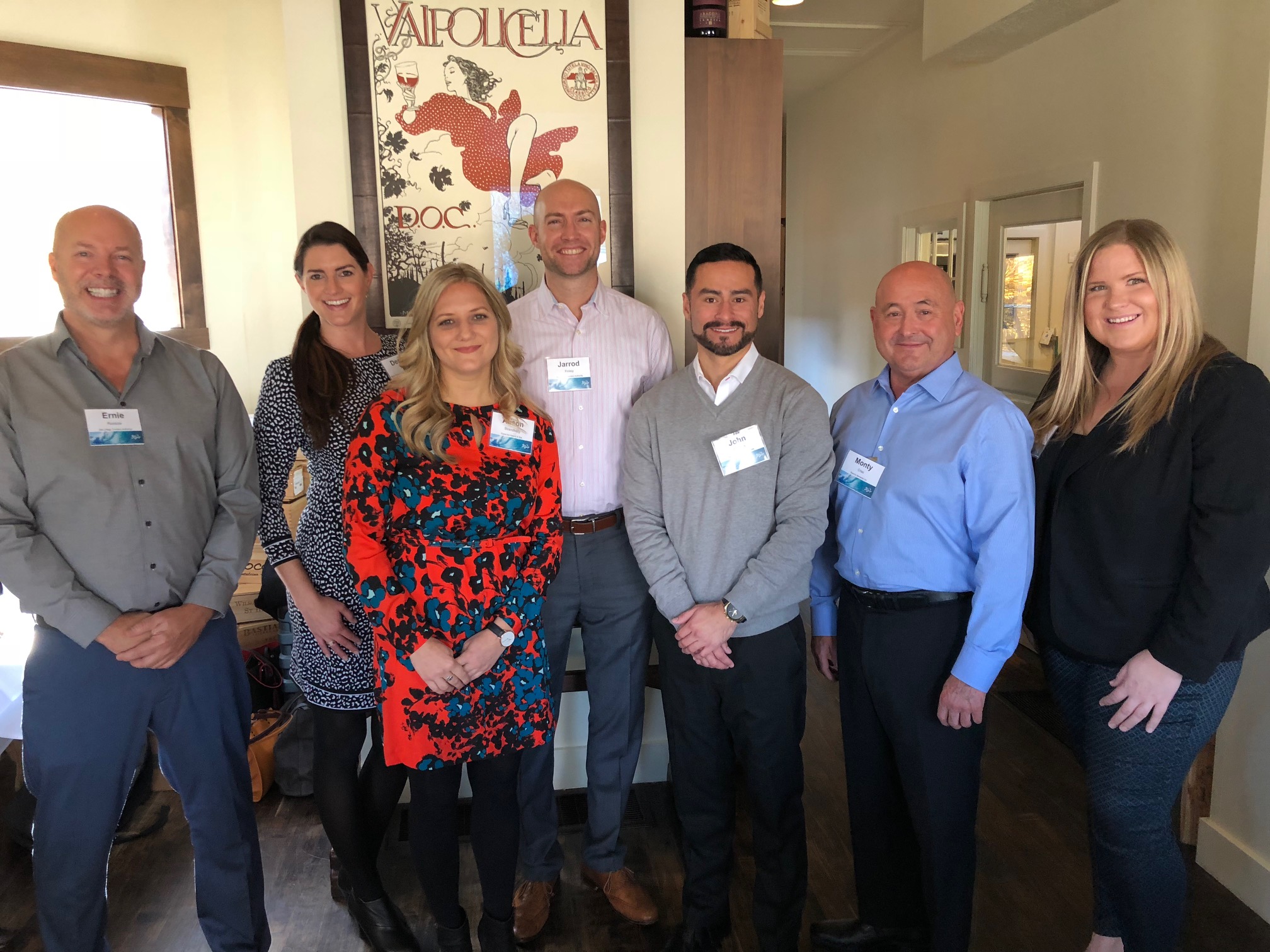 From November 13th through November 15th, Lori Alstrom attended the FICP Annual Meeting in San Diego.
On November 16th, hotel sales and citywide sales joined forces with 15 hotel partners for the annual Washington D.C. area client event in Alexandria, Virginia at a private event at Serenity Day Spa.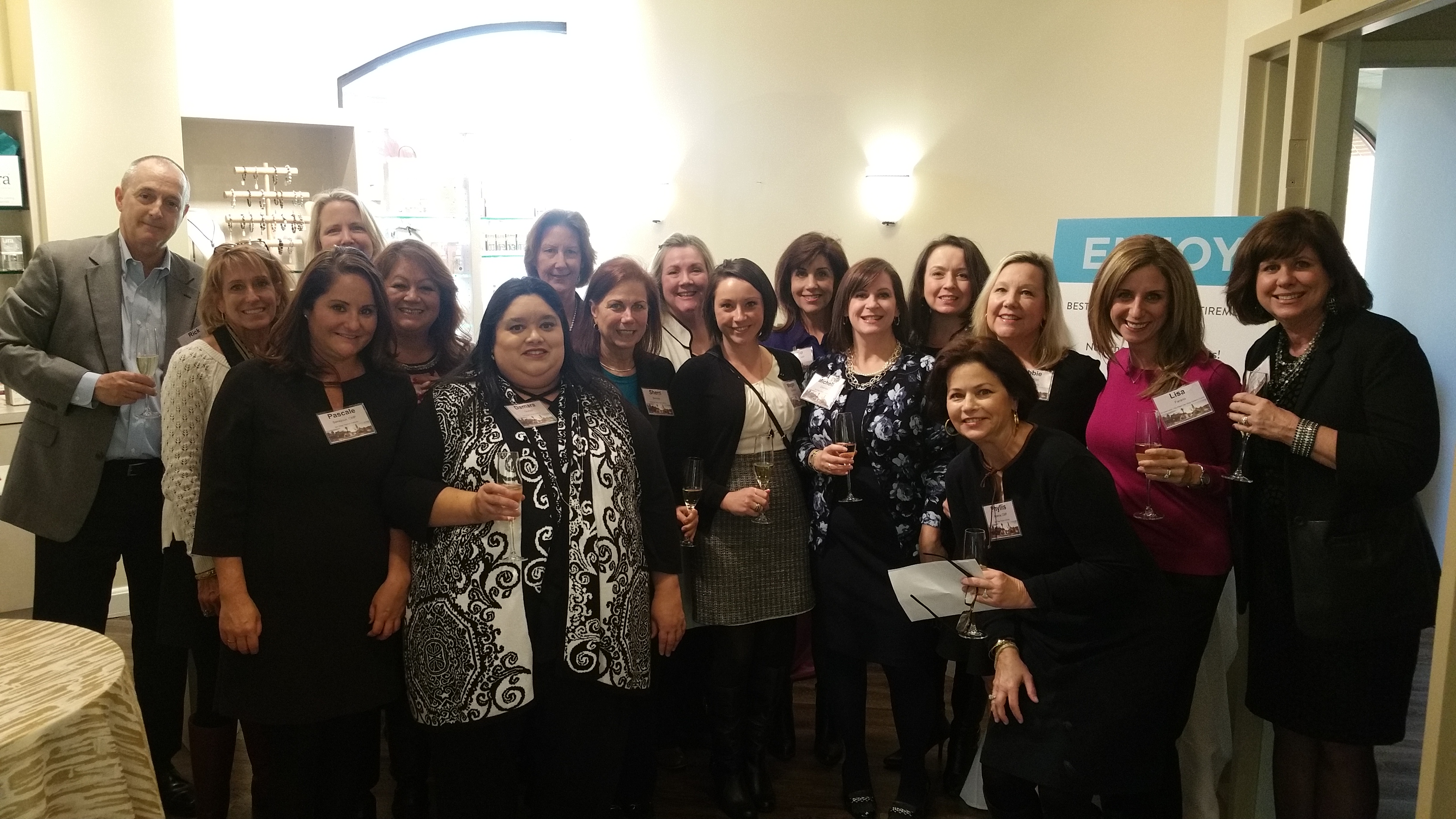 From November 29th through December 2nd, Gillian Ware attended the National Coalition of Black Meeting Planners' Annual Meeting in Oakland, California. During the same time, Ernie Rossow attended the HPN Global Partners Annual Conference in San Francisco, California where he won the Partner of the Year award for the third time!
CITYWIDE SALES
FY18:
Definite Bookings: 8
Attendance: 62,400
Total Room Nights: 109,543
Fiscal Year 18-To-Date: 216,218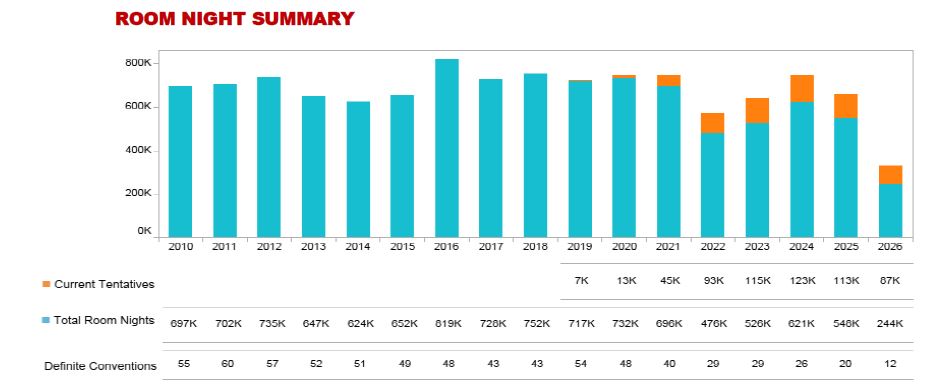 PUBLIC RELATIONS
In November, Communications staff traveled to Seattle to participate in Visit California's Media Boot Camp with leading media outlets and social media influencers from the Pacific Northwest region. Director of Communications Candice Eley also traveled to Memphis to speak on a panel of the Americans for the Arts National Arts Marketing Project Conference and share the SDTA's #FindArtShareArt campaign results.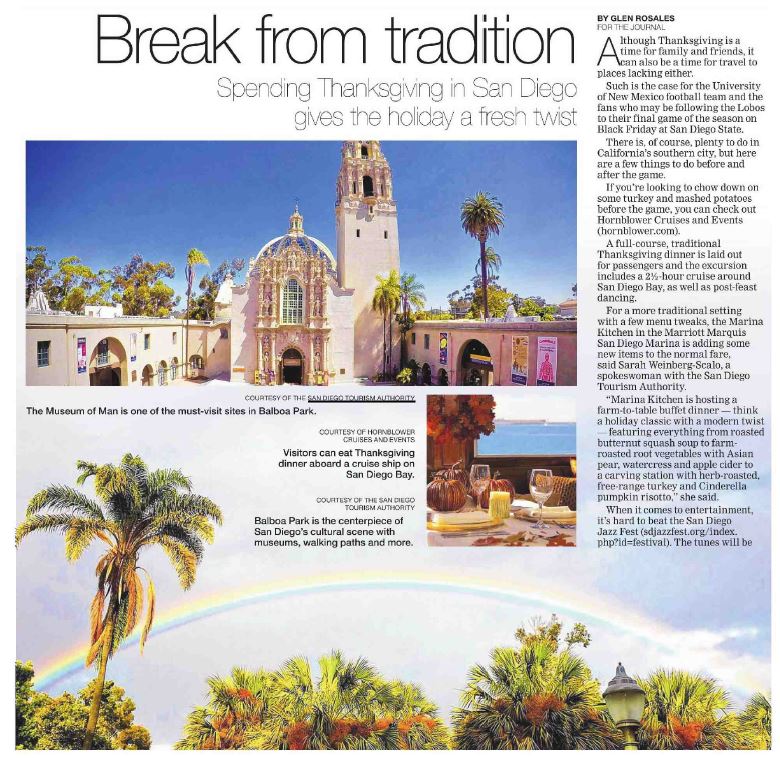 The team hosted four leading German social media influencers in partnership with Visit California's office in Germany. International PR also assisted Visit California's office in France with a media group visit of eight French travel journalists on story assignment for 11 different French media outlets. Other leading media hosted in November included Canada's Chronicle Journal, Westways magazine, Vice Media's Munchies and Le Telegramme from Finland.
Key coverage received in August included GQ China, Sunset, Alaska Airlines' Beyond magazine, Luxurious magazine (UK), Diabetic Living and more.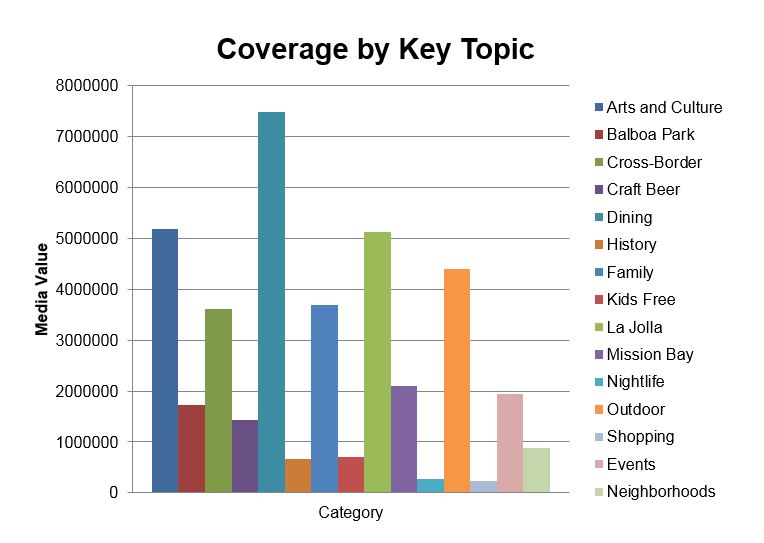 TRAVEL TRADE
In early November, Benjamin Eastman, Director of Travel Trade, attended the World Travel Market tradeshow in London. Over the course of the 3-day trade show, Benjamin met 1-on-1 with 35 key European trade & media partners to further San Diego's exposure in their markets and to discuss promotional opportunities.  After the tradeshow, Benjamin traveled to the cities of Chester & Cheshire in order to do training with 3 UK-based luxury travel agencies & tour operators.
Alaska Airlines inaugurated a direct non-stop daily flight from Mexico City to San Diego. Phil Hannes, Sr. Director International Marketing was in Mexico City for the Alaska Airlines breakfast event presenting to 120 travel agents and media on how to maximize traveler's experiences in San Diego using this new service.
We then hosted a FAM group of eight Luxury – Virtuoso travel agents from Mexico supported by Alaska Airlines and showcased many of the San Diego activities from attractions, restaurants, museums and dinner cruises.
Anita Yu, Travel Trade Representative in Beijing, participated in Club California Product Development Series Beijing on November 10th. Nine key tour operators, wholesalers, and OTAs joined the session where Anita delivered the destination presentation and met with each of them on one-on-one meetings.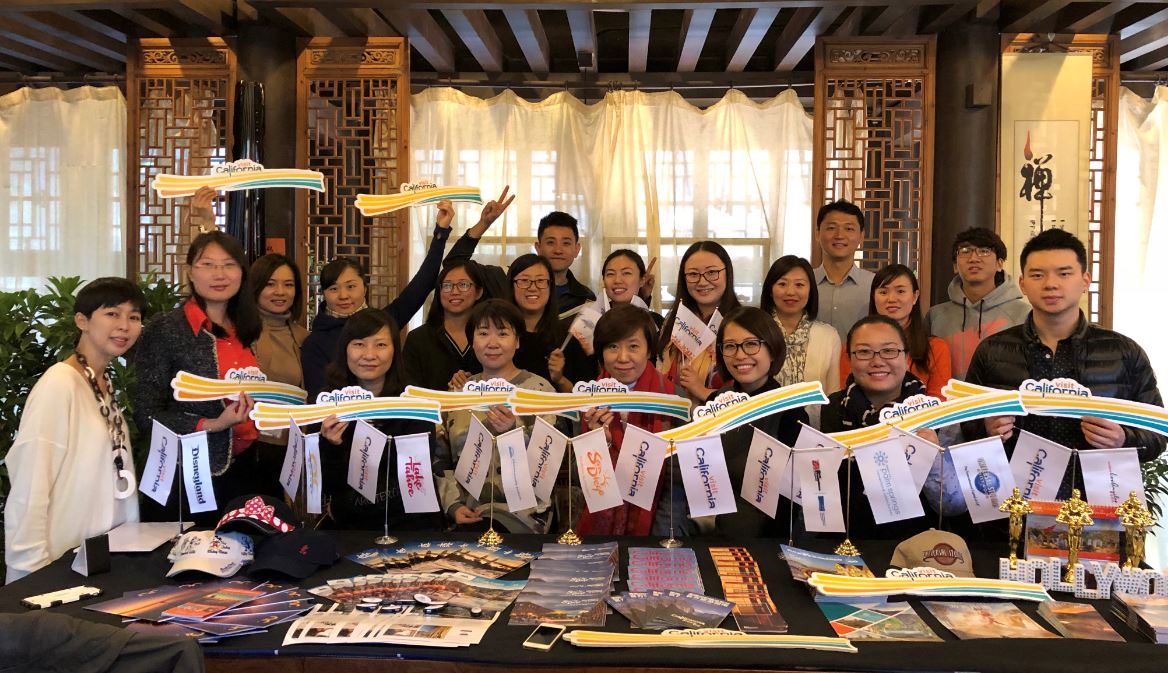 On November 24th, Tomoe Matsunaga, Travel Trade Representative in Tokyo participated in Club California Osaka event. The event welcomed 54 travel professionals in the region. Tomoe had an opportunity to give a presentation to the guests followed by a networking reception.
Yokohama City organized a consumer event in Yokohama on November 26th to celebrate the 60th anniversary of Yokohama's sister city relationship with San Diego. SDTA Japan connected Yokohama City with Ms. Kumiko Takeda, SDTA's Japanese Ambassador of Tourism and Friendship and Ms. Takeda appeared on a talk show to introduce San Diego and her life in San Diego. Approximately 200-300 people stopped by to see Ms. Takeda's appearance on the talk show. SDTA Japan also had a promotional booth to provide information of San Diego at the event.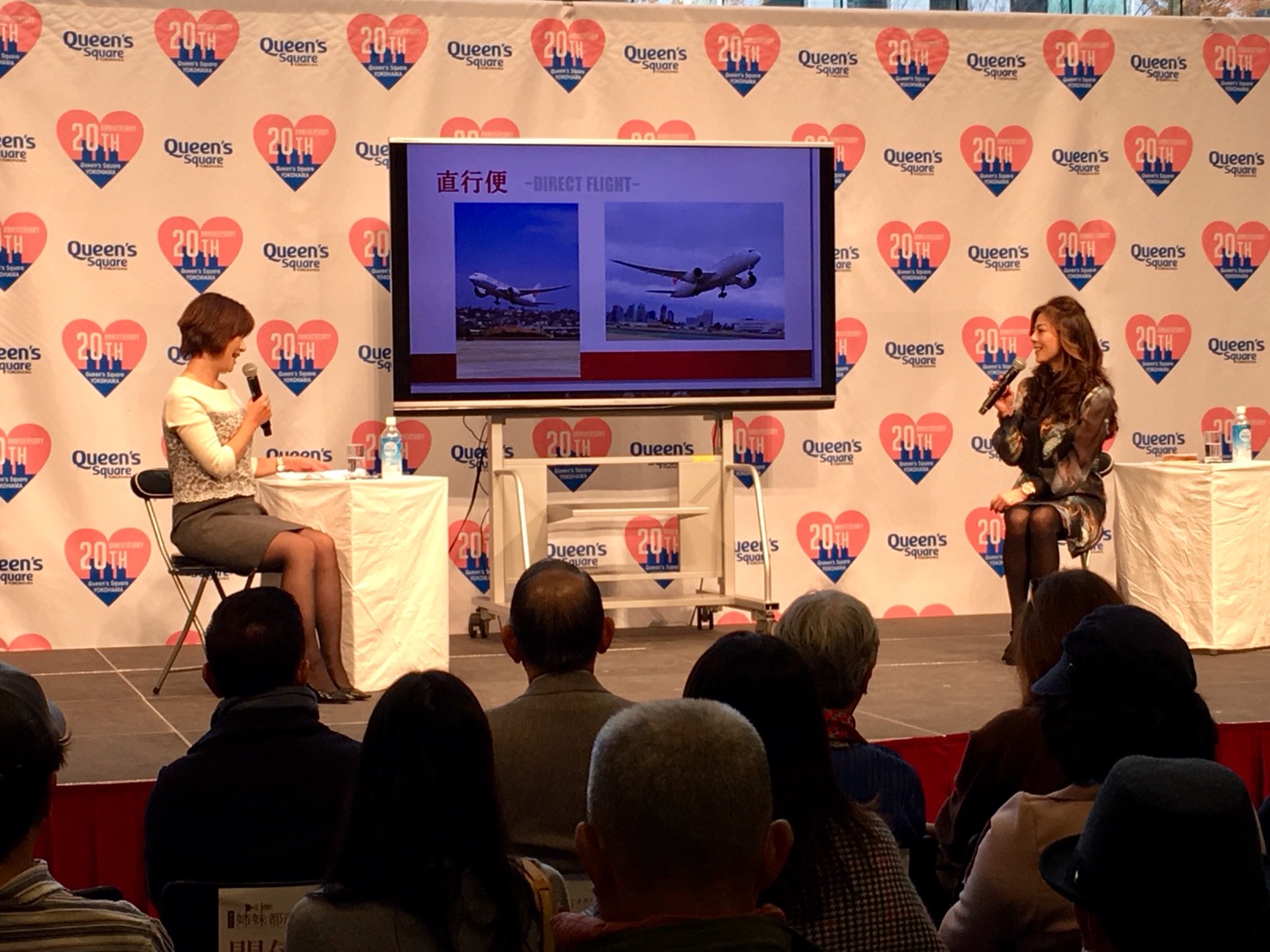 On November 30th, Riki Suzuki, Travel Trade Development Manager, joined Best Western's annual Asian Client appreciation dinner in Rosemead, CA. There were over 100 Asian receptive operators based in LA area attended the event. San Diego provided four door prizes sponsored by the BW hotels in SD and the attractions.
Phil Hannes and Riki Suzuki attended the Excite Holidays official USA launch event in West Hollywood.  In attendance were the Executive Directors, Global Head of Marketing, General Manager of Global Sales and other Excite Holidays staff to promote their new online wholesale program for the travel trade including their Southern California managers.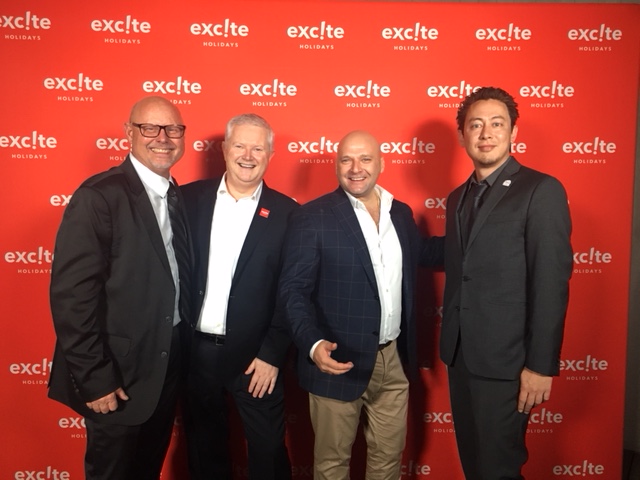 Phil Hannes, Sr. Director International Marketing and a representative from the U.S. Commercial Service hosted a group from Morocco organized by the San Diego Diplomacy Council where he provided an overview of San Diego culture and tourism best practices.
Travel Trade Development hosted 7 International Fams in November including Helloworld Visit CA AU for 11 agents along with five Luxury Agents from Bon Voyage UK.  29 agents were hosted in San Diego representing Belgium, UK, Mexico, Australia.  29 specialists earned their during the month of November.