SALES & MARKETING HIGHLIGHTS
Below are the October 2017 sales & marketing highlights from various departments from the San Diego Tourism Authority.
DIGITAL MARKETING
Special event promotion in October focused on Kids Free, San Diego International Film Festival, Fleet Week, Halloween, Extreme Sailing, Breeders' Cup World Championship, and San Diego Beer Week events.
Web traffic for October included 517,896 user sessions between the desktop and mobile websites and we posted a total of 89 Tweets, 74 Facebook posts (Including Dark Posts), and 27 Instagram posts through our social channels, 7 blogs, and distributed 8 consumer emails.
LEISURE DIGITAL
Most Engaged Facebook Post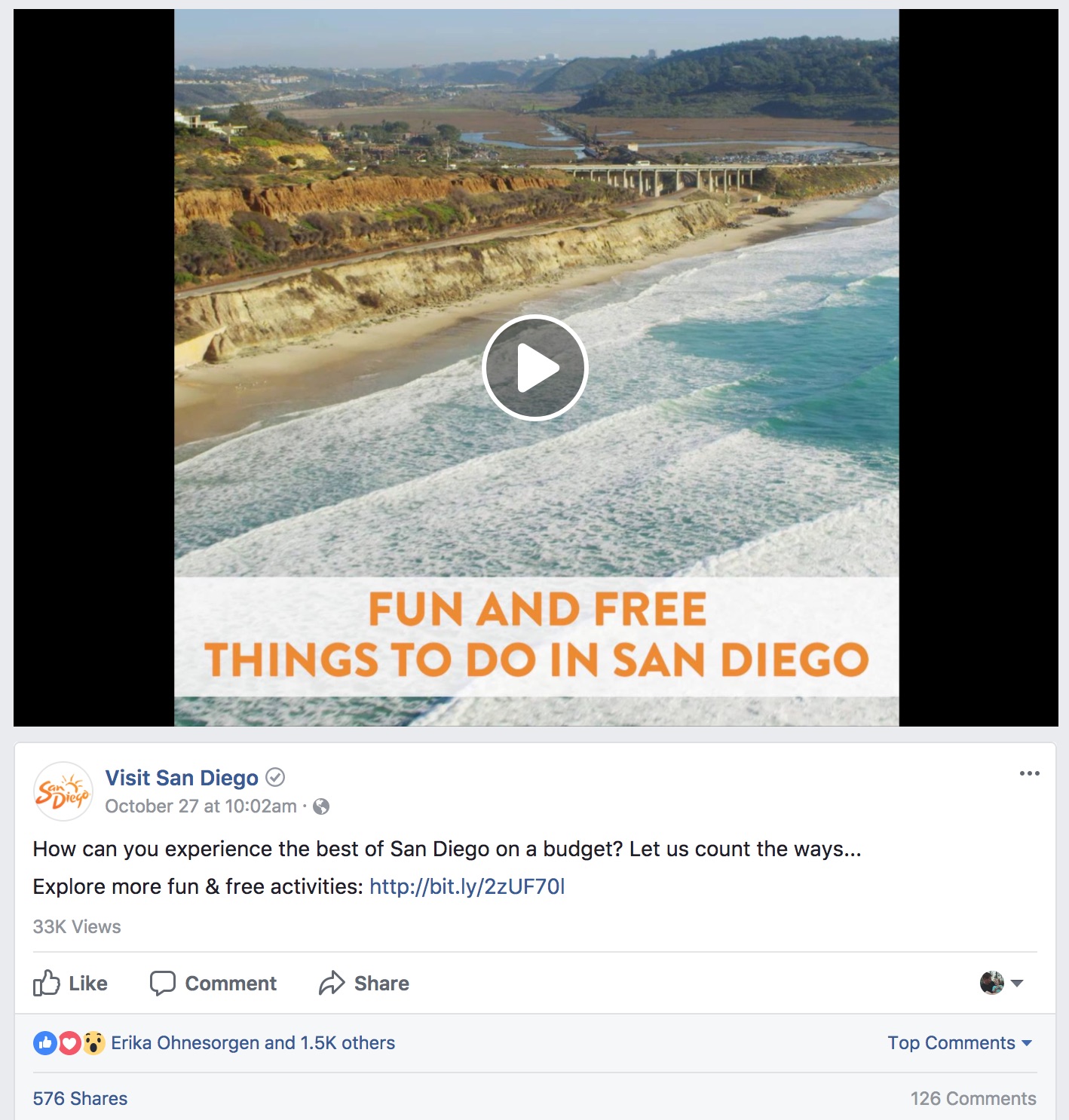 Most Engaged Twitter Post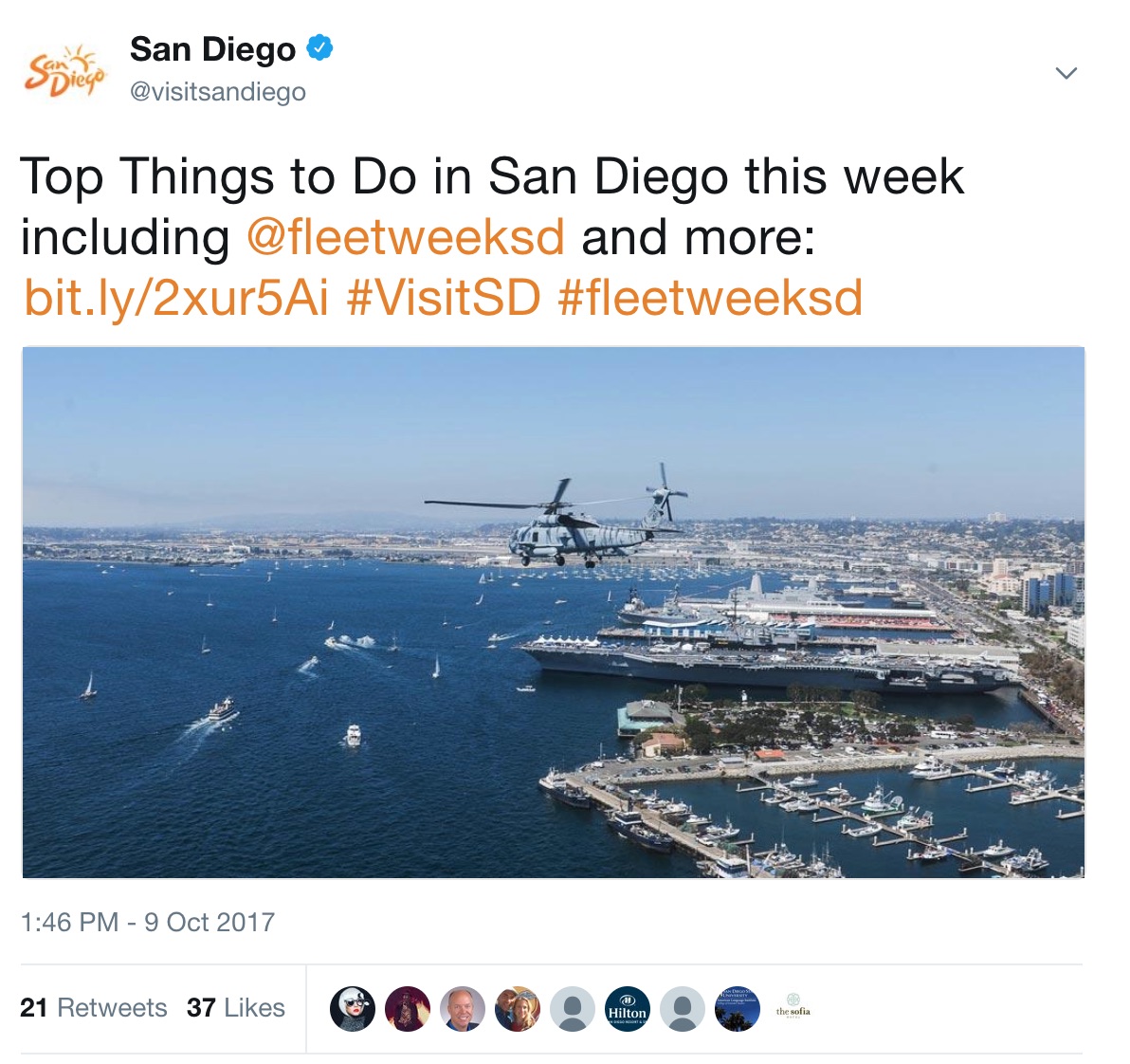 Most Engaged Instagram Post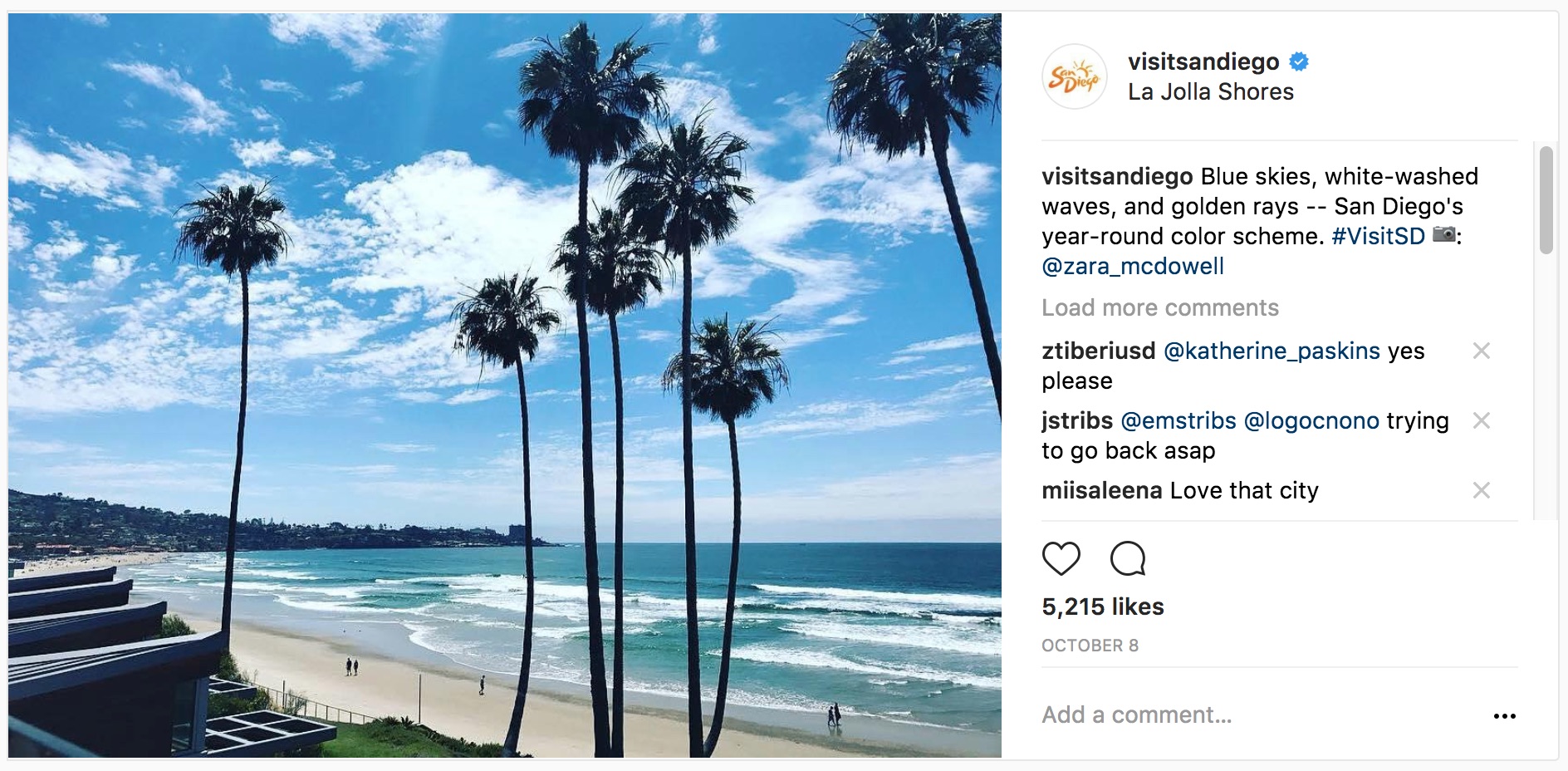 Most Engaged Email
REGIONAL DIGITAL MARKETING
Overall traffic to the Luxury and Value pages on sandiego.org was 5,143 site visitors in October. The social media team, in partnership with Casual Fridays, launched the following campaigns: User Generated Content for North Inland, Whaley House Facebook Live for Mission Valley and Mission Bay Instagram Stories.
Most Engaged Regional Post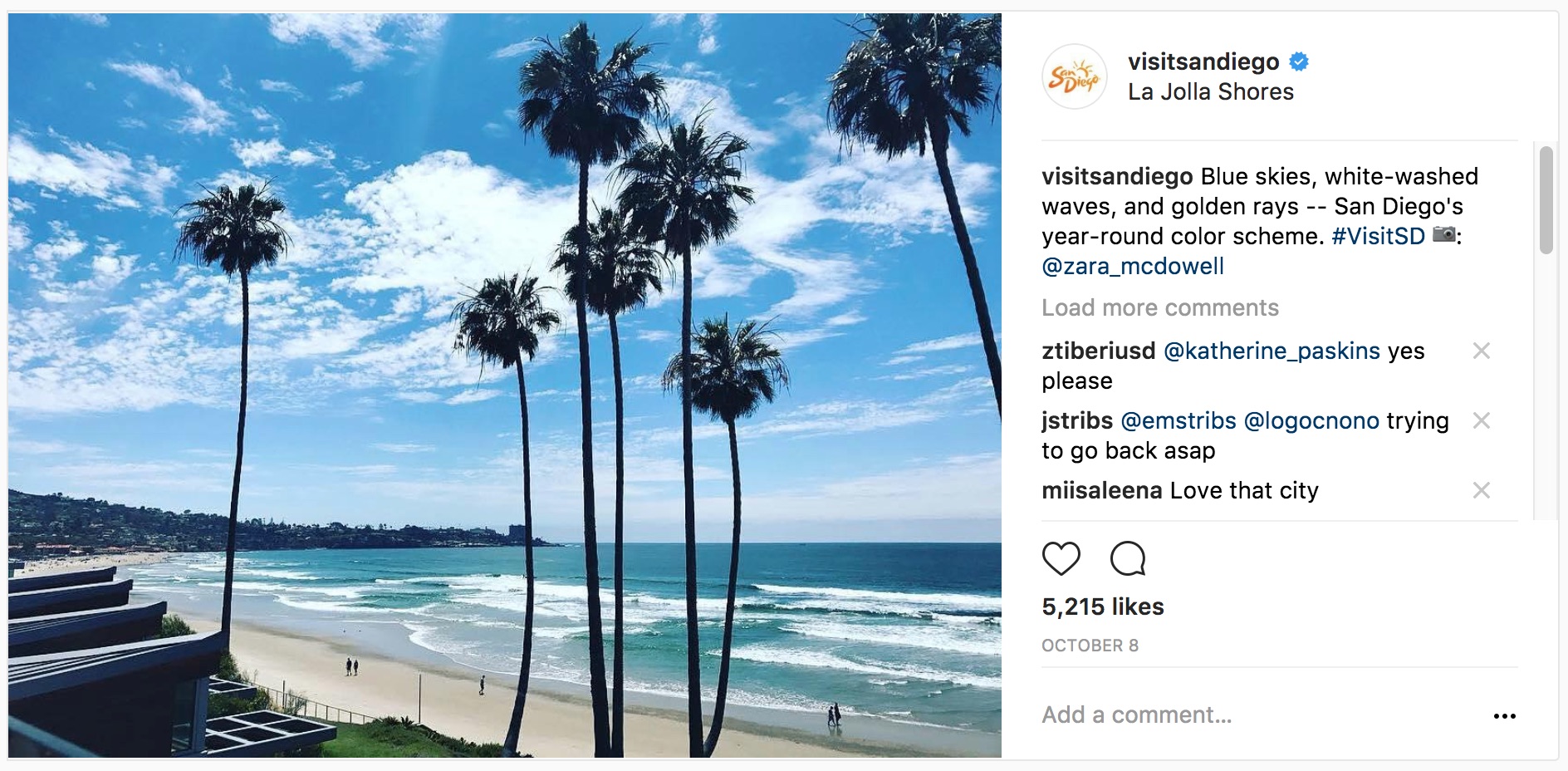 B2B DITIGAL
EMAIL:
The October B2B Postcard was delivered to 6,591 meeting planners and was the seventh in a year-long series of video emails. Each month a new video will showcase a group of venues for potential meeting and event planners to consider. The open rate for the October B2B Video Postcard was 19.24%, which represents over 1,241 unique meeting planners. The October video showcased sports venue meeting opportunities. The video featured:
Petco Park
Del Mar Thoroughbred Club
SDCCU Stadium
San Diego Velodrome
Jenny Craig Arena at USD
Chula Vista Elite Athlete Training Center
LINKEDIN:
Five unique posts during October included:
New job announcements

Business Analyst
Sales Manager, Sports
Balboa Park Director of Cultural Tourism

Sharing the Site Experience Team Award Winners
Promotion of IMEX Booth for 2017 event
LinkedIn grew by 1.4% from last month to 5,995 followers, earning 37,282 impressions. Year-over-Year the LinkedIn Audience grew by 14%.
Where We Stand
LinkedIn followers compared to similar organizations:
Visit Orlando 9,391
Discover Los Angeles 6,834
Visit San Diego 5,995
Visit California 5,729
San Francisco Travel Association 4,640
Brand USA 4,334
US Travel Association 2,538
Visit Anaheim 2,189
San Diego Convention Center 1,664
San Francisco CVB 1,234
California Travel Association 813
TWITTER:
@SDTAConnect Twitter base grew by 1% from last month to 3,524 followers. There were 39 tweets during the month.
This month, the tweet with the most exposure (2,347 impressions) showcased several towns in San Diego County that were named Most Charming Towns in California by Travel Magazine. This was also the tweet with the most engagement (156 interactions).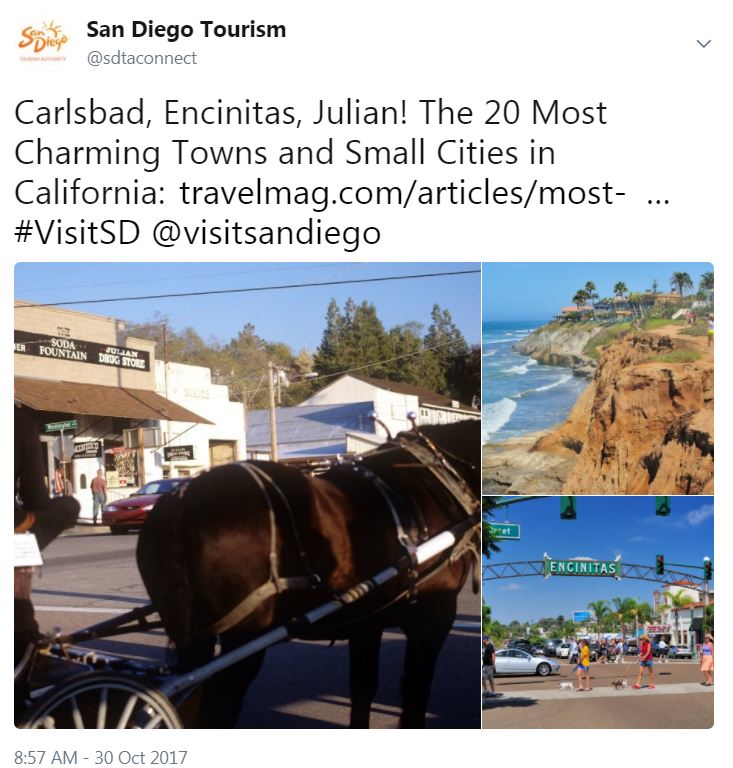 The SDTA corporate Twitter account earned 30,000 impressions during October.
MEMBERSHIP
Ad Sales
$ 108,560 in new ad contracts.
Revenue Development
The SDTA entered into a new licensing agreement with San Diego company Team Phun for apparel and accessories categories.
6 New Members joined in October, $3,025 in annual dues revenue.
NEW MEMBERS
BRICK
Currency Exchange International
Forgotten Barrel Winery
Jake's Del Mar
Wheel Fun Rentals
WTDSD LLC Transportation
HOTEL SALES
The hotel sales team received 21 leads totaling 10,643 potential room nights for the destination.
From October 10 through October 12, the hotel sales team and citywide sales teams attended IMEX America in Las Vegas. They were joined by 18 hotel and services members and a partnership with Discover Coronado.
National Sales Director, Gillian Ware along with twelve hotel partners hosted 38 Sacramento area customers to dinner at the infamous Kitchen Restaurant on October 25. Surrounding this event, Gillian and several of the partners made sales calls in the area.
Chirine Arbadji attended Luxury Meetings Summit in Dallas where she met with 32 customers.
Bri Mouton attended Rejuvenate Marketplace (formerly Connect Faith) where she had 32 appointments and, in addition to the single property leads, received one citywide lead for 6,000 room nights.
CITYWIDE SALES
FY18:
Definite Bookings: 3
Attendance: 15,000
Total Room Nights: 25,265
Fiscal Year 18-To-Date: 106,675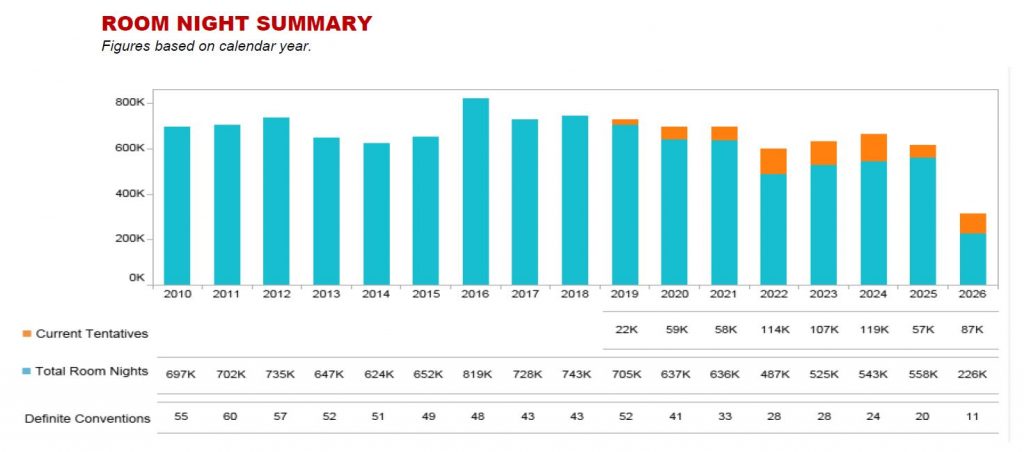 PUBLIC RELATIONS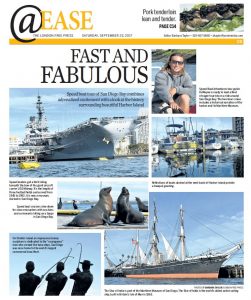 In October, Communications staff traveled to Toronto, Calgary and Vancouver for a media mission with Visit California. Prominent media meetings included WestJet Magazine, Canadian Traveller Magazine, Western Living Magazine, NUVO Magazine, CTV, The Vancouver Sun, Calgary's Child, Family Fun Canada and more.
The team hosted key travel media from Excelsior, El Economista and Alto Nivel in partnership with Aeromexico and Cross Border Xpress. The team also hosted a fam group featuring key media from Australia. Fam activities highlighted our unique neighborhoods, outdoor recreation, arts and culture, and dynamic culinary scene including local craft beer. In partnership with Virgin Holidays, the Communications staff also hosted a group of five leading U.K. travel media. Individual media hosting opportunities included travel media from Brazil, Germany, Italy, New Zealand and the U.K.
Key coverage received in August included Vancouver Sun, Lonely Planet, Alaska Airlines Beyond, Orange County Register, Coastal Living, West Jet Magazine and more.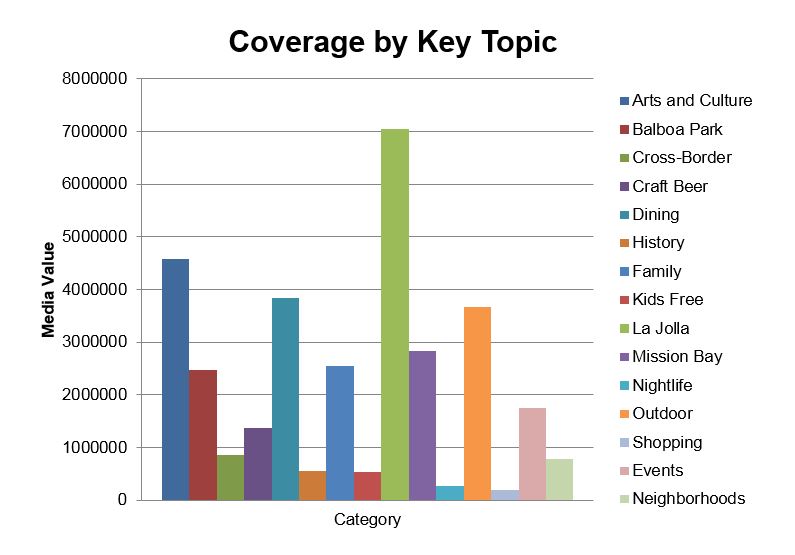 TRAVEL TRADE
Travel Trade Director Benjamin Eastman attended the Visit California Sales Mission to Canada. Over the weeklong mission, he met and visited with several hundred travel agents and Product Managers in Montreal, Toronto & Vancouver. Canadian agents continue to be happy with San Diego products and the airlift from most major Canadian cities.
Phil Hannes, senior director of international marketing participated in the VisitCalifornia B2B appointment program where we had the opportunity to meet with the top 10 Brazilian Tour Operators to network, strengthen our relationship and to expand on San Diego product development.
SDTA Travel Trade staff participated with five members in the annual Southern California Marketing Alliance table top and roundtable travel agent training day in Tijuana, where they trained 55 travel professionals.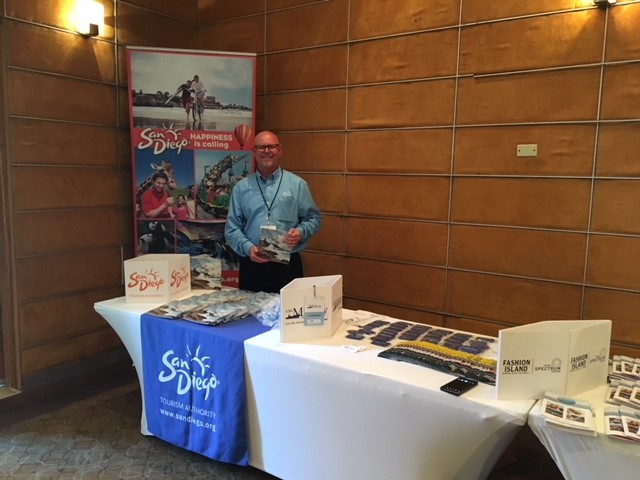 San Diego participated in the Mark Travel Annual Summit in Cancun with over 650 travel agents and 200 destination executives and suppliers. Attending agents were offered an extensive line up of more than 30 workshops, seminars and professional development courses covering such topics as customer engagement, business operations, and supplier and destination information.
Tomoe Matsunaga, travel trade representative in Tokyo, participated in the Club California Tokyo event on October 10. The event welcomed over 100 travel trade professionals, where Tomoe gave a presentation to promote San Diego and network with the attendees.
Cherrie Yang, travel trade representative in Shanghai participated in Club California Product Development Series Chengdu session on October 12. There were approximately 30 travel professionals from the region who attended the program. Cherrie delivered a presentation on San Diego, introduced the new program in 2018, and discussed with Chengdu agents to develop overnight opportunities in San Diego.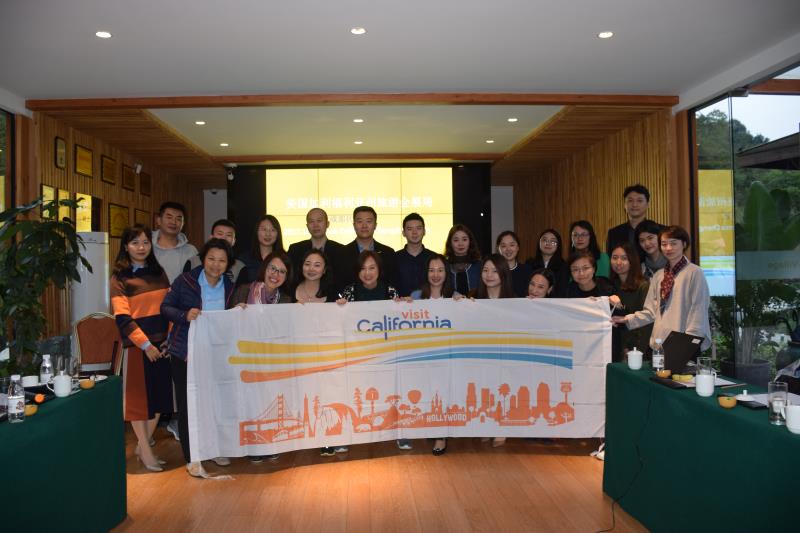 Travel Trade Development Manager, Riki Suzuki, joined East West Marketing China/Taiwan Sales Mission during the month of October. Riki visited Taipei, Beijing, and Shanghai for one-on-one meetings, presentations, a tabletop trade show, client events and office visits where he engaged with over 130 travel professionals in the market to discuss the development of San Diego products.
Following the sales mission in China, Riki attended the Taipei International Travel Fair, one of the largest trade/consumer shows in Asia, with Visit California Taiwan team. Riki had an opportunity to update over 40 trade and media partners through the destination presentation during the VIP reception. During ITF, translated San Diego information brochures were distributed to consumers and Riki had one-on-one appointments to discuss San Diego product development with the key trade partners. Also, a cover story in regards to California was generated through the media interviews in a major Travel Trade magazine. San Diego received a half page of exposure to introduce what the destination has to offer.
On October 19, the Visit California Italy office produced a 1-hour webinar for the Italian travel trade in conjunction with Lufthansa – to promote the new Lufthansa flight to San Diego starting in March 2018. The webinar had 180 registrants and has been placed on the Visit USA website for future review by the Italian trade.
October 2017 was a highlight of international familiarization trips.  There were 10 international fams coordinated through Travel Trade Development with representation from British Airways, Aeromexico, Air New Zealand, and Singapore Airlines. They brought in travel agents representing United Kingdom (29 agents) China (10 agents), Australia (3 agents), Korea (11 agents) and Japan (2 agents) who spent 1-4 days in San Diego.