Below are the September 2017 sales & marketing highlights from various departments from the San Diego Tourism Authority.
SALES & MARKETING HIGHLIGHTS
Special event promotion in September focused on Labor Day, Kaaboo, Restaurant Week, MCAS Miramar Air Show, CRSSD Festival and upcoming events including Fleet Week, Extreme Sailing, Breeder's Cup, Kids Free, and San Diego International Film Festival.
Web traffic for September included 520,074 user sessions between the desktop and mobile websites and we posted a total of 95 Tweets, 32 Facebook posts (Including Dark Posts), and 14 Instagram posts through our social channels, 5 blogs, and distributed 10 consumer emails.
CONSUMER MARKETING
Most Engaged Facebook Post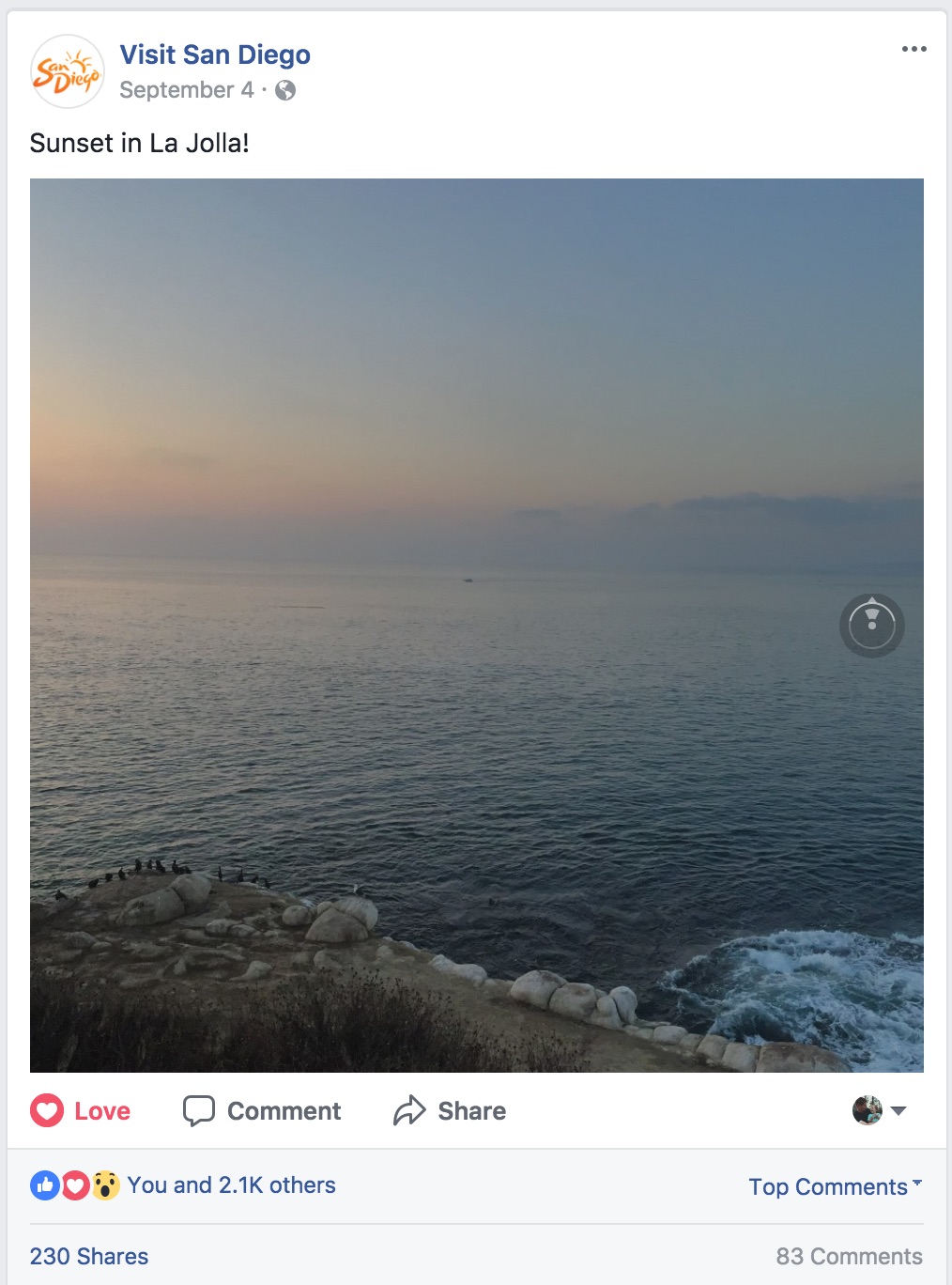 Most Engaged Twitter Post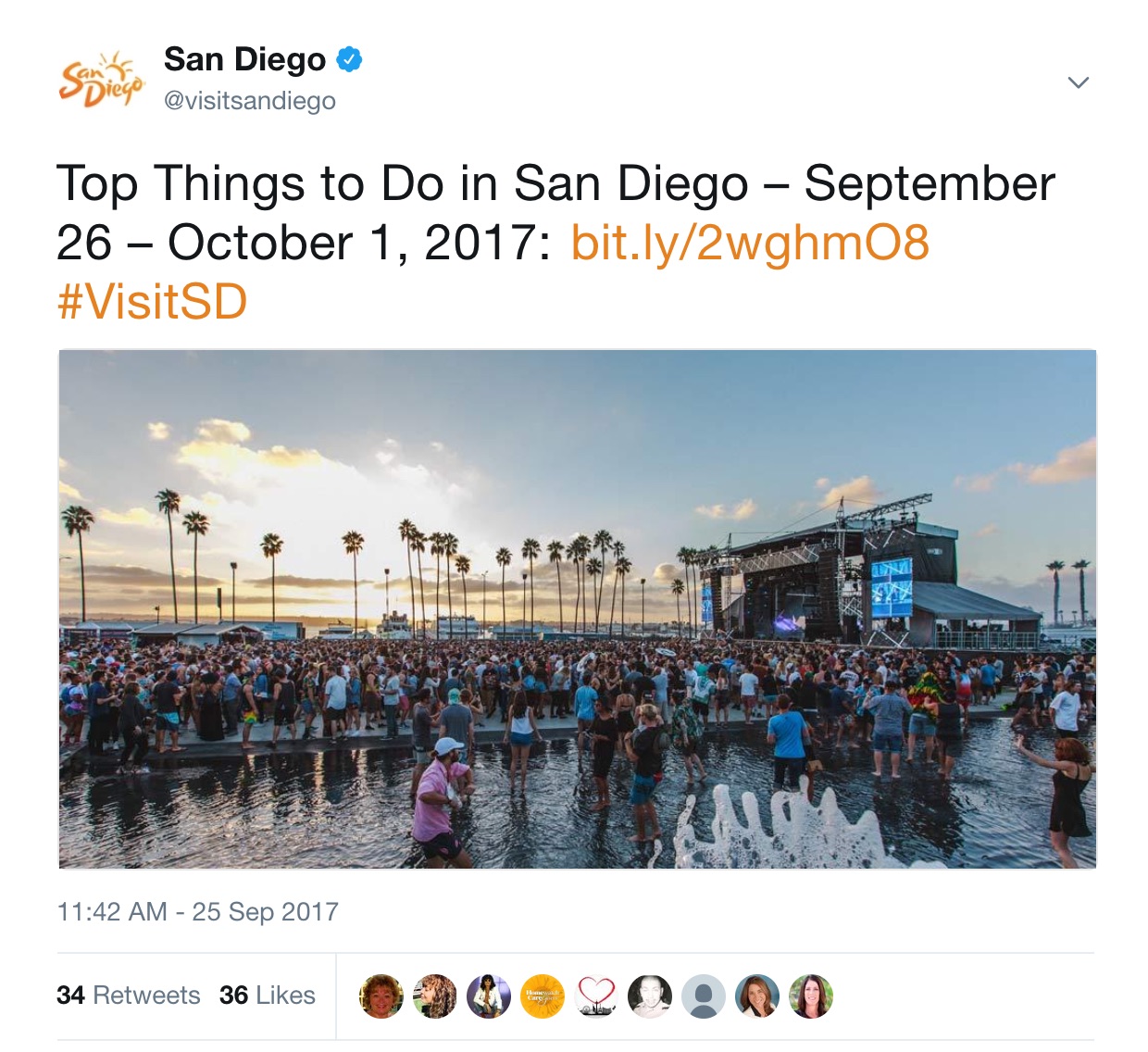 Most Engaged Instagram Post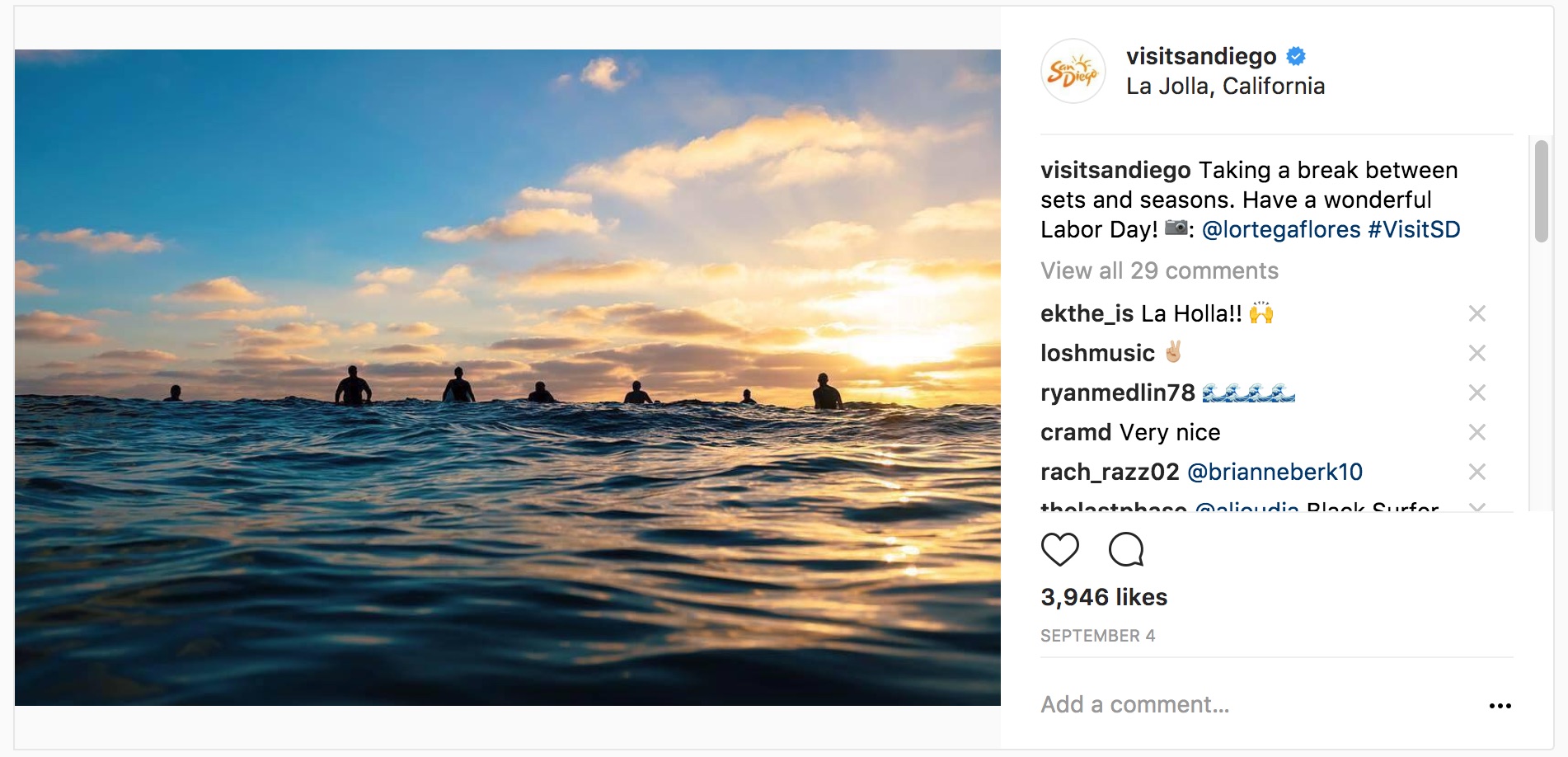 Most Engaged Email

REGIONAL SALES & MARKETING
Overall traffic to the Luxury and Value pages on sandiego.org was 1,091 site visitors in September. The social media team, in partnership with Casual Fridays, launched the following campaigns: User Generated Content for North Coastal, KAABOO DEL Mar Facebook Live for North Coastal and San Diego Restaurant Week/The Lodge at Torrey Pines Instagram Stories.
Most Engaged Regional Post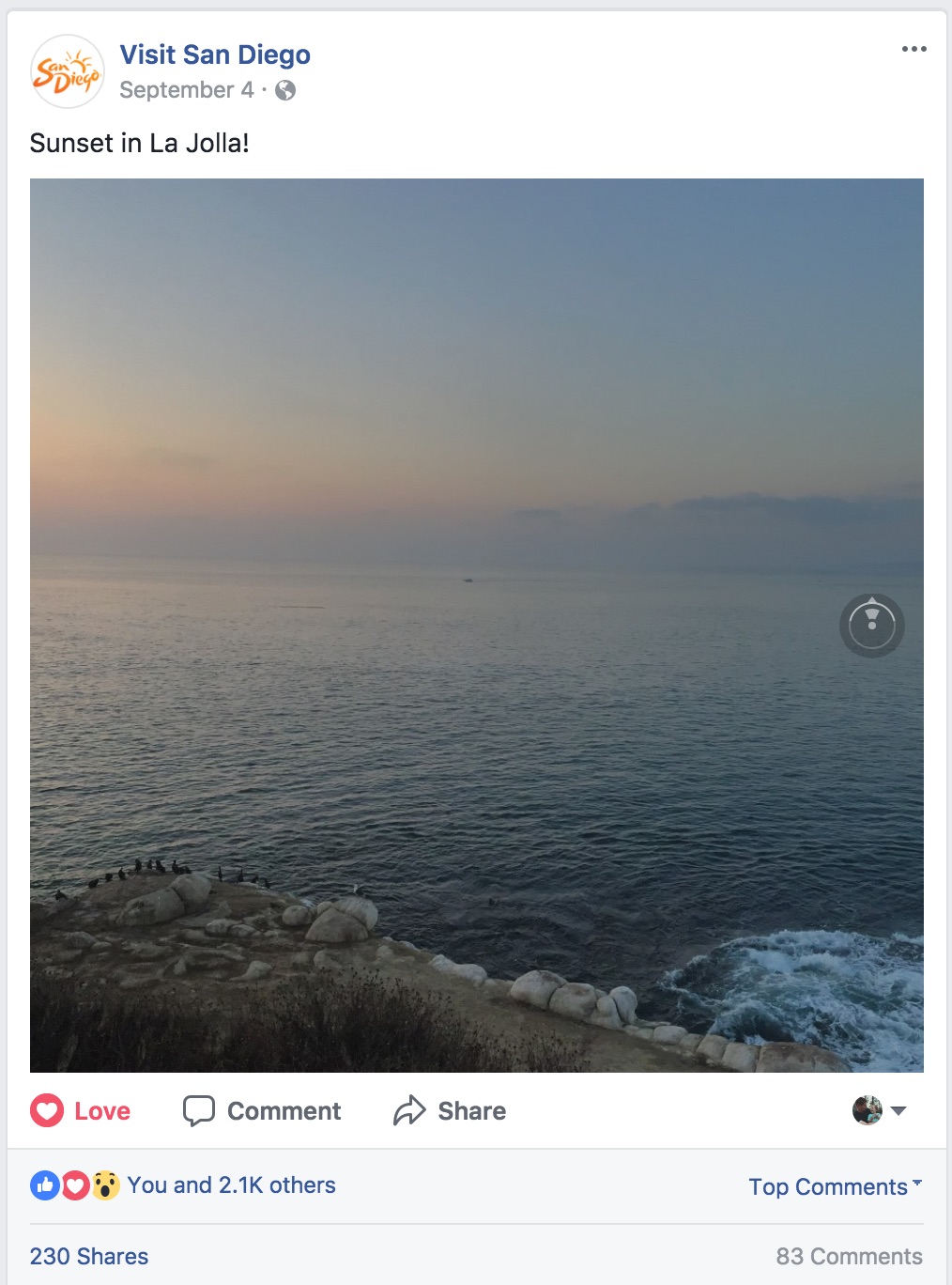 B2B DIGITAL MARKETING
EMAIL:
The September B2B Postcard was delivered to 6,054 meeting planners and was the sixth in a year-long series of video emails. Each month a new video will showcase a group of venues for potential meeting and event planners to consider. The open rate for the September B2B Video Postcard was 20.4%, which represents over 1,202 unique meeting planners. The September video showcased luxury meeting opportunities. The video featured:
Fairmont Grand Del Mar
Hotel Del Coronado
The Lodge at Torrey Pines
Torrey Pines Golf Course
Marine Room – La Jolla Beach and Tennis Club
The Spa at Fairmont Grand Del Mar
America's Cup Sailing San Diego
Rancho Bernardo Inn
Pendry San Diego
The US Grand – A Luxury Collection Hotel
LINKEDIN:
Two unique posts during September included:
September Luxury Meeting Opportunity Video
USS Midway Museum Top 10 Story
LinkedIn grew by 1.1% from last month to 5,915 followers, earning nearly 8,920 impressions. Year-over-Year the LinkedIn Audience grew by 14%.
Where We Stand
LinkedIn followers compared to similar organizations:
Visit Orlando 8,961
Discover Los Angeles 6,552
Visit San Diego 5,850
Visit California 5,623
San Francisco Travel Association 4,591
Brand USA 4,275
US Travel Association 2,408
Visit Anaheim 2,144
San Diego Convention Center 1,638
San Francisco CVB 1,221
California Travel Association 803
TWITTER:
@SDTAConnect Twitter base grew by 1% from last month to 3,480 followers. There were 17 tweets during the month.
This month, the tweet with the most exposure (6,365 impressions) showcased an artist at work during the Kaaboo Music festival in North County. This tweet also received the most engagement, earning 125 clicks, view, and shares.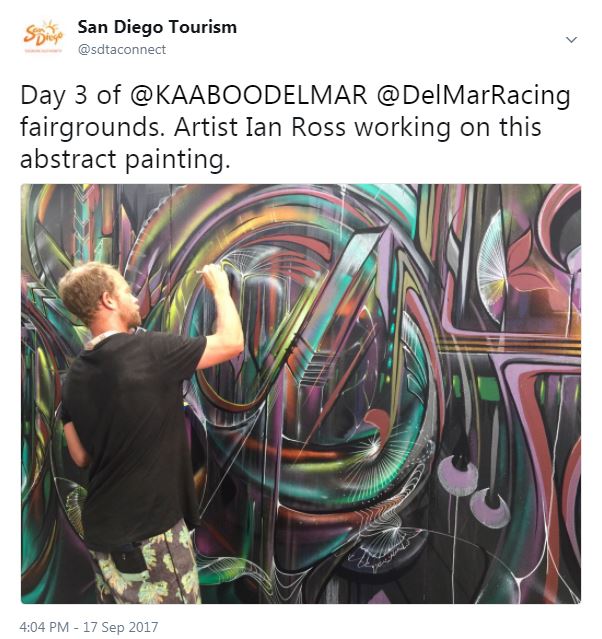 The SDTA corporate Twitter account earned 21,500 impressions during September.
MEMBERSHIP
6 New Members joined in September earning $3,300 in annual dues revenue.
27 Members attended the Open Office Hours on the 29th to learn how to best maximize benefits.
$ 57,840 in new ad contracts was secured.
HOTEL SALES
During the month of September, the hotel sales team received 8 leads totaling 4,077 potential room nights for the destination.
Denver Client Events: National Sales Director, Ernie Rossow along with seven hotel partners hosted Kinsley Meetings to lunch at The Farmhouse in Denver for a Lunch and Learn on September 14th. That same evening, the group hosted local customers for a night of fun competition and networking at Lucky Strike Bowling Lanes. During their time in Denver, the group also made several sales calls to local customers.
Southern California Roadshow: On September 19th, National Sales Director, Veronica Rivera along with nine hotel partners hosted Los Angeles area customer at Otium Restaurant for a 4-course dinner and beer pairing experience. The following day, the group hosted customers at The Treehouse in Costa Mesa for an evening of San Diego learning and fun games. Clients experience first-hand what SDTA Member, SnakeOil cocktails can bring to elevate their future events. Knockaround sunglasses were also part of the festivities when guests designed their own custom-made glasses. During their time in Los Angeles and Orange County, the group also made several sales calls to local customers. Together, Ernie and Veronica entertained 60 customers at these client events.
CITYWIDE SALES
FY18:
Definite Bookings: 4
Attendance: 15,200
Total Room Nights: 30,083
Fiscal Year 18-To-Date: 81,410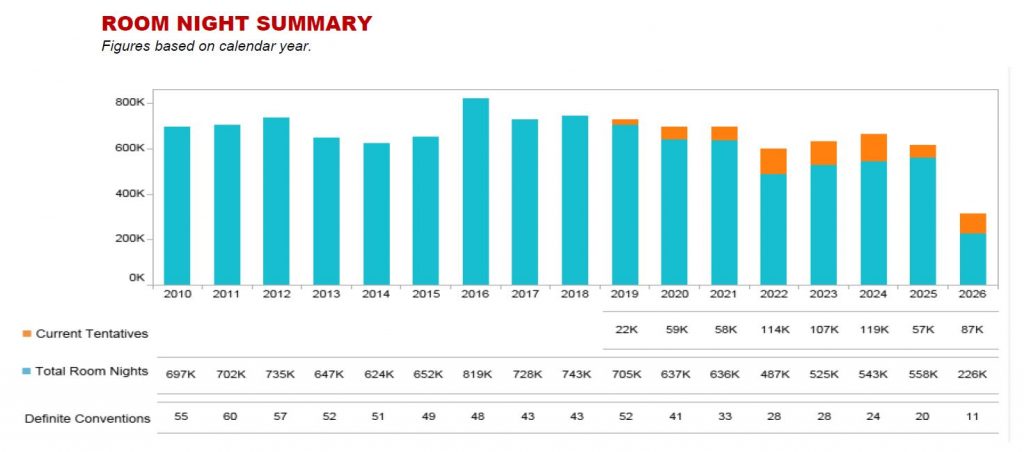 PUBLIC RELATIONS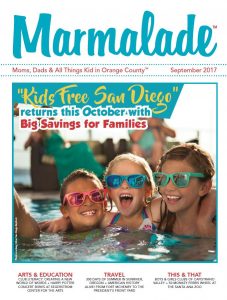 In September, the SDTA Communications department traveled to Germany to meet with MSI public relations representatives and craft a plan for FY18 PR efforts related to the launch of the new Lufthansa services. PR reps met with leading media in Hamburg, Berlin, and Frankfurt.
Communications met with Visit California and a task force of other CVBs to examine PR measurement results and work together to develop agreed-upon industry standards. The Communications team also worked closely with web and social team members to implement a crisis communications plan around Hepatitis A.
The team hosted media from the U.K., China, Brazil, the U.S., and Italy, including a group fam in partnership with Virgin Holidays UK that featured media from GQ, Foodism, Express Online and Fabulous Magazine.
Key coverage received in September included The Advocate, Arizona Republic, USA Today, Food & Wine, Food + Travel (Mexico), Dine Magazine (Canada), Via Magazine, the Sunday Mirror (UK), Travel Weekly (Australia) and more.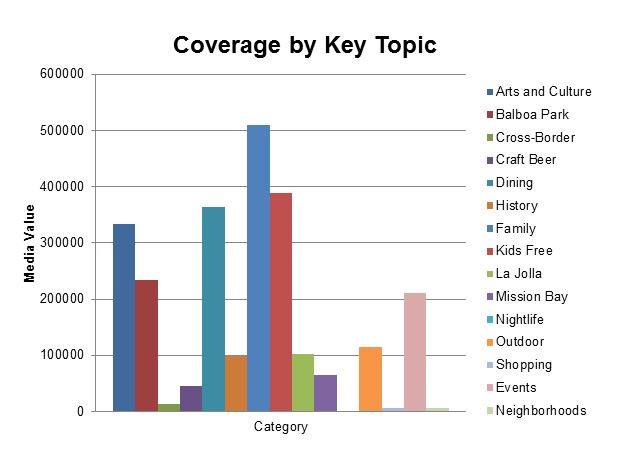 TRAVEL TRADE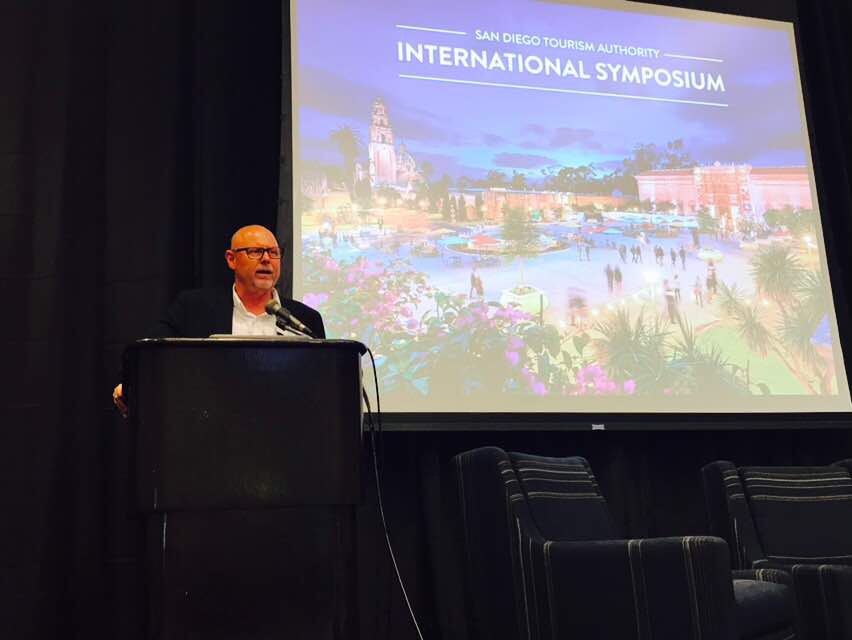 In late September, the Travel Trade team helped spearhead the SDTA's first annual International Symposium. This event allowed members to hear market updates from each of our international travel trade representatives as well as travel partners such as San Diego International Airport, Cross Border Xpress, Booking.com, and Visit California. With nearly 200 members attending, the event highlighted the strong interest in attracting more international travelers to the region. A copy of the presentations has been added to MemberNet for those who were unable to attend the Symposium but would still like to review the information.
In early September, the SDTA conducted an Australian Sales Mission. Two member organizations – SeaWorld and the USS Midway – and Phil Hannes, senior director of international marketing, joined Riki Suzuki, travel trade development manager, in visiting Sydney, Melbourne, and Brisbane for training, meetings, client events, and media interviews. During the mission, the SDTA Australia office launched a booking incentive contest with Helloworld/Qantas Holidays, sponsored by SDTA Members and Delta Airlines.
The Germany Office attended the Visit USA Roadshow in Leipzig, Berlin, Bremen, and Dortmund.  In total, the team trained 170 German travel agents by highlighting the destination with a PowerPoint presentation followed by a marketplace tradeshow.
September marked the first annual Global Travel Trade Development Retreat. The TTD team brought in travel trade representatives from all five international offices (UK, Germany, Australia, Japan & China). The spent an immersive week in the region getting updates on San Diego product, experiencing new programs, meeting with staff and members, and exchanging best practices with their international colleagues.
Riki Suzuki also participated in the Active America China Receptive Operator Edition in the Los Angeles area. Riki presented to over 20 LA-based Chinese receptive tour operators and later sat one-on-one with each of them to discuss business opportunities individually.
San Diego was highlighted at the Club California Product Development Series in Guangzhou, September 24-25. The SDTA China office provided presentation slides to Visit California to present on our behalf to educate top accounts in the Southern California region.
Phil Hannes, senior director of international marketing, attended the World Routes Conference in Barcelona accompanying the San Diego International Airport team to meet with key airline industry representatives in the development of new flights into our region.