Below are the July 2017 sales & marketing highlights from various departments from the San Diego Tourism Authority.
SALES & MARKETING HIGHLIGHTS
Special events promoted for July focused on 4th of July, CONCACAF Gold Cup, Over-the Line, Comic Con, Del Mar Races, Pride and the launch of 72 and Hoppy.
CONSUMER MARKETING
Most Engaged Facebook Post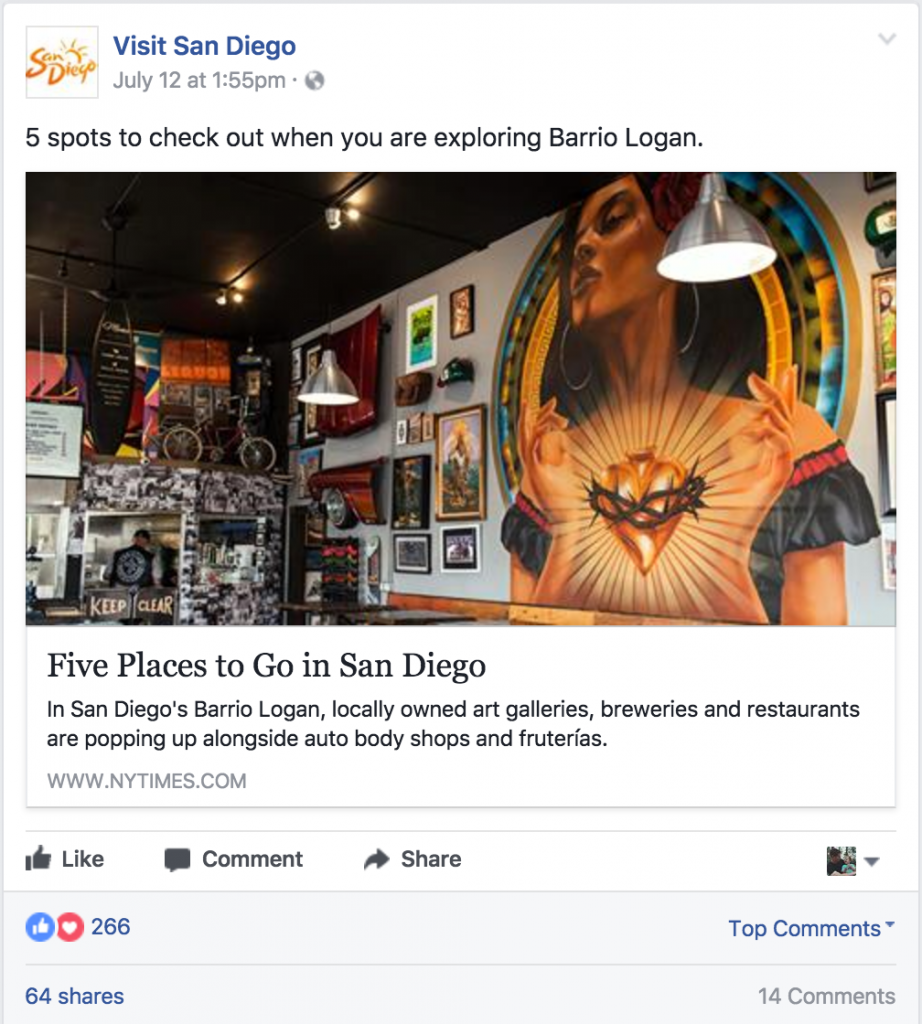 Most Engaged Twitter Post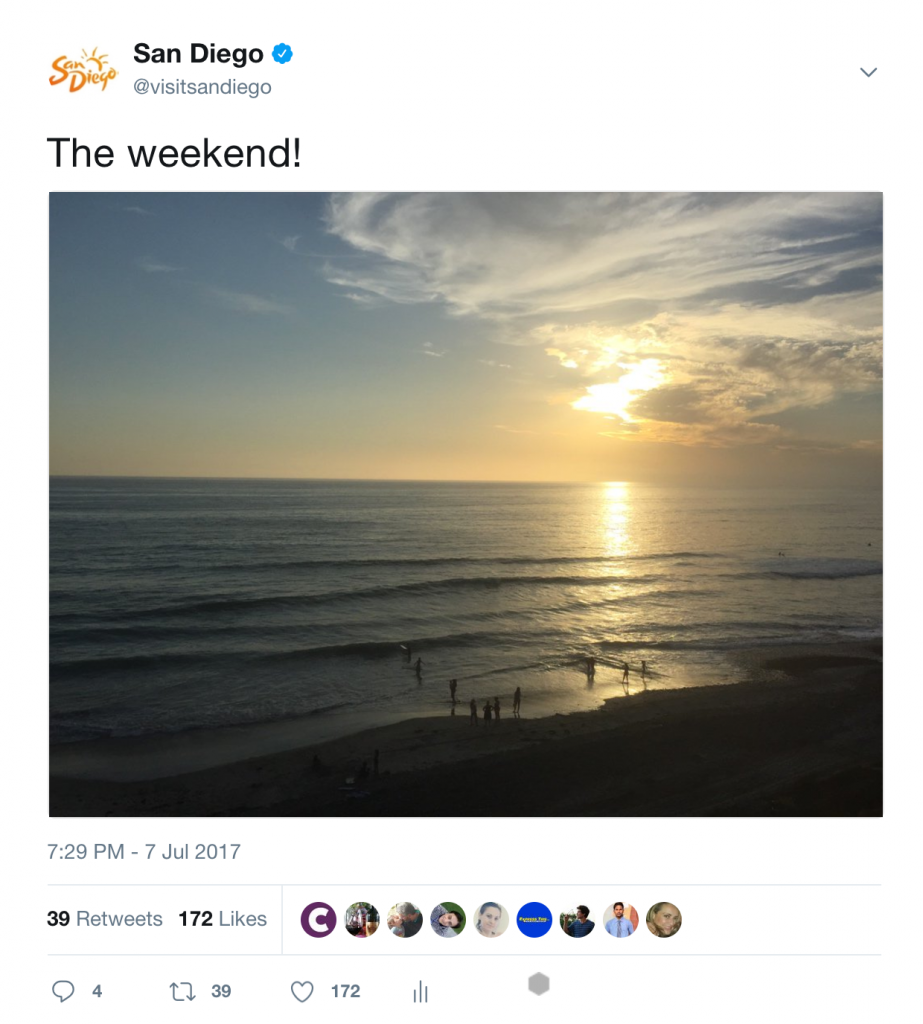 Most Engaged Instagram Post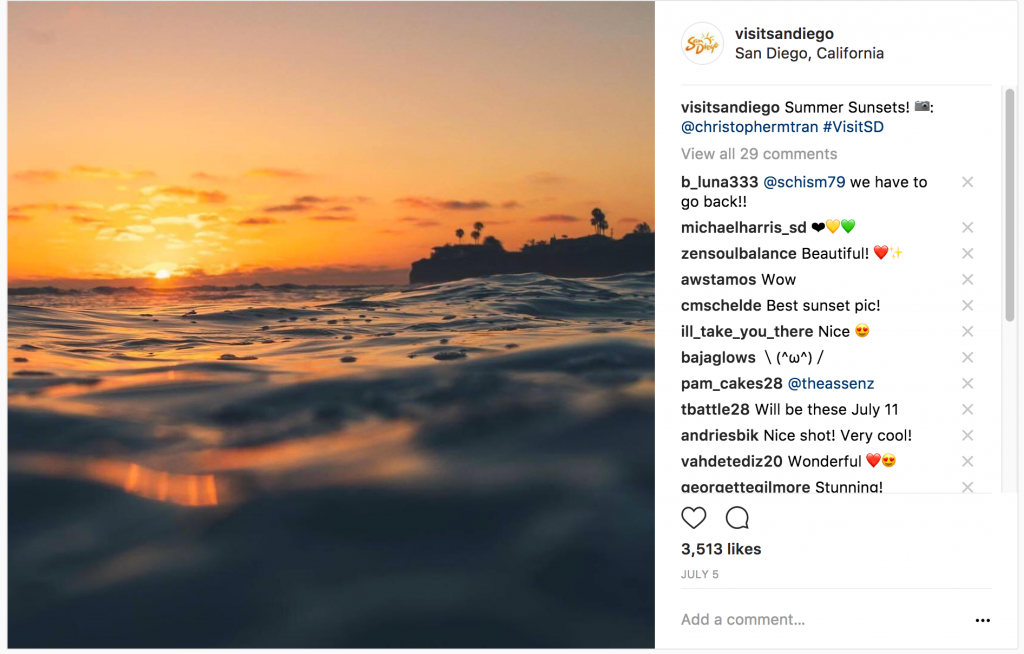 Most Engaged Email

Web traffic for July included 654,443 user sessions and we posted a total of 74 Tweets, 84 Facebook posts (including 'Dark' advertising posts) and 19 Instagram posts through our social channels, 4 blogs, and distributed 7 consumer emails.
REGIONAL SALES & MARKETING
Overall traffic to the Luxury and Value pages on sandiego.org was 380 site visitors in July. The social media team, in partnership with Casual Fridays, launched the following campaigns: La Jolla Indulgences for La Jolla, 72 and Hoppy, Facebook Live for Point Loma Peninsula, and Fan Foto Friday Instagram Stories.
Most Engaged Regional Post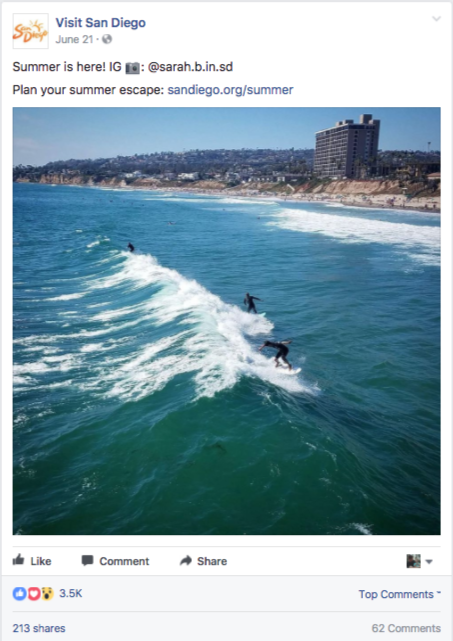 B2B DIGITAL MARKETING
EMAIL:
The July B2B Postcard was delivered to 6,319 meeting planners and was the fourth in a year-long series of video emails. Each month a new video will showcase a group of venues for potential meeting and event planners to consider. The open rate for the July B2B Video Postcard was 21.74%, which represents over 1,355 unique meeting planners. The July video showcased unique performing arts venues ideal for keynote speeches, presentations, and after-hours entertainment, and featured:
Copley Symphony Hall
Civic Theatre
Horton Grand Theatre
Potiker Theatre at La Jolla Playhouse
California Center for the Arts
Balboa Theatre
The Conrad (opening 2019)
The Old Globe at Balboa Park
Mission Bay Theater at SeaWorld San Diego
LINKEDIN:
Seven unique posts during June included:
72 and Hoppy Beer Announcement
Live Broadcast of 72 and Hoppy Beer event
CBS News Coverage of 72 and Hoppy Beer event
July 2017 Unique Performing Arts Venues Video
Custom Video covering Del Mar Racing Opening Day
SDTA Wonder Woman Photo Celebrating Comic-Con
San Diego Convention Center Makes List of 9 Coolest Centers in the World – by Smart Meetings Magazine
LinkedIn grew by 1.6% from last month to 5,766 followers, earning nearly 35,161 impressions. Year-over-Year the LinkedIn Audience grew by 14%.
Where We Stand
LinkedIn followers compared to similar organizations:
Visit Orlando 8,496
Discover Los Angeles 6,412
Visit San Diego 5,766
Visit California 5,463
San Francisco Travel Association 4,508
Brand USA 4,177
Visit Anaheim 2,072
US Travel Association 2,004
San Diego Convention Center 1,583
San Francisco CVB 1,194
California Travel Association 798
TWITTER:
@SDTAConnect Twitter base grew by 2% from last month to 3,393 followers. There were 54 tweets during the month.
This month, the tweet with the most exposure (6,475 impressions) and engagement (142) was a congratulatory message about Balboa Park being named one of 14 California Cultural Districts in a new creative statewide program.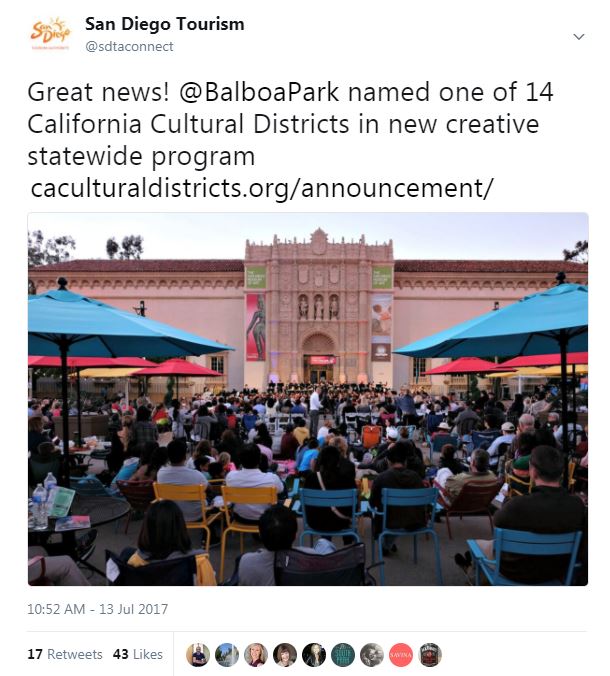 The corporate Twitter account earned more than 31,700 impressions during the month of July.
ADVERTISING
DOMESTIC LEISURE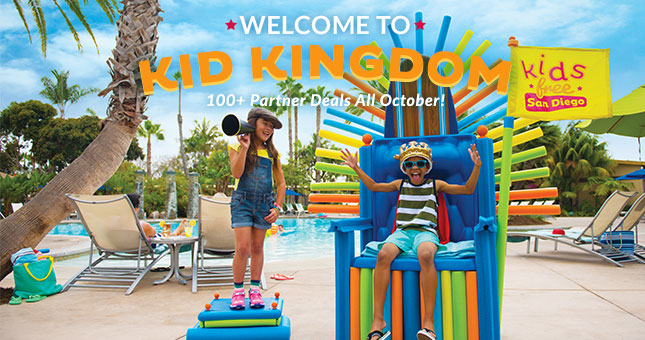 The Kids Free San Diego campaign launched at the end of July. Now in its sixth year, the destination-wide promotion brings together more than 100 SDTA member partners across hotels, attractions, museums, activities, and restaurants to inspire travel to San Diego during October. The $1.2 million campaign will run through late September; delivering an estimated 57.7 million impressions throughout California, Arizona, and Nevada. Highlights include:
Spot market cable television in Los Angeles, Phoenix, and Las Vegas
In-cinema video advertising during G/PG movies in targeted theatres throughout Los Angeles and Phoenix
Digital video, display, native and social media targeted to family travelers in California, Arizona, and Nevada. Media partners include Hulu, Meredith (Parents.com, FamilyCircle.com), Quantcast, Radiumone, Facebook, and Instagram.
Google AdWords search marketing
Direct mail to 375,000 family households throughout California, Arizona, and Nevada
Kids Free :30 TV Spot
Kids Free :30 In-Cinema Spot
MEMBERSHIP
28 Members attended the Open Office Hours on the 28th to learn how to best maximize benefits.
Ad Sales
$ 55,657 in new ad contracts were secured in July.
2 New Members joined in July, $1,100 in annual dues revenue.
HOTEL SALES
The Hotel Meetings Sales Team converted 50 bookings, generating 24,055 Room Nights in the month of July.
From July 11th through July 14th, Margie Sitton, Jarrod Finley, and Maranda Tippin attended the DMAI Annual Convention in Montreal, Canada. We were thrilled to celebrate Maranda as one of the winners for "30 Under 30." This award is given to outstanding individuals who have shown a significant impact in the industry and are under 30 years of age.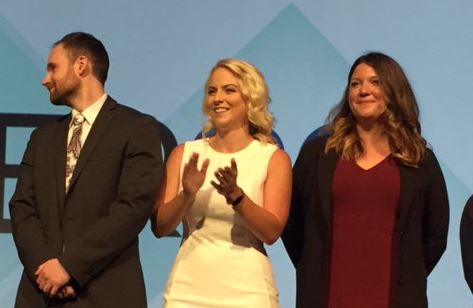 From July 16th through July 18th, Michael Steffen attended the Indiana Society of Association Executives (ISAE) in Muncie, Indiana. Michael met with 42 customers made up of Association and Association Management Companies, and Fraternal and Service Groups. He received one lead for 250 room nights, with more to come.
On July 20th, Jennifer Hicks attended EMCVenues' MEET USA Educational Event and Tradeshow in Atlanta, Georgia. EMCVenues is a third party with whom Jennifer works with frequently. She met with 46 customers and received one lead for 700 room nights for the destination, with more to come.
CITYWIDE SALES
FY17:
Definite Bookings: 5
Attendance: 25,000
Total Room Nights: 45,705
Fiscal Year 17-To-Date: 45,705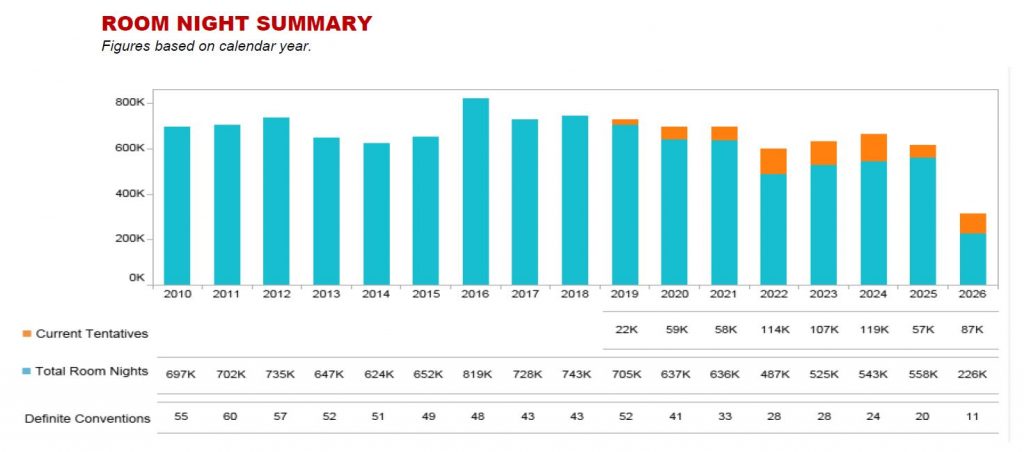 PUBLIC RELATIONS
In July, the SDTA Communications department collaborated with the Membership team and Bay City Brewing Company to release 72 & Hoppy, a signature San Diego beer. The launch event was covered by local, national and international media.
The team hosted media from the U.K., Germany, China, Brazil, the U.S. and New Zealand, including the New Zealand Herald, TravelAge West, Sing Tao Radio and more.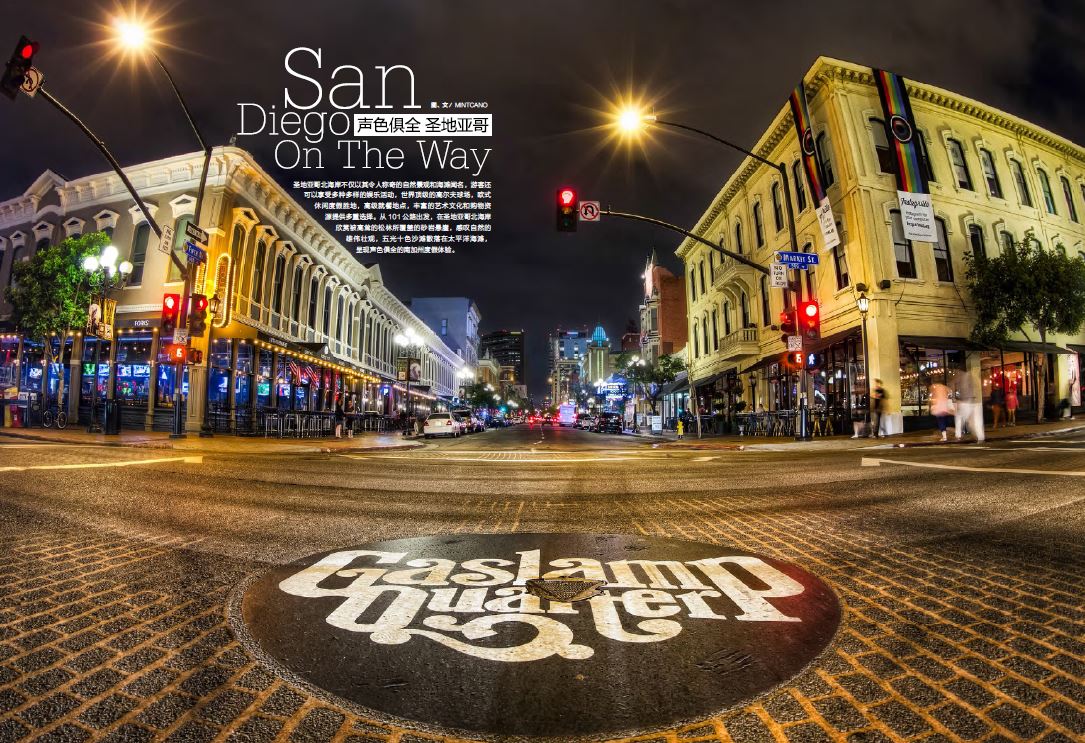 Key coverage received in July included Phoenix Magazine, Toronto Star, Sky (Delta Airline in-flight magazine), Lonely Planet, Hotbook (Mexico), Travel Daily (Australia), Tabi Salad (Japan) and more.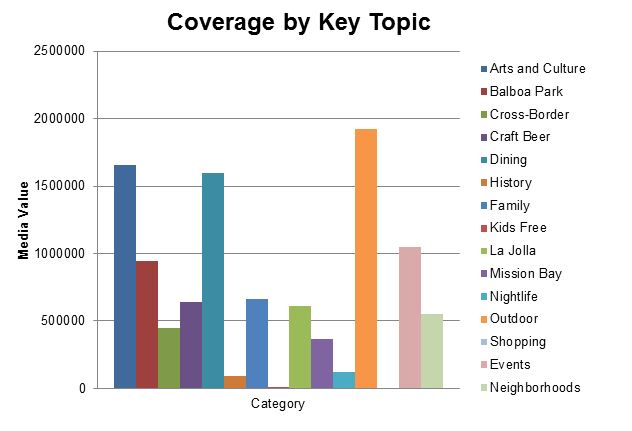 TRAVEL TRADE
Travel Trade Director, Benjamin Eastman, participated in the Visit California UK Sales Mission to London, Manchester & Dublin. The week was packed with training and networking options with Product Managers and Travel Agents in each of the 3 cities as well as events highlighting California Beer Culture and California Innovation. In total, Benjamin met with several hundred UK clients and was able to continue to highlight the diversity of culture, cuisine, and activities in the region.