Below are the June 2017 Sales & Marketing Highlights from various departments from the San Diego Tourism Authority.
SALES & MARKETING HIGHLIGHTS
Special events promoted for June focused on Summer, 4th of July, CONCACAF Gold Cup, and Over-the-Line Tournament.
CONSUMER MARKETING
Most Engaged Facebook Post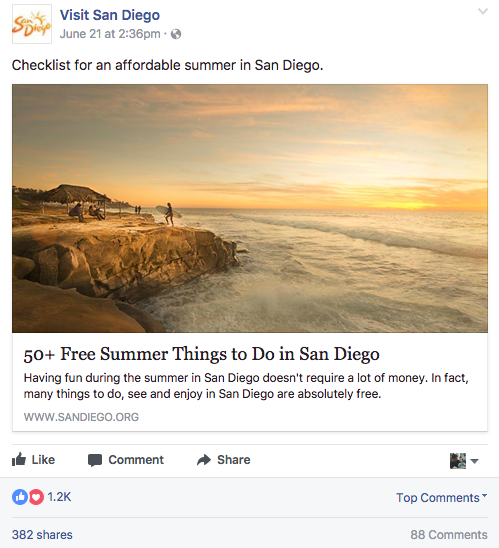 Most Engaged Twitter Post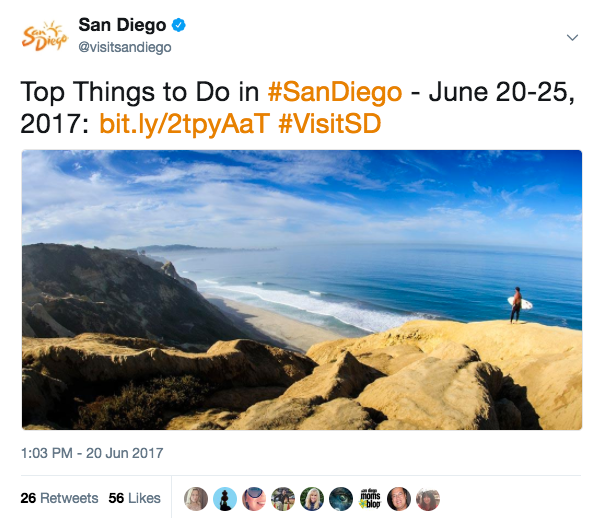 Most Engaged Instagram Post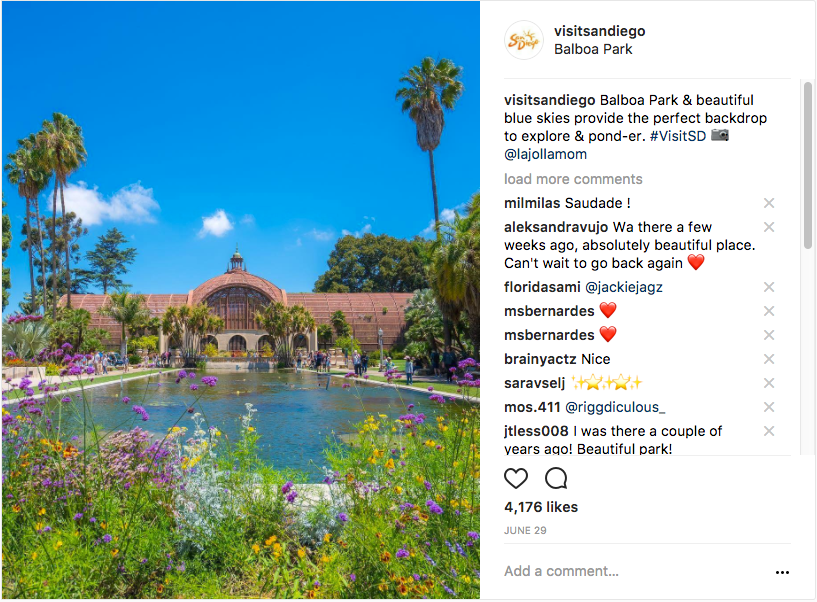 Web traffic for June included 1.1 million user sessions and we posted a total of 90 Tweets, 80 Facebook posts (including 'Dark' advertising posts), 0 Google+ Posts (Based on trends and usage, Google+ will no longer be part of SDTA's social media efforts and recording efforts will cease) and 9 Instagram posts through our social channels, 5 blogs, and distributed 8 consumer emails.
REGIONAL SALES & MARKETING
Overall traffic to the Luxury and Value pages on sandiego.org was 4,949 site visitors in June.  The social media team, in partnership with Casual Fridays, launched the following campaigns: Toes in the Sand User Generated Content for Mission Bay and Fan Foto Friday Instagram Stories.
Most Engaged Regional Post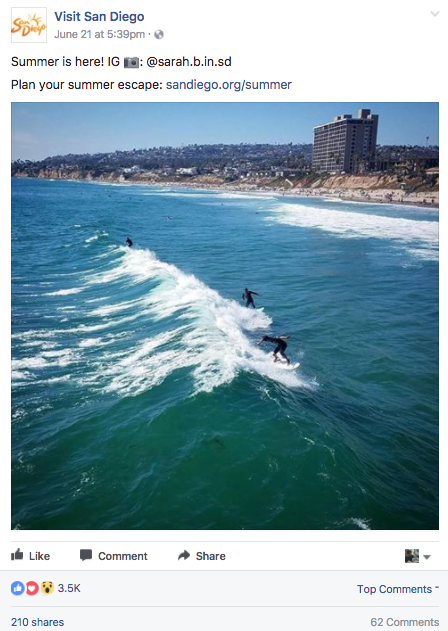 B2B DIGITAL MARKETING
EMAIL:
The June B2B Postcard was delivered to 6,381 meeting planners and was the third in a year-long series of video emails. Each month a new video will showcase a group of venues for potential meeting and event planners to consider. The open rate for the June B2B Video Postcard was 18.7%, which represents over 1,170 meeting planners. The June video showcased unique beach-side venues and featured:
Catamaran Resort Hotel and Spa
Paradise Point Resort & Spa
Hotel del Coronado
Bahia Resort Hotel
La Jolla Beach and Tennis Club
Kona Kai Resort & Spa
Hilton San Diego Resort & Spa
LINKEDIN:
Four unique posts during June included:
Promotion of SDTA National Sales Director Brianne Mouton making an appearance as an expert on DMAI Webinar hosted by  Terri Roberts.
Promotion of Visit California Outlook Forum
Announce of career position "Webmaster" at SDTA
Sharing story about San Diego earning spot on "America's Best Large Cities" list
LinkedIn grew by 1.1% from last month to 5,674 followers, earning nearly 16,229 impressions. Year-over-Year the LinkedIn Audience grew by 15%.
Where We Stand
LinkedIn followers compared to similar organizations:
TWITTER:
@SDTAConnect Twitter base grew by 2% from last month to 3,333 followers. There were 49 tweets during the month.
This month, the tweet with the most exposure (3,352 impressions) and engagement (50) was a congratulatory message to La Jolla Playhouse artistic director Christopher Ashely on winning a Tony Award.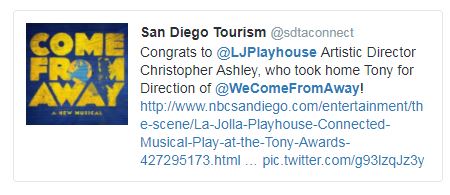 The corporate Twitter account earned more than 18,800 impressions during the month of June.
ADVERTISING
During June, the SDTA's advertising efforts delivered 107.3 million impressions.
The "Awesome All Year" national digital campaign promoting upcoming major events continued in June with native content articles, listicles and infographics running with Buzzfeed, Nativo and Thrillist. Paid social advertising supported the campaign with social canvas and slideshow units running on Facebook and Instagram. The "Awesome All Year" campaign delivered more than 8.6 million impressions in June with a media spend of $135,616.62.
In June, the Foundational Social campaign continued on Facebook with paid promotion of organic posts for the Engage layer, carousels and single image ads for the Always On layer, carousels/canvas units running for the Adult/Millennial Impact layer, and carousels running for the Family Impact layer; total spend for June was $96,037.41 with 13.8 million impressions delivered.
MEMBERSHIP
5 New Members joined in June equating to $2,750 in annual dues revenue.
20 Members attended the Open Office Hours on the 23rd to learn how to best maximize benefits.
Ad Sales
$37,245 in new ad sales contracts were secured in June.
NEW MEMBERS
HOTEL SALES
The Hotel Meetings Sales Team converted 86 bookings, generating 52,675 Room Nights in the month of June, finishing out the fiscal year at 102.9% to goal.
Gillian Ware, National Sales Director, attended the SGMP National Education Conference in Ft. Lauderdale, FL. Gillian received one lead for 290 room nights with four additional RFPs to come.
Ernie Rossow, along with 10 member partners hosted a client event at Lucky Strike Lanes for 25 customers in Phoenix, AZ on June 8th. The following morning, the team hosted a breakfast and presentation at Grayhawk Golf Club for 26 HelmsBriscoe associates and shared many new developments in San Diego. Ernie received four leads totaling 4,504 room nights.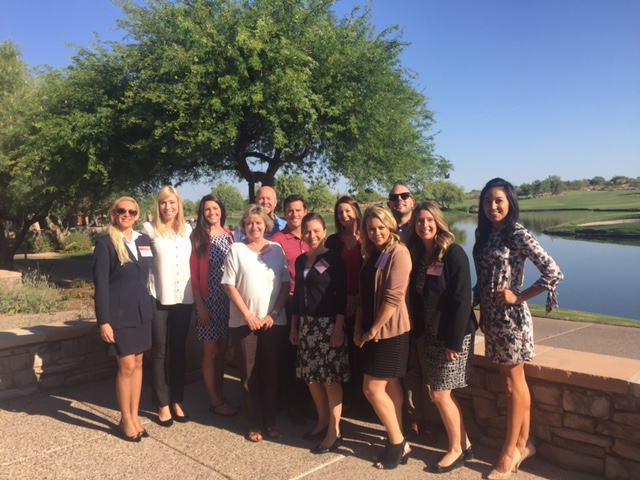 Veronica Rivera attended Luxury Meetings Summit in Los Angeles and Orange County, CA. She received 10 leads totaling 1,700 room nights with one RFP for 1,600 room nights to be sourced in 2018.
National Sales Directors, Nur Kitmitto and Andrea O'Hara attended MPI's World Education Congress (WEC) in Las Vegas, NV.
CITYWIDESALES
FY17:
Definite Bookings: 23
Attendance: 527,700
Total Room Nights: 540,038
Fiscal Year 17-To-Date: 1,091,534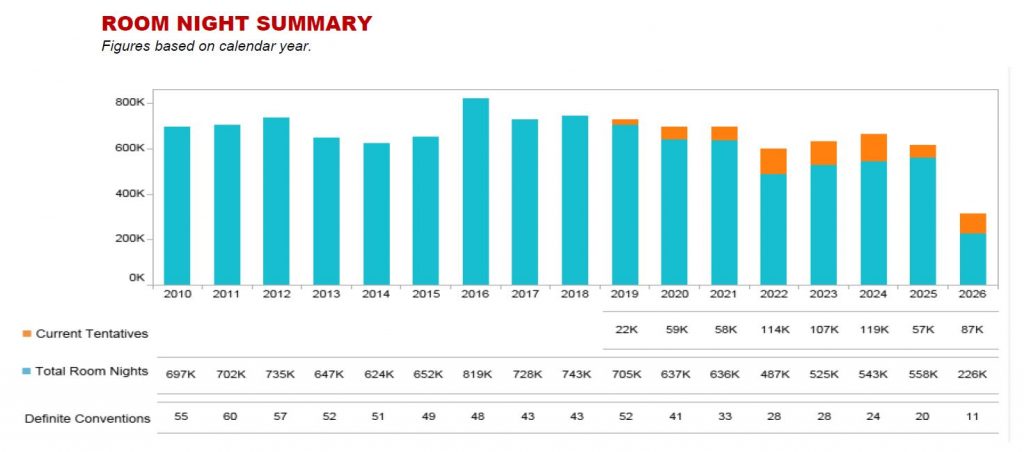 PUBLIC RELATIONS
Joe Timko, International PR and Tourism Marketing Manager, participated in the IPW Media Marketplace in Washington D.C. and met with nearly 30 travel journalists representing TV, radio, travel trade, consumer, and social media opportunities in top international markets like the U.K., Australia, Germany, Canada, Mexico and more. Public Relations Manager Edna Gutierrez also met with COTUCO (Tijuana's CVB), San Diego and Tijuana Mayors, and city representatives to discuss bi-national marketing opportunities.
International PR hosted a FAM tour for three top Chinese media outlets on a five-night visit to San Diego. Itinerary highlights included hiking at Torrey Pines State Nature Reserve and biking along the Mission/Pacific Beach boardwalk; visiting colorful neighborhoods and popular sites like Chicano Park, Little Italy, La Jolla, Old Town and Cabrillo National Monument; sampling local craft beers and popular foods like Cali-Baja cuisine; shopping, and a taking an entertaining day-tour to Tijuana, Mexico.
Clipping Total was $1,743,745
Impressions were 71,609,129
International sub-totals from this grand total are:
International Value: $758,044 (includes Canada and Mexico)
International Impressions: 34,176,479
TRAVEL TRADE
The entire travel trade team traveled to US Travel's IPW Tradeshow in Washington D.C. in early June where they participated in over 120 one-on-one appointments with trade clients from around the world.  Appointments focused on getting a recap on 2016 sales, hearing forecasts for 2017 sales, and discussions on potential promotional opportunities in each of our top markets to showcase the destination even further.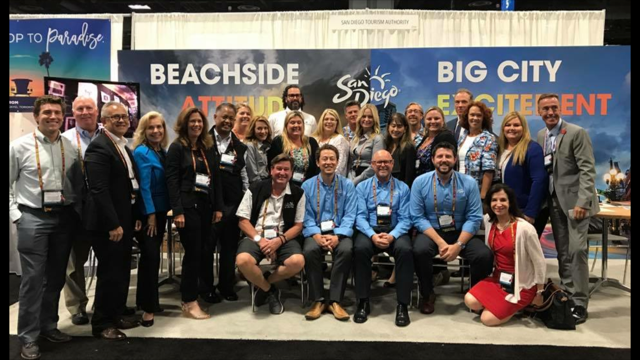 SDTA's Japan representatives hosted a consumer event "San Diego Beer Night" in Tokyo and invited exclusive members of Qualita, the luxury brand of H.I.S., where Tomoe Matsunaga gave a presentation to introduce high-end products in San Diego. Also, SDTA invited Nagano Trading, a distributor of San Diego craft beer in Japan, as a guest speaker to talk about San Diego's beer culture and its craft beer. The participants of the event enjoyed a tasting of 5 different San Diego beers during the presentation. Also, H.I.S created a 3-night luxury San Diego tour package which included a brewery tour and was promoted during the event.
SDTA hosted a luncheon and invited the members of Japanese Tour Operator Association known as "Agent Kai". 12 San Diego partners and Phil Hannes, senior director of international marketing, joined Riki Suzuki, travel trade development manager, in Torrance for this opportunity to network with key Japanese operators based in the LA area. The event was well-attended with 26 clients to whom Riki provided the updated information of San Diego through the presentation during the luncheon.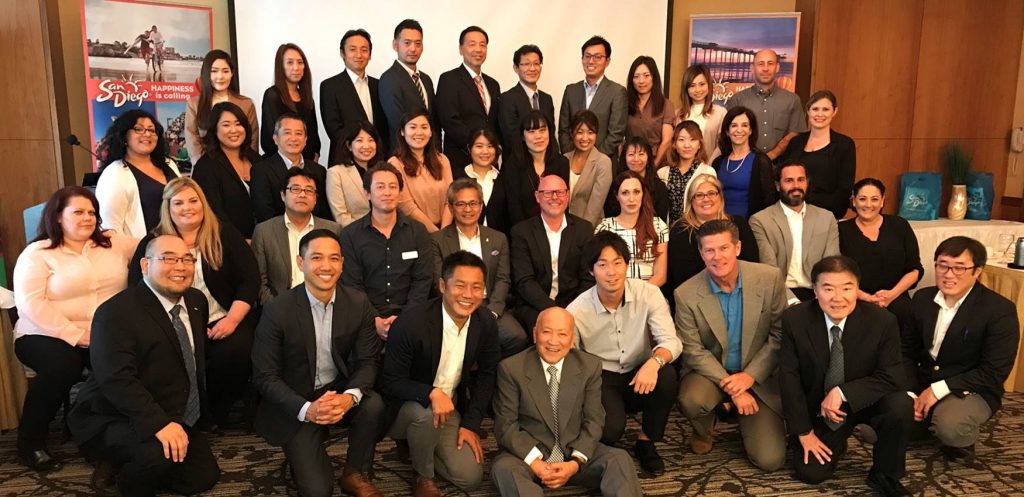 Steffi Ahlers, our Germany Office Rep, presented to 4 German tour operators on the latest updates from San Diego. – Fairflight (11 agents); Trans Amerika (8 agents); DERTour (12 agents) and Faszination Fernweh (7 agents).